This elegant cruiser is meant for ocean sailing
When I was 15, I worked in a meat market, Ray's Meats, after school. My walk home would take me past an old-fashioned drug store that had an extensive assortment of magazines including at least four different yachting magazines.
One afternoon I was perusing the magazines and I picked up a copy of Popular Boating. On the cover was a photo of a Chesapeake 32, a Phil Rhodes-designed sloop. It was one of those lightning-strike moments. I thought to myself that I had never seen anything made by man as beautiful as that 32-footer. Right then and there I decided that I would be a yacht designer and dedicate myself to designing beautiful boats. That was 60 years ago.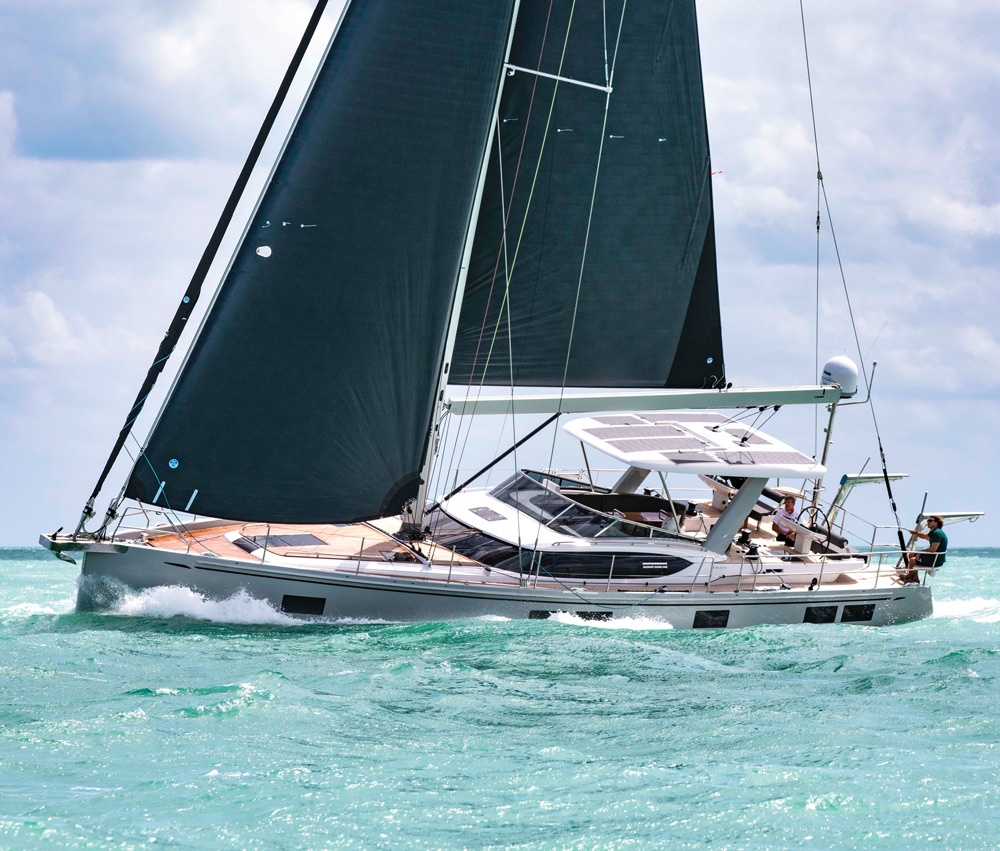 My idea of what made a beautiful boat is a bit dated today. OK, really dated, but it is still important to me to use the basic proportions I saw in that Chesapeake 32. At the least, they are a good place to start. But tastes change. Requirements and expectations change. Maybe they are right. Maybe beauty is what beauty does. As beautiful as a 1950's era Jaguar XK 140 is, it's not going to compete on any level with the sports cars of today. I need to update my definition of the beautiful yacht.




Bill Dixon has been prolific these last few years. He has done a number of center-cockpit cruising boats. I would say his work is a good example of the modern approach to aesthetics. The new Hylas 57 is a good example. Let's examine the aesthetic components. The sheer is the most important line in my opinion. Dixon's sheer is almost dead straight. I estimate there is maybe 4 inches of spring, if that, in the sheerline. Then there is the slope of the sheer fore and aft. Typically on an older design the bow would be considerably higher than the stern.




On the new Hylas the stern, using the corner of the transom for a reference, is maybe 8 inches lower than the tip of the bow. This gives the appearance that the sheer is almost parallel to the DWL. It's not, but it looks like it almost is. Both the lack of sheer spring and the high freeboard aft are there to create more volume below. He could have gone with a dead straight stem but he didn't. There is a subtle curvature to the stem and I do like that. Of course this has nothing to do with useful interior volume.




The freeboard in general is high and that adds volume but high freeboard allows for a nearly flush deck and while high freeboard is not classically pretty, a semiflush deck boat looks good to my eye. That's enough on aesthetics. In the end aesthetics are 92.441% subjective.




The D/L of this boat is 174. We can call that "medium" today. The L/B is 3.34 again, "medium" by today's standards. Beam is carried well aft making the transom huge. But it gives you huge volume aft for accommodations. You can choose from two keels. The shoal-draft keel draws 6 feet 5 inches. The deep fin draws 8 feet 2 inches. I have no drawings to indicate the hull shape but I think I can guess. I'd guess a nice, firm turn to the bilge, no chines and a reasonably fine half angle of entry. The big stern adds a lot of wetted surface and that's going to be a challenge in light air but in a breeze it will add to stability.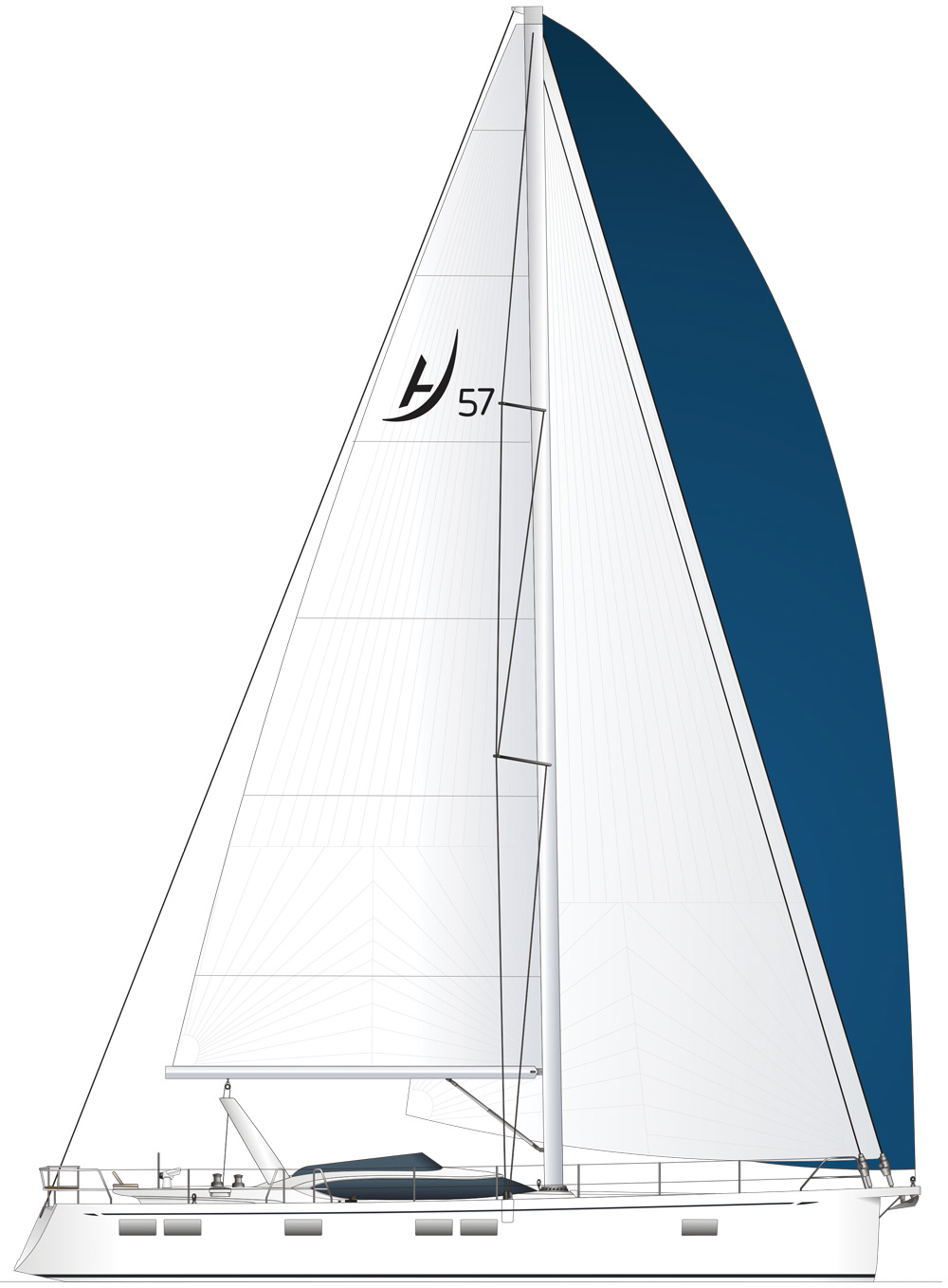 The interior layout looks good. It's a bit on the orthogonal side but that's better than whacky angles that make no sense. The main cabin has an L-shaped dining area to starboard and a comfy settee to port. There is plenty of room here for the crew of six to spread out. However I'm not sure how six will sit around the dining table unless you pull out some folding chairs. I think that's a better idea than trying to cram six people into a U-shaped dinette.
There is a step-down nav station aft and to port. You also step down into the galley to starboard. It's a big galley. I'd have fun in there. Aft, the owner's stateroom is huge with a centerline double berth and hanging lockers port and starboard. You can never have too many hanging lockers. There is a head with shower stall to port. Forward there is another head with shower stall, a kid's cabin with upper and lower berths to starboard and a forward stateroom with double berth and again, hanging lockers port and starboard.
The SA/D is 17.53 so this is not a big rig but given that the boat is designed to be handled by a couple I think that is plenty of sail area. Spreaders are swept 20 degrees. There is a self-tacking jib. The mainsheet is on the integral arch spanning the cockpit so it's out of the way of guests. There is a Solent stay for the working jib.
I like the deck design. Twin wheels aft open up the cockpit area for access to the broad transom stairs. I like the way the cockpit is sunken and takes advantage of the wrap around windshield.
Regardless of your approach to yacht aesthetics there is no doubt this would be a very comfortable boat to cruise.
---
LOA 59'6"; LWL 52'11"; Beam 17'; Draft shoal 6'5", deep 8'2"; Displ. 57,685 lb.; Sail area 1,636 sq. ft.; Water 260 gal.; Fuel 286 gal.; Auxiliary 150-hp.; D/L 174; L/B 3.34; SA/D 17.53
---
Our best estimate of the sailaway price: $1.94 million
Hylas Yachts
850 NE 3rd Street, Suite 209
Dania Beach, FL 33004
954-866-0750