The invention that made sailing safety cool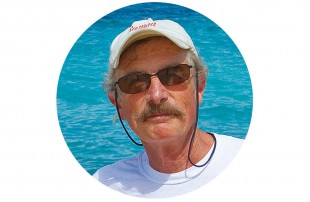 What does an industrial-looking metal contraption that uses a wind vane to steer sailboats have in common with women's silk underwear? Read on.
This magazine was born in 1966 and the half century-plus that followed saw the most significant innovations in the history of our ancient mode of transportation. I'm not claiming cause and effect here. The technology leaps just happened to happen on SAILING's watch, but they gave us an almost ready-made feature for our 55th anniversary issue last fall. We asked some famous sailors to give us their choice for the single innovation that has had the biggest impact on sailing. Some answers were expected, some surprising.
Jimmy Spithill nominated foils. Well, of course he did. He skippers America's Cup boats that can sail at freeway speeds thanks to the magic of rising above the water on hydrofoils.
Jeff Johnstone is the CEO of J/Boats, so his choice of retractable bowsprits and asymmetric spinnakers was not exactly shocking. J/Boats invented the modern iteration of bowsprits and has populated sailing fleets worldwide with thousands of boats that use them to fly the asymmetric sails that have made traditional spinnakers museum pieces. Vested interest or not, he's right about the impact of the breakthrough that his company made 30 years ago and continues to influence sailing today.
John Kretschmer picked wind vane self-steering. Huh? An old-school mechanical steering device bolted on transoms and operated by wind in the age of sophisticated electronic autopilots? With his hundreds of thousands of words written and nearly as many ocean miles sailed and untold numbers of followers who regard him as a modern-day Magellan, John has all the cred needed to make the case, which he did with these words: "It's a wonderful feeling to balance the sails and helm, trim the Hydrovane, lock the wheel and head offshore knowing the tireless helmsperson is on the job."
Dawn Riley's pick of breathable, waterproof fabrics was a headscratcher for me until I read her comments about having to wear the same layer of rash-preventing silk under "scratchy, allergy-inducing polypropylene" long underwear for most of the 167 days it took to sail around the world in the Whitbread Race as skipper of Maiden. Breathable clothing that puts an end to that sort of torture while keeping sailors warm and dry deserves a place in the hierarchy of sailing inventions.
Not being a famous sailor, I wasn't asked for my selection of the most important innovation in the annals of sailing, but now I'm going to give it anyway.
It's the inflatable PFD. Not because it represents whiz-bang technology—the inflation systems are fairly basic—or because it has directly saved a great number of lives. It's my pick because inflatable life vests have changed the culture of sailing by making safety cool.
I offer a case study. I grew up in and on the water, a good swimmer, comfortable and unafraid on boats. When I went on a boat I always wore a life preserver. It wasn't my idea. My parents made me do it, though I never, ever, saw them wear one. Then one day as we were leaving the dock in a small sailboat, they told me I didn't have to wear a life vest any more. I might have been 11 years old. It was a rite of passage that confirmed an axiom of the age: Life preservers were for kids.
It would be decades before I put one on again. Those decades were full of sailing, in simple cat-rigged dinghies and mighty offshore racing yachts, and just about any type of sail-powered vessel you can imagine in between. It didn't matter if my sailing was on water as calm as a puddle or raging with storm seas. Life vests were not part of it.
There was no peer pressure to change that. In fact, the peer pressure went the other way. Sailors just didn't wear life vests, whether they were dabblers and dilettantes or sailing adventure heroes.
I once sailed with three of the latter in a winter gale on the North Atlantic. They had recently broken the speed record set by the clipper ship Flying Cloud for the New York to San Francisco Clipper Cup passage by way of Cape Horn in a 60-foot yacht. They had pretty much seen it all when it came to abominable sea conditions, but even they seemed impressed by the 30-foot-high moving mountains of water that swept under and over us and sent the boat hurtling down their steep faces to a hard landing at the bottom of troughs.
My gnarly mates didn't wear life vests and neither did I.
Just so you know I was not a totally irresponsible life-vest agnostic, I did make my kids wear them. Life preservers, after all, were for kids.
Along the way, some bureaucrat renamed them personal flotation devices, but that didn't make them any more appealing.
But then, the arrival of mass-produced inflatable PFDs denied sailors their go-to excuse for eschewing life vests—that they were clumsy, bulky affairs not much improved from those worn in Titanic's lifeboats and actually made sailing less safe by limiting mobility.
Still, most sailors weren't sold. The early inflatables were kind of floppy, with outer shells that were prone to fall apart and let the uninflated bladder spill out. Automatic inflation systems were fragile and some were so sensitive that high humidity could blow up a PFD. It didn't help that the Coast Guard withheld its stamp of approval for years.
No matter, the PFDs evolved. They became more dependable in inflating when they were supposed to and not before. They fit better and, more streamlined than the pioneer models, they looked pretty good on sailors. Believe me, that counts.
A bright yellow rainsuit made for farmers and construction workers and available from Amazon for $15 would be adequate for most of the sailing amateurs do. When they spend $1,000 or more for a set of foul weather gear, it's as much to look cool as to stay warm and dry. Don't underestimate the vanity of sailors. It helped change the safety culture of sailing.
That Rubicon was crossed when the Spinlock inflatable PFD was introduced. Aimed at offshore racing sailors, the vest was compact, almost sleek, yet just about bulletproof, held together with a heavy-duty zipper, incorporating a beefy safety harness, a spray hood, light and whistle and even a cleverly designed tether-cutting device. It was black and had the cachet of being the most expensive PFD you could buy.
It didn't take long for the Spinlock to become the badge of the intrepid offshore sailor. I knew the deal had been sealed when I noticed young crew members of a hot racing boat strutting on the dock before a race wearing their cool Spinlock PFDs for what they hoped was an admiring audience.
So now, when PFD wearing is required by race rules or sea conditions are fraught, you can see me in a trim-fitting black inflatable life vest tightly secured over my high-tech black foul weather gear—and I look marvelous.