This good-looking family cruiser's deck is laid out for easy sailing
Now let's see what Marc Lombard, the same designer as the Oceanis 31.4 can do when you give him a very similar design brief and an additional 2 feet 8 inches of additional hull length. Looking at the sailplan these two boats appear almost identical. The easy way to identify them is the bow profile. The 380 has a reverse rake to the stem.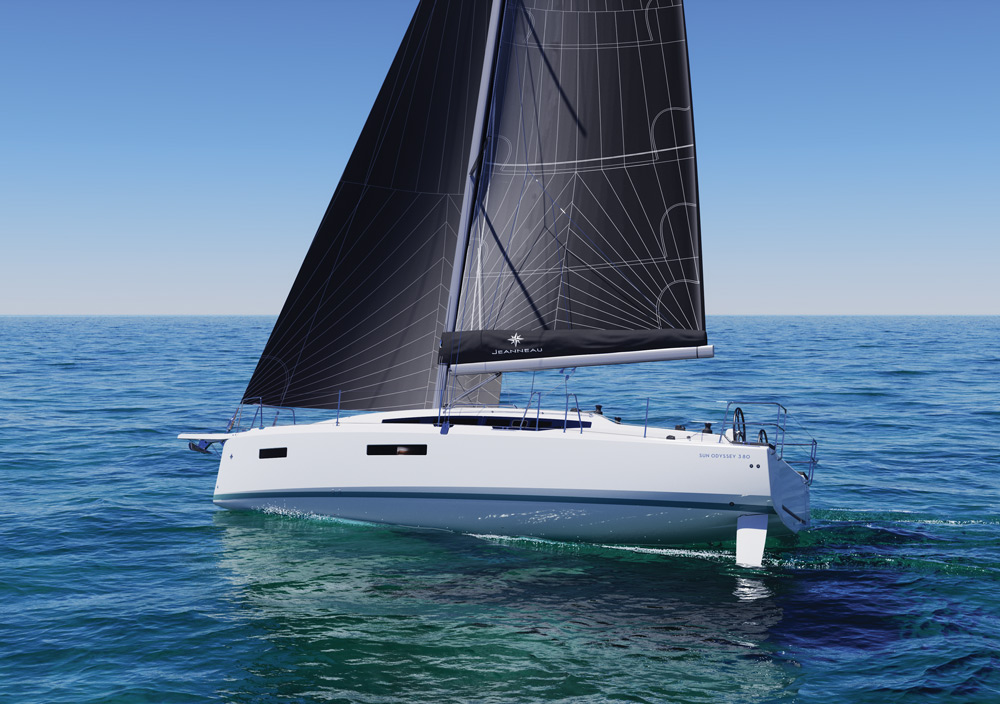 I suppose you could argue that reverse stem rake gives you a better entry or maybe it reduces some weight forward but I think it's purely for aesthetics. It looks good. That's fine, I like "looks good." The D/L of the 380 is 166. That is very close to the D/L of the 34.1. The L/B is slightly higher at 2.88, but this is still a very beamy boat. D/L and L/B work together to provide the volume you need below for accommodations. Again there is a full length chine and twin rudders. The three draft options include a shoal keel of 5 feet 3 inches, a deep keel with a 6-foot 6-inch draft and a lifting keel that draws 4 feet 2 inches with keep up and 8 feet 4 inches with keel down. I see no indication on the accommodations drawing for any kind of keeltrunk and I have no profile indicating the configuration of this lifting keel.
The layouts of the 34.1 and the 380 are very similar. If you are looking for what the 2 feet 8 inches of extra hull buys you look at the size of the hanging lockers and the nav station. That's about it. There is the option of having two mirror image quarter cabins with double berths or one quarter cabin and a shower stall adjoining the head.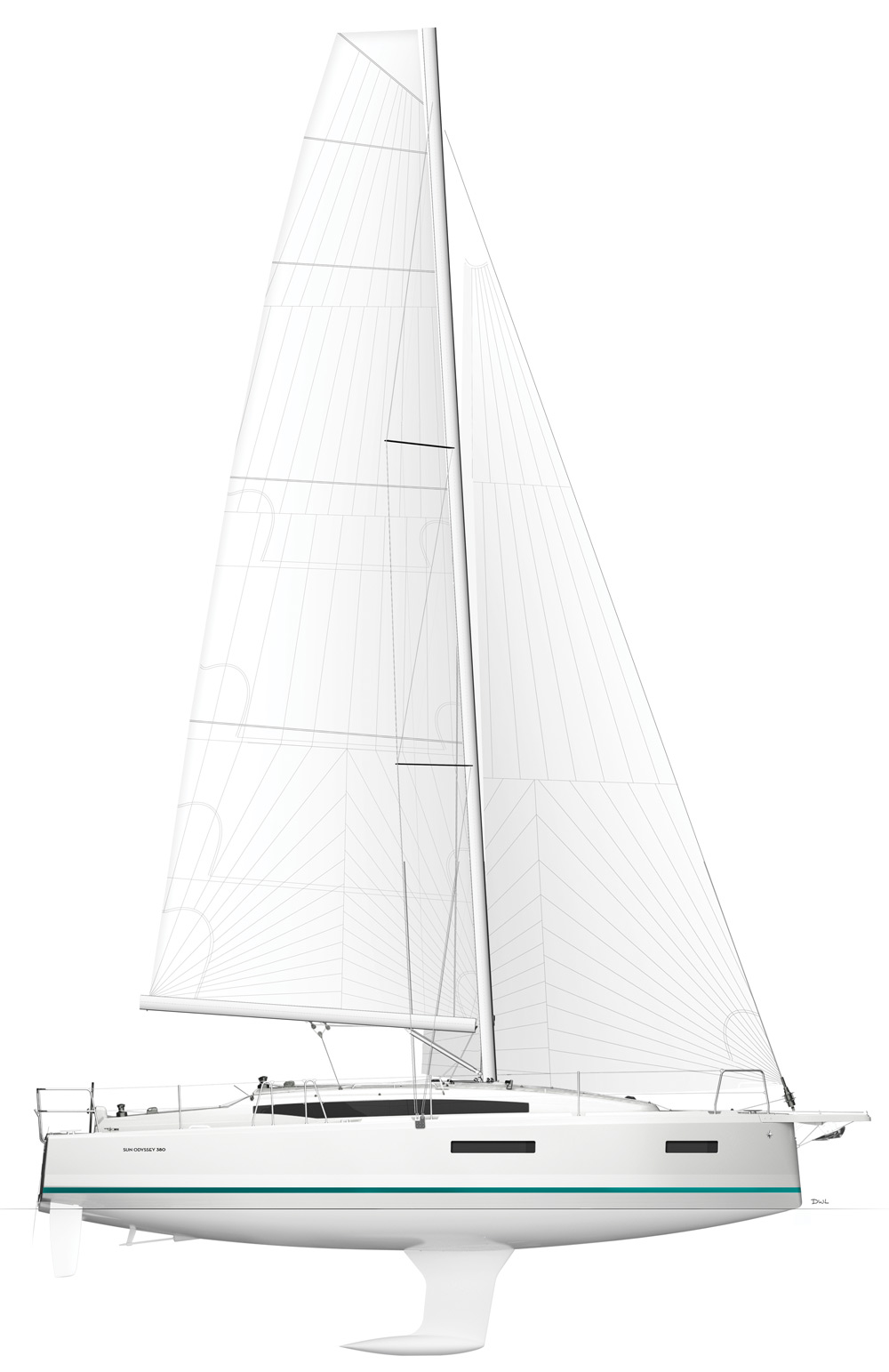 Look at those double quarter berths. They are not tapered as they go aft. These are probably standard size double beds. That makes buying fitted sheets easier. The port side settee is a U-shaped dinette in this model and that may be enough extra seating room for six to dine below if you assume there is an add on or flip up leaf for that dining table.
The 380 has a SA/D of only 17.12 if I use the nonfurling rig dimensions. This is pretty low for a fractional rig. The good news is that you won't need to reef very often. There is a track for a self-tacking jib but again no track on the deck for an overlapping genoa which you might need on this rig. Although, on the sailplan it indicates a jib with about a 110% LP. I just can't see where it sheets. The spreaders are swept 28 degrees. That's a lot and it means you will impale the mainsail quickly on those spreaders as you ease the sheet. But your downwind VMGs will be better if you reach back and forth rather than try to go dead downwind. Like the 34.1 with spreader sweep this allows you to do away with a standing backstay. The builder saves some money by having one less chainplate to install. The 380 comes with the option of a square topped mainsail. That will help add some sail area. There is no backstay to worry about catching the roach.
The deck plan shows a wide open cockpit with small seats tucked into the corners at the transom for the helmsman. There are flush hatches to access the stowage under the cockpit sole. The cockpit seats are long and look perfect for a nap. I would assume there is a cockpit table option. The side decks are absolutely clear of anything. Nice if you like to sail barefoot. It looks like the mainsheet is double ended and leads aft to the primary winches at the wheels.
This is a sexy looking boat. I like that bow rake. I like the svelte lines of the cabintrunk. I would miss not having some opening ports but that long fixed window compliments the lines. And there you have it: two French designs that have a lot in common from rig geometry to keel options. Very interesting.
---
LOA 38'6''; LWL 35'4''; Beam 12'3''; Displ. shoal keel 15,203 lb., Displ. 20,701 lb.; Draft shoal keel 5'3'', deep keel 6'6'', lifting keel up 4'2'', down 8'4''; Water 87 gal.; Fuel 34 gal.; D/L 166; D/L 34.1; SA/D 17.12
---
Our best estimate of the sailaway price: $350,000
Jeanneau America
105 Eastern Avenue, Suite 203,
Annapolis MD, 21403
410-280-9400
---