This cruising catamaran has room for a crowd to sail in comfort
I don't know if many of you have heard the story of how I got my job as "technical editor" of SAILING but I'll tell it again. It's a funny story.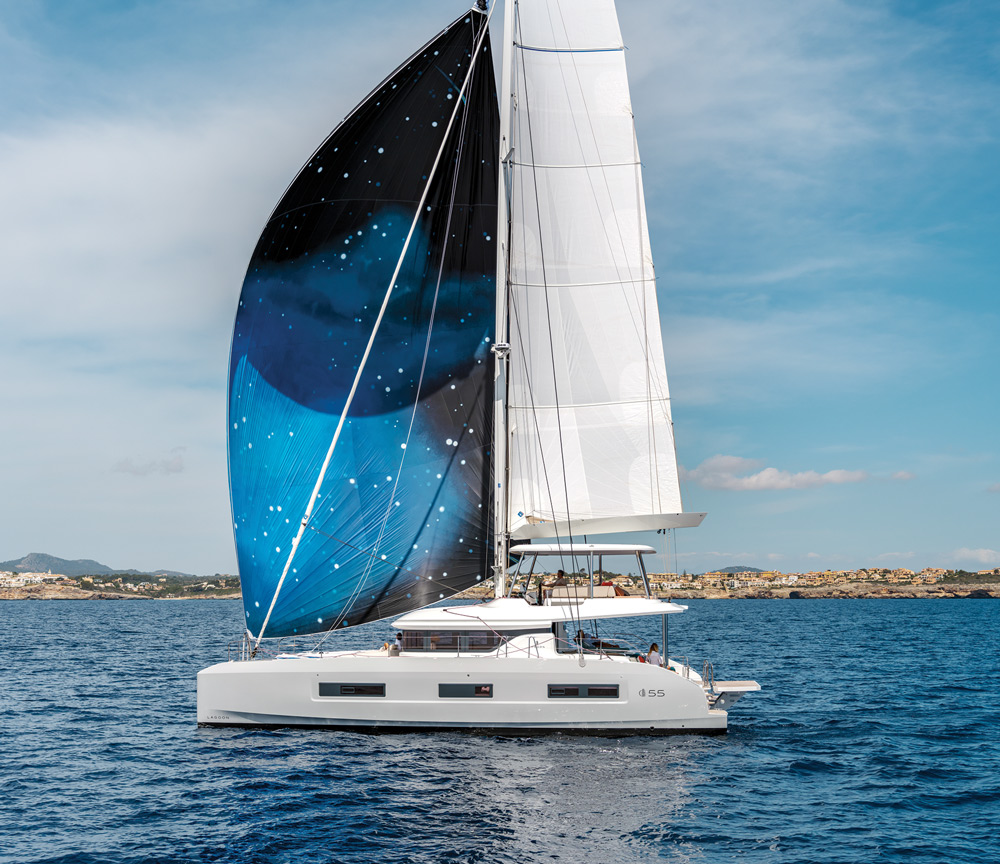 It was late in 1974 and SAILING Editor Micca Hutchins wrote a review of one of my early designs. I was in the very early days of my own design office and very protective of my work. I did not like Micca's review and I called her to protest. She listened quietly as I ranted. I ended my rant with, "Even I could write a better review than that!" She replied and I'll never forget her words, "Would you like to try?" I said yes and she offered me $80 a month to review four boats each month. I jumped at the offer. That was 47 years ago.
As far as I know I have been doing a design review column longer than any other yachting writer. Much thanks and sincere gratitude goes to Bill Schanen, publisher of SAILING. My reviews were not always well received by the builders of the boats I reviewed. One builder threatened to come to Seattle and chop my head off. But Bill had my back and supported me each time I was attacked. Curiously, I never was attacked by any designers. I knew I was in a unique position with SAILING and I turned down several offers from other yachting magazines because I knew Bill would let me write honest and objective reviews. And that's the story.
This month we will look at two cruising catamarans and we'll start with the Lagoon 55 designed by VPLP with exterior design by Patrick le Quement and interior design by Nauta Design. It takes a village these days to produce an entire design.
This is a big cat with a D/L of 168 and an L/B of 1.84. That's 29 feet 5 inches of beam max. That should get your attention while docking. I don't have enough drawings or hull lines to give to a L/B of the individual hulls. Draft is 5 feet 1 inch and, while very convenient, I don't think these low-aspect-ratio fins will do much good for on-the-wind performance. Maybe that's not important for these cruising cats. It would be for me.
There is a full-length chine just above the DWL to add volume through the accommodation areas. Freeboard is high and there is kind of a false sheer to reduce the look of the freeboard. This works.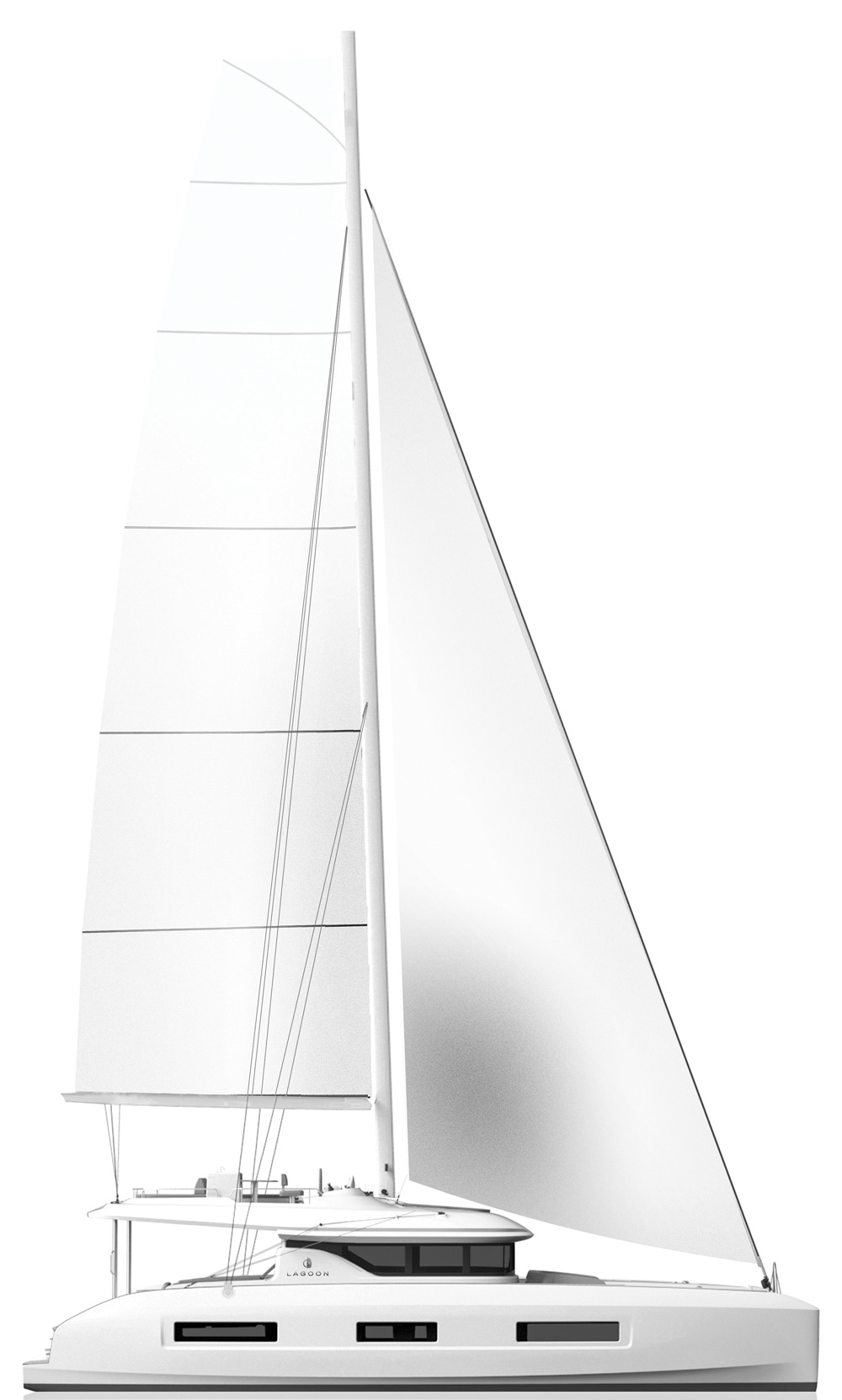 Face it, these cruising cats are almost all about accommodations. The more you can accommodate, the greater your appeal to the charter market. Starting with the main cabin you take one step down from the aft deck area into the main cabin where you have the option of a large U-shaped dinette forward or a smaller L-shaped dinette and settee to port. The galley has lots of counter space. Choice of layout in the hulls determines just how much galley counter space you get.
If you want to sleep 12 guests you get a symmetrical layout with two double-berth cabins with adjoining heads. The forward cabin head has a shower stall. If you only need sleeping accommodations for eight guests you get a near symmetrical layout with two double berth cabins and both heads with shower stalls. The beauty of the eight guest layout is you get far more hanging locker space and general stowage volume down in the hulls. The cryptic nature of the interior renderings makes it hard for me to define the exact stowage space. But it's there.
Often, my complaint with these cruising cats is there is not enough dining area for everyone to sit down together. But with dining area on the aft deck maybe that's a good thing. Maybe you don't all want to have dinner together and room for 12 to dine at one table would be physically impossible. The boats are designed to be used in warm weather areas, so most of your sitting around will be on the deck level including the fly bridge and forward cockpit where there is a big U-shaped settee.
You have the option with the rig of a square-topped mainsail that gives a SA/D of 21.26 or a conventional mainsail with a, SA/D of 20.69. That's not much of a difference but I like the square-topped main best. It gives a beautiful shape to the main. The working jib is self-tacking and sheets to a track just forward of the fly bridge. Sail controls are all on the fly bridge. This is good as it keeps the lounging areas free of clutter There is a fixed hard top bimini over the flybridge so weenies like me who don't like sitting in the sun can drive in the shade.
Given all the bulk involved I find this a handsome cat. The deck structure is nicely sculpted without being overdone. The vertical lines of the cabin face work well with the plumb stems and abbreviated lines of the transoms. The huge windows in the hulls echo these vertical lines. This will be a popular charter cat.
---
LOA 54'4"; LWL 53'9"; Beam 29'6"; Draft 5'1"; Displ. 58,433 lb.; Sail area 1,151 sq. ft.; Auxiliary twin 80-hp; Fuel 290 gal.; Water 253 gal.; D/L 168; L/B 1.84; SA/D 21.26
Our best estimate of the sailaway price: $1.6 million
---
Lagoon
162, quai de Brazza CS 81217
33072 Bordeaux Cedex - France
33-0-557-80-85-80