It's rough out there, perfect for living the seafaring ethic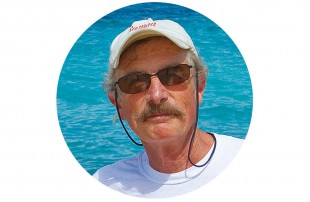 An Aussie friend and I made a pact. He would get me a berth in the Sydney Hobart race and I would do the same for him in the Chicago Mackinac race.
We didn't put this in writing, but even though the agreement was made at a late hour in an Annapolis saloon, we took it seriously, and renewed it several times in occasional meetings in the same bar. Alas, a number of years have gone by, but neither of us has yet fulfilled our pledge.
I have long been in thrall of the lore of the race from Sydney, Australia, to Hobart, 628 nautical miles away in Tasmania, with its famously hard-core sailing challenges, and to this day I am thrilled by photos of boats in the race sailing through whitecapped seas as they pass close aboard the soaring igneous rock columns of Tasmania's Cape Raoul. I regret I have yet to experience that firsthand.
Let me modify that. The regret does not extend to the 2021 Sydney Hobart Race, which was quite a nasty affair, and I'm not sorry I missed it.
This was not a case of one of the southern latitudes' treacherous "busters" ambushing the fleet as it crossed the Bass Strait. This was a building southerly that greeted boats and their crews with brutally steep seas soon after they rounded the headlands guarding Sydney harbor. The wind rose into the mid-30s and the waves, bumping up against a northerly current, grew to 5 meters with, as one competitor put it, "no backs," resulting in crash landings for boats after flying off the top of those walls of water.
Thirty-eight boats failed to finish the race that was described by one TV commentator (Australian media cover and analyze the race like NFL games in America) as "a gearbreaker and a bonebreaker."
More impressive than the number of dropouts was the fact that 50 boats finished, including some as small as 32 feet.
That sailors willingly endure tests like those demanded by the Sydney Hobart invites consideration of the nature of sailing and sailors. Why do we do this stuff? Is it because, to paraphrase George Mallory's glib reply to a question about climbing a certain mountain, the oceans are there?
Maybe, but I like to think it's more about modern-day sailors (don't dare call us yachtsmen, which is objectionable in more ways than as a gender faux pas) finding a kinship with the seafarers who with fortitude and physical and mental skills have navigated the watery two-thirds of the planet through the ages with the power of nothing more than the natural movement of air.
Pardon the philosophizing, but it helps in understanding what drives folks like Anne Lawrence and John Whitfield, husband and wife who own and sailed the boat that finished dead last in the 2021 Sydney Hobart Race.
Their boat, named Solveig, is 36 feet long and 71 years old. Built in Sydney of carvel planked Douglas fir with a rather high teak cabinhouse, she is a double-ender with a fractional sloop rig and a theoretical hull speed of around 6 knots. It took Solveig just under six days to reach the finish line off Castray Esplanade
in Hobart.
The first boat to finish, which crossed the line three and a half days before Solveig, was Blackjack, a 100-foot superyacht that sailed with a crew of 18, including a number of paid professional sailors, and is easily capable of sailing faster than 25 knots.
There were two other 100-footers in the fleet. When contacted during the race by a Sydney newspaper, the navigator on one of them said of the sea state, "It's horrible."
If he thought it was horrible, imagine what it was like on boats the size of Solveig. Videos show Black Jack, with her crew nestled shoulder to shoulder in their matching black foul weather suits on the windward rail far aft, sailing mostly over the clifflike seas, rather than climbing up and down the waves, as though her enormous length spanned the annoying troughs.
Meanwhile, Solveig and other smaller boats were hobbyhorsing violently as they struggled to reach the crests before dropping off their vertical back sides to do it all over again.
Not that any of that was daunting to Solveig's crew, as was evident from Whitfield's comment about the rough race: "The first couple of days and nights we had to batten down the hatches, but the old girl looked after us."
The absence of drama in those words should not be surprising. Whitfield and Lawrence have between them sailed in more than 40 Sydney Hobart races. Their boat, which they bought in 2019, is a Hobart race veteran as well, having sailed in six of the races, starting in the year she was built, and in 1954 winning the race.
It's pretty obvious that these sailors don't put themselves through the Sydney Hobart wringer to add a check mark to a bucket list of braggable achievements. They are living the seafaring ethic.
Offshore racing competition can spice up that ethic, but it's not a requirement. As Lawrence said, "The object of the race for us is to get there. If we get up the Derwent (the river leading to Hobart), we've won."
Solveig's owners were among a good many kindred spirits in the 2021 race, sailors on small boats, some of them prosaic cruising craft more likely to be seen in marinas and calm anchorages than in the Bass Strait, and the hardy souls in the two-handed class. The doublehanders had to stand interminable watches at the helm when autopilots were unable to cope with waves that one doublehander said he "thought were going to break the boat in half."
Another two-handed crew reported lashing themselves to the pushpit when steering to avoid being bucked out of the cockpit.
Members of the Army Sailing Club in the smallest boat in the fleet, a 30-foot Jarkan 925, scored high for seafaring moxie, but not so much for provisioning. The soldiers had to quit the race after they ran out of drinking water. Still, they get credit for hanging in the race for about a week.
The Chicago Mackinac race has seen Sydney Hobart-type conditions over its 119 years, but if my Aussie friend and I ever make good on our exchange agreement, the odds are he will get the smoother ride. I hope he won't be disappointed.