The revival of Beneteau's First series of racer-cruisers continues with this midsized family boat
This new Beneteau First model was designed by a team led by Kristian Hajnsek. Samuel Manuard, known for his Class 40 and IMOCA 60 class racers did the basic design. Structural design came from Pure Design and Engineering out of New Zealand. Styling was done by Lorenzo Argento known for his work with Wally and Brenta yachts. The boat is available in a race version and a cruising version, but the differences are quite subtle. The performance target for this design was to fully plane in moderate air. The comfort target was sleeping cabins (calling them staterooms is silly) for three couples.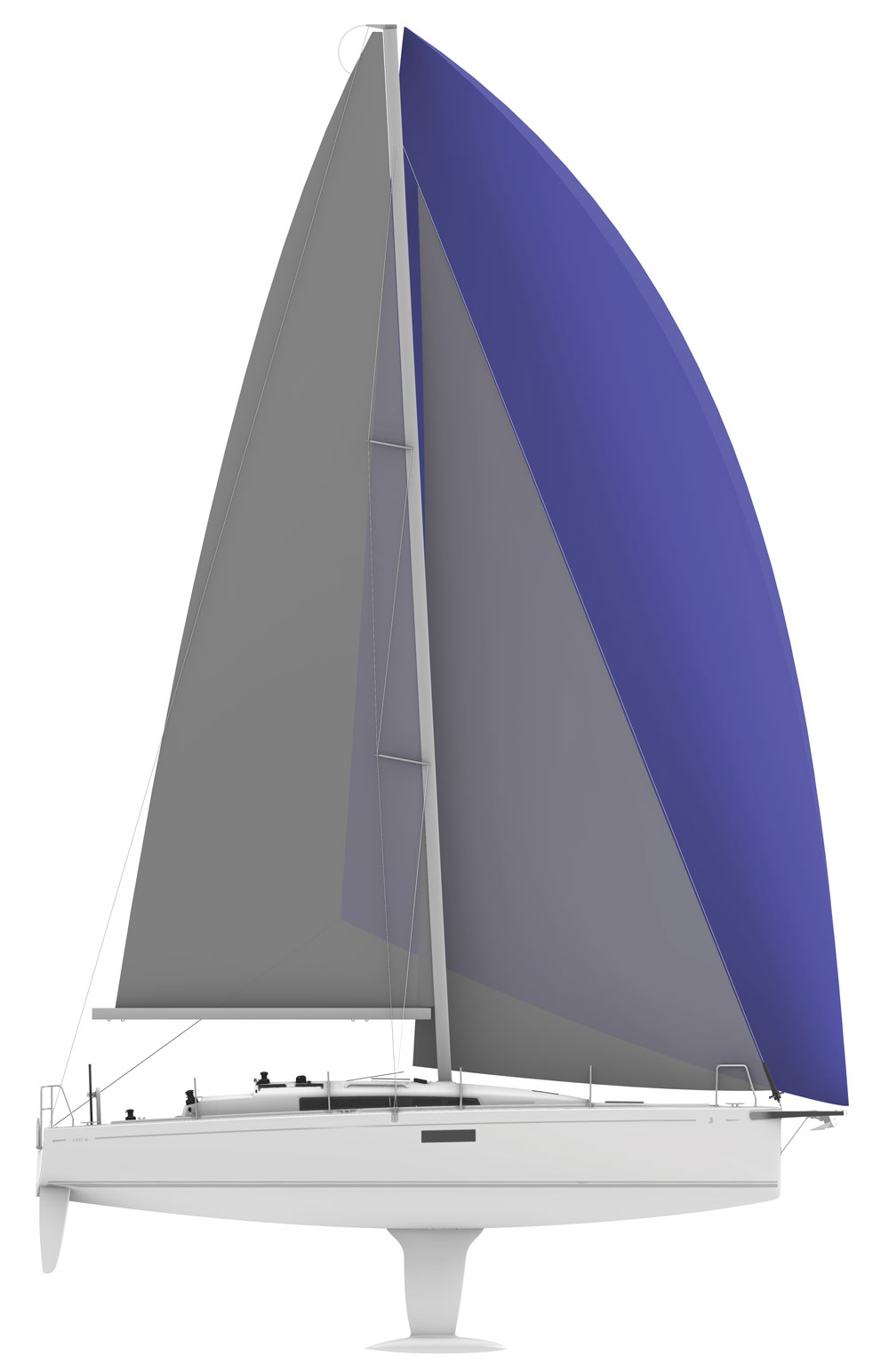 Obviously for a project like this I'm not going to get any hull lines. But I do have some good renderings that show some of the hull form. The D/L for this design is 99.6 and the L/B is 2.88. It's a very beamy boat. Max beam is carried all the way to the transom. This feature is getting pretty normal these days. There is no chine but there is a very hard turn to the bilge. If there is any overhang at all it is less than 12 inches with both ends combined. This boat is all about maximizing the sailing length.
The draft is 7 feet 6 inches with an iron fin and bulb. Note the gussets fore and aft at the root of the fin. I'm not sure if these are for some hydrodynamic benefit or if they are there to spread the keel loads out. There are twin rudders. Look at that reverse sheerline. You could argue that it's reversed to contribute to longitudinal hull stiffness. Or maybe it's more of a windage reduction feature. Maybe it's reversed because it looks racy. Reverse sheer boats go way back to the late 1950s. But, I'm always in favor of
reducing freeboard.
The interior layout is very straightforward, bordering on stark. The galley is very interesting. See that square shape on the forward counter leg? That is the refrigerator. The counter between the fridge and the outboard counter sink is open below counter height. This means they have given up quite a bit of galley stowage volume. It's an unusual way of doing it and I'd like to hear some explanation for it. Maybe it's weight savings. There are mirror image double quarterberths. The head is forward and accessible from the main cabin. The fo'c'sle V-berth is tight but usable. I like the galley. It shows some novel thinking.
There are two deck layouts: a racing deck and a cruising deck. The differences are very subtle. The cruising deck cockpit has long bench seats. But these seats come out for racing leaving only a small bench seat forward and lots of space just forward of the wheels. The traveler is on the cockpit sole forward of the wheels. The twin wheels are unusually high to make movement around them easier. There is a large lazarette access flush hatch between the wheels and a flop-down swim step that when folded up is flush with the flat face of the transom. All deck details were worked out with mock ups and a prototype boat. This is a very good looking boat. In fact, I'll give it 10 out of 10 for style points.
The rig uses an aluminum mast with highly swept double spreaders. I don't have a 2D deck plan so I can't tell you the sweep angle but it looks close to 30 degrees from the renderings. The SA/D is 28.1. With minimal overlap on the jib, the chainplates are outboard.
I suspect you'll see this new 36 on your local race course very soon.
---
LOA 36'1"; Beam 12'6"; Ballast 3,420 lb.; Displ. 10,580 lb.; Draft 7'6"; Sail area 860 sq. ft.; Fuel 18.5 gal.; Water 53 gal.; Auxiliary 29-hp; SA/D 28.1; D/L 99.6; L/B 2.88
---
Our best estimate of the sailaway price: $329,779
Beneteau
105 Eastern Ave., Ste. 201
Annapolis, MD 21403
410-990-0270