How children got to sail a mighty maxi yacht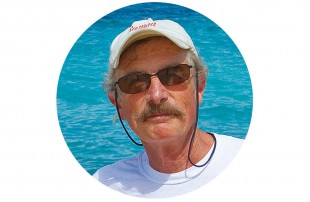 It has been said that whenever two sailboats are sailing near each other on the same course, it's a race.
The saying probably exaggerates the competitive nature of sailors. Still, who among us has not been motivated by the sighting of an overtaking boat to take a sudden interest in trimming the sails to eke out a little more speed and sharpening steering to take better advantage of every puff and wind oscillation?
In an actual race, of course, being passed by another boat is anathema. I find it quite depressing, even when it's a handicap race and the overtaking boat has every right to be faster than mine.
But there was once an exception, and I was reminded of it while following a well-known boat in this year's Newport to Bermuda Race via YB Tracking. In Mackinac races circa a decade ago, I welcomed being overtaken by that boat, in fact, looked forward to it for the pure pleasure of beholding its power and a form of sailing beauty that was both formidable and graceful as it passed.
Not that avoiding being overtaken was possible even if I wanted to, for that boat was the dreadnought of Great Lakes racing, an 86-foot-long sloop named Windquest. At the time, it was one of the largest racing monohulls in the world. The experience of being passed by this mighty maxi yacht was widely shared. In its heyday, Windquest passed every boat in the Mackinac fleets.
I will admit my usual steely concentration on precise steering wavered with the first glimpse of the towering rig, higher than a 12-story building and looming larger every minute as it closed the distance from astern after starting the race 15 minutes after our start.
This was prelude to the main act featuring the brief but dramatic appearance abeam of the impossibly long, dark blue hull cutting the water with its sharp plumb bow at some double-digit speed. In these encounters, we were often bouncing over a typical steep chop, but Windquest was as stable as a streamliner on rails, heeling modestly with five tons of water ballast countering her 5,000-square-foot spread of sail.
Windquest, a Max-Z 86 built in Australia, was then owned by the DeVos family, which has long spent spare change from its Amway health and beauty products fortune on fine yachts. The boat was sailed by a crew of nearly two dozen that included various hot shots, both amateur and pro.
The last time I encountered Windquest in a Chicago-Mackinac race, the boat was sailed by children. That is how Dawn Riley, the new skipper of the boat renamed OC86, described her crew.
It was as OC86 that the boat recorded one of the most significant feats in its racing history, setting a new course record for the fastest passage in a different Mackinac race, the one from Port Huron to the island, in 2021.
Said Riley after the finish, "A lot of people think that it was more amazing to set the record because we sailed with children."
The children she was referring to were teenagers enrolled in a rigorous offshore training program offered by Oakcliff Sailing. Riley is executive director of the sailing academy located at Oyster Bay, New York.
The students were taking part in a 54-day program that included a voyage through the St. Lawrence Seaway and competing in the Chicago and Port Huron Mackinac races, with lessons in navigation, passagemaking, crew work and watch standing along the way.
The former Windquest was donated by Doug DeVos to Oakcliff, where it is the largest boat in a fleet of about 100. Oakcliff was founded in 2010 by Hunt and Betsy Lawrence with an emphasis on training American sailors to excel in one-design racing, including the Olympics.
That's a laudable enough goal, but the way I see it, Oakcliff's most valuable contribution to our sport is the instruction it offers in offshore racing. Basically, this is training in seamanship, the time-honored hand, reef and steer skills, handling boats first safely and then competitively in challenging offshore conditions.
Beginning sailing enthusiasts have little opportunity to learn those big-boat skills if they're not lucky enough to be invited by a generous owner to come aboard as a learn-on-the-job crewmember. Being invited to sail on the likes of Windquest/OC86 as a learner can be classified as an impossible dream without a resource like Oakcliff.
In the 2022 Newport to Bermuda Race, Oakcliff gave 69 sailors (30 of them women) demanding lessons in offshore sailing as crew on the seven boats it entered. The race lived up to its reputation as a hard test with strong but shifty winds requiring frequent sail changes and a rough sea-state that had boats dropping off of steep, brick-shaped waves that taxed the endurance of even seasoned Bermuda race hands.
Few of the Oakcliff trainees in the Bermuda race qualified as children, but it was definitely a young group. The school's Farr 40 Blue sailed with an all-female crew of eight high school students from Lincoln School in Providence, Rhode Island. They were led by British navigator and Volvo Ocean Race veteran Libby Greenhalgh and South African ocean racer Michaela Robinson.
OC84, with a crew of 20 trainees and coaches led by Riley, sailed in the Bermuda race class that allowed boats to have an unlimited number of paid crewmembers. It may have seemed unfair that students had to compete against pros, but in one way it made some sense. Part of Oakcliff's mission is to train sailors for sailing careers that could include working as hired crew and coaches for well-heeled racing boat owners. Maybe one day a few will get jobs like the crew of the Pac 52 Warrior Won, the boat that finished ahead of OC84 and was first in their class with an all-pro paid crew.
I suppose that could be something to look forward to, but some of the academy's students have already received their reward in the opportunities they've had to sail and learn on ocean racing sailboats.
Imagine kids being able to sail on the former dreadnought of the Great Lakes as the boat set a record in a stormy, white-knuckle, downwind thrill ride.
"At one point," Riley told a Detroit newspaper reporter, "the kids were just hanging on for the ride, thinking, 'Someone must know what's going on.' But now, all those students have that experience."
One teenager, she recalled, asked, "Is this like the Southern Ocean?"
If anyone could relate to that awe-struck young sailor, it's Dawn Riley. As a young sailor herself from Michigan, she was a member of the famous all-female crew on Maiden in the 1989-90 Whitbread Around the World Race. Her impressions at the time?
"Everything was, like, wow, frostbite! Oh my God, we broached! We almost hit a whale! This is so fricking cool!"
Sounds like one of the Oakcliff kids.