Attention to detail makes this cruiser stand out from the crowd
This month we have two handsome European designs in the contemporary style. The two boats are 7 feet 8 inches apart in LOA, but if you compare the profiles they are very close to identical. Seems like the formula used for designing current production cruiser-racer boats had been established. No design team seems willing or brave enough to break from this formula. There's nothing wrong with that but we end up with a fleet of "me too" looking boats.
The X4.3 was designed by the X-Yachts design team. It has consistently produced some very nice designs. The D/L of the X4.3 is 180, which is "medium" in terms of displacement for this DWL length. The L/B is 3.17. I'd call that beamy, but today that L/B is very common as designers look for volume for the interior layout required now. There is a chine aft but it's not a hard corner. It's a tight radius but I'd still consider it a chine. You use a chine to push hull volume outboard where is can increase righting moment for better stability and also increase sailing length. But in a design like this I think that chine has more to do with adding interior volume for berths in the quarter cabins. It also gives beam aft for a bigger swim platform. Features like that sell boats better than an additional two-tenths of a knot of boat speed. Draft with the deep-draft T-keel configuration is 8 feet 2 inches.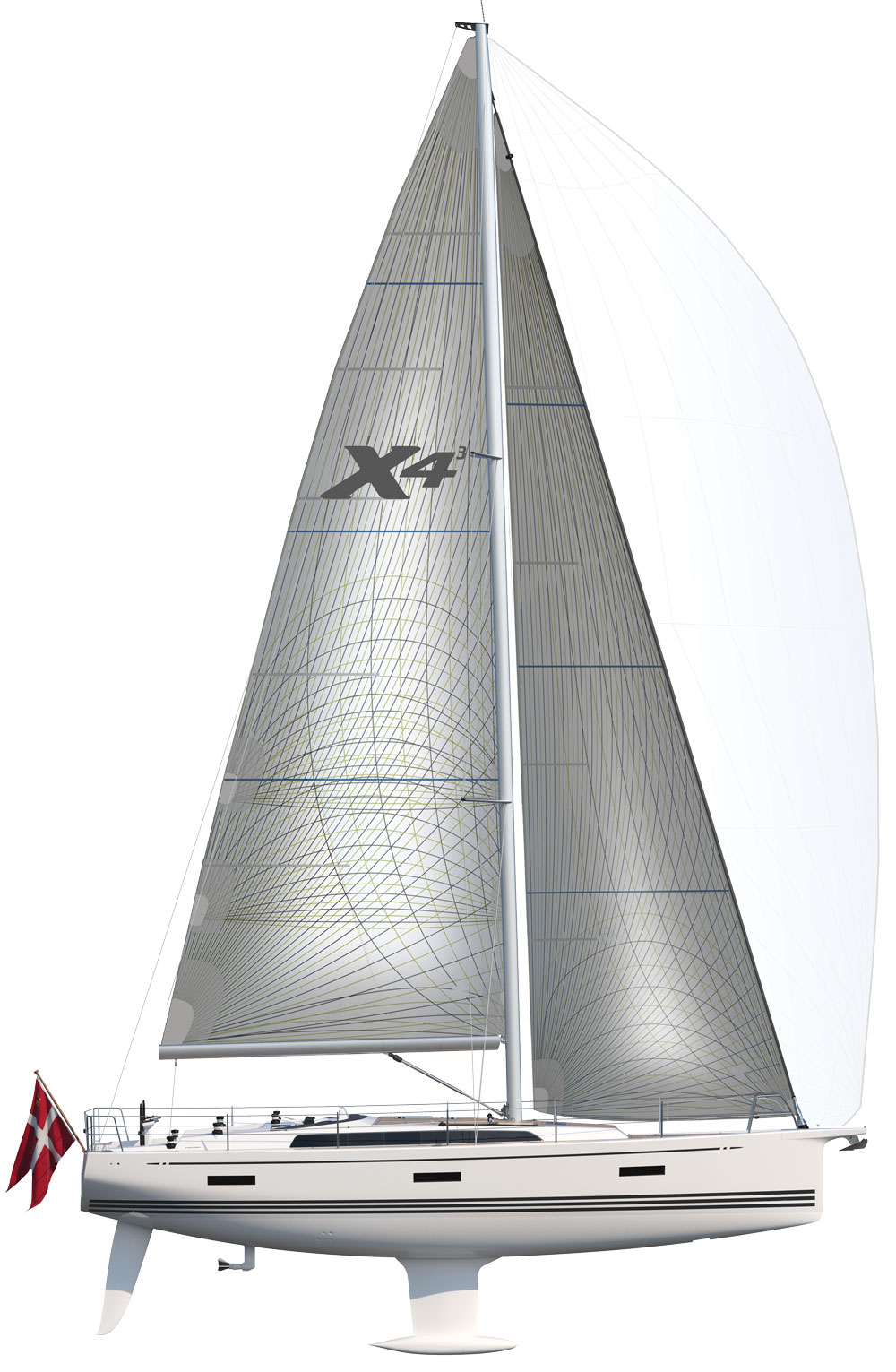 There is an L-configured keel that draws 6 feet 1 inch and a standard T-keel that draws 7 feet 2 inches. The keels use cast iron fins with lead bulbs. There is a single high-aspect-ratio spade rudder with a solid aluminum stock.
There are four layout options. They sent me drawings for three of those options. Essentially you can have two heads or one head and two quarter cabins or one quarter cabin. If you go with one, you get a really big aft head and a generous, forward facing nav station. If you go with port and starboard quarter cabins you get a smaller, but still very adequate, aft head and an aft-facing small nav station using the starboard settee as the nav seat.
The forward cabin is spacious and can include a forward head. If you forego the forward head, the stateroom is really big with large hanging lockers port and starboard.
I like the galley. It has counter space on each side of the twin sinks and the range. The finish of the interior is in Nordic oak veneers with a laminated teak cabin sole. The curved companionway steps are in unvarnished teak. There is plenty of elbow room in all of these layout options. Nothing is squeezed in.
The deck plan features clear side decks with jib tracks on the edge of the low cabintrunk. Jib sheets run aft above the house top to primary winches just forward of the twin wheels. Other lines are brought aft under the house top to winches each side of the companionway hatch. All deck hatches are flush. There is a shallow bulwark running full length. Stanchions are buried in the bulwark helping to keep the side decks unobstructed.
Vacuum-applied teak decking is standard on the cockpit sole and seats. Optional teak decking is available for the side decks and cabintop There is an option for Flexiteek decking instead of real teak on all surfaces. The "bathing platform" is optional. There is a track for a self-tacking jib.
X-Yachts has perfected the retractable dodger detail. When you don't need the dodger it folds down into a well forward of the companionway. This is a very nice feature.
The rig is what you would expect today. It's almost, but not quite, a masthead rig with a masthead spinnaker halyard sheave and double, swept spreaders. The SA/D is 22.82. This would be "medium" considering the boat is designed to use the self-tacking 106% jib. The mainsheet traveler is on the cockpit sole just forward of the wheels. Standing rigging is all rod and there is an option for a taller, carbon rig.
I can't find anything to nitpick about. But I didn't expect to.
---
LOA 43'4"; LOD 41'6"; LWL 37'2"; Beam 13'1"; Draft standard 7'2", shallow 6'1", 8'2"; deep 8'2"; Displ. 20,723 lb.; Ballast 8,157 lb.; Sail area 1,076 sq. ft.; Auxiliary 45-hp.; Fuel 53 gal.; Water 90 gal.; D/L 180; L/B 3.17; SA/D 22.82
---
Our best estimate of the sailaway price : $650,000
X-Yachts USA
P.O. Box 182, West Mystic, CT 06388
860-536-7776