Elegant and fast, this new Nautor design pulls out all the stops for great cruising
Oh boy! I've been looking forward to reviewing this new Swan 55. Why? German Frers is my favorite designer. He has an eye for subtle beauty, never "over designing" and he sure knows how to design very fast yachts. I'm not sure I have ever seen a Frers design I didn't like. This new Swan is spectacular looking. There is nothing that really stands out about the looks but I think that's the key. It's that subtlety that puts every line in concert with the other lines.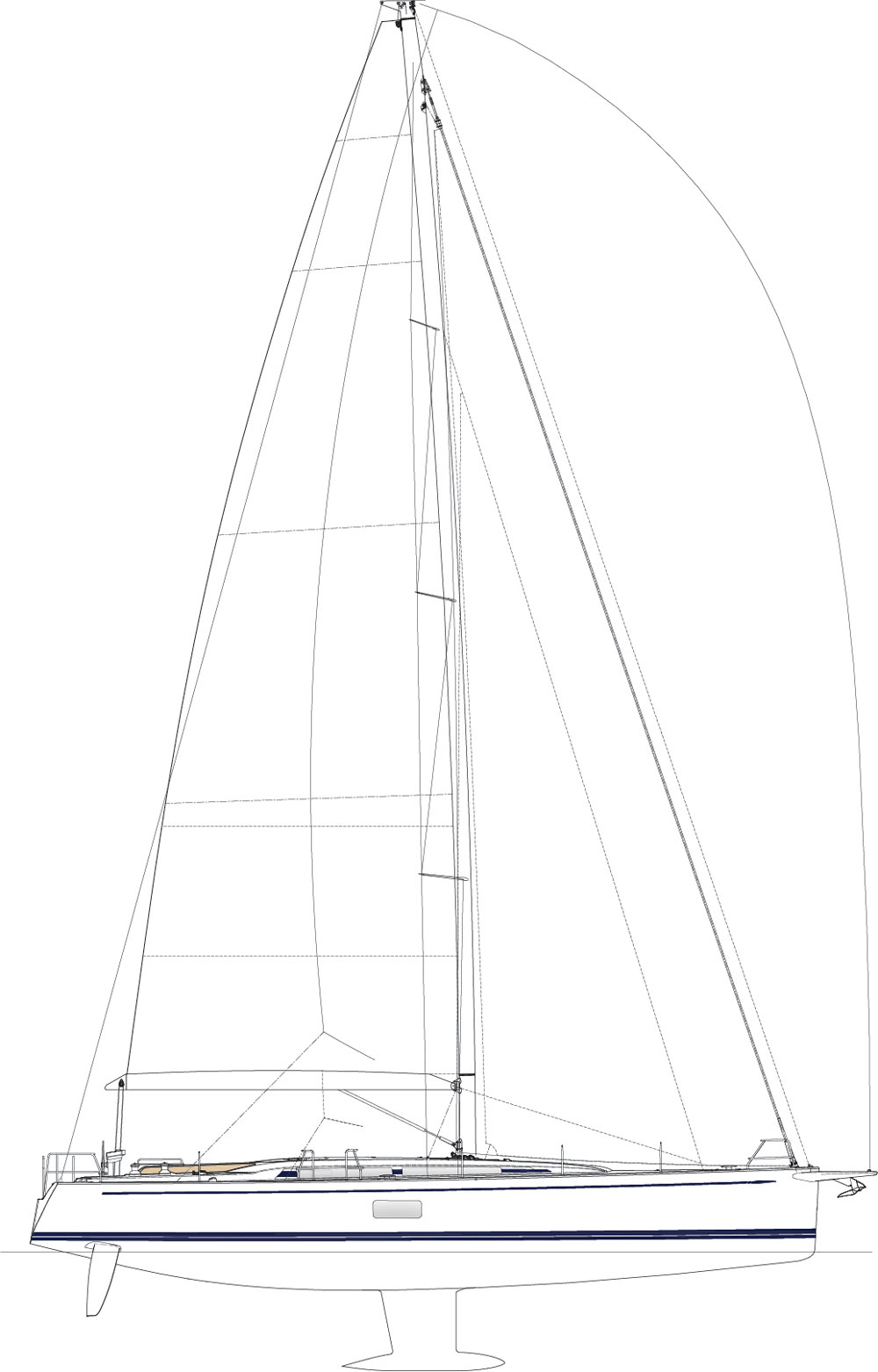 The drawings and promotional material I received for this design are all marked "Conceptual." This makes me think the designers, I include Nautor's in-house design team, are still working out the final details. That's fine. Beethoven's compositions were "conceptual" up until the moment he had to send them to the publisher so he could get paid. There is always something that can be further refined. "Perfect" is a nice word but it is a very elusive goal.
I like the fact that Nautor promotes this boat as a "cruising boat." It's not a racer-cruiser or a cruiser-racer it's just a plain old cruising boat, kinda sorta. OK, not really. For starters it has a D/L of 112 and that is very light for a cruising boat. Nautor does list a "light" displacement so this may be a bit on the optimistic side at this stage of the design work. The company says it aimed at the lowest possible D/L considering the weights involved in a cruising boat. It has an L/B of 3.34 which is textbook normal.
There are four draft options: standard, drawing 8 feet 3 inches; shoal, drawing 6 feet 10 inches; performance, drawing 11 feet 2 inches; and telescopic drawing 6 feet 7 inches raised and 9 feet 4 inches lowered. There are twin rudders. The deckplan planform shows no taper aft that I can measure at this scale. The aft sectional shape is very similar to that of the Beneteau First 44 with a firm bilge turn just above the DWL fairing into a soft, arced bottom shape.
The renderings show the transom corners beveled off in that Frers trademark style. The drawings do not show that detail. The ends are short as you would expect but there is a hint of rake to the stem that gives the boat a more elegant look than a straight dead plumb stem. The sheer has a tiny amount of spring to it that is echoed so gently in the double bootstripe. Maybe details you would never see individually but all work together for a harmonious look. Tricks a very experienced designer can use.
Nautor gave me three layout plans. I get the feeling, reading the promotional material, that customization to the layout is an owner option. The three layouts I have are all the same on the port side. There is a work room aft that I'm certain could be another crew cabin. The galley is very good with plenty of counter space each side of both the range and the sink. You need counter for pots and dishes while you are busy cooking. There is a really big U-shaped dinette with two centerline seats and it looks to me like you could seat eight around this table in comfort.
Forward of the main cabin there is a small sleeping cabin to port with a double berth. Forward of this is the owner's cabin with a queen size double berth and what I think is a writing desk to port. On the port side you have options. The forward layout stays the same with head and shower stall to starboard. The space adjacent to the dinette is open for different treatments and I prefer the straight settee with a forward facing nav station forward.

You can have Streisand chairs and a coffee table or a more elaborate forward facing nav station and a "space of mystery" aft of the nav station. If I had real designer drawings I'd know what this mystery space is but I don't so I will guess it's a bar with an entertainment center over it. There is enough volume in this area for you to stow at least four piano accordions for those moments, late at night, in a quiet anchorage when the urge hits to play some music. I'll stick with the straight settee and play my Marine Band harmonica.
From their numbers, I came up with a SA/D of 22.14, which is enough to give good all-round performance without scaring the dog. The rig is a triple, swept spreader type and I'd presume it's carbon fiber. There is a self-tacking jib that should work for cruising shorthanded. There is about 16 inches of overlap of the roach on the backstay but with a mainsail this big I think it would blow through in most conditions. I hate it when the roach hangs up on the backstay. The sailplan shows the underbody of the boat and what I find interesting is that the rocker of the hull is maxed and deepest well aft of the keel resulting in quite a steep "kick" to the run. But who am I to question German Frers?
The deck plan is complex. I love the way the cabintrunk segues into the cockpit coamings with enough change in contours to avoid a bulky look. The molded-in bulwark with stanchions on top is quickly becoming a production boat standard feature in Europe. It gets deck hardware off the deck leaving perfectly clear side decks. Everyone likes that.
There is an extra long boarding platform that folds up flush with the transom. Twin helm station are well outboard and close enough to the primary winches to make singlehandling easy. The mainsheet winch is on the cockpit sole but I don't have any detail to show how it is rigged. My guess is it's a push button powered in-and-out winch. Other lines run aft under the house top to emerge at banks of clutches port and starboard. This is a beamy boat and all that beam aft makes for a very comfortable cockpit with broad benchs and "transformer" tables port and starboard that "offer a variety of setups, from lunch to sunbathing to "pouffe position." I can hardly wait to try that "pouffe" position.
I'll never be able to buy a Swan 55. I'll never be able to rent one. But I can sure enjoy going over the drawings and imagining what it must be like to sail a boat like that. "Pouffing along."
---
LOA 58'3"; LWL 51'9"; Beam 16'5"; Draft standard 8'3", shoal 6'10". performance 11'2". Telescopic 6'7" up, 11'2" down; Displ. 49,494 lb.; Ballast 16,600; Sail Area 1,855 sq. ft.; Fuel 211 gal.; Water 158 gal.; Auxiliary 110-hp; D/L 112; L/B 3.34; SA/D 22.14 www.nautorswan.com

---