This sleek cat cruises with speed and comfort
It's multihull month, aren't we lucky? But there's no point in getting all curmudgeonly about it. Today the charter boat scene is dominated by catamarans. They have a big footprint on the water and offer interior options that are impossible on a monohull. I'm even getting used to the look. This new cat, designed by VPLP, is very interesting and obviously designed to be sailed where the sun shines.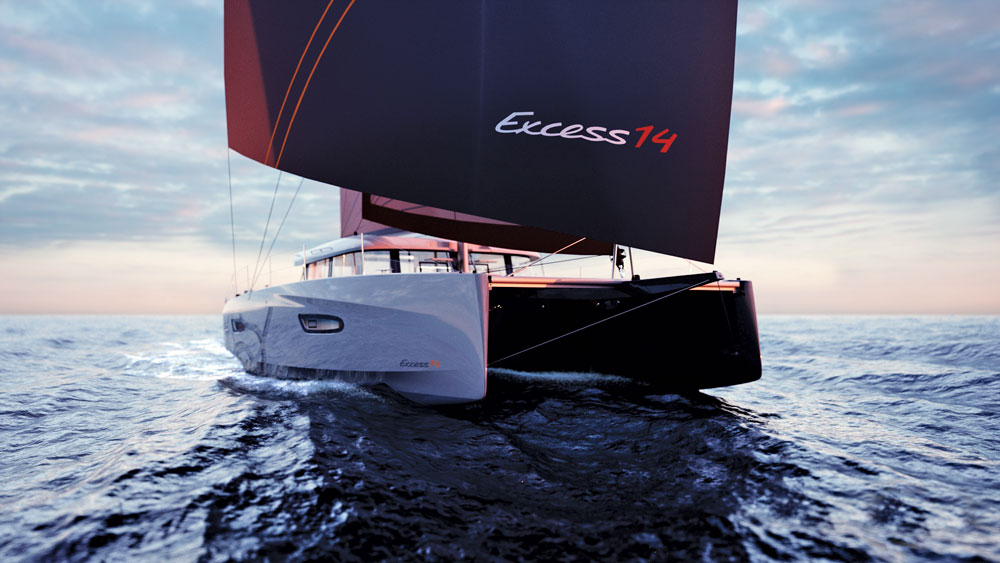 I like to have as much design data as I can get for my reviews. I think asking for a hull profile including the underbody is a reasonable request. But Greta, my intrepid editor, could not get one for either of the boats I have been asked to review this month. When Greta asked why not she got an answer from one builder that said basically, "It's complicated. You wouldn't understand." No, I suppose I wouldn't. Maybe when I have a bit more experience I would.
But I did get a small rendering of the 14's hull with the point of view just off the bow quarter. I can fake it from there. This cat has two chines. One full-length chine is just above the DWL and swoops up as it approaches the transom. The other chine starts at the transom, just below the sheer and slowly swoops down as it goes forward. It's kind of a sexy-looking shape but I can't see any practical reason for either chine. Looking good is reason enough.
The builder's specs list a displacement of 25,794 pounds; then there is a dash and another displacement of 40,352 pounds is listed. That is an increase in displacement of 64%. My guess is that the 40,352 number is for a full-load condition. But that 14,558 pounds is a lot of load. So, for a D/L for this boat I think I'll use an average displacement of 33,073 pounds. Even that is quite heavy for a boat with a DWL of 43 feet 9 inches with the D/L of 176.3. That's about what a cruising monohull of this DWL would have and this cat has no ballast. The L/B with a 25-foot 9-inch beam is 1.69. Draft is 4.83. The keel is much shorter in chord length than most of the cruising cats I see.
You can choose from four layouts. You can sleep six in three double-berth cabins with two cabins in the port hull and the owner's cabin in the starboard hull. Each cabin has its own head with shower stall. You can do mirror image cabins port and starboard and sleep eight. You can go with three double berths and have split single berths in the forward starboard cabin. In this arrangement the owner's cabin shares the head with the single berth cabin. This is all pretty standard fare for cruising cats these days. It works quite well.
The main cabin has a good-sized galley. There are front-opening drawer style refrigerator and freezer to port. Those outboard counters are really deep, front to back. This is because that "box" is used to gain more headroom in the aft cabins. There is a nav station forward to port. The dinette looks a bit on the small side to me but there is another dining table out in the "veranda" area. I'm sure six people will not feel like a crowd on this boat.
That veranda (I can't bring myself to call it a cockpit) is huge with a really long athwartships settee spanning the stern. Steering stations are outboard and aft. The housetop is extended all the way aft. I like that. I'm not one for sitting in the sun.
There are two rigs available: a shorter rig which I presume is for the charter market and a taller rig called the Pulse Line, for those wanting more performance. Both use square-top mainsails. Using the average displacement I get an SA/D of 19.72 for the short rig and 22.4 for the tall rig. I look at how close the boom is to the house top and I wonder what you do for a vang? There is no vang indicated on the sailplan. The short rig gets a shorter bowsprit giving an LOA of 45 feet 9 inches. The longer sprit for the Pulse Line rig gives an LOA of 52 feet 5 inches.
If the wind goes light you can have twin 45-horsepower diesel engines. Or, if you want more power, they offer twin 57-horsepower diesels. That should be more than enough power for this boat.
Given the challenges of designing a cruising cat I find the aesthetics of this cat just fine. It would look better with less freeboard but there goes your headroom. It's always something, and it's never for nothing.
---
LOA 45'9"; LWL 43'9"; Beam 25'9"; Draft 4'10"; Displ. 25,794 lb.; Sail area 1,270 sq. ft.; Water 158 gal.; Fuel 106 gal.; Auxiliary twin 45-hp; D/L 176.3; L/B 1.69 lb.; SA/D 19.72. www.excess-catamarans.com
---