This foiling 30-footer puts speed into shorthanded racing
I'm proud this month to bring you two reviews of boats designed by two of the many interns I have had in the office over the last 48 years, Mark Mills and Paul Bieker. I have had interns from all over the world. Most I never hear from again, but Paul and Mark have gone on to become leaders in their respective areas.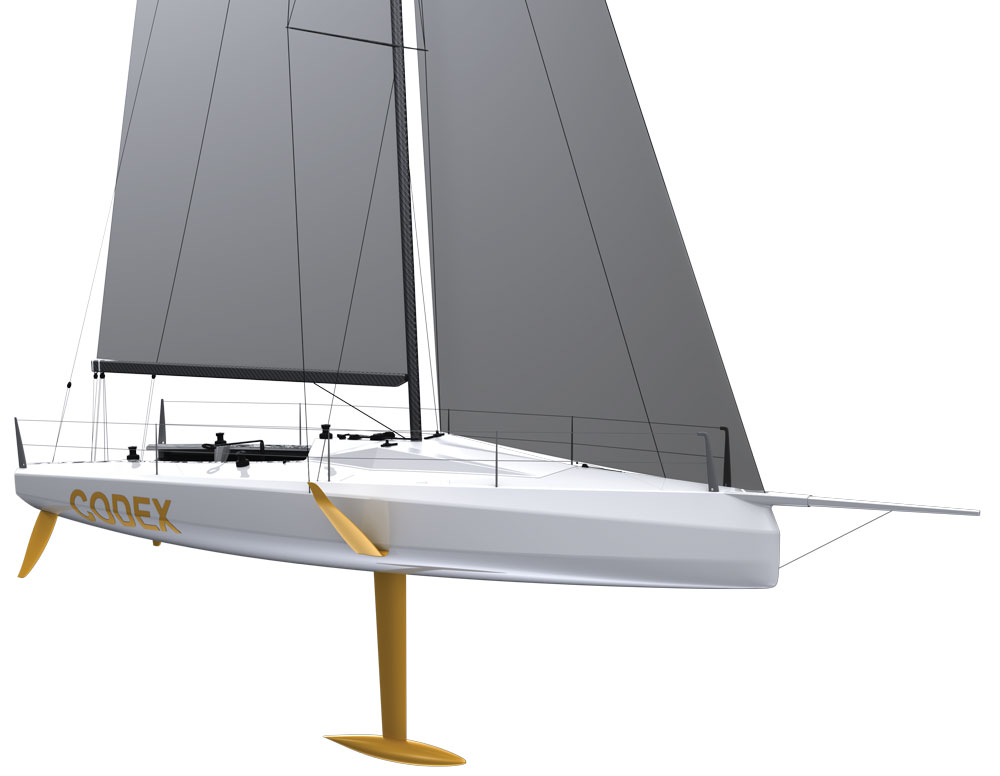 Mark, working out of Ireland, has been dominant in just about all the handicap systems in Europe over the last 20 years and has designed some beautiful Italian maxi boats. Paul is a world leader on foiling boats both power and sail. Begs the question: What could Mark and Paul have learned from the designer of the Baba 30? In fact, I asked both of them the question: What did you learn from your internship in my office?
Paul said, "I learned about the importance of good lettering and line weight." Then he went on a mini rant, "Kids these days can't produce a readable drawing!" I laughed.
Mark said, "I learned about the importance of drafting skills and how a design office was run." There's a certain irony to this intern thing for me. I could not find a college with a naval architecture program that would accept me. Too stupid. I'm an autodidact. Now they send students to me so I can teach them. I have always enjoyed working with interns. It validates all the effort I put into teaching myself.
We'll start with Paul's new Code-X one-design built in Croatia. Paul is a graduate of the naval architecture program at University of California Berkeley. I met Paul when he was 12 years old. Paul is scary smart. I lost track of Paul after the internship and then I began noticing his International 14 designs were beginning to dominate the "development" class.
I-14s are not one-designs. The I-14 rule allows for each design to be different so long as it fits the class rules. Paul was the first to move the rudder aft of the transom and then he added a foil to the bottom of the rudder. Paul is very modest but he contributed a lot of new ideas that you see today in I-14s. A few years went by and Paul designed a 35-footer for a local Seattle client, the Riptide 35. This was a very light, water-ballasted racer with a big rig and a blistering turn of speed. Several were built along with some bigger boats designed to the same concept. They were all fast. Paul worked for the Oracle America's Cup team and is now working for the Italian Luna Rossa America's Cup team. Not a bad addition to your resume. Paul works out of an office in Anacortes, Washington.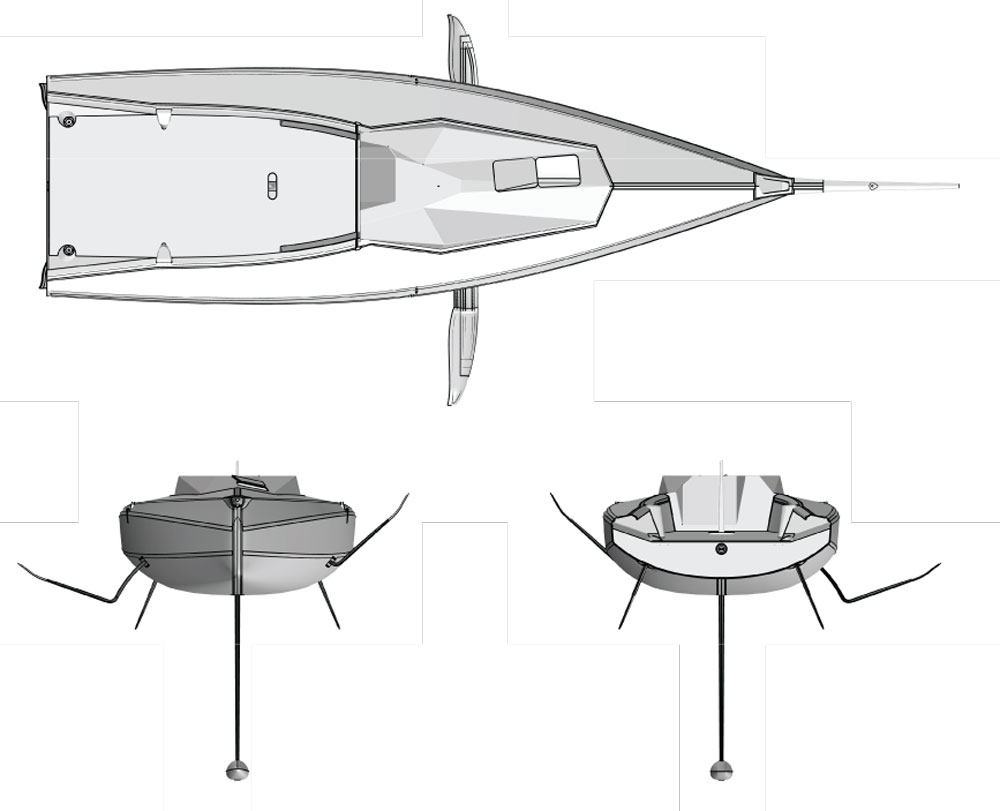 The Code-X is a sportboat that uses a combination of foils and a deep fixed-fin keel, with a draft of 8.1 feet with a 1,280-pound bulb. The foils provide both vertical lift for stability and transverse lift for lift going to weather. Off the wind in light to medium air the boat is sailed with both foils retracted.
There are small, twin rudders. Upwind the weather foil and rudder are clear of the water. To calculate the D/L for both of these boats I added crew weight, which was a crew of five for Paul's design. This gave me a loaded displacement of 3,623 pounds allowing 200 pounds per crewmember. This would be a max displacement for this boat. The foils provide enough righting moment that you can sail this boat with a crew of two.
Mark suggested I ignore DWL and use LOA for the D/L calculation. This makes sense given that both boats, once moving, will immerse their entire LOA. This gives us a D/L of 34.25 for the Code-X. Probably the lowest D/L I have seen. There is a full-length chine and the stem has reverse rake with the top chamfered off. I asked Paul if he thought that added to boat speed. He said "The client wanted it." But he also said that this feature did more to clean up the airflow over the deck and added to the efficiency of the jib.
The construction of this all carbon fiber and epoxy boat is very interesting. The hull is split down the middle and molded in two pieces. There is no real hull to deck joint. The two hull halves are set on the cockpit sole and bonded. Then the stealth fighterlike small cabintrunk is added to bond the forward parts of the halves together.
The deck uses a Nomex honeycomb core for extra weight savings. The hull uses a Corecell foam core. The honeycomb core is very light but it does not like being bent. Paul used flat panels in the cabintrunk and artfully combined them to get a very sexy looking cabintrunk. The keel is all carbon with a 1,280-pound bulb.
The square-top main rig is huge. The SA/D using the loaded displacement is 33. If I dare use the light displacement, which is without the added crew weight of 3,623 pounds, the SA/D is 56! Imagine the off-the-wind SA/D with that giant asymmetrical chute. It won't take much wind to get this boat planing.
The combination of the deep, fixed keel and the retracting foils makes this design unique. When I first saw this design I wondered how the foils and the keel worked together. I think I understand now. I wish I had thought of that when I designed the Baba 30.
---
LOA 31'2"; LWL 29'6"; Beam 9'6"; Draft 8'1"; Displ. 2,622 lb.; Ballast 1,280 lb.; Sail area 723 sq. ft.; Auxiliary retractable electric pod drive; D/L 34.25; SA/D 33
---
Our best estimate of the sailaway price: $275,000
Code 7 Marine
Remetnjak 1
51218 Cavle
Croatia-EU