Not designed to a specific rule, this racer's natural speed is winning races
Here's a new design from Mark Mills in Ireland. The Cape 31, built in South Africa, has been selling very well and as of this printing will probably have at least 50 boats racing all over Europe and winning in a wide variety of rules beside the strong one-design class races. The class has exploded. Part of the appeal of this sport boat is its low cost. It can also fit in a shipping container and be trailered.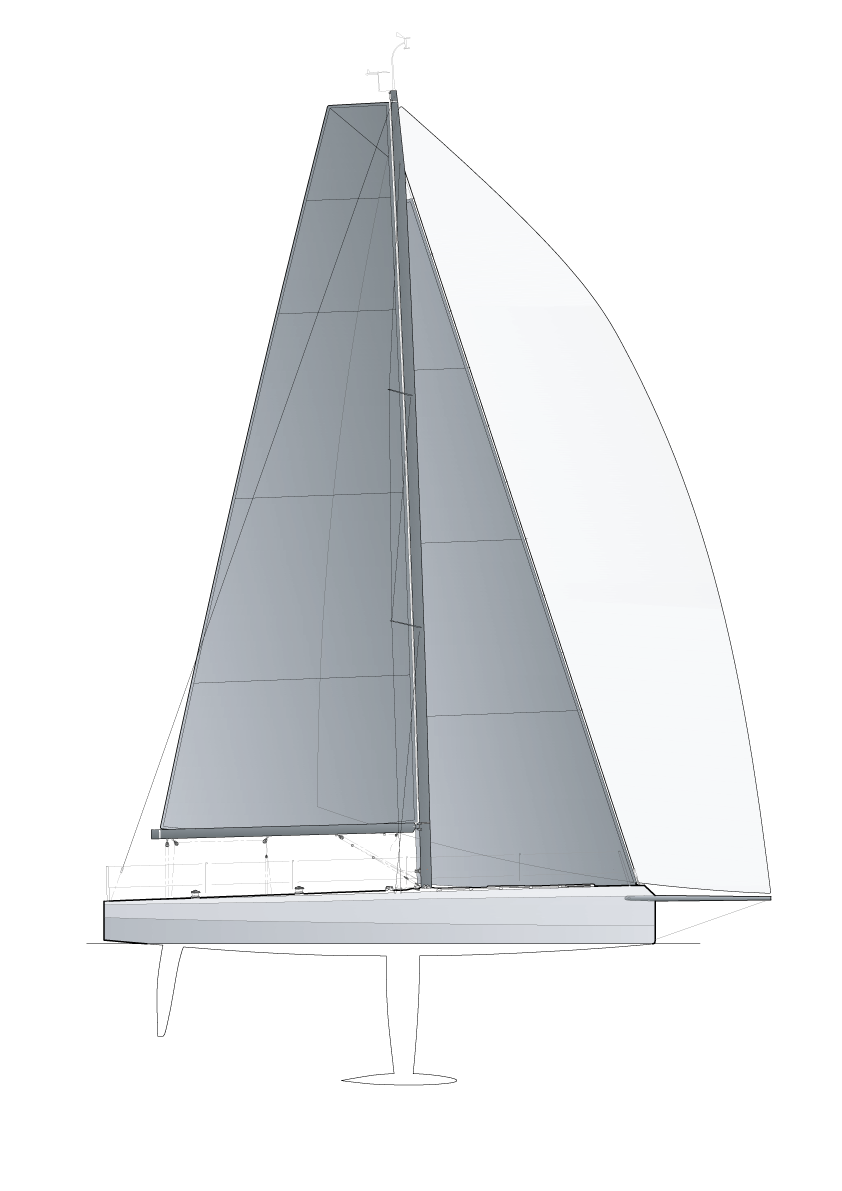 Mark came to my office as an intern a few years after Paul Bieker. Mark attended the Solent University in Southampton, United Kingdom. This is one of the only universities that provides a course specifically for yacht design. It's a very comprehensive three-year program. This is the same school that Will Porter graduated from after doing his internship with me when he was 16 years old. I have had several interns from this university.
Mark has been very successful with a string of raceboats initially designed to the IRC rule and subsequent handicap rules. At this point, he's one of top racing yacht designers in Europe. I let Mark answer the phone when he was in my office. He had a very nice accent. I could hear him from my office. He really knew sailing and my clients enjoyed talking to him.
To keep the cost under control the Cape 31 is built with a GRP hull with Corecell foam and deck in epoxy so the ultralight weight you see in Paul's boat is not possible. By no means does this mean it's a heavy boat. Its displacement is 3,980 pounds. I'll add a crew of six 200 pounders for a loaded displacement of 5,160 pounds and use LOA instead of DWL to get a D/L of 74.9. Draft with a fixed carbon fin and bulb is 8.01 feet.
The very high-aspect-ratio single rudder is carbon fiber. I spoke with Mark about the single rudder. Look at how the beam is carried aft. Heeled over that centerline rudder will be flirting with coming out of the water at the root. To combat this Mark moved the rudder about 4 feet forward of the transom. Mark said that the TP52s had been trying twin rudders for a while but have now come back to a single deep rudder.
There is a single chine and the topsides above the chine are close to dead vertical all the way to the transom. Mark was kind enough to send me a full set of hull lines. (I promised not to publish them.) It's a very sexy hull shape with almost zero deadrise anywhere. The stem is plumb with the top nipped off as is the current fashion to reduce windage and clean up the airflow over the foot of the jib.
One of the distinguishing features of Mark's recent designs is the "ramp cockpit," which he invented. Your typical cockpit on a race boat is just a rectangular box that drops through the regular deck camber. It's usually 15 to 18 inches deep and going forward you have to climb out of this box. Mark's ramp cockpit begins aft like any cockpit but as it goes forward it kicks up around station 7.5 at 11 degrees until it fairs into the normal bow deck camber. This totally eliminates the "step down" into the cockpit box. It's such a natural transition that the first time I saw it I thought it made perfect sense. It's also very sexy looking as it gives the effect of a never ending cockpit. We should start calling it the "Mills cockpit." It will be copied. The cockpit is very wide with a center console that sail controls are lead to within reach of the helmsman. The geometry of this cockpit will make it easy for crew weight to stay centered in the boat.
The rig is a double-spreader type with 20 degrees of sweep. The mast is carbon and the boom is aluminum. If I use the loaded displacement figure of 5,160 pounds that includes the weight of six crewmembers the SA/D is 29.14.
Mark sent me VPP data for the boat. This boat will go upwind at 7.5 knots, plane in 12 knots of breeze and will exceed 20 knots downwind. The unusual thing about this design is that it has been winning under IRC, CSA and ORC rules, including IRC2 National Champion. This is unusual because it was not designed to fit any one of those rules. Think back. Every once and a while a boat comes along that shows raw boat speed that works under any rule. They are rare. They win.
While my influence on Mark and Paul may have been minimal I do take a lot of pride seeing their success. I should have hired both of them. But I think both had their sights set on higher goals. It sure is fun to chat with them now.
---
LOA 31'4"; LWL 28'9"; Beam 10'; Displ. 3,968 lb.; Draft 8'; Sail area 689 sq. ft.; Auxiliary 15-hp; D/L 74.9; L/B ; SA/D 29.14
---
Our best estimate of the sailaway price: $250,000
31 North
31 North, Riverside North Building, Hamble Yacht Services
Southampton SO31 4NN, UK