A complex, traditional-looking design suits an experienced owner
You may not be familiar with the name Mark Fitzgerald but if you have followed the design work of Chuck Paine's office you have seen Mark's work. Mark has been Chuck's right-hand man for years and has been the designer responsible for all of the powerboats that have come out of the Paine office. Mark's drafting is excellent and his detail drawings are exquisite. This time the roles are reversed. This new design for a San Francisco client is Mark's project and Chuck will be Mark's right-hand man. How can you lose with a team like that?
This is a complex design with a lot of subtle details carefully woven in to suit the lifestyle and needs of a very experienced owner and his family. I won't be able to do it justice with my allotted word count but I'll give it my best shot.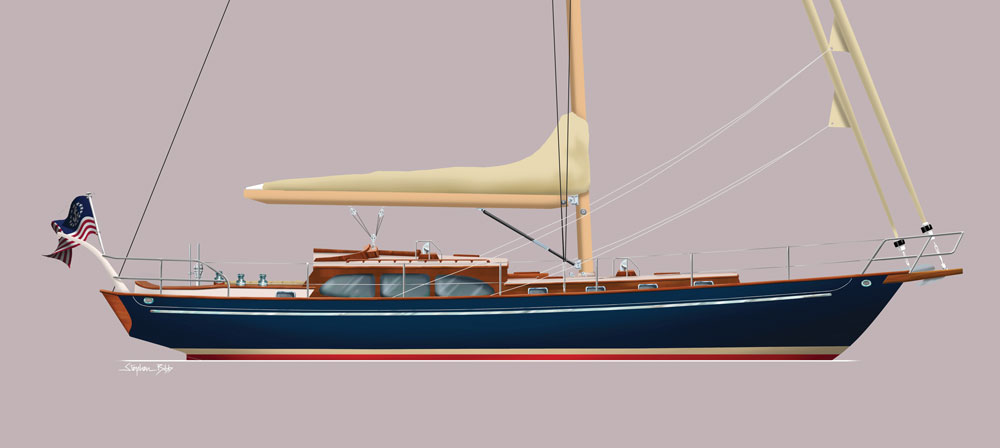 The hull is very moderate in its proportions. The overhangs are long. You lose DWL for that classic look. I'd prefer more DWL. The D/L is 296 so we can call this on the heavy side of "medium" with 48,600 pounds of displacement. The L/B is 3.56. I call that slightly more narrow than "medium," but not by much. There is 19 degrees of deadrise that carries all the way forward and aft. The transom is nicely shaped. I like that. Mark uses that strut aft to support the lower bearing of the rudder and add some protection for the prop. I'm curious how that strut will be built. Draft is 6 feet 10 inches.
This is an interesting interior layout with one unique feature. As per the client's requirements, when the boat is being cruised with just the husband and wife aboard, all the living will take place within the perimeter of the pilothouse. It's kind of odd that with 56 feet of LOA you will confine your living space to only 14 feet but it really doesn't impact the rest of the layout. The owner has two children and they will have comfortable accommodations in two cabins, one with a double berth and the other with stacked berths.
There is a large head and shower forward. It looks like there is a shower directly forward of the mast. Note what I think is a workshop forward and a large fo'c'sle. The main cabin—I suppose you could call it the "pilothouse"—features an interesting galley to port with plenty of counter space. I like counter space on both sides of the sinks, but this is not my boat. The dinette to starboard looks small but it's not. I measure it as close to 7.5" long. That's big . Aft of the dinette is a nav station and a wet locker. To port is the owner's cabin with a double quarterberth and a large head. I'm really not sure which double berth cabin is the owners'. Never mind, they will have choices. Fun!
There is nothing unusual with the deck plan. I love the big keyhole-shaped cockpit that swells out aft to make room for a large diameter wheel. With a crew of four, as intended, there will be room to spare in this cockpit. A hinge-down boarding ladder recesses into the transom. I like that there is deck space aft of the cockpit coaming. Thank that generous aft overhang for that.
The sailplan shows a very traditional-looking boat. I have a problem with the dead vertical front of the raised house. To my eye it looks incongruous with the pretty sweep of the sheer. There's that annoying little voice again, "It's not your boat, Bob." The SA/D is 17.21, about the same as a Valiant 40. This SA/D uses the working jib and not the outer genoa jib. I think that big, outer genoa jib is intended for off-the-wind sailing and it will make a very good light air sail. It won't be fun to tack but this is a cruising boat not a racing boat. Roll it up and tack.
This boat will be built by the Brooklin Boat Yard in Maine. The hull construction method will be cold-molded western red cedar skins over Douglas fir strip planking. The rest of the build will be in wood composite. One thing is for sure, this boat will smell really good while it's being built.
If you want to follow this build when it's underway I'm sure Mark and Chuck will provide photos and commentary on the Chuck Paine fan club page on Facebook. Join his fan club. Very nice design work, Mark.
---
LOA 56'1"; DWL 42'6"; LWL 43'1"; Beam 15'9"; Draft 6'10"; Displ. 48,578 lb.; Ballast 15,800 lb.; Sail area 1,411 sq. Ft. D/L 296; L/B 3.56; SA/D 17.21
---
Our best guess of the sailaway price: $2.5 million
Brooklin Boat Yard
Center Harbor Road
Brooklin, ME 04616
207-359-2236