This modern catboat boasts style and performance
I was 14 years old and beginning to get very interested in yacht design. I have no idea why. Nobody in my family had ever owned a sailboat. I had probably been sailing twice. But with the focus and vigor of a kid I began seriously studying boat designs.
The one boat that baffled me was the Cape Cod catboat. It had a funky bow, a funky rudder, it was fat and it had a centerboard. None of it made sense to me.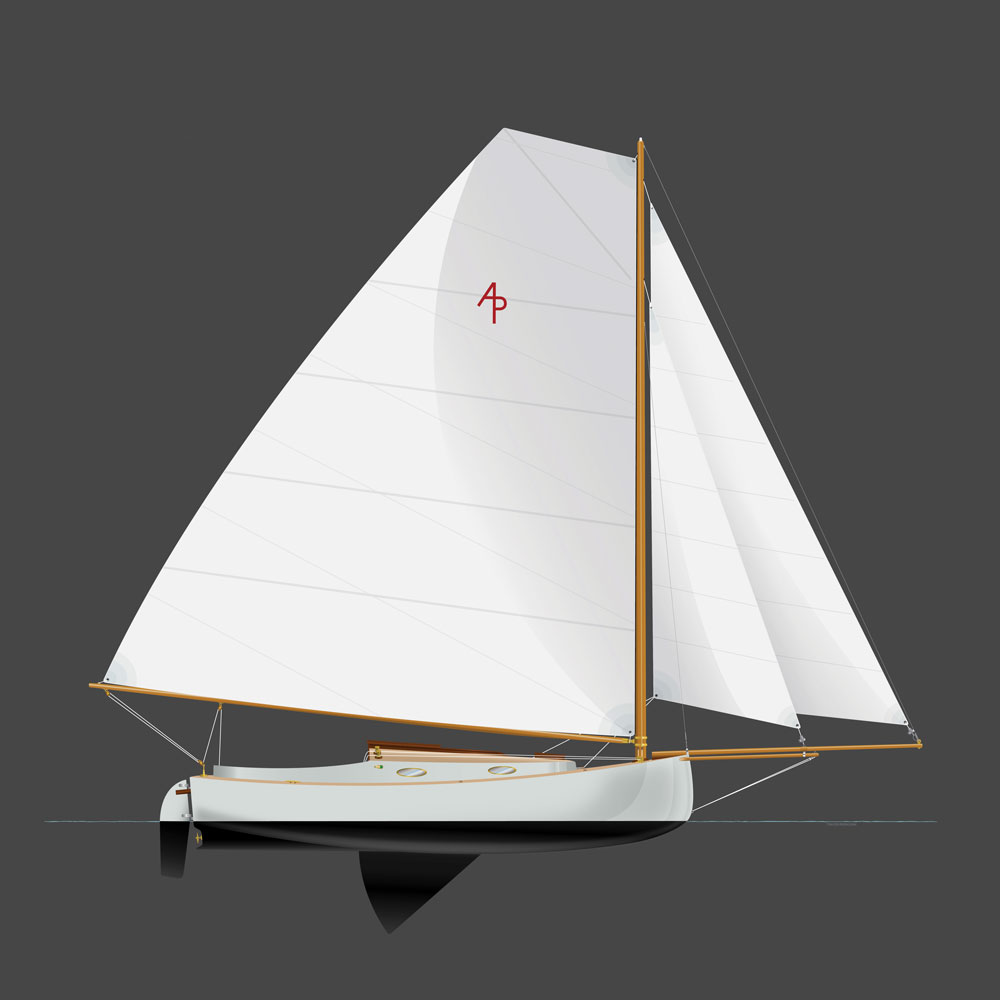 Now jump ahead five years. I was living on a houseboat on Lake Union in Seattle. My dock neighbor was Dick Wagner. Dick would go on to found the Wooden Boat Center in Seattle. But back then Dick had a small fleet of rental boats he tied up next to his houseboat. I began renting his boats. He had a couple of clinker-built Norwegian catboats and a couple of 16-foot clinker built skiffs. Neither of these boats sailed well.
He also had one Concordia daysailer. This was a very traditional-looking boat with internal lead ballast and a habit of swamping in the hands of a less than skilled renter. I avoided that boat. He had two 12-foot Beetle cats, true Cape Cod-style catboats.
I had little money back then and Dick probably figured that out. He suggested that we swap my sailing time in his boats for help with the maintenance, which meant sanding the fleet. I jumped at that offer. I soon discovered that the Beetle cats were a hoot to sail. They were stiff. They seemed fast and they had a weather helm that could really grab your attention.
One day, after work, I suggested to a friend, Jaime, that we take the two Beetle cats and race around the lake. We had a good breeze and I beat Jaime by a respectable distance. Back at the dock I asked Jaime if he had pulled the centerboard up on the downwind legs. Jaime said, "Centerboard? I never put it down." That impressed me. The fact that he could get the Beetle cat to go to weather at all with the board up amazed me. I remain a fan of Cape Cod catboats to this day.
But the XFC 22 built by Arey's Pond Boat Yard is not your granddad's catboat. Responding to a request from owners of other APBY cats for a boat that could compete on the race course, the new cat was designed by Tony Davis and Bill Nash. The build is cold-molded wood and wood composite.
The L/B is 2.09 and that's "normal" for a catboat and provides good stability. I consider an L/B under 3 to be beamy. The D/L is 216 with 1,800 pounds of ballast that is internal in the bilge. Draft with the centerboard up is 20 inches and with the board down it's 4 feet.
I have a full set of lines for this design. It's a very shapely hull, quite sexy with a marked hollow entry, about 10 degrees of deadrise amidships and some delicious tumblehome aft. Freeboard is low and this hull is all sailing length. The classic catboat barn door rudder is replaced by a deeper, higher aspect-ratio spade type rudder. The focus on this design was improving the upwind performance over traditional catboats. I wonder why they did not go with a higher aspect-ratio centerboard.
I could not find anything in the material the yard sent me about the interior layout. I called the yard. The answer I got was, "There is one cot." "Is there a porta potty?" " No." So there you have it. This is more race boat than cruising boat. There is a Beta 10-horsepower diesel engine.
The typical catboat gaff rig has been replaced by a hybrid type gaff rig that looks more like a square-top main than the high peaked gaff you would see on traditional cats. The SA/D is 23.9. If you add the 120-square-foot gennaker to that you get a healthy SA/D of 30.7. That should give this cat a good turn of speed in light air. That long retractable sprit should help with the trademark heavy weather helm of most classic cats.
It's nice to have something different to review. This is a boat I can easily see myself enjoying. There's plenty of room in that big cockpit for me and both dogs.
---
LOA 22'; LOA with bowsprit 39'; LWL 21'5"; Beam 10'6"; Draft board down 4', board up 20"; Displ. 4,800 lb.; Ballast 1,800 lb.; Sail area 426 sq. ft.; Auxiliary 10-hp; D/L 216; L/B 2.09; SA/D 23.9
---
Our best estimate of the sailaway price: $260,000
Arey's Pond Boat Yard
45 Arey's Lane
South Orleans, MA 02662
(508) 255-0994