This next gen racer-cruiser is elegantly fast
Once in a while someone will ask me, "Who is your favorite designer?" It depends on the day and my mood but I usually have a very short list, if you rule out designers no longer with us. Currently I'd have to put Mark Mills at the top of my list.
Mark was once an intern in my office. We got along very well and I consider him a friend. But that does not bias me, very much. I like Mark's designs. They are exciting. They are all performance focused and while they have most of the earmarks of today's top performers, Mark manages to put his own stamp on his designs. He has a recognizable style that is pretty rare today. This new 40-foot M.A.T. 12.2 is a bit different for Mark in that it is his vision of what an IRC aimed racing-cruising boat should be. So spit out your gum and sit up straight—this will be different.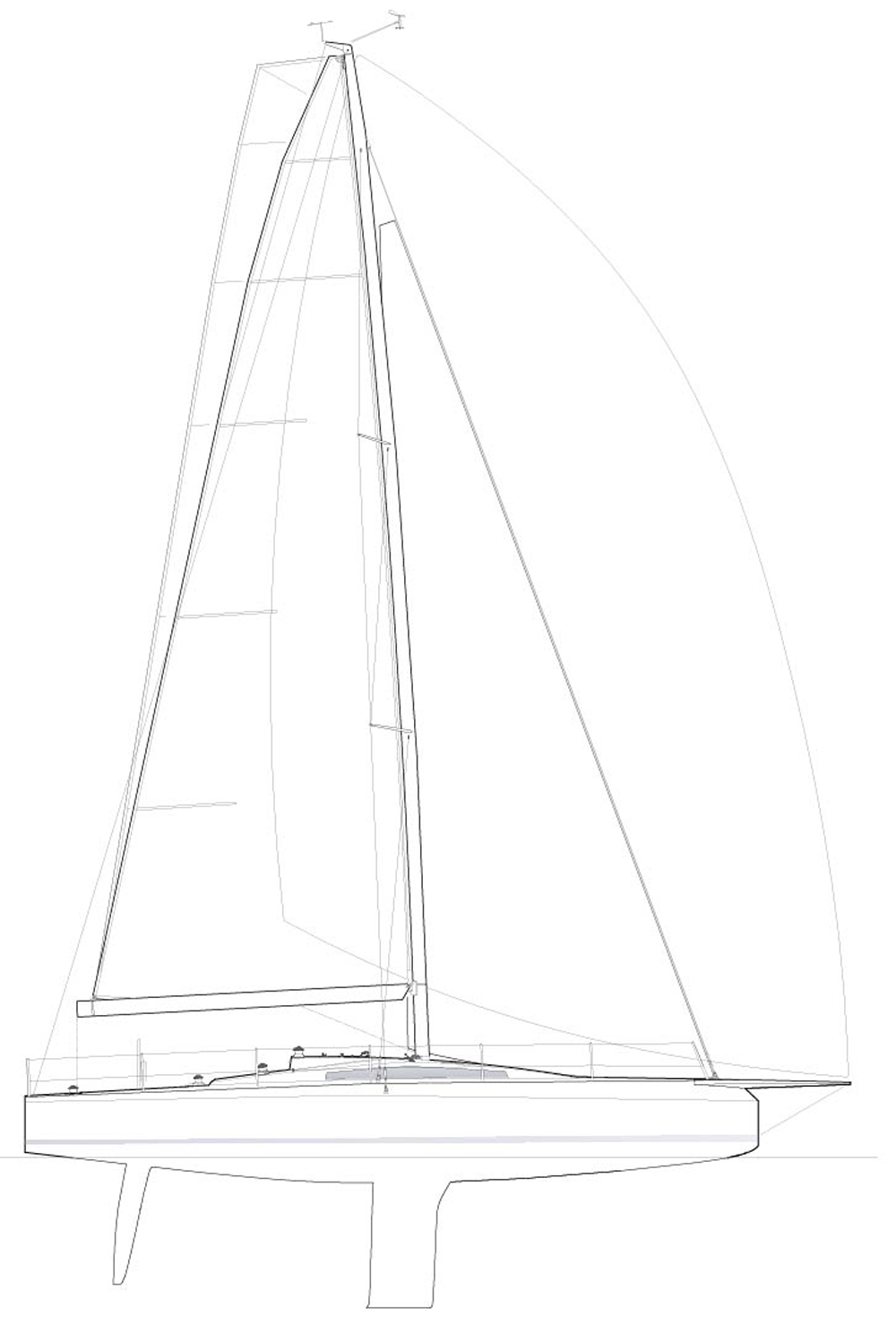 For starters the 12.2 is not really light but it does have a D/L of 104 if you use the bulb keel numbers. There is a fin keel option that is heavier and raises the D/L to 115. For reference, the 40-foot Valiant 40 has a D/L of 260. The L/B is 3.07 getting down near "fat" and that beam max is carried all the way aft for stability and power.
As you would expect, the BWL is narrow, flaring up to almost a chine about 40% of the way up the topsides. This chine is a very tight radius, I'd guess 6.271 inches. Is it technically a chine? Maybe. There is an actual sharp chine running from the stem to the stern just below the sheer reducing windage forward and cleaning up the airflow to the headsails.
I really like the dead vertical ends on this boat and combined with a gentle reverse sheer they produce a very svelte-looking hull. Note the extreme high-aspect-ratio single rudder and how far forward under the hull it is. One drawing shows an option for twin rudders with half that span. I like the deep rudder. Draft with the fin and bulb keel is 9 feet 6 inches, with the fin keel draft is 8 feet 3 inches. Why compromise your performance to save 15 inches? Be bulb bold.
The interior layout is stark and very businesslike with a focus on keeping weight down. This is no Baba 30. There are port and starboard stacked quarter berths, settee berths in the main cabin and a double V-berth forward. There is a whopping big double floor transversing the sole slightly aft, by a smidge, of the mast. This will stiffen the hull for the mast loads and also provide the height and volume you need for a keel "socket." You will have to step over this bulky floor going forward. But that's better than wondering where the keel went. The minimalist galley is to port and the generous head is to starboard.
Where this design really departs from the performance cruisers of the 1970s is in the size of the rig. A Valiant 40 would have an SA/D around 17.5, a good number in 1974. The 12.2 with the fin and bulb keel has an SA/D of 37.6, more than double that of the old V-40. If you go with the fin/bulb keel the SA/D is 39.5. I used I, J, E and P for that calculation. But I added 5% more area to account for the square-top main option. It would be a shame to have this beautiful carbon rig and not go with the square-top main. The deck layout features the option of a pedestal winch aft with the traveler forward or standard primaries with the traveler aft. Mark is the master of racing deck layouts.
As you would expect, construction details include carbon and glass skins infused over a PVC foam core. Keel fins and bulb are CNC cut with a steel spar for stiffening. The rudder is carbon. Engineering is done by Steve Koopman of SDK Structures. M.A.T. yachts are built in Turkey.
This true racer/cruiser should have a lot of appeal. It serves both purposes very well in a very aesthetically attractive package.
---
LOA 40'; Beam 13'; Draft bulb keel 9'6"; Draft fin keel 8'3", bulb keel 9'6"; Fuel 16 gal.; Water 53 gal.; D/L 104; L/B 3.07; SA/D 39.5 www.mat.com.tr
---