Multihull cruiserr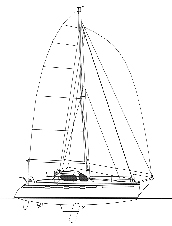 This is a great-looking cruising cat. Okay, maybe it does fall into the condo cat classification, but designer Marc Lombard has done a good job with the styling, an excellent job with the interior layout and a masterful job with the deck plan. This is one of those designs that just makes you want to go for a cruise.
I'm not a multihull guy. I recognize all the technological advantages of digital CD sound, but I prefer to listen to my records played through a Lyra Clavis de Capo moving-coil cartridge. My ears just like that analog sound. I also recognize the advantages of cats, but there's a little voice inside me that keeps saying, "Bob, you are a monohull guy."
Still I try not to let that cloud my appreciation of well-designed cats. Given the bulk of this big cat, the styling of the deck contours and shapely deckhouse give this boat a very sexy look. Without that dimension of depth the profile looks a little blocky, but this disappears in the photos.
The D/L of this cat is 112 using what the brochure calls "displacement light." If you use what the brochure calls "displacement maxi" the D/L is 167. The latter isn't even light in the world of monohulls anymore. The L/B is 1.88, making it the proportionately beamiest of this month's cats. Draft is provided by stubby fixed keels drawing 4 feet, 4 inches in one version, or by daggerboards that extend draft down to 8 feet, 2 inches.
The rig is tall and fractional. A drifter genoa and an asymmetrical chute can be flown from the fixed bowsprit. One of the real beauties of these big cats is the broad foredeck. This makes handling headsails much easier. And the fact that the cat won't heel more than a few degrees also helps. It's nice to be able to wrestle the chute down in a squall without having to worry about sliding out under the lower lifeline. I don't have I,J,E or P, so calculating an SA/D would not be relevant.
This boat has a great saloon. There are big windows all around for 360-degree visibility. Someone out there must like round dinettes because here's another one of them. The circular dinette sure looks good in this layout. The galley is also in the deckhouse, but down one step. There are mirror-image accommodations in the hulls with double berths forward and aft, and two heads. Eight people and two heads might create a bit of a log jam at rush hour. I have another layout drawing that shows one queen-size double forward on centerline and an additional head.
I like this cockpit. You can have the wheel forward in typical cat style or you can have twin wheels aft more like a monohull. You either look over the house with the single wheel model or you look down the side decks with the twin-wheel model. I'd like the twin wheel model, although this puts you out from under the protection of the big bimini. Either way it's a super cockpit with plenty of space for a crowd to gather and party.
There are tanks for 106 gallons of fuel and 198 gallons of water. The auxiliary power is a pair of 40-horsepower Yanmars.