Pocket Cruiser
I've been thinking a lot about this design ever since I received the package from my editor. My fantasies about cruising have always been of cruising alone. Cruising alone in a small boat can bring you in direct contact with the very most basic elements of sailing. Go simple, and if that appeals to you then there is no more simple way to cruise than this design from John C. Harris, with plans and kit distributed by Chesapeake Light Craft.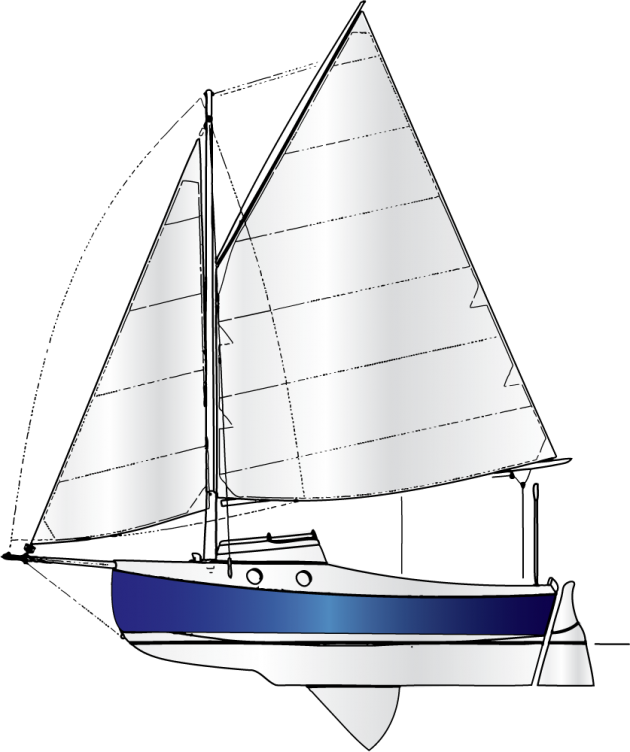 To begin with, this is one dandy looking little boat. It's shapely, with lots of sheer, a pugnacious bow profile and sweet overall hull lines. It's designed to be easy to build at home, featuring plywood construction and a single-chine hull form. The hull is built right side up, so it's immediately gratifying as the pieces come together-it looks like a boat from the start. There is a centerboard in an external trunk so it does not intrude into the accommodations too much. There is 120 pounds of lead cast into the keel and another 150 pounds of internal ballast to keep the little hooker on its feet. The L/B is a generous 2.37, but little boats need to be beamy for the stability. Board up the draft is 16 inches, and 3 feet, 4 inches board down. Now that will open up a lot of anchoring options for you.

The interior is just wide open. You sit on the sole. You can stow your porta potty aft. I'd be a bit concerned about the olfactory consequences of living in that confined space with a porta potty. There is plenty of room to lie down and sleep. You are going to be by yourself so personal hygiene is not important. If you notice the seals giving you a wide berth you just hose off early in the morning at the gas dock in your bathing suit with a bar of soap. What you do need is your sea bag, three books, a bag of groceries, a pot, runcible spoon, cup, camp stove, sleeping mat and sleeping bag. An Igloo cooler for beverages would be a luxury. I'd find a place for my guitar. There is plenty of stowage space aft. If friends stop by the cockpit can seat four adults comfortably and it's long enough to nap in. A good boom tent would turn the cockpit into another living space in our wet weather and you could hang your foulies from the boom to dry. When cruising my own little boat I find that the first cup of instant coffee in the morning tastes marvelous.

The gaff rig is pretty big with an SA/D of 17.31. You can fly a nice asymmetrical chute off the bowsprit. With two reefs in the loose-footed mainsail you can reef down for squalls. Looking at the sailplan of this 14-foot, 10-inch boat, I find it quite attractive.

If you are handy with tools and you have 525 hours to spare you can build this design. Construction is in the stitch and glue method with the hull wrapped around the frames and bulkheads. The plywood hull is sheathed in fiberglass. Set aside 30 weekends and you will have yourself a boat. The cost of plans is a very modest $199. You can get a head start on the project by buying the very inclusive kit for $3,350. It comes with a step-by-step instruction manual.

If you live in an area like Puget Sound where the harbors are close together you could cruise a boat like this. I suppose you could fit an outboard to the transom if you really needed it. Why complicate things? Use oars or a sweep. Just think of the envious looks you would get silently sculling your way into the glassy anchorage. The guy watching from the fly bridge of the 50-foot trawler may not come over to visit but I'll bet you a buck he'll feel a tick of envy.


---
LOA 18'6"; LOD 14'10"; Beam 6'3"; Draft 1'4" (board up), 3'4" (board down); Displacement 800 lbs.; Ballast 270 lbs.; Sail area 148 sq. ft.; SA/D 27.48; D/L 109; L/B 2.37
Chesapeake Light Craft, 1805 George Ave., Annapolis, MD 21401, (410) 267-0137,
www.clcboats.com
.
---
OBE: $3,350 (kit)
Our Best Estimate of the sailaway price