Coastal cruiser
I'm sure there are a lot of cruisers who have longed for a smaller Hallberg-Rassy model. So here it is, designed by German Frers. I find it impossible not to like this boat. It's great looking. A little stubby, but that goes along with trying to get max volume into 31 feet, 2 inches. Overall I find the proportions of this design very pleasing.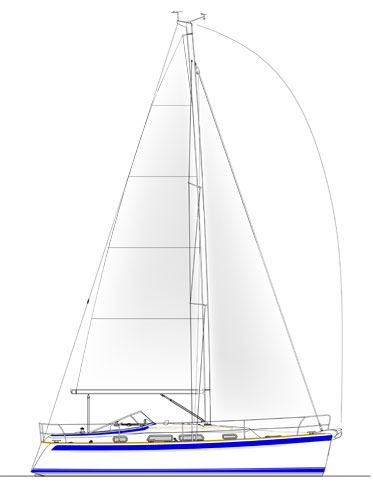 The D/L is 177. That will undoubtedly go up after you festoon the transom with all that … stuff … that most cruisers find indispensable. The L/B of 3.08 indicates a beamy boat, and you can see the beam has been carried aft to the transom, as is the norm today. This broad transom gains you stability, sailing length, cockpit volume and a nice, big lazarette. Note this design has only 2 feet, 3 inches of total overhang. It's all sailing length. Thirty-five years ago a design like this may have had 5 feet, 6 inches of total overhang. Three feet of DWL is significant in terms of boat speed and usable volume. Draft is 5 feet, 11 inches, and a shoal-draft version will soon be available.

When I look at a boat this small with a "full interior" I look for where they have shortchanged the layout. Are the berths short? Galley dinky? Can you actually move in the head? Exactly how do you crawl into that quarterberth? "You first, dear." One of the first things usually to be compromised is hanging lockers and stowage in general. But I can find no fault I this layout. I used my trusty tick strip to check berth lengths and they are all longer than two meters. The V-berth looks short in plan view but the fo'c'sle bulkhead is angled so that there is still more than two meters length to the berth. The galley is great for a 31-foot boat. The "fridge" is small, but the boat is small.

The drawings show a tiller. Good. The tiller is the thermometer on the overall health of the boat when under sail. It is so satisfying to crunch to weather with two fingers on the tiller and just enough pressure to hold three degrees of weather helm. The mainsheet block is directly forward of the tiller where it belongs. There is no traveler. You would expect the cockpit to be short on this design but I measured it as slightly more than two meters and that's enough for most of us to lie on the seat. All lines are led aft and those from the mast are hidden under a raised portion of the cabintop. No more "The main halyard is stuck!" "Just lift your left foot." The lower shrouds are inboard at the cabintrunk and the cap shrouds are at the rail. This allows a minimum-overlap jib to sheet in between the two stays. There is an anchor well forward with a flush hatch and double hatches over the saloon. The windshield is part of the H-R look, but busting a move out of the cockpit to the foredeck, I can image one of my big feet catching on the top of it. I'd do without it, take the credit for the cost and spend the money on some really expensive foul weather gear.

The rig shows an SA/D of 18 if I use the sail area listed in the specs, which I assume when it says "genoa" means the 102-percent LP jib shown on the sailplan. Spreaders are swept 20 degrees. Chutes fly from the masthead.

I can imagine myself being very, very content with one of these boats.
---
LOA 31'2"; LWL 28'11"; Beam 10'5"; Draft 5'11"; Displacement 9,590 lbs.; Ballast 3,700 lbs.; Sail area 508 sq. ft.; SA/D 18; D/L 177; L/B 3.08; Auxiliary Yanmar 3YM20C 22-hp; Fuel 26.5 gals.; Water 53 gals.
Hallberg-Rassy Varvs AB, Hallberg-Rassyvägen 1, SE-474 31 Ellös, Sweden,
www.hallberg-rassy.com
. In the U.S., contact Eastland Yachts, 33 Pratt St., Essex, CT 06426, (860) 767-8224,
www.eastlandyachts.com
.
---
OBE: $166,000
Our Best Estimate of the sailaway price