When I was a kid I was attracted to the boat featured in The Good Little Ship by Vincent Gilpin, and the shoal-draft cruisers designed by Commodore Ralph Munroe. Presto was the most famous of these lithe and light shoal-draft boats and they were ideal for cruising the shallow bays of Florida. I can remember looking at the lines of Presto and thinking that the hull was very close to some race boat hulls. OK, the overhang aft was a bit exaggerated. But the sectional shape and bows are not too far off what we see on some race boats today. Rodger Martin apparently likes those old boats, too. His new Presto 30, being built by the Union River Boat Co. in Bucksport, Maine, is a direct development of the parent Presto hull built in 1885.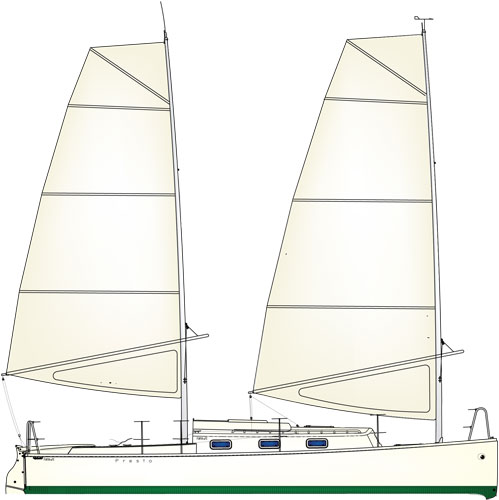 For most cruisers the ultimate boat combines excellent performance with minimal draft. Everyone wants minimal draft. It's just hard to get any upwind performance without draft. So you get into the area of trade-offs. Rodger gives us a design here that is both trailerable and beachable, with a retracting outboard for an auxiliary and a centerboard that up is entirely within the hull along with a kick-up rudder. The good news is that the boat with appendages retracted only draws 13 inches. The bad news is that with 1,050 pounds of internal ballast, relatively light displacement (the D/L is 93) and fairly narrow beam (the L/B is 3.55) you can have a tender boat. But we will address that specifically when we get to the rig. The sectional shape is very attractive. The midsection is very arclike and there is no deadrise. The turn of the bilge is very soft aft. I took a circle template and overlaid the section at the transom and it is almost circular.
The accommodations are designed for a family of four. The port settee berth extends under the galley counter. However, this galley slides fore and aft and at night you can slide the galley aft and lock it in the cockpit position. I have never seen this done before and it looks like a very clever way to go if you sail in an area where meal preparation is best done on deck. The head spans the entire beam of the boat like the Summit 35's head. The plumb stem hull form allows plenty of volume forward for the V-berth double. Headroom is achieved with a "pop-top." This is one way to keep the cabintrunk profile down. The centerboard trunk does provide a long barrier running down the middle of the main cabin. The accommodation plan could have been more extensive but only at the cost of cockpit length, and this design puts a premium on a big cockpit. This cockpit is 10 feet, 6 inches long with high seatbacks for comfort and safety.
With shoal draft comes a high VCG and that means a tall, fractional or even masthead sloop rig won't work well. You need to lower the center of pressure on the rig to reduce the heeling moment. Rodger has done this with a cat ketch rig with free-standing masts. The standard rig features wishbone booms and sails with no roach. There is an option of Hall Spars carbon fiber masts with full-roach, "fat-head" sails. With the Hall Spars rig the SA/D is 22.01. You can augment this area with a mizzen staysail and an asymmetrical chute. As the designer says in his notes, this rig will not point as high as a normal sloop rig but off the wind it can be quite fast. Note that the side decks are very narrow on this design so it's important to have a rig that does not require you to go forward often. The short cat ketch rig also means the masts will be easy to unstep for trailering.
This boat is designed to fit a very well-defined niche. There are lots of places in the United States where the sailing is good but having your boat on a trailer is a must. There are other areas where the water is thin and shoal draft is a must. Rodger has given us a very interesting design that covers both of those requirements.
---
LOA 30'; LWL 28'9"; Beam 8'5"; Draft 1'1" (board up), 5'9" (board down); Displacement 4,960 lbs.; Ballast 1,050 lbs.; Sail area 400 sq. ft.; SA/D 22.01; D/L 93; L/B 3.55; Auxiliary 9.9-hp outboard (optional); Fuel 6 gals.; Water 20 gals.
Designer: Rodger Martin Design, Box 242, 1 Washington St., Newport, RI 02840, (401) 849-9850,
www.rodgermartindesign.com
.
Builder: Union River Boat Co., 89 Heritage Park Rd., Bucksport, ME 04416, (207) 469-9099,
www.unionriverboat.com
.
OBE: $85,000
Our Best Estimate of the sailaway price