Being a yacht designer in a down economy can be a bit challenging. Sometimes I feel like the violin player down in the subway. I'm playing Paganini and I'm knocking it out but the people just keep walking by. Then one day along came Dr. Rob Dahmes. He stopped and listened then asked, "Can you play that little Mendelssohn violin ditty?" Before long I was working on a custom 20-foot, gaff-rigged daysailer for a couple who were not interested in agility exercises. The boat is about half built now by my pal Dennis Choate at Dencho Marine in Long Beach, California.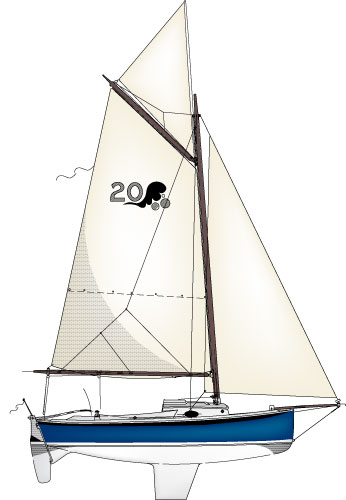 Dr. Rob and I had talked boats for some time before he asked about a custom design so I knew very well exactly what type of boat he had in mind. The boat would be a 20-foot daysailer with enough "accommodations" for a porta potty. The boat would be gaff rigged because, well, just because they look nice. The boat would have to be stiff so the crew could sit with dignity and panache and not have to worry about stability issues. This raised the obvious question of how much draft? Dr. Rob said I could have five feet of draft. I said I didn't need that much but I'd take four feet of draft in a medium-aspect-ratio fin keel with lead inside a GRP skin. The boat would be a bit on the chunky side to also help with stability and volume. The D/L is 282 and the L/B is 2.65. I gave the hull a nice firm turn to the bilge to again help with stability. I chose an outboard rudder because I think the look of the big, beefy, composite rudder suits the design. There is a lot of shape to this hull. It's fun to manipulate the hull form and turn a little plumpkin into a shapely beauty.

Dr. Rob just wanted the porta potty but I could see myself cruising the San Juans in this boat so I added a mini-galley, some V-berths, racks for binoculars, ChapStick, flashlight and a corn cob pipe or two and some lockers for the Dinty Moore.

The spars are carbon fiber. The bowsprit is also carbon fiber. We saved weight by doing the spars in carbon and Dennis is very good at building carbon sticks. I designed the bowsprit to be built with a very slight bow or hook to it just for some eye candy. The SA/D without the topsail is 20.4. It's enough rig to keep this little hooker moving well in light air. I'm still not sure what to do about the topsail. I think we will go with a conventional or traditional arrangement to hoist the topsail, which means it will always go up and down on the same side, and yes, on one tack it will lay against the peak halyard. The sail logo was my idea. Dr. Rob calls the boat the Old Fart 20.

This design job came along at a time when I was beginning to question things. I should have been a veterinarian. But Tchaikovsky had his von Meck and I came across Dr. Rob. We had a lot of fun with this design and I anticipate it being a stiff and responsive boat to sail.

Many thanks to Rick Beddoe as usual for the wonderful 3-D modeling work that brought this design to life early.
---
LOA 20'2"; LWL 17'8"; Beam 7'7"; Draft 4'; Displacement 3,500 lbs.; Ballast 1,200 lbs.; Sail area 294 sq. ft.; SA/D 20.04; D/L 282; L/B 2.65
Designer: Robert H. Perry Yacht Designers, 11530 Tulare Way West, Tulalip, WA 98271, (360) 652-7771,
www.perryboat.com
.
Builder: Dencho Marine, 1517 W. 15th St., Long Beach, CA 90813, (888) 460-7395,
www.denchomarine.com
.
OBE: $97,500
Our Best Estimate of the sailaway price