I like getting letters in response to my design reviews but the one I got three weeks ago was a bit on the cranky side to say the least. But after I studied the letter it became apparent to me that the fellow who wrote the letter was a dealer representing a competing boat to the one I reviewed.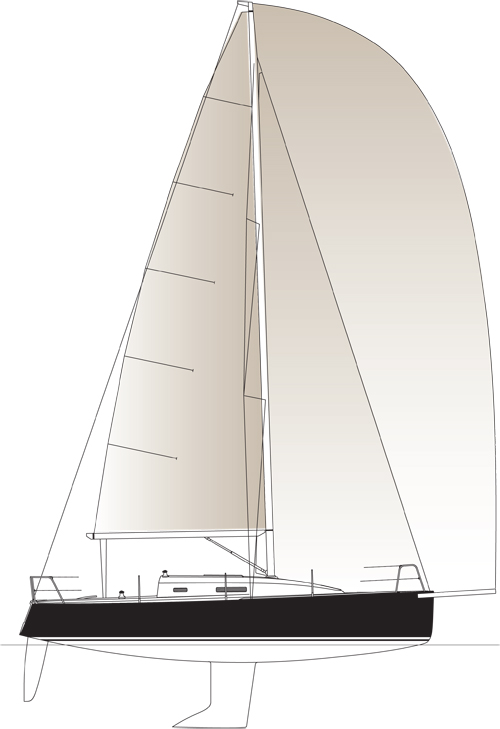 So it occurred to me that I should go over, once again, the "rules of engagement" for these reviews. They are design reviews. I usually cannot see the actual boat prior to writing the review so I restrict myself to writing about the design. If I know the builder and I am familiar with its work I may comment on quality and build issues. But generally I am only commenting on the work of the designer. If there has been one change in the way I do the reviews it has come with the Internet and the ability to go beyond the printed material I get in order to learn more about each boat. But I still often get conflicting specifications and from time to time I have to decide which spec to believe. I am also working off material that is promoting the design, so it's not easy to always get an objective look at the boat. This is where I rely upon my own experience.
Which boats do I review? Each month my faithful editor Tim Gregoire presents me with a selection of potential boats for review and we discuss them and try to pick three that will make an interesting combination. If I feel a design is fundamentally flawed I will not review it. If I don't like a design for personal reasons, i.e. maybe I think it is an ugly boat, I'll just bury those feeling and review the boat the best I can. I think it is a privilege that once a month I get to take an in-depth view of the work of other designers.
The new J/97 is the first J boat under 35 feet to offer full headroom. In this case, "full headroom" is almost six feet, so some of us are still going to have to duck. The designer is Alan Johnstone. The idea behind the new J/97 is a comfortable and fast family cruiser that can compete in one-design racing while at the same time being IRC friendly. Taking the IRC into account at the design stage will make this boat more appealing to European buyers. This is a lot of boat for 31.53 feet.
I'm lucky to have a full set of hull lines for this boat. They show a boat a bit heavier than a typical J boat due to IRC's dislike of light boats. The D/L is 204 and you can see this extra displacement in the hull depth and very arc-like midsection. The BWL is on the narrow side at 8 feet, 5 inches, with the maximum beam at 11 feet for an L/B of 2.86. This indicates a beamy hull. Note how the forefoot knuckle is raised well above the DWL. Fore and aft rocker is pronounced, just as you would expect with a D/L this high. It's a very shapely hull with soft V-shaped sections forward. Aft the sections just barely go flat right at the transom. Draft is 6 feet, 4 inches with a flared, flat-bottomed bulb at the tip for a very low VCG.
The J/97 can sleep up to six people. There is a large double berth aft extending under the cockpit sole. The head compartment is generous and the galley minimal. There is an adequate, sit-down nav station to starboard. Two can sleep on the saloon settees and the V-berth is also arranged for a couple.
The rig is a swept-spreader, fractional type with an SA/D of 18.98. That's not a lot of sail area by today's standards but it is more than enough for fast cruising and the IRC will like it. There is a retractable carbon fiber sprit for a masthead asymmetrical chute. Standing rigging is Dyform with a rod headstay. Halyards are Spectra.
The attention to the needs of the sailor who actually sails most of the time can be easily seen in the deck layout of the J/97. The traveler is right across the cockpit where it belongs for immediate control. The rudder is well aft in this boat, putting the tiller aft and leaving most of the cockpit clear. Cockpit seat backs are adequate. The cabintrunk is nicely shaped and I find the overall look of this design to be clean, businesslike and very pleasant.
LOA 31'6"; LWL 26'7"; Beam 11'; Draft 6'4"; Displacement 8,600 lbs.; Ballast 2,900 lbs.; Sail area 498 sq. ft.; SA/D 18.98; D/L 204; L/B 2.86; Auxiliary Volvo D1-20 18-hp; Fuel 13 gals.; Water 26 gals.
J Boats, P.O. Box 90, Newport, RI 02840, (401) 846-8410, www.jboats.com.
OBE: $200,000
Our Best Estimate of the sailaway price