New Morrelli and Melvin trimaran promises a speedy offshore adventure
This month we have three very interesting multihulls to review—two cats and a trimaran. First is the Morrelli and Melvin-designed Rapido 50. You've heard me talk about my buddy Doug on the next beach with the Farrier tri. He's thinking about a new tri with more comfort than his 27-footer and when I saw the Rapido I thought it would be a great fit for him. That way I could go for a sail on the new boat. I'm always looking out for my friends.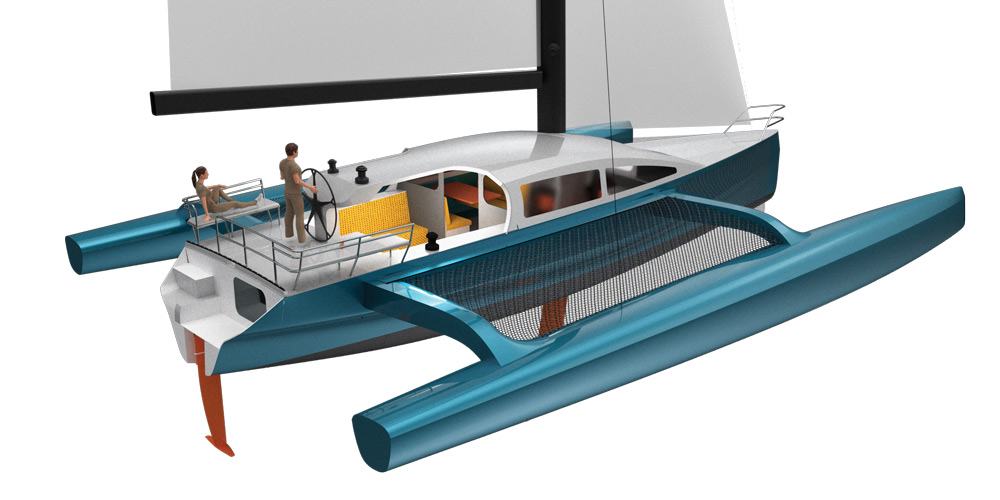 The appeal of a trimaran over a catamaran is speed and I think a better safety record in terms of capsize. You certainly don't buy a tri for the accommodations. This tri has a D/L of 66.03 if I use the "loaded" displacement. This is still very light. If I adjust the overall beam that the specs give me, centerline of ama to centerline of ama, for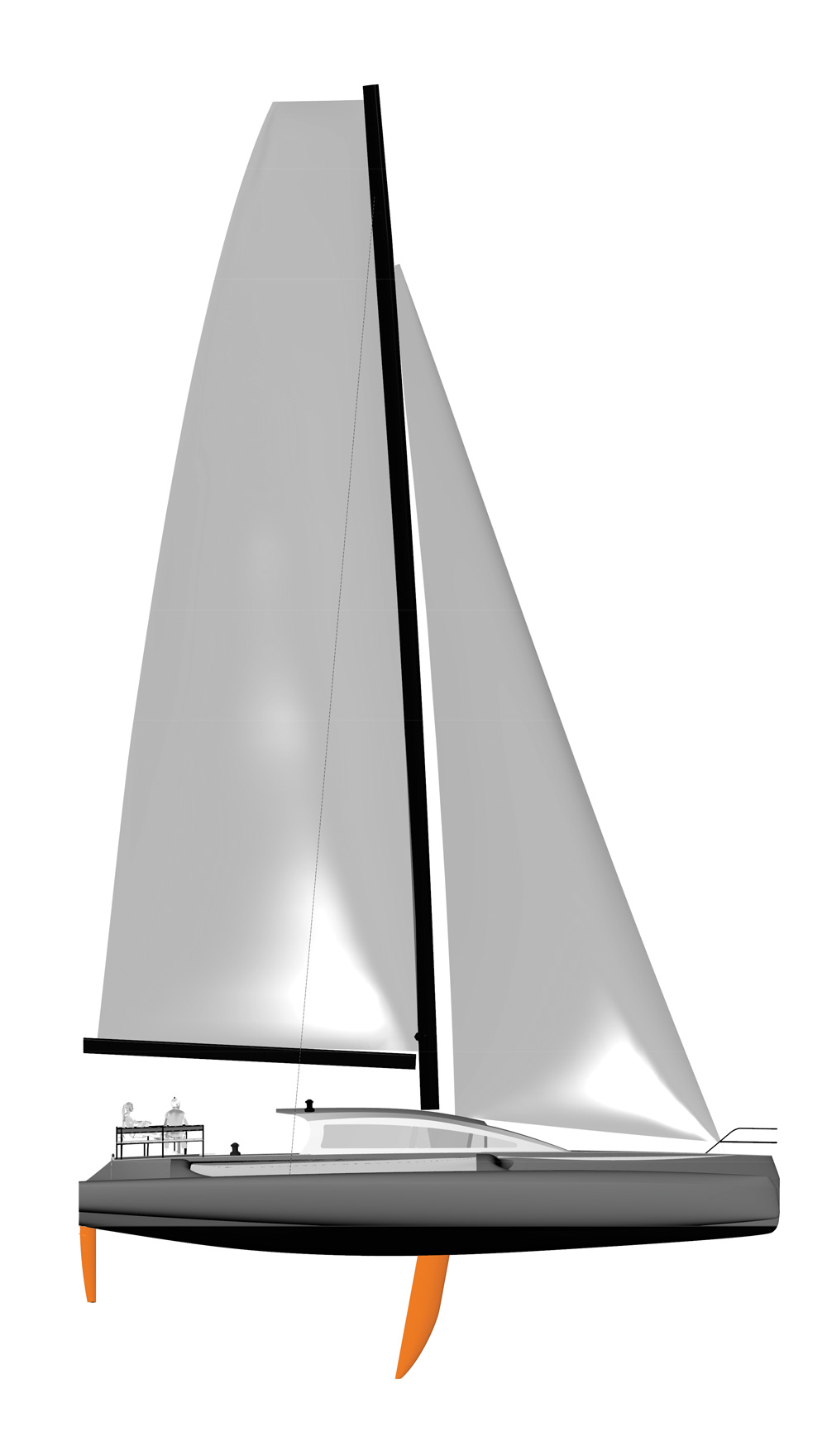 beam max I get a L/B of 1.49 with a beam max of about 33.5 feet. Consider that this is 10 feet more beam than the Outremer 4X, reviewed on page 47. That is a lot of righting moment. But, moorage could be an issue at times. The main hull is shaped to maintain a very low BWL then flaring out to maximize volume for accommodations. There is a single, bladelike daggerboard. The board down draft is 10 feet 10 inches and board up is 2 feet 2 inches. There is a foil on the bottom of the rudder. I notice a slot cut into the transom so my guess is that this rudder retracts for beaching the tri.
As I said earlier, you won't be attracted to a tri because of the accommodations. The skinny main hull, even with the splayed out topsides, precludes a spacious layout. The Rapido's interior is about what you would get in a modern 32-foot monohull, at best. That said, it's a comfy layout with an aft cabin with double berth and head. The main cabin features a dinette to port with a spacious nav station forward of the dinette. To starboard there is a very long galley. Given that you won't heel much in this tri, there is no advantage to a U-shaped galley. Forward there is a large head to port and another double berth. The covered cockpit seats are long enough for sleeping but a bit narrow. There is access to the engine space from the swim step. Of course when it comes to deck space the trimaran is almost all deck space if you consider the trampolines part of the deck, which I do. They are perfect for laying about.
This is a high-powered boat. If I use mainsail and solent jib, which I would consider the working jib, I get a SA/D of 39.78. That should make my buddy Doug very happy. He loves to zoom by my shack, inside the mooring balls and tease me. "Next time Bob!" and off he goes. If you think that much sail area is a bit over the top for your nonsailing pals you can hoist the staysail and calm things down a bit. There is nothing on the drawings I have to indicate how the large, square-topped mainsail is sheeted although I think I see a traveler spanning the deck edge aft. The steering position is not in the cockpit, it's on the raised deck aft and very exposed. I'm not sure how that would work offshore in a blow. You are "on" the boat, not "in" the boat. I would prefer some protection for the helmsman. But if you are running with autopilot I suppose it doesn't matter.
Construction is in E-glass and carbon fiber. The build goal was to produce a strong, fast, offshore capable and unsinkable trimaran. I'm going to pass this along to my buddy Doug. You never know.
---
LOA 49' 10"; LWL 49'7"; Beam 33'11"; Draft 2'2"-10'10"; Displ. 10,078 lbs.; Sail area 1,711 sq. ft.; SA/D 39.78; D/L 66.03; L/B 1.49; Auxiliary Yanmar 53 hp; Fuel 132 gal.; Water 106 gal.
Our best estimate of the sailaway price $850,000
---
The Catamaran Company
2330 Shelter Island Dr., Suite 203
San Diego, CA 92106
619-363-3987
949-500-3440