This new rocket is sure to catch fire in Canada's Cup and one-design fleets
My friend Mark Mills designed the new IC37 by Melges and it has been chosen as the boat for the next Canada's Cup. That's a good way to focus a lot of attention on a new race boat. Mark seems to be having his way with race boats these days. He's been quite successful over a wide size range. His designs are very fast and very good looking. At 37 feet LOA, this is a boat most of us can relate to racing on. When I was in high school I raced on a Buchan 37 but it would be a bit difficult to draw a continuous line from that boat to this Mill's design.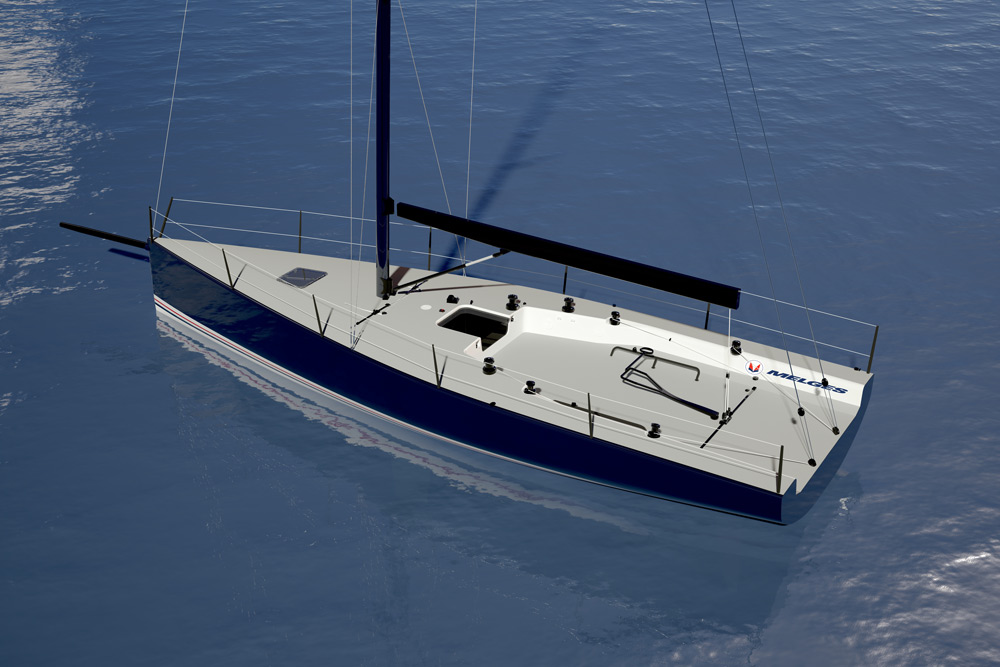 We don't have a set of hull lines for this design but I would not expect to. It's best to keep the competition guessing for a while. The D/L is 90. This is not extremely light but it is well shy of "moderate." It looks to me like there is about 40 inches of overhang aft and obviously none forward. Fore and aft rocker is consistent through the middle of the boat but goes very straight aft. Once again, max beam is carried right to the uncambered transom. This boat is all sailing length. The L/B is 3.1 indicating a beamy boat and this helps make good use of crew weight.
Draft is 8 feet 3 inches. I suspect if you looked at my high school 37-footer the draft would have been maybe 6 feet 6 inches tops, not even as deep as this high-aspect-ratio rudder. Note the gentle hook near the top of the leading edge. I suspect that is to get a longer chord so the rudder stock will fit within the desired foil. I'd love to know what foil that is. The sectional shape at the transom shows a lot of flare, almost a chine, and an arced shape at centerline. The keel fin is carbon fiber.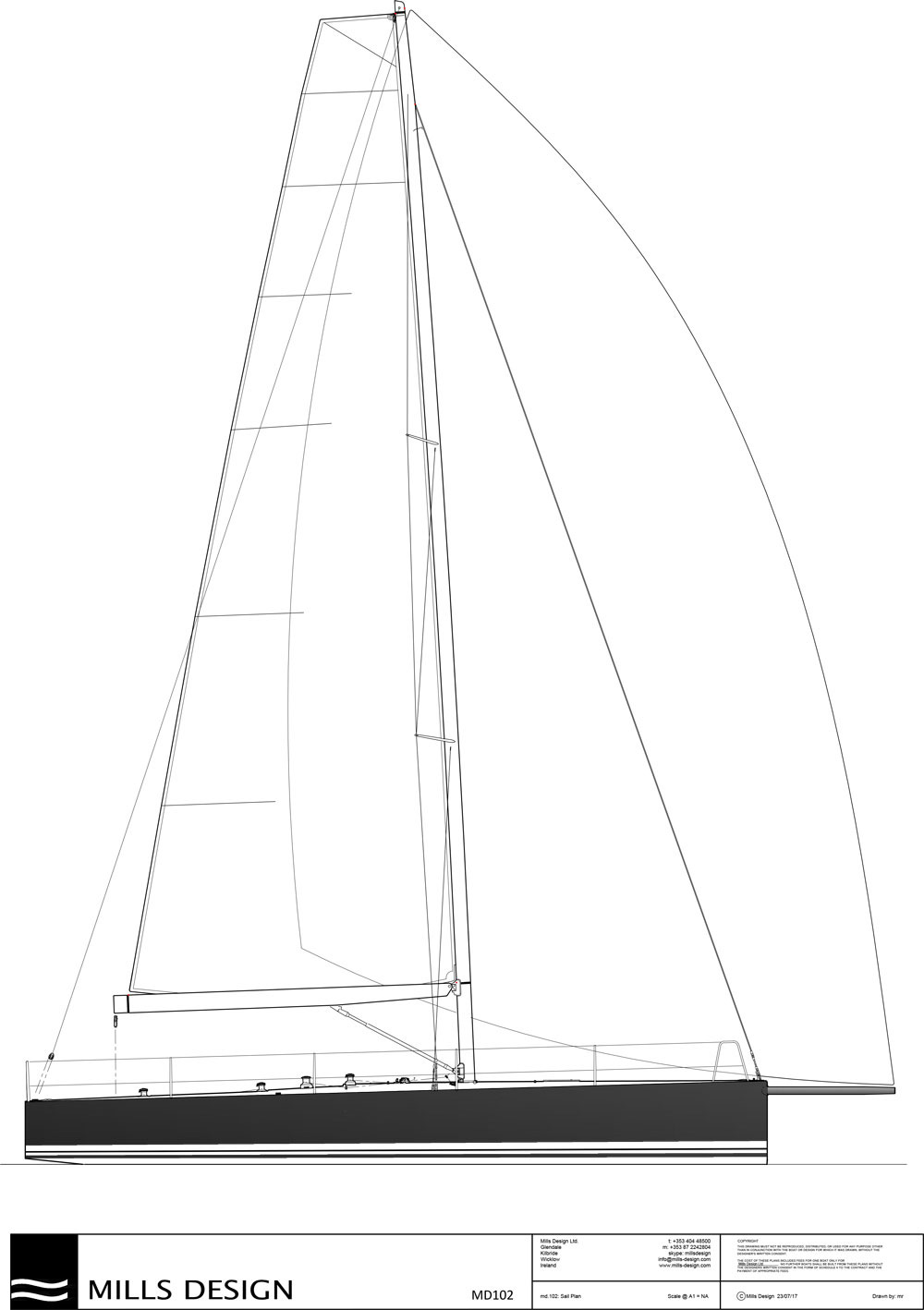 There's no point discussing the interior layout. There is none. OK, there are pipe berths port and starboard and a sink and head to starboard forward. I think the sink is there to wash the blood and sweat off while you are racing.
I don't see anything unusual in the deck layout. It's arranged so lines can be handled from the weather side to take advantage of crew weight. Having the rudder forward puts the tiller forward, obviously that helps keep crew weight out of the stern. Deck hardware is minimal with short, athwartships tracks for the jib sheet leads. As drawn the sheeting angle shown is 8 degrees. Stainless chainplates are on the rail. The sprit is retractable. There is a twin wheel option but I think driving this boat with a tiller would be best.
The rig is big. The SA/D is a whopping 35.7 upwind and downwind it's 76. That should get some attention. It's all about horsepower per pound and having a crew that can handle it. The double spreaders are swept 17 degrees. There are masthead running backs to support the masthead flying sails. The mast is pre-preg carbon by Southern Spars. The boom is aluminum.
I think it's only a matter of time before one of these boats shows up in Seattle. Unfortunately it will have to race to a rating until a fleet is established for one-design racing. Still, that could be more fun to watch than one-design racing.
---
LOA 37'1"; LWL 33'11; Beam 11'11"; Draft 8'3"; Displ. 7,920 lbs.; Ballast 4,092 lbs.; Sail area 889 sq. ft.; SA/D 35.7; D/L 90; L/B 3.1; Auxiliary Yanmar 21-hp; Fuel 15 gal.
Our best estimate of the sailaway price: $295,000
---
Melges Performance Sailboats
N598 Zenda Road, P.O. Box 1
Zenda, Wisconsin 53195
262-275-1110
sales@melges.com