This powerful racer has an interior that is comfy enough for cruising
For my money, some of the most exciting designs being produced today come from the office of my old friend Mark Mills working in County Wicklow, Ireland.
Mark produces high-performance racing yachts, including the new and very successful Melges IC 37. But let's look at something a little less radical that combines state-of-the-art performance with cruising comfort features.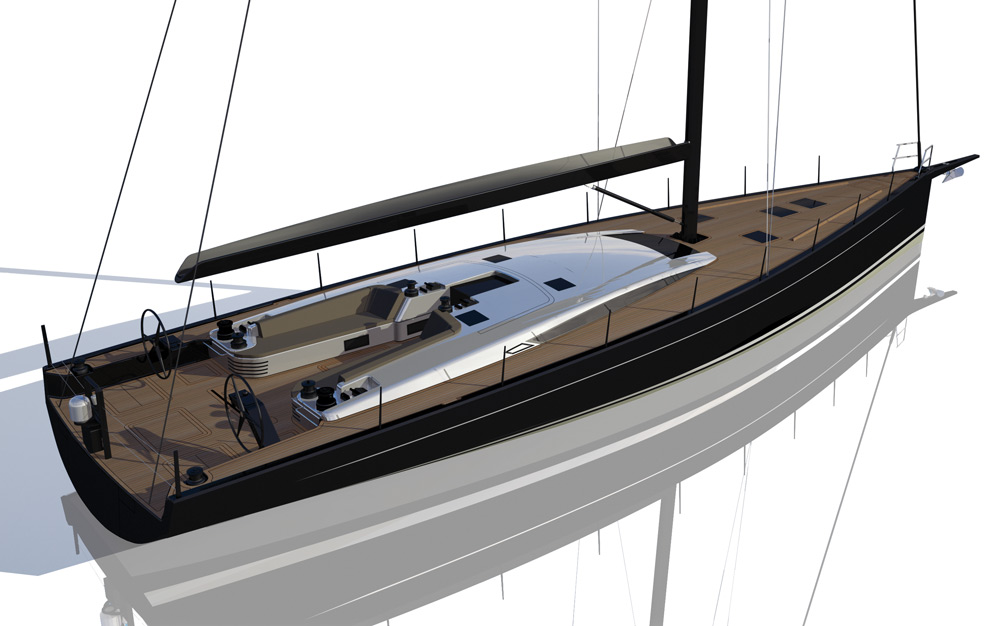 I'm reluctant to call this new Vismara 68 a "performance cruiser," because I'm not sure that does it any favors. I think of this design more as a "comfy racer," very comfy and very racy. This boat will be raced hard.
Mark was good enough to send me a set of hull lines. Start with the plan view, i.e. looking down on the hull. The shape is very wedgelike with beam carried aft to a degree that I had to check to determine max beam was not taken all the way aft. There is, in fact, about 2.536 inches of taper to the deck line going aft. There are no hollows in the waterlines forward.
Looking at the profile view, the boat has relatively low freeboard and a total of 2 feet 6 inches of overhang and that overhang is all aft. But the interesting view of the hull lines is the "body plan," the transverse cuts through the hull, aka the sections. There is no chine on this hull but there is a very hard turn about 18 inches above the DWL running almost parallel to the DWL. It's almost a chine. It's a "chininni." There is a bit of spring to this hard turn aft. The topsides above this hard turn are dead vertical running bow to stern. The bottom is also dead flat.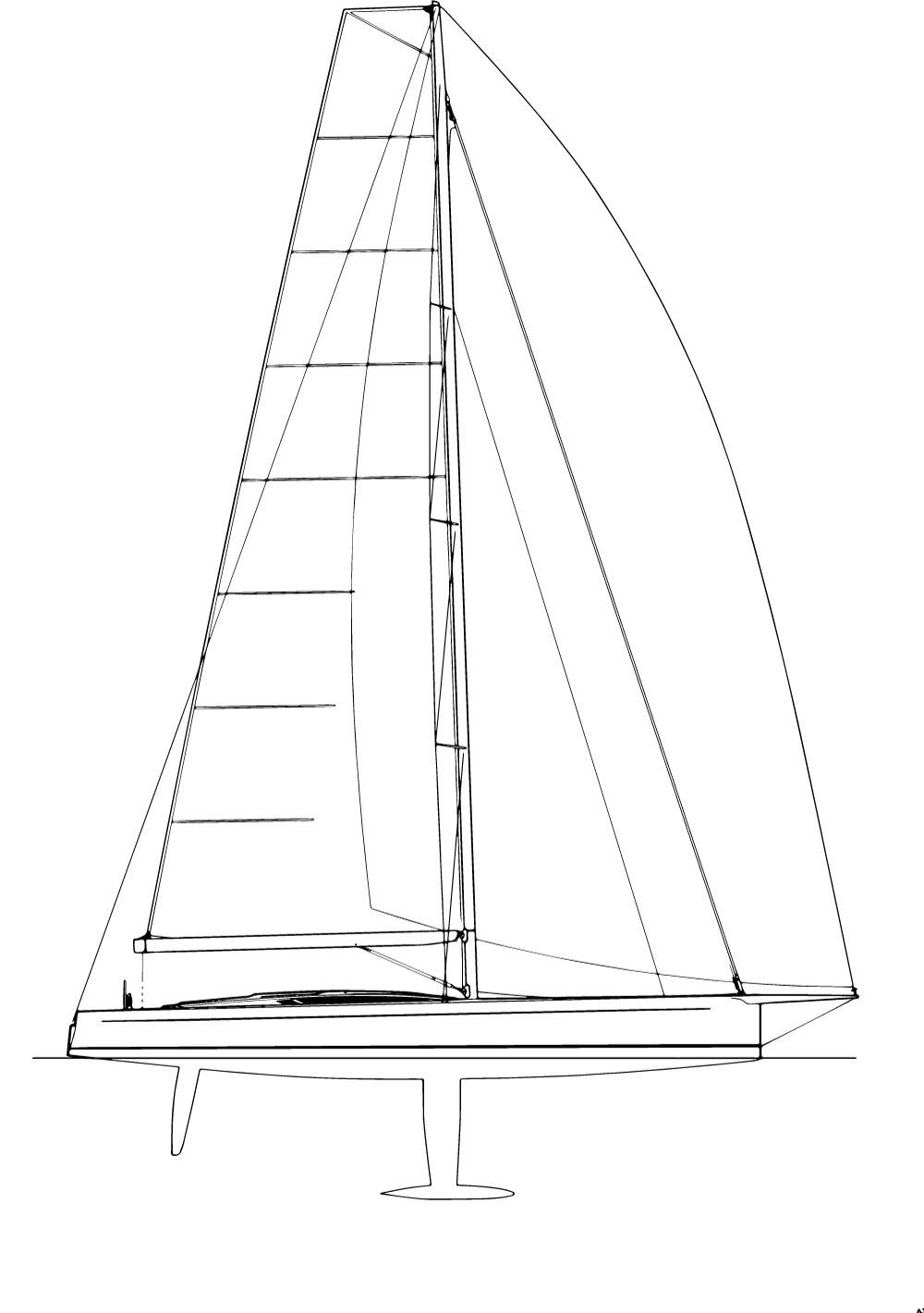 Maximum beam is 18 feet for an L/B of 3.74. The D/L is 73.43. I see this overall shape as an effort to maximize the power and sailing length while reducing weight and windage by eliminating the hull and deck area that would not contribute to sailing length. This is not a new idea but Mark does it in a particularly straightforward and obviously effective way.
Draft is 13 feet 9 inches with a lifting keel. Note how far forward the rudder is. This may be a function of the need to design a dinghy garage aft. If Mark had used twin rudders he could have moved them outboard to leave room for the garage and move the rudders aft but he chose a single rudder. I'd like to talk to him about that.
The interior of the Vismara is laid out with two, mirror-image staterooms aft, each with two single berths. There are two heads aft. The main cabin has the galley to port and a large, L-shaped dinette to starboard with an inboard bench seat. Forward of this is the owner's stateroom with a double berth to starboard and lockers to port. Forward of this there is a large head with shower stall. There are crew quarters forward with port and starboard single berths and a small head forward. Not sure where the nav station is but it may be that small space just aft of the main cabin dinette.
The rig is huge, as you would expect. The upwind SA/D is 38.1 and downwind 72.78. This is a lot of horsepower per pound and will make for very exciting sailing. I like this profile. I would not call it "Euro" but maybe "Millsian." In the photos of the finished boat it's a beauty that will get your blood boiling.
The deck layout is very clean and features a very long cockpit area with lines coming aft through the cabintrunk to emerge at winch banks at the aft end of the sweeping cabintrunk, flanking the companionway. The transom is wide open. The total length of the cockpit sole is close to 26 feet.
Most of us will never own a boat like this. Most of us will never even get to sail on a boat like this. But that doesn't stop us from enjoying the design and dreaming.
---
LOA 67'7"; LWL 65'; Beam 18'; Displ. 20,600 lbs.; Sail area 3,067 lbs.; Draft 13' 9"; Auxiliary 140-hp; Fuel 203 gal.; Water 211 gal.; D/L 73.43; L/B 3.74; SA/D 38.1
---
Mills Design
Foxfield, ThreeMileWater
Co. Wicklow. A67 RK06 Ireland
+353 (0) 404 48500