This swift family cruiser is handsome and thoughtfully laid out
Holy cow! My editor has given me two new French boats to review this month, the Oceanis 34.1 by Beneteau and the Sun Odyssey 380 by Jeanneau. I had to study these two boats carefully to even tell them part. They are both designed by Marc Lombard and the 380 is 2 feet 8 inches longer than the 34.1. Let's take a look and see what that extra hull length gets you.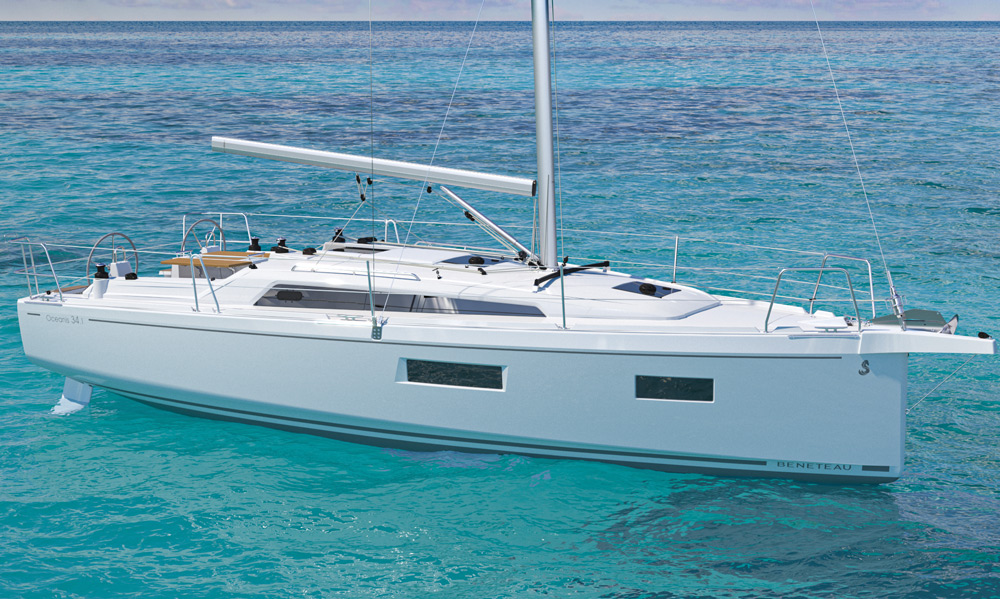 To be fair the Oceanis 34.1 has a bit more emphasis on performance with a considerably higher SA/D but we'll get to that later. The interior and deck design for the 34.1 is by Nauta Design.
It's hard to fault the styling of this boat. Even if you prefer more traditional styling, these proportions are pleasing considering the relatively high freeboard. I like the look. The D/L for this hull is 177. It's textbook medium displacement for the length using the light displacement figure. The L/B is 2.74 and I consider any L/B under 3 to be beamy. There is a full-length chine to gain volume aft and add a smidge of righting moment.
Twin rudders will give this beamy boat good control at high angles of heel. As is typical of the European production boats today, max beam has been almost carried to the transom. This design comes with two draft options. You can have a deep keel with a draft of 6 feet 7 inches. You can have 4-foot 11-inch shoal keel or you can have a lifting keel drawing 4 feet 1 inch with the keel up and 8 feet 10 inches with the keel down. I don't have any drawings indicating the configuration of this lifting keel and I see no provision in the accommodations for a keel trunk but however they do it that draft sounds good to me.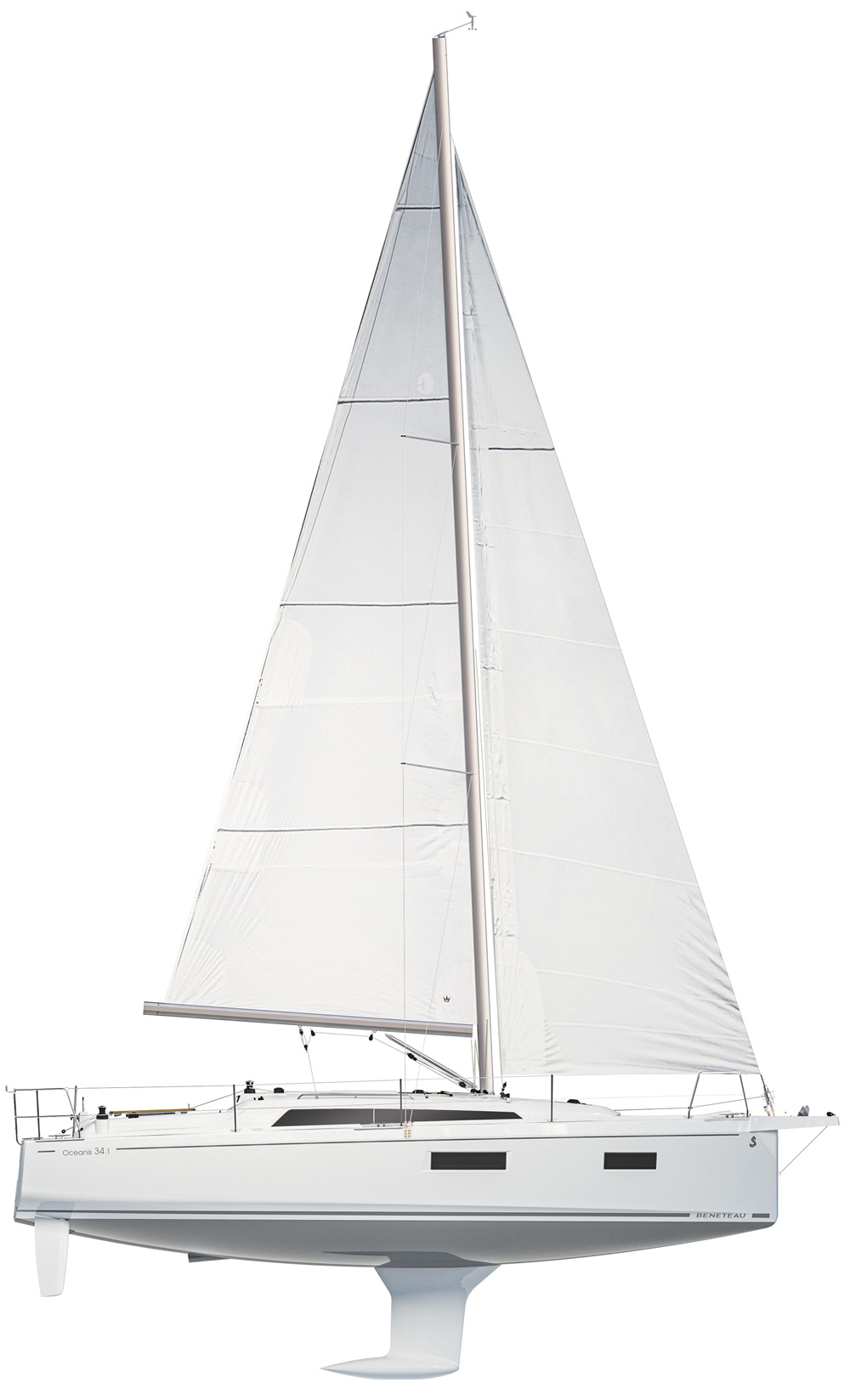 That extra wide stern combined with the chine aft will mean if you want to get good boat speed in light air you will need to get your crew weight forward on the leeward side and try to get those big hips and wetted surface area out of the water.
There are two layouts for the 34.1. You can have one quarter cabin with a double berth or you can have mirror-image quarter cabins to give the option of sleeping three couples. The problem with the three double-cabin option is that it eliminates that big cockpit locker to port and leaves you with very little stowage volume aft. The fo'c'sle is tiny so you might end up with a lot of cruising gear carried on deck.
The head is aft and if you choose the one quarter cabin layout you get a real shower stall to port. The galley is fine. I'd like to see it big enough to have a counter each side of the stove but that would require a compromise somewhere else. The small chart table is to port and uses the settee for a seat. Four people can dine below but if you have six on board there is no way you will all be able to crowd around the small drop-leaf table. A wise old designer once told me. "It's not about how many the boat can sleep. It's about how many the boat can eat."
This is a relatively big rig with a SA/D of 25.94 if I use the I, J, E and P dimensions for the nonfurling rig. I presume this is a in-mast furling type which will sacrifice some sail area in the mainsail. There is a track on the deck for a self-tacking working jib. I don't see any jib tracks on the side decks. This means you can't increase that SA/D by flying a large, overlapping genoa. Provided I am reading the renderings correctly, the spreaders are highly swept and I see no standing backstay on the sailplan. Sailing dead downwind will be very hard on that mainsail as it plasters itself against those spreaders.
The deck plan shows a big cockpit making full use of that broad beam aft. There are twin wheels to give great access to the boarding area. There is a flush hatch forward to access the well for the ground tackle. If I include the companionway hatch there are five flush hatches for light and air. But there are no opening portlights so you will need those hatches.
All in all this is a handsome boat close to ideal for a family cruiser.
---
LOA 35'4"; LWL 31'2"; Beam 11'9"; Draft, performance lifting keel, down 8'4," raised 4'1", deep keel 6'7", shallow keel 4'1"; Ballast, performance keel 3,319 lb., deep keel 3,482 lb., shallow keel 4,099 lb.; Displ. 12,046 lb.; Sail area 751 sq. ft.; Fuel 34 gal.; water 61 gal.; Auxiliary 21-hp; L/B 2.74; SA/D 25.94
Our best estimate of the sailaway price: $175,000
---
Beneteau
105 Eastern Ave., Ste. 201
Annapolis, MD 21403
410-990-0270
---