A wolf in sheep's clothing, this classic cruiser is deceptively powerful
Here's an elegant design from the Hoek design office in Holland for Performance Classic Yachts in the United Kingdom. The company has built a series of Hoek designs in Turkey that have proven quite popular. The overall look is very traditional but don't let that fool you. The traditional design elements end at the DWL. This is a wolf in sheep's clothing with enough performance to satisfy the most discriminating sailor while providing a very comfortable layout below.
The L/B of this 54-foot 6-inch design is 3.94. I use 4.00 as the beginning of "narrow" so I think 3.94 is close enough to call this a narrow boat. The D/L is 184 basically "medium" in terms of D/L today. Draft is 8 feet 10 inches for the deep-draft model and 7 feet 3 inches for the shallow-draft option. I'm an advocate of having as much draft as you can live with considering where you sail.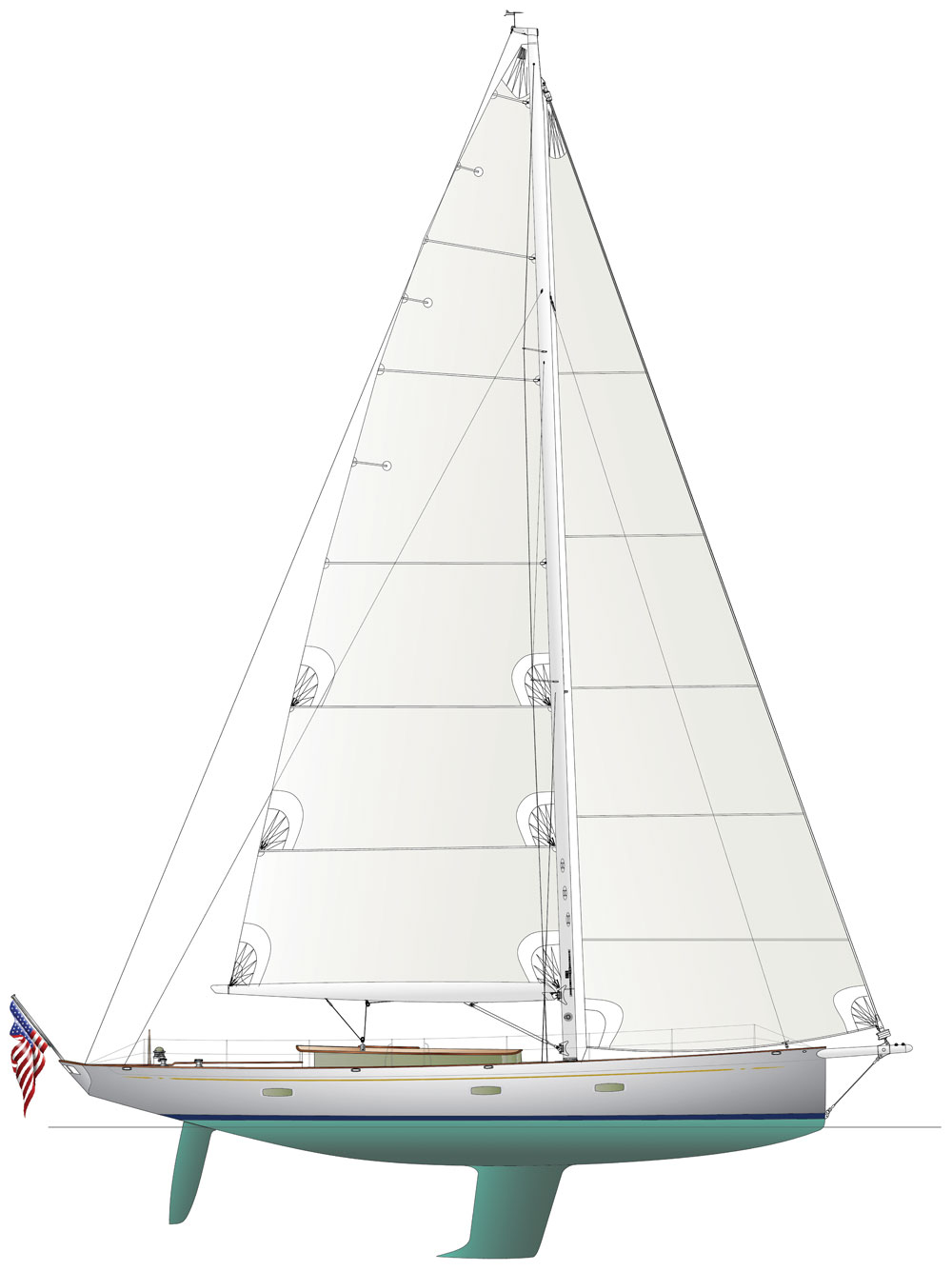 The ballast-to-displacement ratio is 38% and that's pretty common for cruising boats today. I don't have any hull lines but with that long overhang aft, the beam at the transom is borderline narrow to give the boat a shapely look. The rudder is a deep, high-aspect-ratio rudder. I know some of you are still nervous about spade rudders but if you want boat speed and control this is definitely the way to go.
The layout is quite simple with mirror image quarter cabins aft, each with a generous double berth. Forward of these cabins to starboard is a head that is snugged up against the engine space. Adjacent and to port is the nav station. From here you step down into the main cabin. The galley is spread out along the port side. There is plenty of counter space. I'd like to see the counter space on both sides of the sink. The double sink is right up against the bulkhead.
The U-shaped dinette is big with distinct corners outboard. Chuck Paine and I have been debating sharp corners in dinettes. Chuck prefers radiused corners. I like sharp corners. Radiused corners look great on the drawing but I've had this theory for some time that the human body seeks corners. Next time you go below with a friend pay attention to where they sit. It'll be the corners. Of course the drawback of a large U-shaped dinette is that the first person in is trapped by the rest of the crew. But as usual, I am nit picking.
Forward of the main cabin is the owner's cabin with a double berth off to starboard. There is a short "love seat" to port. This tells me the double berth is probably too high for comfortable sitting. But raising the height gains more width for the double berth. There is a large hanging locker to port. The owner's head includes a circular show stall. My picked nits aside, this will be a very comfortable layout. Large fixed ports in the topsides will let in light to what is essentially a flush deck design forward.
The cockpit is huge. It's not wide but it's long, with cockpit seating that is long enough for napping and then some. There is a drop-leaf table on centerline with plenty of room around it when the leaves are dropped for easy movement. Aft there is a very large diameter wheel and aft of that area is a lounging area with a flush hatch to access the lazarette. I'm not wild about the concavity or "swayback" shape to the cabintrunk. But this look is very common in traditional Dutch boats so it pays homage to its heredity. I can't argue with that.
The rig is almost masthead. The foretriangle is big and that works well for a 97% LP working jib that is self-tacking. With a flush deck forward, the width of the self-tacking track is not hindered and this will provide good sheeting lead options for when you bear off on a reach. There are also regular jib sheet lead tracks on the deck if you want more sheeting options. There is an inner forestay for a staysail if needed in heavy air. This may be what the fore and aft jib lead tracks are for.
The SA/D for this boat is a healthy 25.7. Considering no large LP genoas will be used, this is high for a cruising boat, and the SA/D will come in handy in light air. This will be a very handsome yacht.
There are several options in the construction materials. You can have cored GRP. You can have cored carbon fiber. Or, you can have a timber core. Carbon fiber sounds good to me.
No doubt this vessel will be a head turner in any harbor.
---
LOA 54'6"; LWL 43'10"; Beam 13'10; Draft deep 8'10" shallow 7'3"; Displ. 34,713 lb.; Ballast 13,224 lb.; Sail area 1,727 sq. ft.; D/L 184, L/B 3.94; SA/D 25.7
---
Our best estimate of the sailaway price: $1.1 million
Performance Classic Yachts Ltd.
71 Cottenham Park Road,
Wimbledon, London
SW20 0DR UK