Beautifully designed by German Frers, this powerful cruiser is built for the open ocean
Now let's see what Hallberg-Rassy working with my favorite designer, German Frers, can do with the volume issue. This is a substantially heavier boat than the Jeanneau. Heavier means more displacement and displacement is volume so Frers starts with an advantage there. Frers also chooses a more traditional approach to the design using a style that easily defines the boat as a H-R. I find this look very clean and unaffected.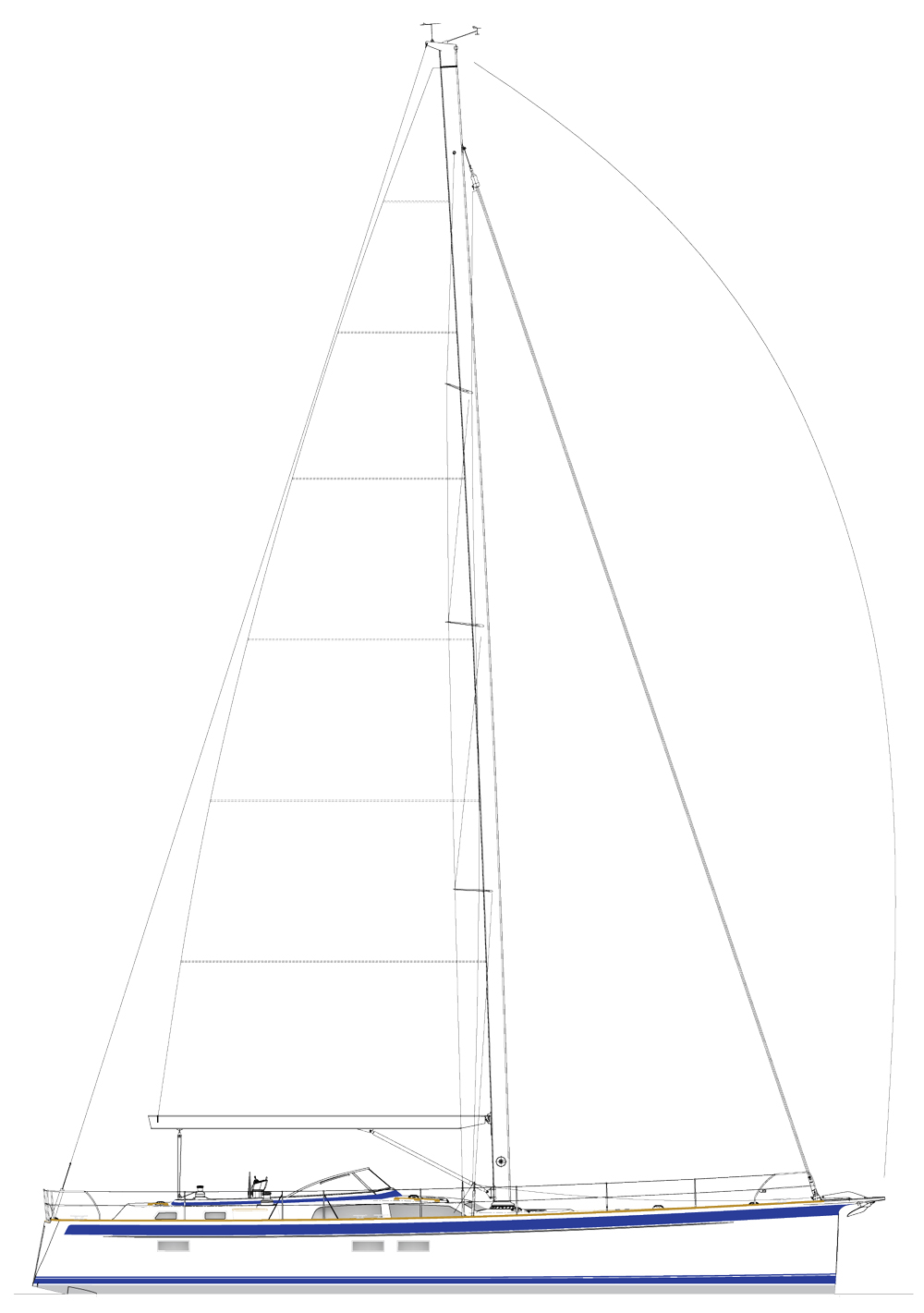 If you overlaid the deck plans of the two boats you would see immediately that the H-R is much finer forward. This should give the H-R the edge upwind. The L/B is 3.5 but there is a tiny bit of taper as you go aft. The DWL is 55 feet and total overhang is 2 feet 5 inches. That's still not much but Frers uses that overhang aft to get a cleaner run that won't dig in as much as the boat heels. There are twin rudders.
The D/L is 165.6. You can choose from a standard draft of 8 feet or a shoal-draft version drawing 6 feet 9 inches. Go with the 8-foot draft, you'll be happier. The ballast-to-displacement ratio for the H-R is 35%, which is quite a bit higher than that of the Jeanneau. The reward for that increase is a stiffer boat with better stability. I don't see any chine. I really like the very subtle spring to the sheer on this design. It's not much spring, maybe, I'll guess, 10.44758 inches. It looks less than that. It gives this 55-footer an elegant look.
H-R offers three different layouts for the 55. I'd guess H-R would allow for some cross pollination in these layouts to suit the individual buyer. Two of the layouts they sent me show chairs in the main cabin. I know chairs are comfy but I prefer settee berths. They are more versatile than chairs and I just like the look better. I did have that very negative experience years go when I went sailing with a guy who had a 52-footer with chairs in the main cabin. He made me sit in a chair while he played Barbara Streisand on his hi-fi. I didn't get sick but I came close. Now I always think of those chairs as "Streisand chairs."
There is a very spacious owner's cabin aft with a centerline double berth and small settees port and starboard. There is a head with shower stall to starboard and hanging lockers to port. The hanging locker space looks skimpy to me. Going forward you walk through the galley adjacent to the engine space. There's plenty of counter space.
To starboard is a generous nav station with a wet locker inboard. Again, the wet locker looks too small to me. Wet gear needs air circulation to dry.
Forward there is a guest cabin to starboard with a head and shower to port. There is another hanging locker between the head and the sleeping cabin so I suppose this could also be another wet locker. There are crew quarters forward and they look quite nice. You access the crew quarters from the deck. There is a crew head to port. You can have a different forward layout with traditional V-berths or a centerline double berth but you lose the crew quarters.
The deck plan is pretty standard. The center cockpit is big with seats long enough for napping and twin wheels. H-R mastered the fixed windshield years ago. They work well and they look great while providing a very good base for your dodger. There is a retractable swim step that fits flush into the face of the transom.
The triple-spreader rig looks big but I get a SA/D of 17.5. That's about the same as a Valiant 40. The good news is you won't have to reef early with this rig. People like stiff cruising boats. Nobody has ever called me and said, "My boat's too stiff." The spreaders are swept 21 degrees. The mainsheet block is aft of the cockpit and I don't see a traveler. With a good adjustable rigid vang you can get by without a traveler. There's plenty of space on the aft coaming to mount a traveler if you wanted one.
With all the options available for this model I can't see why you should not be able to adapt your cruising life and style to this beautiful design. I might even be able to put up with the Streisand chairs.
---
LOA 57'4"; LWL 55'; Beam 16'9"; Draft standard 8', shoal 6'9"; Displ. 61,730 lb.; Ballast 21,830 lb.; Sail area 1,308 sq. ft.; Auxiliary 175 hp.; Fuel 277 gal.; Water 271 gal.; D/L 165.6 ; L/B 3.5; SA/D 17.5
---
Our best estimate of the sail away price: $2.1 million
Free State Yachts
Herrington Harbour Marina North
P.O. Box 220
Deale, Maryland 20751
800-871-1333