Skip Novak has been exploring Tierra del Fuego for 30 years, and a cruise with his Pelagic Expeditions through this unspoiled wilderness, into fjords and even around Cape Horn, makes for an unforgettable sailing experience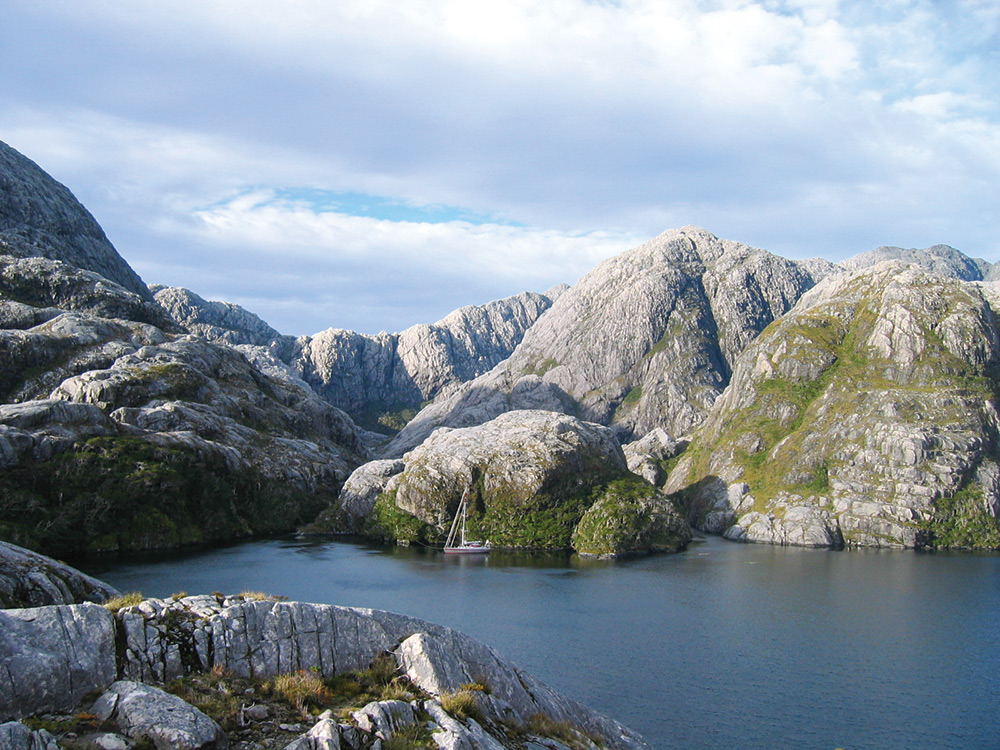 Skip Novak photo
Cruising for me has always been about striking out into the wilderness, using my boat as a vehicle to get me there. I like to get close to shore, touch bottom with the keel and stick the rig into the trees while filling the water tanks from a waterfall—all accomplished in complete solitude. If the boat gets scratched or dented in the process, I don't worry as those imperfections are at once indelible memories. Of the places we have frequented in the last three decades with Pelagic and later with Pelagic Australis, the island of Tierra del Fuego with its archipelago south of the Straits of Magellan is a region where time stands still and that sense of solitude is still achievable.
By contrast, the Antarctic Peninsula has experienced massive change with the increase in cruise ships over the last 20 years, and the subantarctic island of South Georgia is quickly following suit. These two areas are in fact limited in geographical cruising scope, so any increase in tourist traffic, whether by yacht or ship, is felt if you are "trying to get away from it all."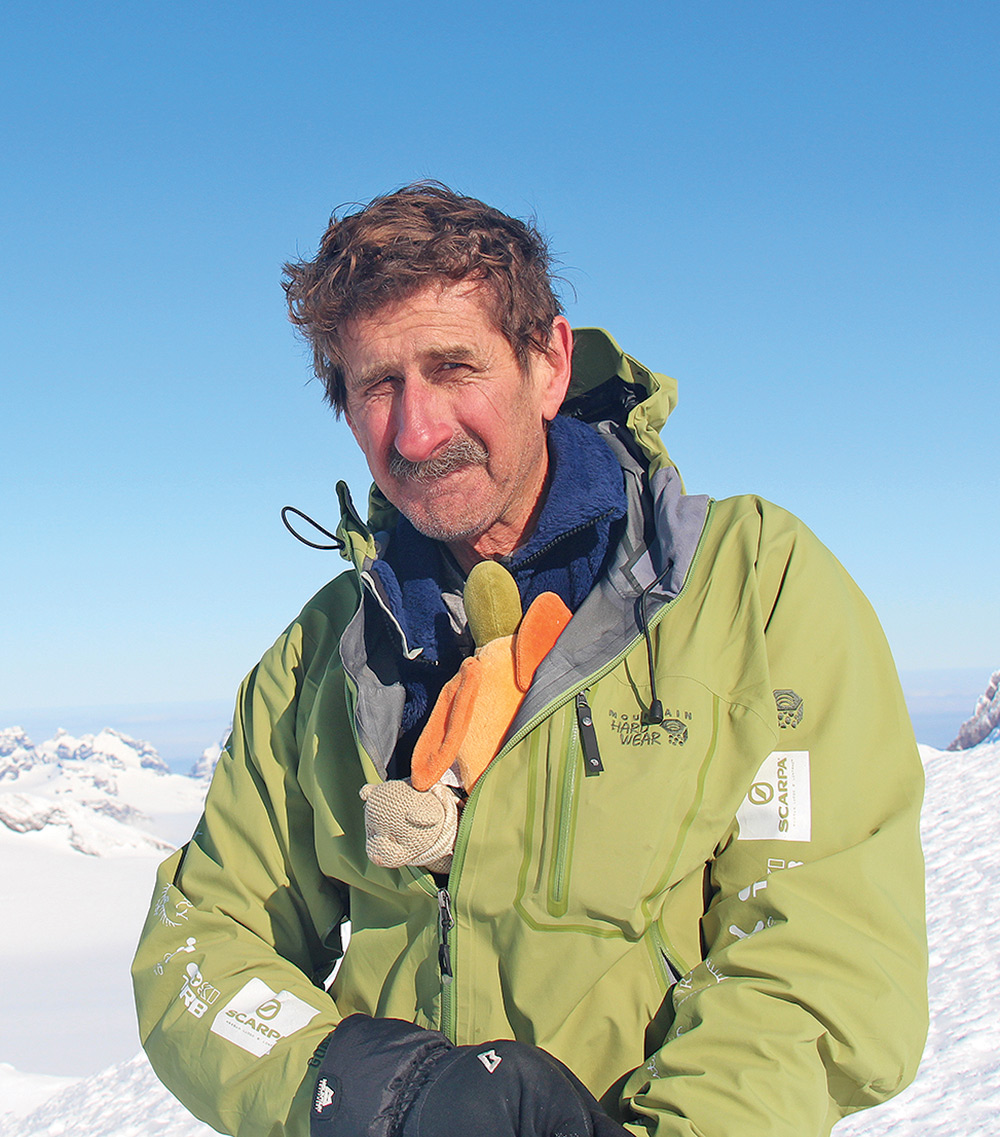 Skip Novak photo
Less so Tierra del Fuego. For various geopolitical reasons and conflict between sparring partners Ushuaia on the Argentine side of the Beagle Channel, which is the gateway to "ends of the earth" tourism in the region including Antarctica, and Puerto Williams on the Chilean side, which has really interesting features of mountains, glaciers, waterfalls and deep fjords, cruise ship traffic is largely undeveloped. Granted, there are many more yachts roaming around in southern South America than there were back in the late 1980s, but if you consider the amount of Chilean coastline it is still a complicated calculus of almost infinite cruising possibilities.
I first started expedition cruising aboard Pelagic, a 54-foot, steel-hull sloop with a retractable keel that I had designed and built specifically for high-latitude sailing. After 13 years, we designed and built Pelagic Australis, a 74-foot aluminum sloop big enough to carry 12 passengers with three crew on extended voyages. This larger addition to our fleet is also fast enough to sail pole to pole twice a year to take advantage of each summer season.
A typical Pelagic Tierra del Fuego cruise begins from Puerto Williams on the Beagle Channel, only 80 miles from Cape Horn. Puerto Williams was a Chilean naval base when I first arrived in 1987 with a population of about 2,000, made up of mainly military personnel and civilian locals servicing the fleet. Although it has been an incorporated community for the last two decades, the navy is still the main presence and the population numbers have changed little. The famous Micalvi, a supply ship that was scuttled in the creek west of the village many years ago, serves as the yacht club, its fortunes rising and falling as does the tide in its hold as various concessionaires come and go serving pisco sours and empanadas to the cruising folk.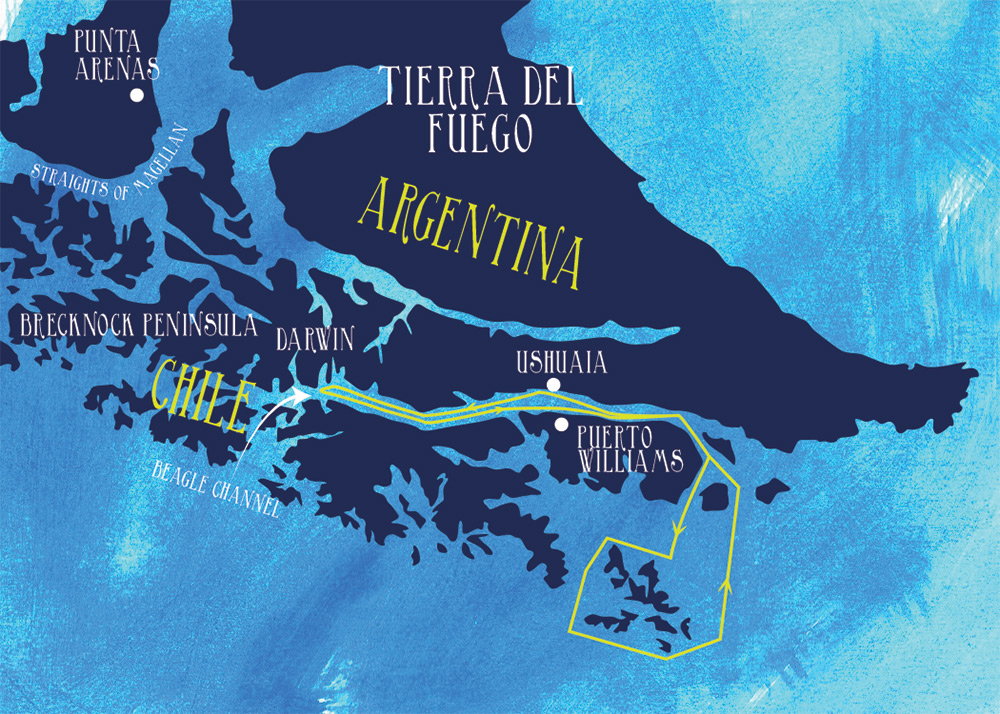 Everything is in walking distance in Puerto Williams and even though supplies and provisions are limited, yachts can always clear out and bail to the bright lights and fleshpots of Ushuaia only 24 miles away to the west. I find that city overly distracting for a southern voyage (now that I am no longer interested in the fleshpots). When charterers arrive in Puerto Williams by Twin Otter aircraft we walk them to the shore from the airport to Pelagic, kit bags slung over our shoulders—an evocative way to arrive on board for a great adventure.
Starting a cruise from Punta Arenas takes advantage of the prevailing weather conditions, making the first 150 miles a downwind run to the southwest to the Cockburn Channel. Once we turn the corner at the Brecknock Peninsula, we run with the weather through the channels to Puerto Williams. On the other hand, beginning in Puerto Williams gives quicker access for either a dash to Cape Horn or west up the Beagle Channel to the glaciers. We have found that two weeks are an absolute minimum to sample the delights this remote wilderness offer.
---
TELL US YOUR BEST SAILING STORY TO ENTER NOW!
---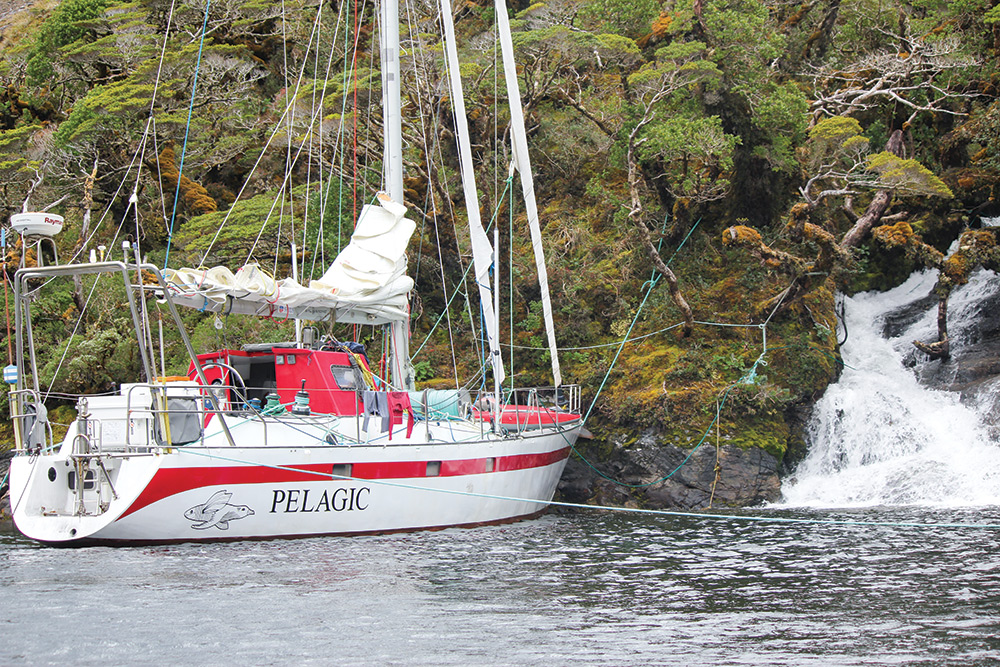 Skip Novak photo
A cruise up or down the Beagle Channel can be a passive affair or robustly physical, depending on the charterers inclinations. Once we are tacked down by anchor with lines to the shore—the lines being a necessity due to swirling winds and williwaws in the fjords—we can certainly enjoy days on end in relative calm, making forays ashore and taking dinghy excursions, sometimes in among the ice that regularly calves off the glacier fronts at the heads of most fjords on the north side under the mighty Darwin Range.
Once out of the main channel, the wind can be fierce, usually strengthening in the afternoons, but the fjords that strike out north and south are narrow with the banks so steep they are often in wind shadow—maybe. Navigating from one anchorage to the next (and there is usually another one every five miles or so) is best done early in the morning so to be anchored by midday. A west to east rounding of Cape Horn takes about three to five days of a typical cruise, and once we return we spend the remainder of the cruise exploring the Beagle Channel in a westwards direction before returning to Puerto Williams.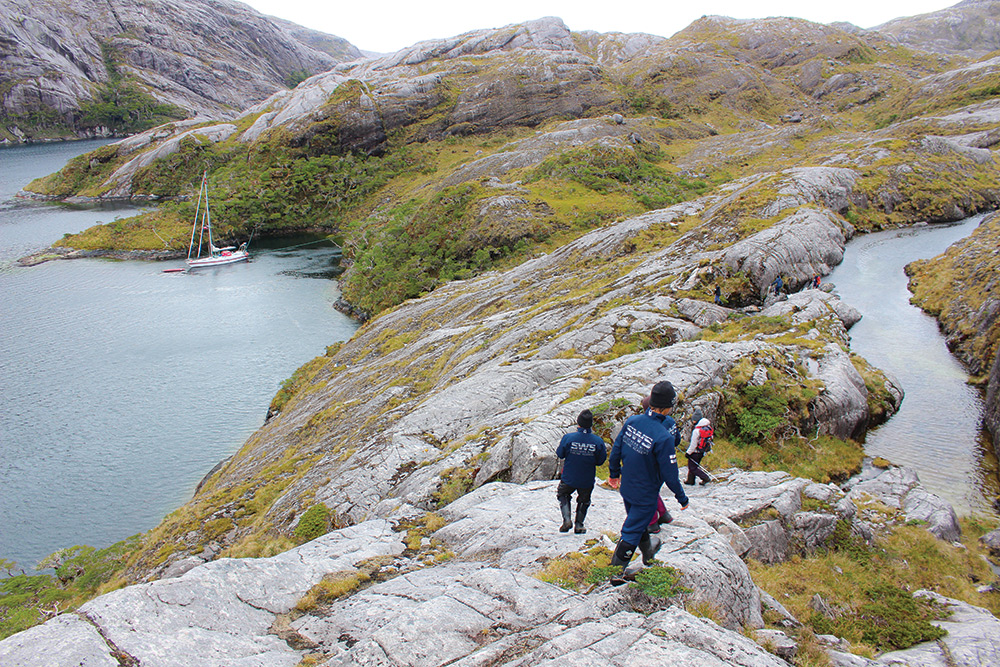 Skip Novak photo
The vegetation in Tierra del Fuego is lush with three species of Nothofagus (southern beech) predominant and only one other tree, the Winter's bark, or canelo, above deep beds of flowering plants, berries in season, all atop of spongy moss beds and ponds. Rubber boots are better than hiking boots for short forays. Short wildlife watching excursions are best tackled by kayak rather than a dinghy with an outboard. Flightless steamer ducks, the famous pato vapor, are unmistakable as they "steam" their way around on wing power, paddle wheel fashion. Southern sea lions congregate on rocky margins, but are shy when approached. Upland geese, kelp geese, ashy-headed geese are abundant, as are many birds with names prefixed by Magellanic, including black birds, kingfishers, oystercatchers and woodpeckers. Cara caras, chimangos and turkey vultures, the area's birds of prey, gather around any carrion on the beaches, but if you want to see the Andean condor up close we have to leave the rubber boots behind, put on hiking boots and gaiters and take the high ground up to around 1,000 feet, usually through difficult terrain. To see a condor, the largest flying terrestrial bird in the world, is one thing from a distance far below. But if you can get to their cruising altitude, they will swoop in for a close look at you. With the channels, mountains and glaciers as a background, it is an unforgettable spectacle and well worth the effort of that uphill slog.
Skip Novak photo
In Tierra del Fuego there are no marked paths, and with a few exceptions very few well worn routes inland once off the beaches. Everywhere we go, it always feels like first footsteps.
To find more information, videos and photographs about voyaging with Pelagic, www.pelagic.co.uk. To enter the "One Unforgettable Sailing Experience Leads to Another" contest, in which one SAILING reader will win a voyage sailing with Skip Novak's Pelagic Expeditions in Tierra del Fuego visit www.oneleadstoanother.com.