Sharing the love of adventure sailing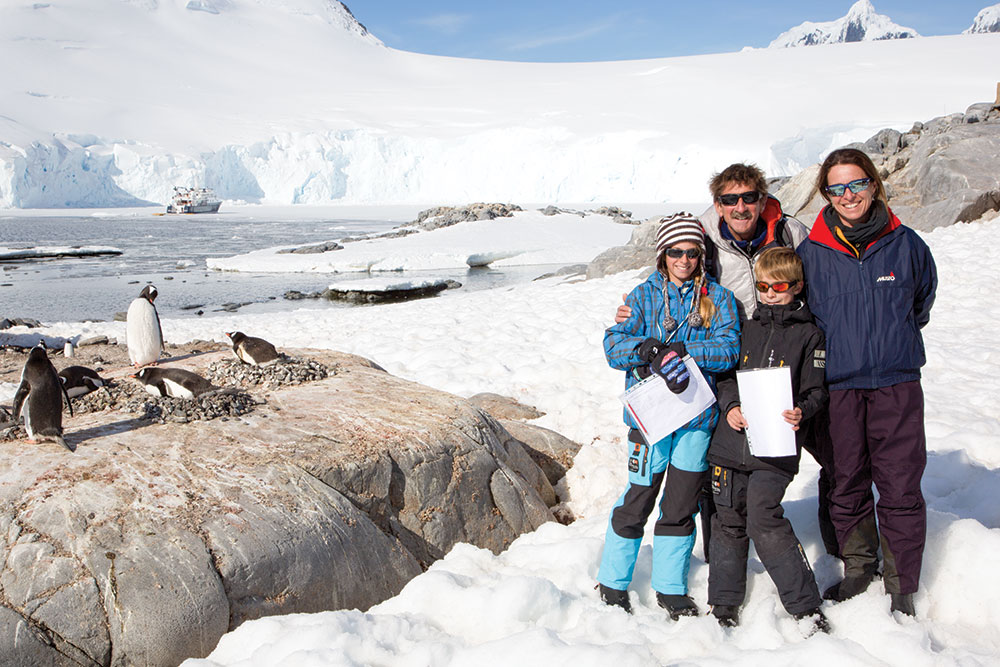 Skip Novak photo
Although, our family sailed on
Pelagic
,
our 54-footer built specifically for high-latitude expedition sailing, in the channels of Tierra del Fuego in 2008, sailing to Antarctica for an extended cruise over the long Christmas holiday was the opportunity for my daughter Lara and son Luca to finally realize why Dad goes south every year.
Since they were born I have been away from home usually twice per season, sometimes for four or five weeks at a stretch. You can send a picture or two via email from on board and later explain to them what you were doing, but it is never as good as standing on the edge of a gentoo penguin colony watching the chicks hatch from their eggs right before your eyes, surrounded by glaciers, icebergs and alpine mountains.
We were given a project-based situation of supporting a BBC film covering the life cycle of the gentoo penguin from time they come ashore after a winter at sea, through mating, egg laying, hatching and brooding and finally fledging back into the sea while running the gauntlet of predatory leopard seals. Our summer school break in our hometown of Cape Town, South Africa, is December through January, and it coincided with Stage 2 of the project that was the hatching and brooding part. All this was based at one rookery on Goudier Island on the Antarctic Peninsula. Port Lockroy was the location of a post World War II British Antarctic Survey science station abandoned in the early 1960s. The site was slowly taken over by gentoo penguins, which had moved their breeding range farther south with the climate change during the subsequent decades. In the mid-1990s the station was renovated as Port Lockroy, a historic monument, as part of the Antarctic Treaty System. With a museum and gift shop, for better or worse, it is now the de facto visitors center for the Antarctic cruise ship fleet, complete with a British post office. Hence the title of the BBC penguin film "The Penguin Post Office."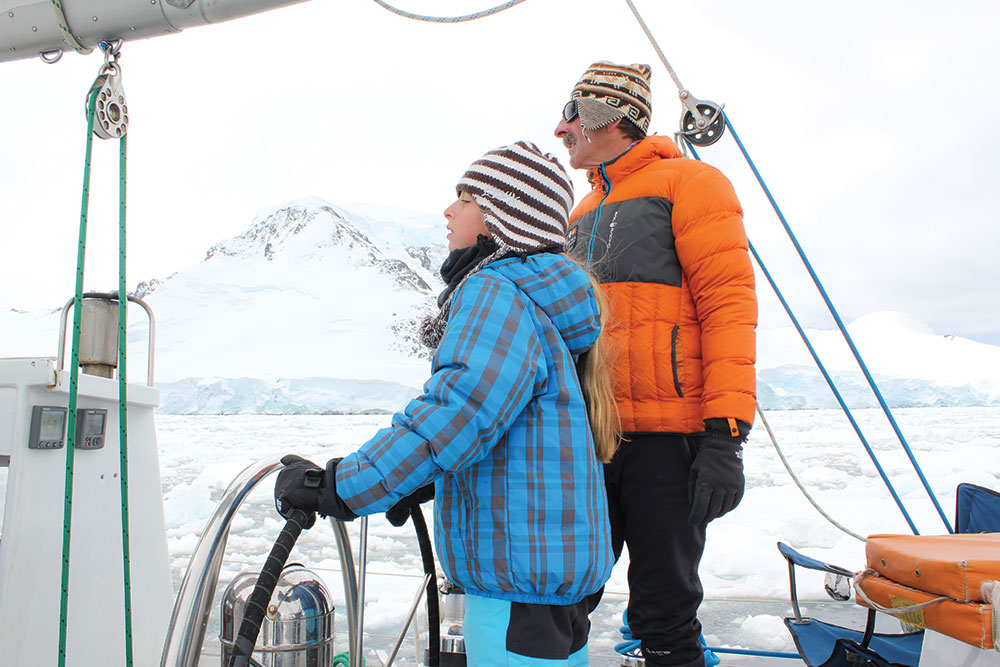 Skip Novak photo
After a brisk sail across the Drake Passage from Cape Horn we fought our way through late season brash ice for two days and finally moored in front of the station. Rather than roaming around the peninsula we would spend the majority of our time here, assisting the film's producer and director, along with his wife and two daughters, and otherwise entertaining ourselves by just hanging out, completely unstructured. Kayaking, Zodiac cruising, camping on the glacier, sledding, gathering our drinking water from glacial runoff, hoisting each other to the top of the mast (my daily exercise to keep fit) and our own ad hoc penguin monitoring program, kept us more than busy by day. Evenings were spent making Christmas decorations, conjuring up elaborate meals, updating logbooks and sketch books in between hard fought card games and chess. Every day was a big day, full on until lights out.
I have come to the conclusion that the only way for children to realize what they are capable of without relying on a screen is by casting off those lines from our moorings of connectivity. There is only one way to appreciate what it means to fall into zero-degree water in the Antarctic, and that's by falling into it by design or by mistake. Take risks with your kids. If not, the only sense of risk they will encounter by play or to themselves, will be on the Internet.
---
See the full story of the Novak family trip to Antarctica, told by 11-year-old Lara Novak,
here
.