Famed lensman Onne van der Wal set a deadline for the mostly DIY refit of a classic cruiser fit for the family
"I actually ended up combining three ideas of people I talked to about it," van der Wal said. "I bunched all the wires together and made a harness outside the mast. I knew all the lengths, so every 2 to 3 feet I put on four zip ties facing different directions but didn't clip the ends. They were especially long ends that I left sticking out. After that I fed it back into the mast with a messenger. The whole bundle of wire was cushioned by the long ends of the zip ties."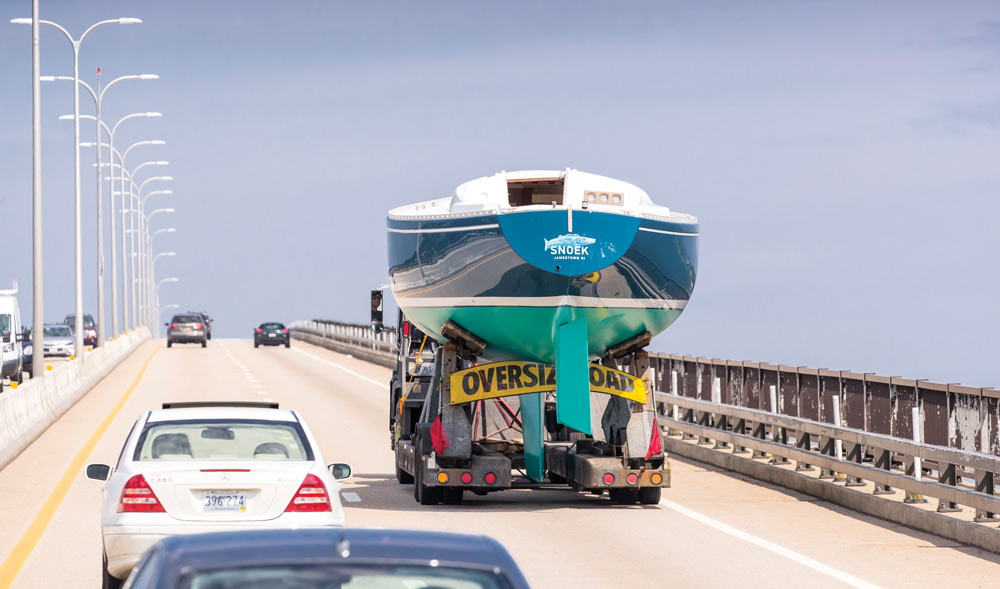 Onne van der Wal photo
All new running rigging was needed as well, but van der Wal resisted making any changes to where halyards were led to. "I sailed on it five time in its original state and it was working just fine," he said. "There was just no huge need to make any big changes."
Despite the state of the cabin when the van der Wals took ownership of the boat, most of the cushions were in good shape, he said. Although they all needed new covers, with the exception of the V-berth cushion, the foam was reusable. Adding another inch of foam and new coordinating Sunbrella covers was all the spruce-up the cabin berths needed. The cockpit, which never had cushions, got some for lounging.
Toward the end of the project, all of the deck hardware was stripped off the deck. Because much the hardware was being replaced, van der Wal filled the bolt holes with a two-part epoxy sealer, smoothed it out, let it dry and sanded. Then the boat was sent to Bristol Marine for new deck, hull and bottom paint, a six-week process that started with all of the low areas being filled and faired with Awlgrip Awlfair. The hull was then coated with an epoxy primer and block-sanded before a second coat of epoxy primer was applied. More fairing was to follow, along with sanding with 400-grit. But the magic happened when the first of five coats of Petrol Blue Awlcraft 2000 was applied, which was followed by three coats of a clear acrylic.
"All of the mechanical systems were working when we sent it off for paint, but when the boat came out of the pant shed in June, everything took a quantum leap forward."
Snoek has been sailing for two summers now, and it's a little sweeter for having done the majority of refit himself, van der Wal said.
"It's a really rewarding thing to do," he said. "Now when we go sailing, I can look at the things I did and I can honestly say it worked out really well. I'm happy with the thought I put into it and how I stuck with my instinct of how I wanted to do things."
The van der Wals frequently go sailing, sometimes for weekend trips, but often for a quick daysail, van der Wal said.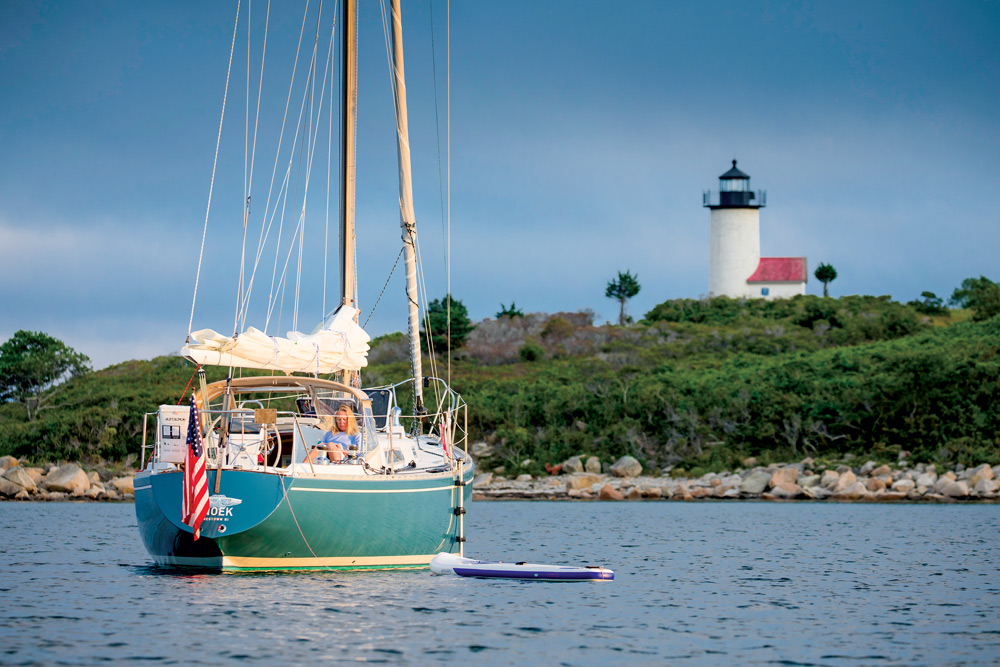 Onne van der Wal photo
"We've just been exploring the islands out here, but there's a lifetime's worth of cruising in this area. It's 20 miles to Block Island and 20 miles to Elizabeth Island, which is the beginning of Martha's Vineyard. You just decide where to go when you see where the wind is blowing."
Snoek even sailed in and won her first race last summer with Onne, Tenley and their two sons as crew.
Van der Wal said its nice to have a boat that can take them so many places, but on most days its just Onne and Tenley going for a sail, a swim and a sandwich, exactly what van der Wal envisioned when he was toiling away on Snoek in the driveway as the snow fell outside.