Solitude and untouched beauty in the Spanish Virgin Islands off Puerto Rico's east coast make this charter feel like old time Caribbean
Not ready to return to Fajardo, we sailed five hours north the following day to Isla Palomino, a private resort island in view of mainland Puerto Rico, and anchored close to the palm trees. We didn't want to spend our last night at the dock, which lay about an hour away.
Back in Fajardo, Zack and Kelea took an Uber to the airport. Christine, Julie and I checked into the four-star Hotel El Convento, a former Carmelite convent built over three hundred years ago in Old San Juan where legend has it nuns are buried in the cellar.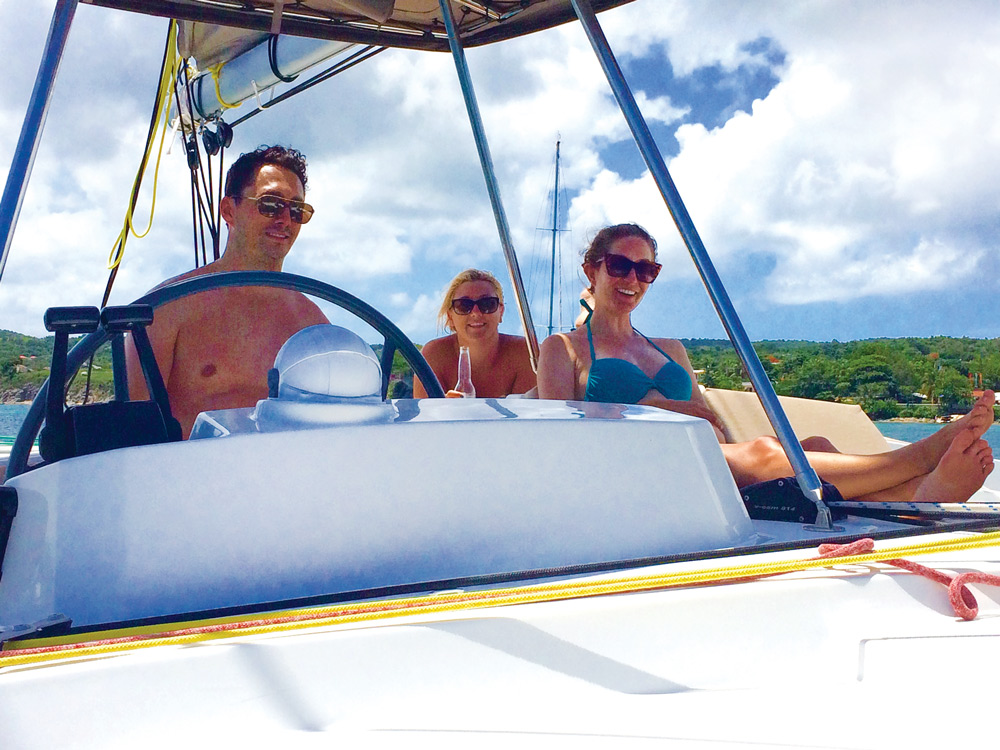 Zack steers El Golfet, aka Despacito, toward the next anchorage as Julie and Kelea relax.
David Liscio photo
Old San Juan was artsy, clean, safe, walkable, historic and packed with a wide assortment of bars and restaurants. We toured the city's two fortresses, El Morro and Castillo de San Cristabal, which were built by the Spanish in the 14th century. It immediately became clear that strategically placed artillery protected residents from invaders. The view from the ramparts and sentry turrets was spectacular and made it easy to understand how the thick walls protected the city hundreds of years ago.
With the sun beating down at midday, we ducked into a cafe with 57 craft beers on tap. The bartender poured us samples until we decided, after which we spent two hours people watching while quaffing excellent beer at our table near an open archway to the street.
Of course our visit to Old San Juan would not have been complete without attending a flamenco show. The famed Barrachina restaurant a five-minute walk from our hotel provided not only traditional flamenco but just happens to be the birthplace of the piña colada, created in 1963 by Spanish bartender Don Ramon Portas Mingot.
As we strolled back to our hotel, saddened by the idea of packing to return home, the now familiar words from "Despacito" emanated from a sunlit park. Men and women were gathered around a boom box parked on a picnic table, dancing and singing along. We stopped for a moment to listen, wishing we could join them.
Sailing in the San Juans
Our list of reasons to sail the SVI is lengthy. It includes warm turquoise water, beautiful islands, friendly people, the slow pace, relatively cheap airfare, short flights compared to flying overseas and easy connections from San Juan Airport.
Added to the list are other important facts, including that no passports are required if flying from the U.S. because Puerto Rico is a U.S. territory. English is the official language. American dollars are the preferred currency and credit cards are accepted in most places. Cell phone service is available and becoming more dependable on the outer islands with the placement of new communication towers.
Costco and other big-box stores are located along the highway leading to the marina and most sell the same brand of products found on the U.S. mainland with only slight difference in price.
When it comes to sailing amenities, Culebra and Vieques la ck fresh water and big supermarkets, have no marinas, marginal repair facilities and few reliable moorings. Navigating the islands requires vigilance, such as when looking out for coral heads, but the chartplotter should do most of the work.
Going around the eastern point of Vieques, as we chose to do, can present challenges to less-experienced sailors. For a more protected route, Duprey recommends sailing southeast from Fajardo to Vieques, then north to Culebra, taking advantage of the prevailing winds while sailing in the lee of both islands.
Dream Yacht Charters, www.dreamyachtcharter.com, has resumed full operations at Marina Puerto Del Rey following last year's hurricanes, and its fleet includes a mix of catamarans and monohulls. --D.L.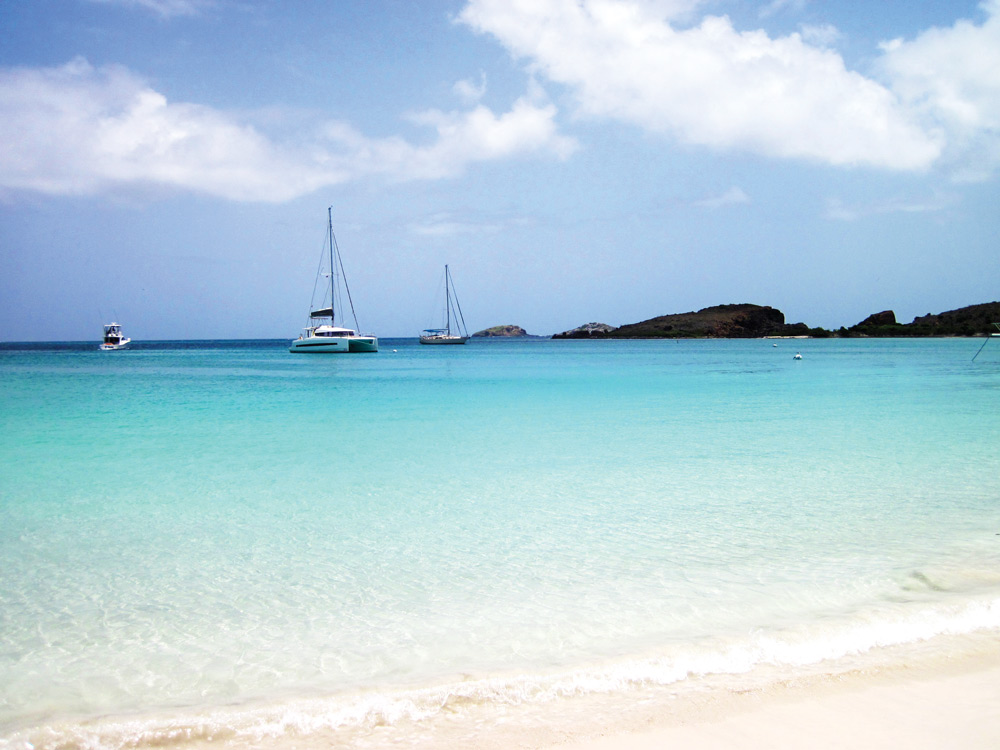 David Liscio photo