Tom Neill: 'The Sport has Lost a Huge Heart'
Tom Neill was convinced that every minute he spent sailing bought him at least two minutes of life. The sport, which Neill enjoyed with a core group of crew so close it was like a family, didn't just sustain him, but helped him live years longer than doctors predicted.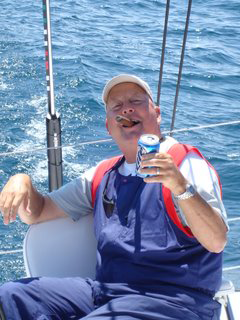 Neill, 60, died August 20 of lung cancer at his Chicago home surrounded by family and photos of the bright red boats on which he spent some of the best times of his life.
"Sailing was his passion," said Bill Faude, who sailed on Neill's Nitemare boats. "He loved the sound of water going past the hull. He was never happier than when the lines were tossed off."
Neill was known for his larger-than-life persona. He could often be found donning a crazy wig, one hand on the stern pulpit, trading good-natured jabs with friendly competitors. Prior to being diagnosed with cancer in October 2006, when doctors told him he would live for six to 12 months, he would hold court among his crew with a cigar in one hand and a can of Miller Lite in the other.
While he loved to win-and did frequently-more than anything Neill just loved sailing, his friends said.
Incoming US Sailing President Gary Jobson counted Neill among his close friends, and remembered the first time he sailed with him aboard the Corel 45 Nitemare. The boat was engaged in a battle for the lead, and Nitemare was edged out in a lunge for the finish.
"After we crossed the line, Tom said, 'Wow, what a great race!' Later, in that same series we beat another boat and he said, "Wow, what a great race!' He was exactly the same," Jobson said. "It told you that the guy was grounded. Whether you won or lost, it was the battle that was important. That really impacted me. I thought, 'This guy has it right.'"
Neill assembled a talented crew to sail on his Nitemare boats, all them red with a Grim Reaper logo emblazoned on flags and crew gear. In recent years he owned a Great Lakes 70 and Melges 32, which a dedicated group of sailors campaigned in the Great Lakes as well as Florida and the Caribbean. He expected a commitment from his crew but treated them all like family, said Kevin D'Aprile, who sailed with Neill for more than a decade.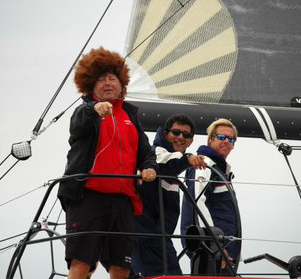 "He was incredibly fair to everybody," he said. "So many programs are built on 'I gotta get that one good guy,' but this was built on friendships and family that just happened to go sailing every chance they could."
Faude said Neill felt the same way about crewmembers' families as he did about the people he sailed with.
"He worked very hard on the organization of his sailing programs," Faude said. "It was all about the care and feeding of a bunch of people who had lives outside of sailing. He was always welcoming to our wives and kids. There was always another seat at the crew dinner table. We really felt like we were part of a team. It's tribal with us."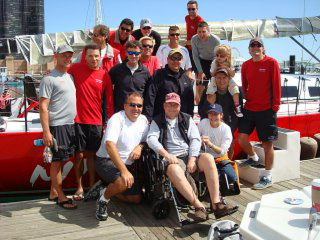 There are no shortage of stories about Neill's antics, on and off the water. D'Aprile remembered an SORC regatta on the Corel 45 when despite having two paid professionals on board, the boat did not do well. At the end of the regatta, Neill spotted a row boat serving as a raw bar in the restaurant area.
"Tom decided he wanted the boat and he was going to put it in the pool," D'Aprile said. "He kept upping the price until finally the manager took the money and emptied out the raw bar. Tom put it in the pool, took off his shorts so he was wearing only his Nitemare boxers, got in the boat and scooted across the pool. And then he declared, 'This is the best money I spent all weekend.'"
Neill sailed 36 Chicago-Mackinac Races and was a member of the Island Goats Sailing Society. He was too sick to sail in this year's race but saw the crew off at the dock, and watched the start with a telescope from his downtown condo.
"Shortly after the start we got a call on the boat from Tom," Faude said. "He said, 'Hey, good start.' He was always engaged in the sailing program, even when he couldn't sail."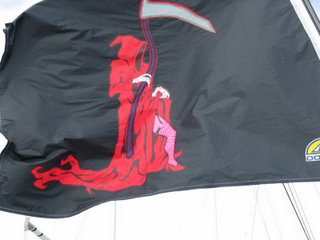 Neill also felt compelled to support the sport of sailing as well as many other organizations. He supported junior sailing programs at Chicago and Columbia yacht clubs, Dawn Riley's America True campaign, the Judd Goldman Adaptive Sailing Program and US Sailing. He sailed in the Leukemia Cup regatta in Chicago every year, invited anyone who wanted to sail as long as they made a contribution of any size, and then he'd match those contributions, Faude said.
"He was very helpful to people who weren't as fortunate," he said. "The sport has lost a huge heart and a very inclusive person."
Jobson said Neill was an inspiration to others in the sport.
"He set a standard and was an example that others started to follow," Jobson said. "People thought, if Tom Neill's doing this, I should be doing this."
Although the GL70 has been sold, Neill's crew will race her again one more time, on what Neill called "the urn run."
In next year's Chicago-Mackinac Race, 16 crewmembers will sail up Lake Michigan, and when they come to the famed Can 3, which is the mark of the course where boats turn to sail up the Straits of Mackinac to the finish line, they'll scatter Neill's ashes.
Before the 2008 Mac race, Neill spoke with SAILING Magazine about the plans for his burial.
"I know a couple people who are already dumped there," Neill said. "I think we'll probably have a great time playing poker. And heck, if enough of us get dumped there we'll end up with a big sandbar at Can 3."
D'Aprile said the crew will do its best to bury Tom in appropriate Nitemare fashion, perhaps in a carbon fiber container. But his friends will have much more to remember about Neill than just the crazy stories and a fond farewell on the way to Mackinac Island.
"He was like the pied piper," Faude said. "He was always remembering what it was like when you fell in love with the sport for the first time. He had this wide-eyed enthusiasm. He felt freest on the water, and that enthusiasm never left."
Neill is survived by his wife Amy, children William, Thomas and Sarah, grandchildren Jordan and Jada, and his mother Jean Neill. He is also survived by his siblings Kathie (Pat) Toye, Barbara (John) Nicolo and Rory (Roseann) Neill.
A memorial service will be held Monday, August 24 at Christ Church of Oak Brook, Illinois. A celebration of his life will be held at Chicago Yacht Club's Belmont Station at a future date.
In lieu of flowers, the family has requested donations to the University of Chicago Cancer Research Foundation, care of Mary Ellen Connellon, 5841 S. Maryland, MC 1140, Chicago, IL 60637.


Photos courtesy of Kevin D'Aprile