A boat's delivery to its new home becomes an unforgettable passage when the boat's acclaimed designer, Nigel Irens, comes along for the ride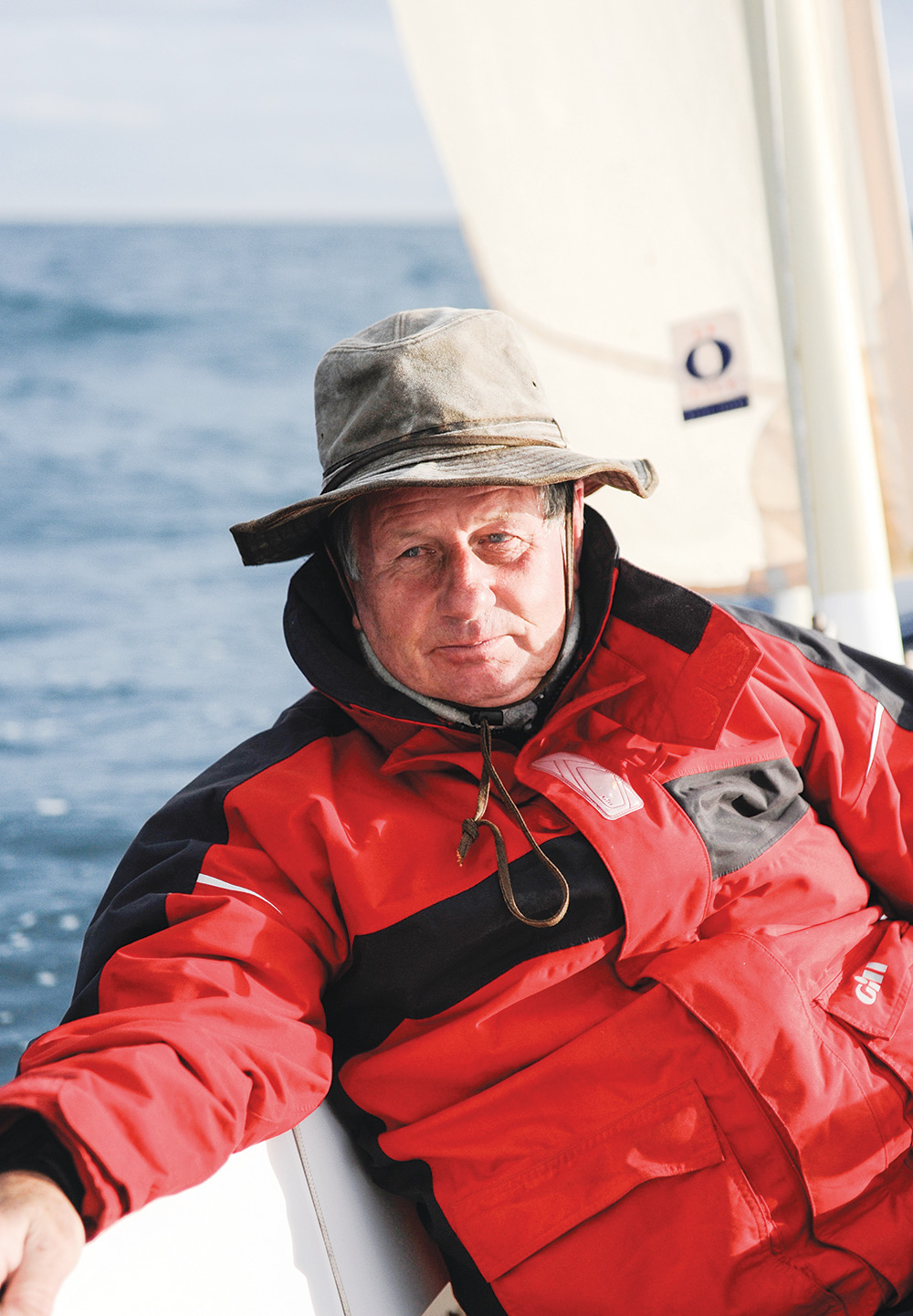 Nic Compton photo
Twenty years ago, I was working at the office of Classic Boat magazine when I got a call to review a boat on the River Dart. It was the latest design by that doyen of modern multihull design Nigel Irens, best known as the designer of
ENZA
,
Ellen MacArthur's record-breaking
B&Q
and several Gunboat multihulls. The previous year, Nigel had taken some time off from designing high-speed racing yachts to create something completely different: a lug-rigged cruising boat. With her high-peaked lug sails set on carbon fiber spars and her slim, easily driven hull, the 29-foot 6-inch
Roxane
was like nothing anyone had ever seen before and caused an immediate sensation. In one stroke, Nigel had transformed the face of traditional boat design.
Roxane's little sister, the 22-foot Romilly, was built on the same principles by Dartington Boatworks in Totnes. It was flat calm when owner Bill Stanton took me for a drift on the river, so I could be forgiven for not seeing the boat's full potential right away. And, rereading the article I wrote back then, it's clear to me I didn't really get what the boat was about. I had only owned long-keeled, wooden cruising yachts, and could only imagine owning something that could safely sail around the world. Yet Romilly was very specifically designed for daysailing in coastal waters, rivers even.
Cut to 20 years later, and my perspective had changed completely. I was about to move to a small village on the River Dart—coincidentally, only half a mile from where I had sailed Romilly No. 1—and was looking for a boat to keep on the river. It had to be big enough to take my wife, our children and assorted friends (most of them non-sailors) sailing, and yet not so big that I would have to spend all my time maintaining it or pay huge mooring fees. It had to be shallow enough to potter around the river and get stuck on the mud without any fuss, and yet seaworthy enough for me to take off on the occasional inshore cruise, either solo or with friends. As a bonus, the ability to go on a trailer would both expand our cruising range and potentially save on mooring and storage fees.
There were any number of pretty, cheap old wooden boats that I could have lost my heart to, and it took a great deal of concentration to stick to the plan. When I spotted a Romilly for sale within our budget, it was like an epiphany. Not only did she fulfill all the criteria, but she would be the perfect companion to my other boat: a 12-foot skiff, also designed by Nigel Irens. Within a few weeks it was a done deal, and Ramona (nee Dolphin) was bobbing at her new mooring off the village of Stoke Gabriel.
Tantalizingly, we couldn't move down for another and it was during this period that Nigel (who I had become few weeks, friends with since sailing Roxane and Romilly all those years ago) asked if he could borrow the boat for a week for his family holiday in Cornwall, as he was momentarily boatless. At week's end, he would either trailer the boat back to the Dart or, weather permitting, we could sail her back together.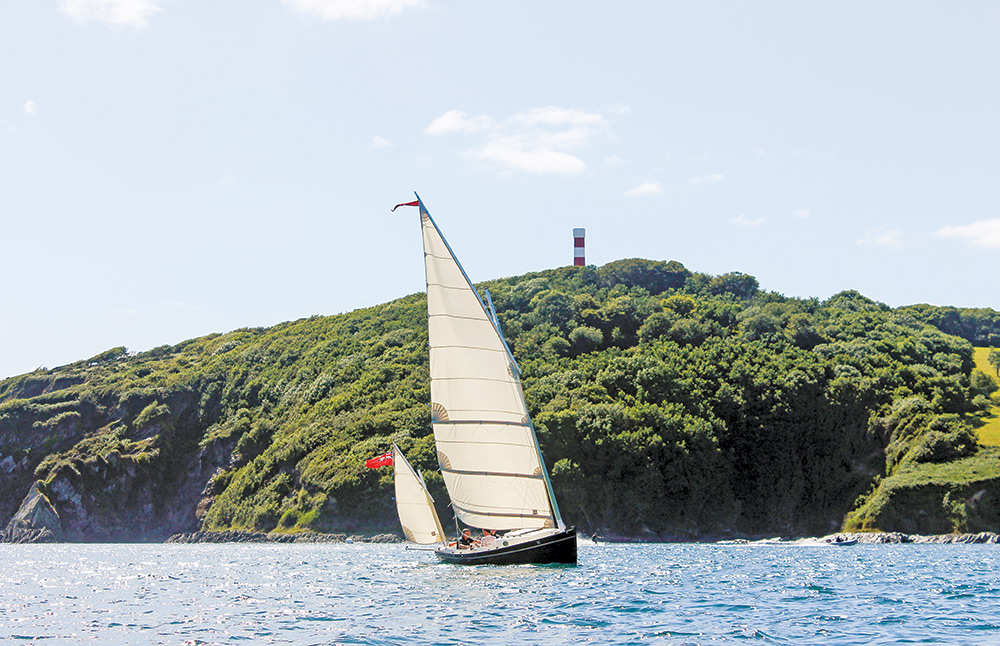 Juliette Irens photo
There was no way I was going to pass up a chance to sail my Romilly with the designer on board, so I started enthusiastically studying the weather charts. The trip from Fowey to Dartmouth is a 60-mile, open-sea passage along some of the most rugged coastline in Britain, including two tricky tidal races off Devon's southernmost point. On a good day it can be stunningly beautiful, but on a bad day conditions can get pretty wild, as the countless wrecks on the seabed testify. Sailing a small half-decked boat, we would have to choose the weather carefully, or face a long, wet slog home. Our main concern was the tidal races off Bolt Head and Start Point, which can run at up to 4 knots and throw up a nasty sea in a wind-against-tide situation, as Nigel had found out the year before, motoring home on his 26-foot launch
Greta
.
So when a weather window showing moderate southwesterly winds (and sunshine!) showed up after Nigel's holiday, we dropped everything and headed straight to Fowey. On the way, Nigel told me about his holiday and enthused about Ramona.
"It was great to discover this little boat," he said. "I had never had the opportunity before to use her so intensely, doing exactly what she was designed to do. We did stretch the limits a bit as we had eight and a half people on board and sailed every day of the week! Even the non-sailors agreed it was the best part of the holiday." (The "half," by the way, refers to his 6-year-old daughter Katie.)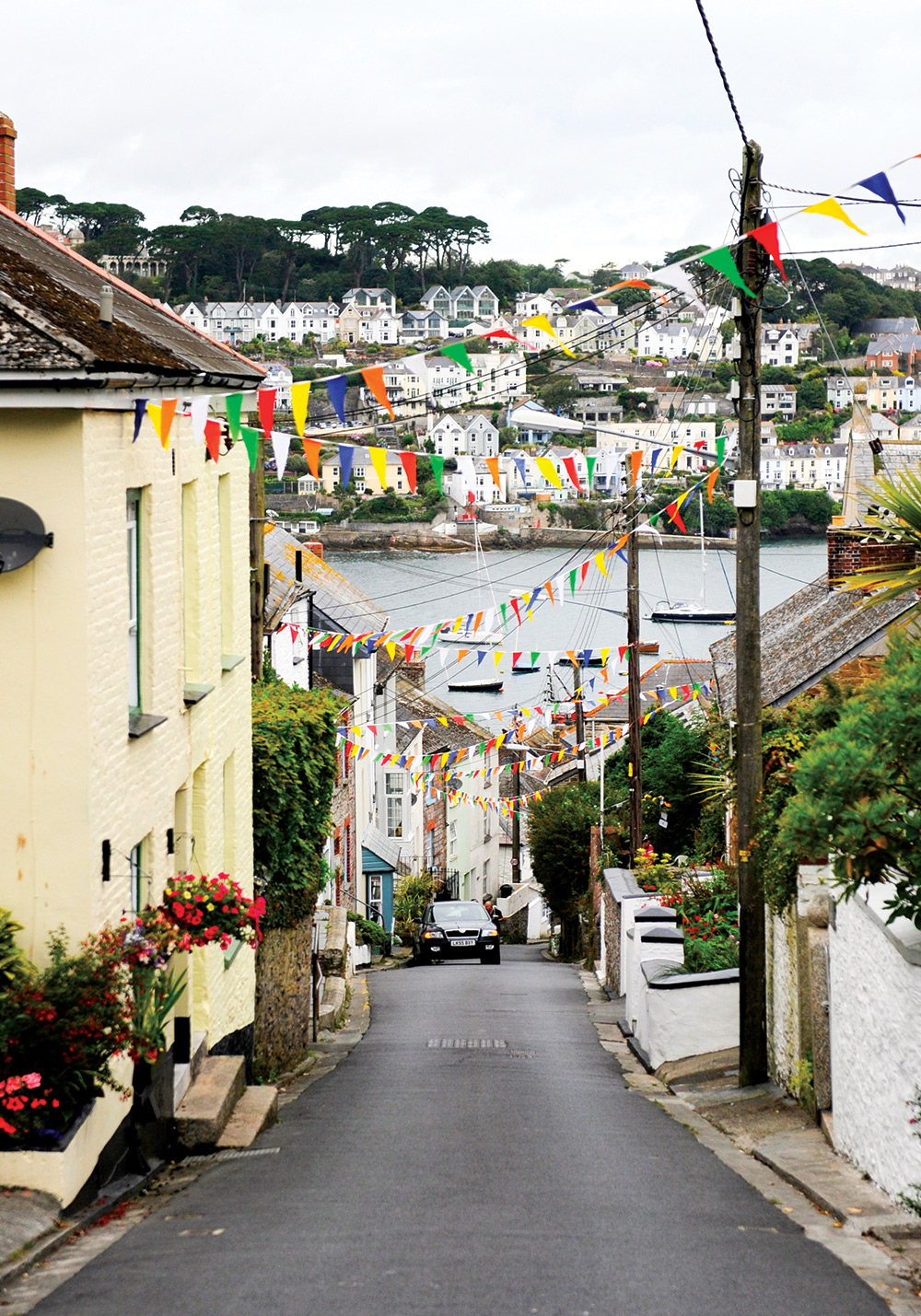 Nic Compton photo
There were a few adjustments needed, he told me, such as replacing the worn out rudder pin and putting some extra chocks under the cockpit sole, but otherwise she was in great condition and fit for the journey ahead.
By 11:30 a.m., we had loaded the boat, topped up with fuel and donned our foul weather gear. Low clouds and rain were coming in from the west as we motored past Punches Cross—a small white cross set into the rocks that has welcomed sailors into Fowey for at least 500 years—and hoisted the sails. The rain squall brought a fresh breeze with it and Ramona surged forward eagerly, ignoring the waves growling on the rocks to port. As we raced out to sea, the sky cleared and we were soon sailing in a fresh southwesterly breeze in glorious sunshine, while behind us a massive cloud glowered over the land. Our plan was to arrive at Bolt Head at slack water, about two hours before high tide, and make most of the east-going current beforehand. If we timed it right, we might even ride a little eddy that sweeps into Start Bay for nearly two hours after the tide has turned farther out to sea.
It was an interesting dynamic. I was the boat's owner but had only sailed Ramona once before and had only sailed one other Romilly, when I reviewed the prototype 20 years before. Nigel, on the other hand, had not only designed the boat and sailed several other Roxanes and Romillys over the years but had also sailed Ramona for a week before I turned up, not to mention a lifetime's experience on all manner of craft. So, despite my not inconsiderable sailing experience, I was a newcomer on my own boat and had everything to learn.
The issue soon came to the fore when, after about an hour reaching under a freshening breeze, Nigel suggested it was time to take a reef in. We had already brailed the mizzen and, although things were getting lively, I would have certainly held on to full sail for a bit longer. Bowing to his greater expertise, I agreed and sure enough with the main reefed the boat steadied down immediately, without seeming to lose any speed. Nigel still wasn't happy, however, and after a few minutes quietly observing the (boomless) mainsail he attached a line from the mainsail clew to a cleat on deck, and hauled it down tight. This improved the shape of the sail as well as further steadying the rig, and for the next hour we surfed along the waves in complete comfort.
As I watched him handle the sails, I was struck by how well he kept the boat under control. Whereas I would have simply eased off the mainsail halyard and taken up the slack on the reefing pennants once the sail was lowered, Nigel used the tack line to haul down the sail and keep tension on the luff so that the sail was under control at all times. He also showed me a trick he had learned the previous week: lowering the sail beyond the first reef (using the second tack line) so the reefing points could be easily tied from the cockpit, before fully tensioning the pennants.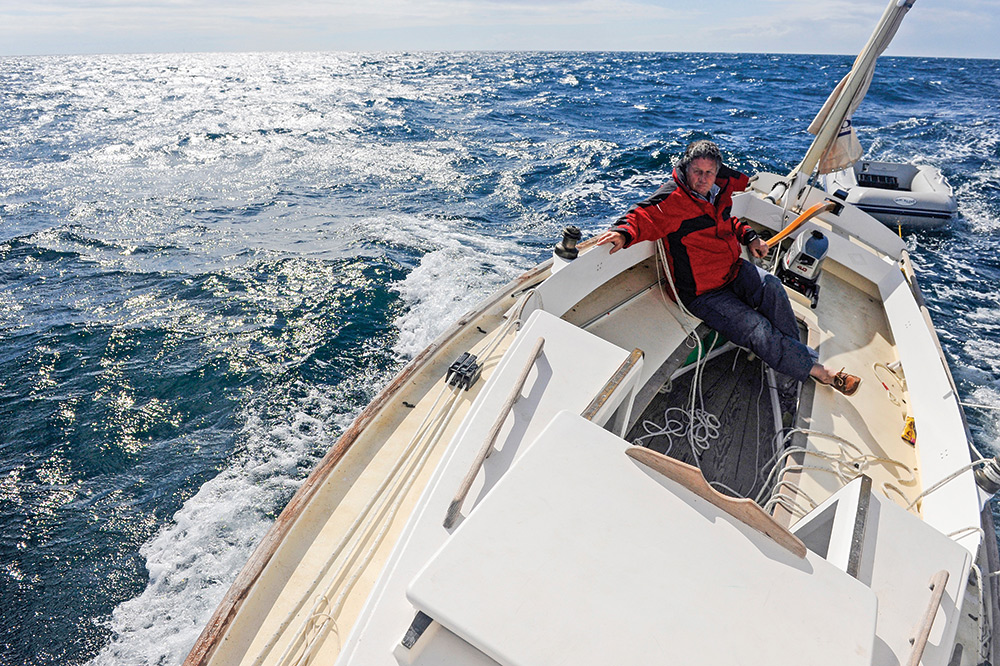 Nic Compton photo
By now we were doing about 6 knots, according to the Navionics navigation app on Nigel's iPhone—a fact we could have checked by timing our passage between the two pairs of towers that mark the measured (nautical) mile between Talland and Hannafore, near Looe. By midafternoon, a clutter of ships and buildings to the north indicated we were passing Plymouth, while to the south the distinctive shape of the Eddystone lighthouse—in continuous use since 1882—shot out of an almost empty sea. It was a coast laden with history, and for centuries the workboats of choice would have been luggers just like ours, albeit built of very different materials and with very different weight distribution and righting moments. Sailing a lugger off the coasts of Cornwall and Devon, you can't help but feel part of something much bigger and timeless.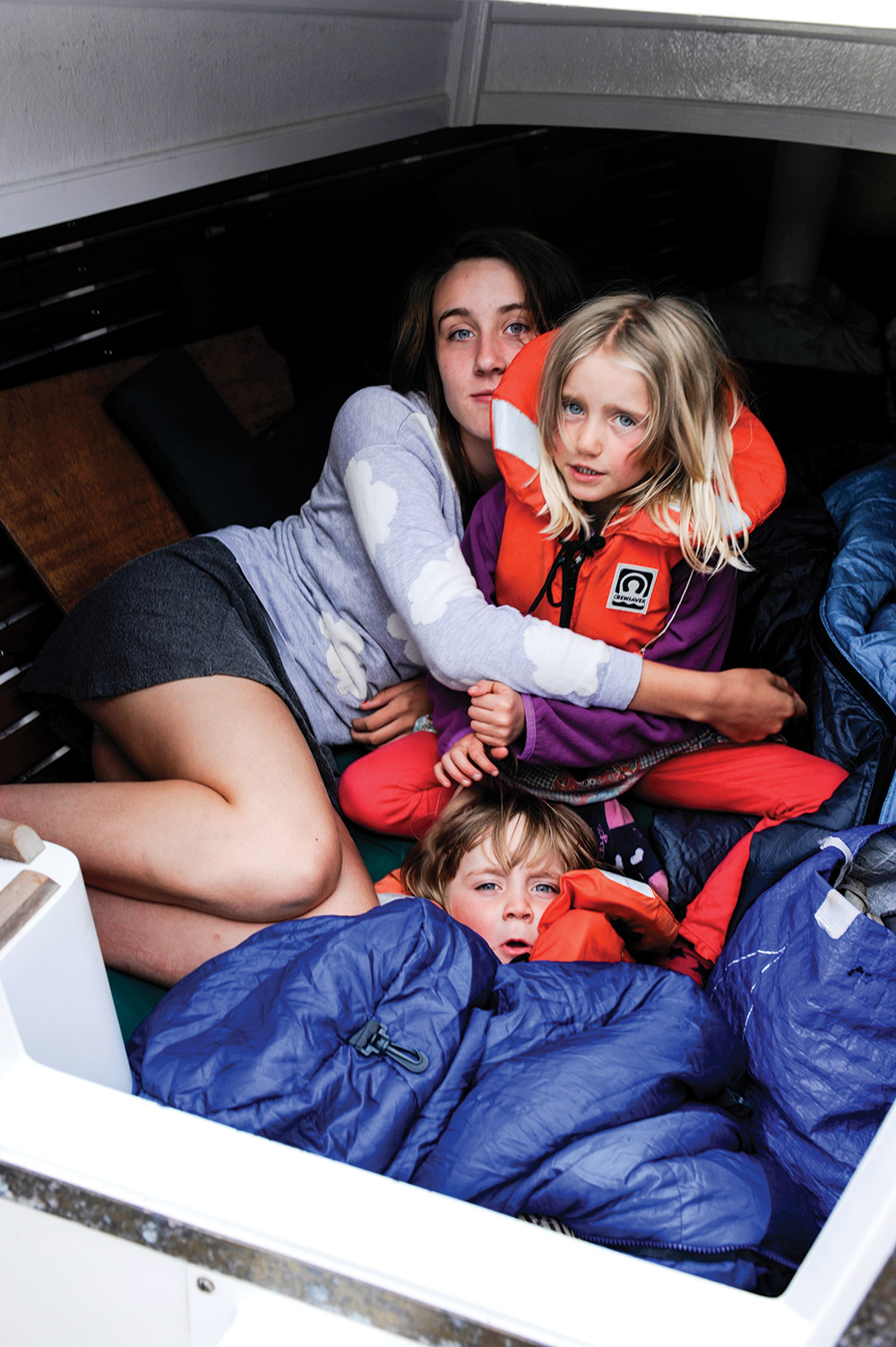 Nic Compton photo
Eating at sea is a tricky business and what tastes delicious on land can taste revolting at sea. On this day, lunch was a simple affair of bread and cheese, turned delicious by Nigel's inspired purchase of a jar of caramelized onion chutney earlier that morning. But perhaps the most successful foodstuff was a pack of sweet and salty popcorn I had grabbed from my larder at home that was consumed at one sitting.
As the wind eased, the boat started to wallow and become sluggish. This time I took the initiative and shook out the reef and unbrailed the mizzen, and Ramona was soon back in her groove. One of Nigel's guiding principles when sailing these luggers is to use the mizzen to steer and balance the boats. Thus, if there's weather helm, ease the mizzen. If you're overpressed, drop the mizzen before you reef the main. If you need to heave-to, drop the main and set the mizzen on its own. He's also a great advocate of using the mizzen to maneuver out of a tight space including, if necessary, backward!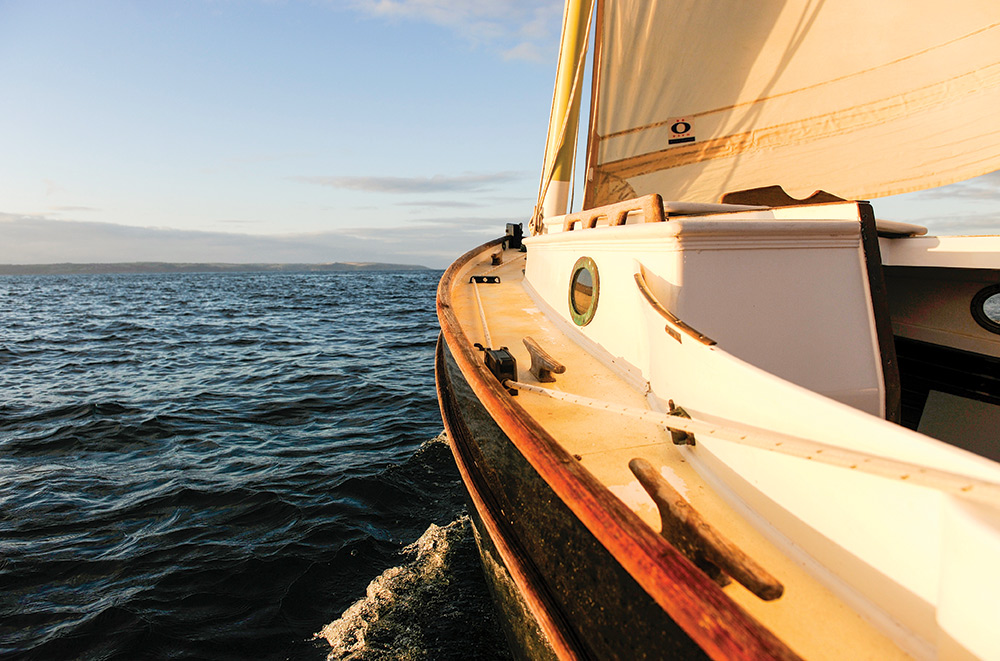 Nic Compton photo
We reached Bolt Head by early evening as planned. It was slack water and the tidal races on both sides of the Salcombe estuary should have been quiet. But Bolt Head is made of stern stuff—Lower Devonian schist, to be exact, the oldest rocks to be found in Devon—and the southwesterly swell was bouncing off the cliffs and creating a confused sea even a half mile offshore. We had discussed stopping at Salcombe for the night if conditions got difficult, so Nigel rang the coast guard at Prawle Point (east of the Salcombe estuary) on his mobile to check the state of the race there. After a friendly chat, they gave us the all-clear and we carried on, squeezing the last of that friendly little tidal eddy up the coast across Start Bay.
By the time we reached Dartmouth it was almost dark, and a huge moon squeezed up over the horizon. It rose higher and higher as we wound our way up the river, lighting our path all the way home. Twice we ran out of fuel, and twice I overfilled the tank and drenched the spark plug (bizarrely located right under the fuel tank). By the time we reached Stoke Gabriel, the current was running fast and it was with relief mixed with regret that we slipped a line onto our mooring. In the previous 12 hours we had experienced rain, mist, sunshine, wind, calm, sea, and river, and somehow ended up back home on a tranquil moonlit night. A perfect homecoming. "One to remember," wrote Nigel later, and indeed our journey had followed such a perfect arc, it would have been hard to better it. It was an auspicious start for my new family boat.