One of just two women entered in the grueling Golden Globe race ignores the naysayers as she heads to sea
The pilot books and online passage guides all agree: You do not sail across the Atlantic from west to east in a small boat in January, February or March. Even the Admiralty chart of the Atlantic warns sailors not to attempt an eastward crossing in those months. But Susie Goodall, 28, was having none of it. After four weeks in Antigua, mainly taken up with fixing her engine, she set sail on March 20 and, rather than take the recommended route via Bermuda, headed straight for the Azores. It's known as the "devil-may-care" route and cuts 500 miles off the crossing, but also increases the likelihood of running into Atlantic gales. Which was exactly why she did it.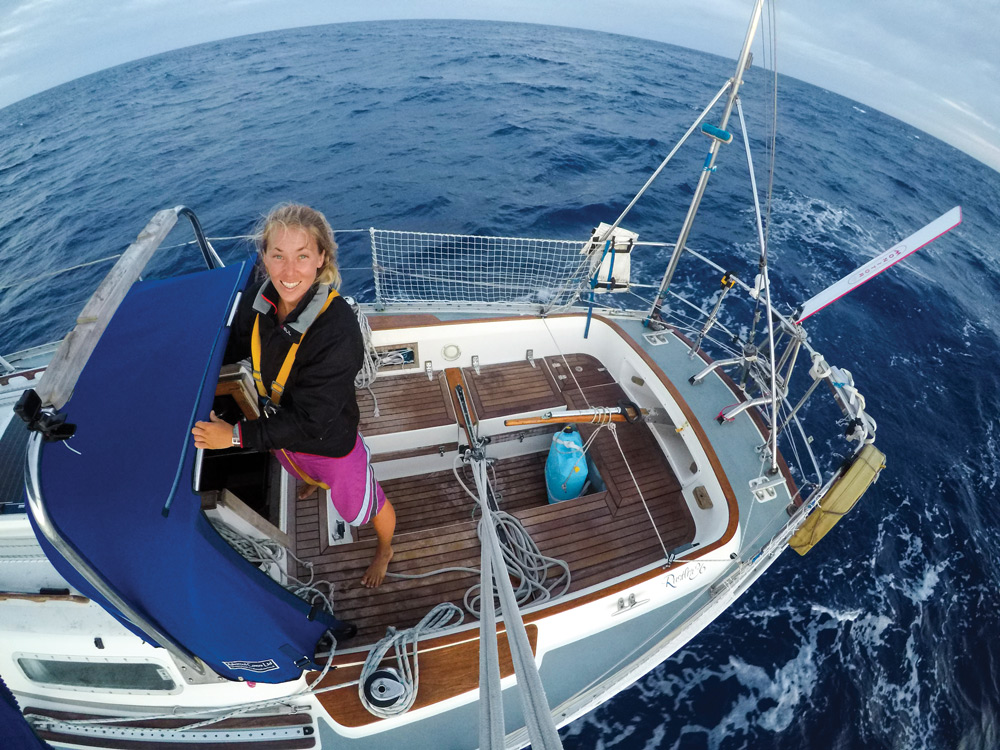 "I thought I'd ignore the advice of all the experts and do it anyway," she said with a laugh, a few days after making landfall in Horta. "My chances of encountering a pretty deep low were very high, but I thought I'm going to go to the Southern Ocean in this exact boat and see weather way worse, so I might as well just go. It took me 23 days, 18 of which were on a beat. There were so many squalls going through, I had to put reefs in and out 26 times in one day."
Far from being put off by her Atlantic passage, however, Susie says she enjoyed it more than the much easier crossing the other way from Lanzarote to Antigua the month before.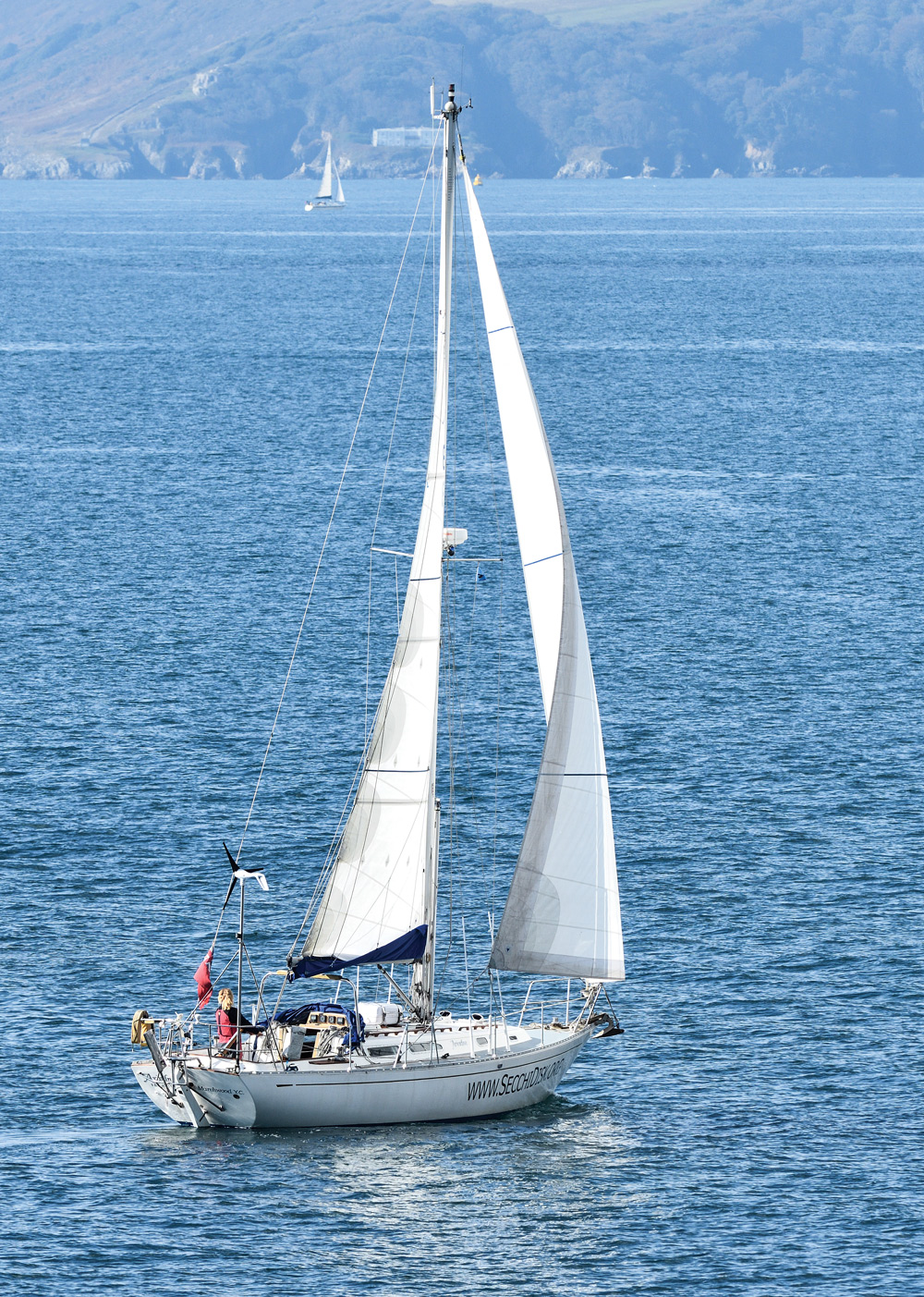 "The first Atlantic crossing was with the trade winds, and it got hotter and hotter. It was ok, but coming back we had a Force 8-9 on the nose, and it got colder and colder, and I just loved it more and more. It was proper sailing. It was mentally harder, but time went by so much more quickly. Sailing in the trades dragged a bit. This was constant, which was better because I felt I was doing something."
If you're thinking you'd have to be a bit "special" to deliberately sail singlehanded across the Atlantic at the roughest time of year, then you'd be right. For Susie is about to join an elite band of sailors. Fifty years after Sir Robin Knox-Johnston made history by becoming the first person to sail around the planet singlehanded and nonstop in the 1968 Golden Globe Race, a commemorative race is being run, starting from Plymouth in June 2018. Susie is one of only two women entered in the 30-strong entry list, and she joins a relatively small number of women to ever have attempted a nonstop round-the-world race. Out of nearly 170 entries in the Vendée Globe since it was founded in 1989, only nine have been women (that's just over 5%), and only six women have ever finished the race. Singlehanded racing is still, it seems, very much a man's world. Just don't tell Susie that.
"I don't think it's an advantage or disadvantage being a woman," she says. "Yes, men are naturally stronger and it takes more physical training for me to reach the same physical strength, but at the end of the day a race like this is going to be a mental challenge. I can be just as strong as all the guys in the race, but if I'm not mentally fit then I won't stand a chance. That's the beauty of it: it's an even playing field, and when we're out on the water, we're all equal, we're all just sailors."
Susie grew up sailing Sygmas and Beneteaus on the south coast of England. She started racing competitively and got her own Laser when she was 11, went on family sailing holidays in Greece and made several Channel crossings with her father. But her epiphany came when Ellen McArthur won second place in the 2001 Vendée Globe. "She was my inspiration; she opened my mind to the possibility that I could sail around the world, that people, especially women, do these sorts of things."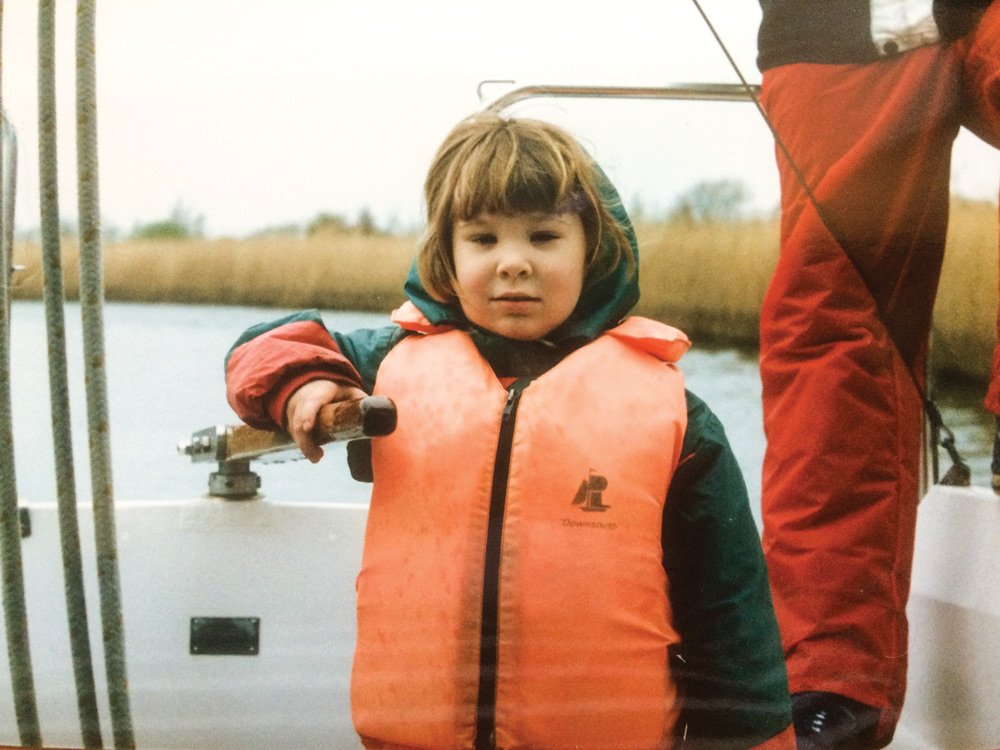 There was no going back for the young, boat-mad Susie. At 17, she got a job as sailing instructor on the Isle of Wight and worked on superyachts before joining the adventure sailing group Rubicon 3, first as mate then skipper. It was a dream job, taking paying guests on voyages as far afield as Spitsbergen, Morocco and the Caribbean, although even then Susie always preferred the trips to the frozen north.
"There's something about the Arctic, it's just magical. I love sailing among icebergs, in the higher latitudes, when it's cold. It's exploration, not just sailing."
Susie was watching "Deep Water," a documentary about the 1968 Golden Globe, when one of her Rubicon 3 crewmates told her someone was planning a rerun of the race. The ethos of the event, she later found out, was to recreate the spirit of adventure that the organizers (and Knox-Johnston himself) felt was lacking from modern round-the-world sailing races. With that in mind, the 2018 Golden Globe is only open to long-keeled production yachts, 32 to 36 feet long and designed before 1988. Modern navigation systems, including autopilots and chartplotters, are banned, as are digital cameras, CD players, pocket calculators and even digital clocks.
Although the longest singlehanded voyage Susie had made at that point was across the Solent (a distance of about 4 miles), she was instantly captivated by the idea.
"I immediately knew I wanted to do it; I thought this race was made for me. I like the simplicity of the race—just picking up a boat, similar to the one I grew up sailing on, doing it up, and racing it around world. It's not high-tech, which makes it harder, but it's raw, it's pure, it's just sailing, that's what appeals. It also appealed to me financially, because to run a Vendée Globe campaign, you're talking millions."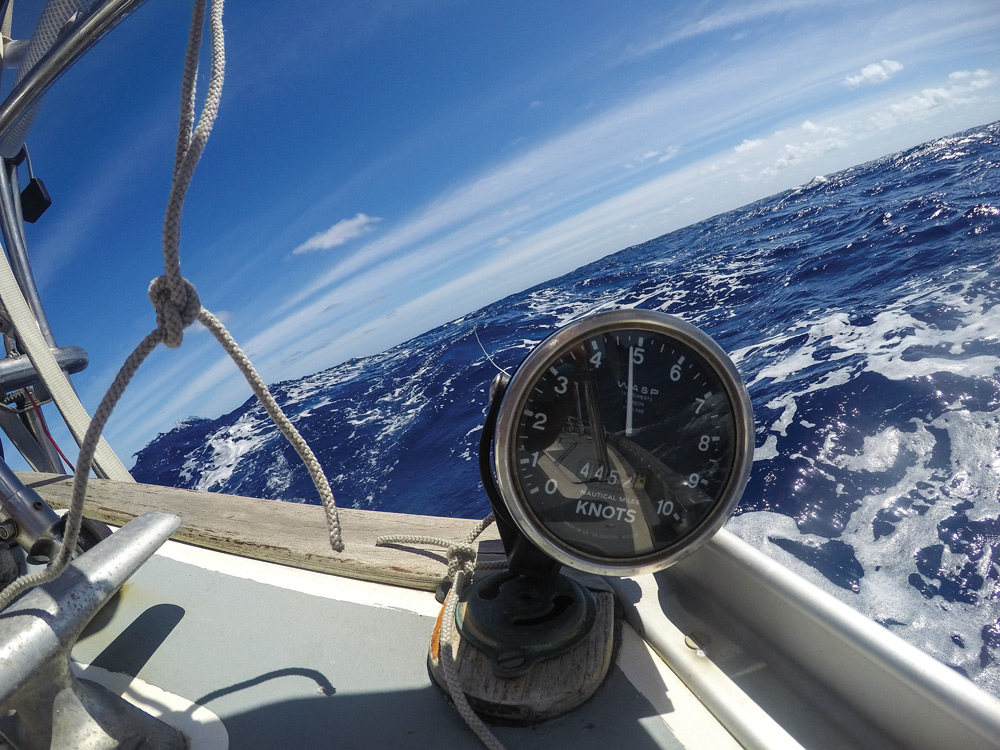 First, however, she had to qualify for the race, which requires competitors to have sailed at least 10,000 miles, including 2,000 miles singlehanded, by April 30, 2018. A transatlantic loop was the obvious choice, with the advantage of testing the secondhand Rustler 36 she had bought specifically for the race along the way. Incredibly, the first leg of her qualifying passage, from Plymouth to the Canaries, was the first long-distance singlehanded passage she had undertaken. And, to her surprise, it was the mind that took the toll long before the body.
"The first part was quite tame, with a beautiful wind from the east across Biscay for four and a half days. But coming down the coast of Portugal I had a solid Force 6 gusting up to Force 8. I didn't sleep for two days because there was so much shipping around, and I had to hand steer because the lines on the self-steering snapped, so I was utterly exhausted. I was approaching Lisbon at about midnight when this man appeared in front of me, and another sat next to me and took the helm. They were both wearing red coats, one had brown hair and the other blond hair. I didn't recognize either of them, but they looked Danish, or Scandinavian. The one at the helm said, 'Don't worry, it's OK, we're here.'
"It must have only been 10 seconds and, I thought oh my god, someone's on my boat, and started to freak out. I decided to make myself some coffee and try to stay awake. Then they just disappeared. It was a hallucination, but it was so real. I didn't know what to make of it. But I think I should embrace it, because they were clearly there to look after me!"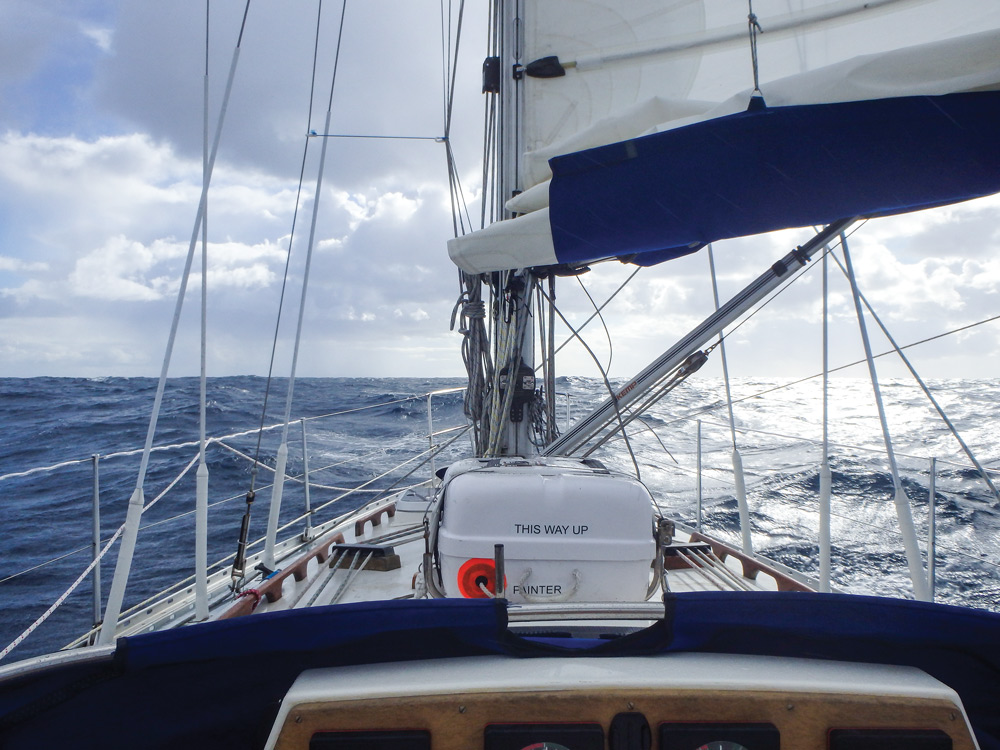 The next leg of the trip—following the trade winds across the Atlantic—was, by most people's standards, an idyllic passage, although Susie found it "very samey" and "not particularly interesting from a sailing point of view." She also had to deal with two of her pet hates: heat and lightning. She coped with the heat by constantly dousing herself with seawater, but the first thunderstorm halfway across the Atlantic found her cowering in the cabin watching the lightning lighting up the cabin sides. The steady weather did, however, provide an opportunity to practice her celestial navigation, an essential skill for the 2018 Golden Globe where GPS is not allowed. "My best fix was 0.2 of a mile out, the worse was 6 miles out," she told me. "But I found Antigua!"
There were times too when she seems to have got a taste of what Bernard Moitessier described, in that original Golden Globe, as "a kind of indefinable state of grace."
"I've sailed in that kind of weather before, but I appreciated it more without a crew," she said. "I was in awe of the size of the swell and the waves, and the sound of the wind. Usually when I'm sailing I'm at work, and all I think about is whether the boat and the crew are ok. When I'm on my own, all I've got to worry about is the boat, so I can sit on deck and watch the ocean, listen to the wind and not worry about anything else. You've got that head space to appreciate where you are and your surroundings. It feels like the waves are putting on a show for you, because when you're the only one out there, you're the only person who's going to see them. By the time they reach another boat, they're going to be different."
There was no time for such ruminations on the return crossing. Instead, Ariadne got thoroughly tested and Susie came back with a long list of jobs to do on the boat before the race, including fixing some fairly serious deck leaks. Improving the ship's menu was also a top priority.
"I couldn't get any fresh stuff on the trip back, so I lived off tins and dried food: beans, oats, tinned spinach, tinned tomatoes. I just got so bored of my own cooking. Luckily some friends made me a big bag of goodies, with mixed nuts, licorice and a bit of dark chocolate, which all got eaten really quickly. But what I really love is fresh fruit and vegetables and meat, which doesn't last long, so I'm always going to struggle on a long passage. And, if I'm having a really crappy day, food is such a pick-me-up."
Susie will have to deal with every kind of weather while sailing around the world, and it's not just the storms that will test her mettle.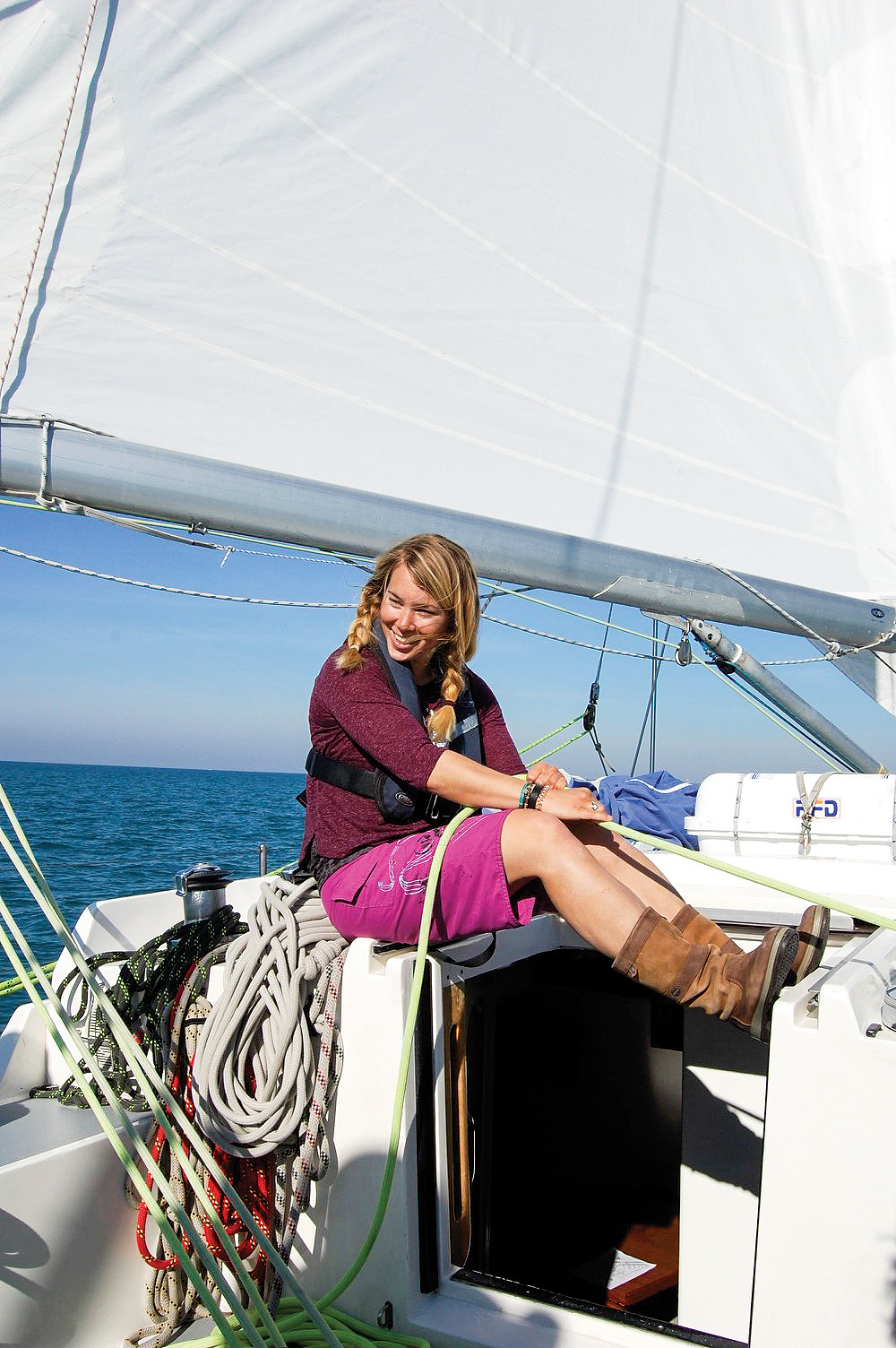 "I'm dreading the Doldrums, when it's hot and there's not much wind. That's going to drive me nuts. But I'm looking forward to experiencing the Southern Ocean. I've read about it so many times. There are so many ships crossing the Atlantic—I didn't go more than 24 hours without seeing one—but in the Southern Ocean it's just you and this brutal, harsh environment. I'm also nervous, because I've heard about the storms that go through there are much worse than an Atlantic storm. So that's the bit I'm most excited about and most apprehensive about."
There's no doubt Susie has the grit and experience to cope with whatever the weather throws at her, and thanks to the addition of sponsor DHL at press time, she's also got the financial backing. Expect to hear plenty more from this most determined of young sailors.