Five young sailors and their parents discover the treasure that is the Abacos
It was one thing to show our crew of five boys a chart of the Bahamas' northern cruising ground, but quite another for them to see it for themselves from Elbow Reef Lighthouse.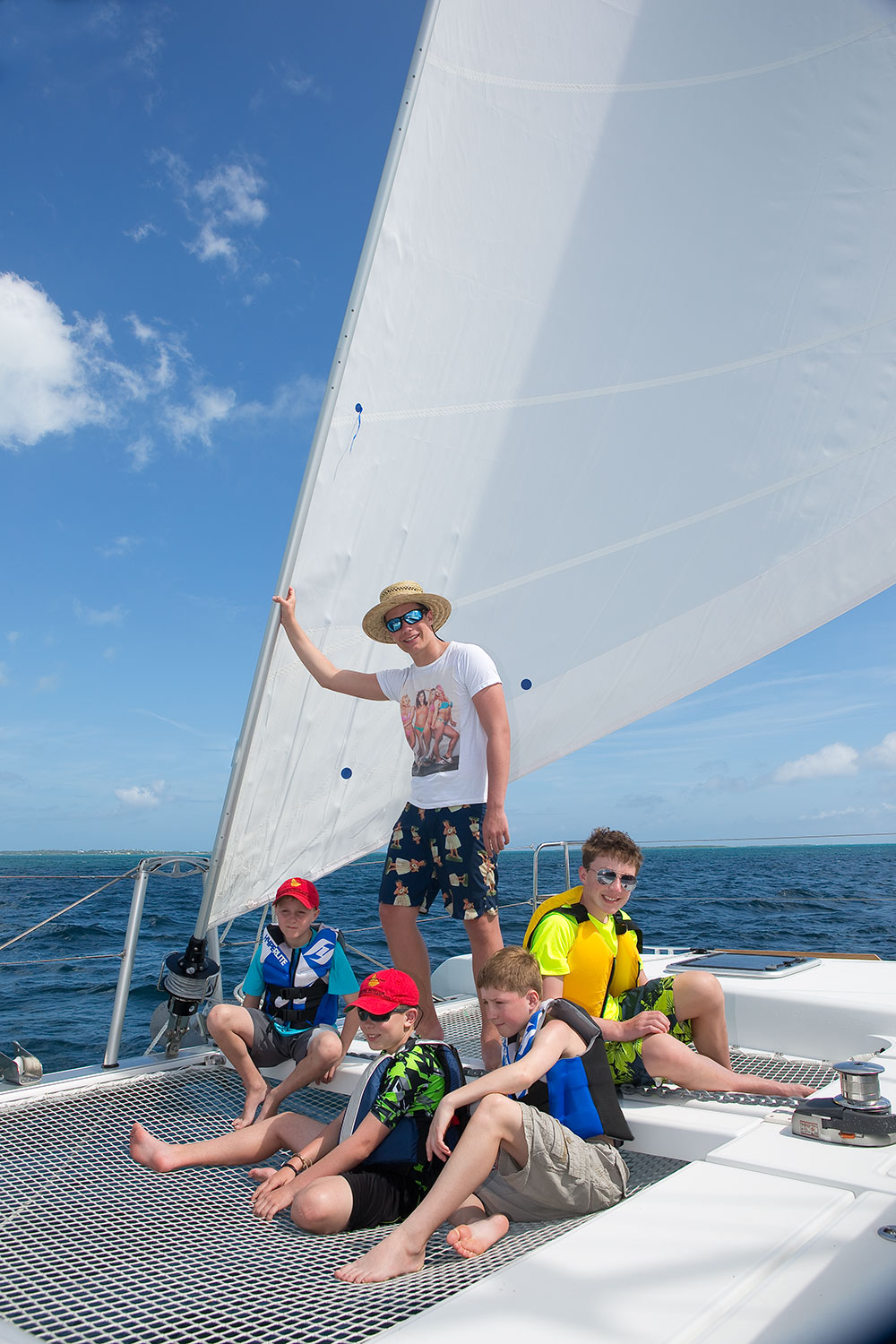 From this vantage point atop the 120-foot light—a 151-year-old aberration where navigational aids are few and far between—the glorious Abacos stretched out before them.
To the west they could see Great Abaco Island, and to the north and south stretched its cays, some rugged and remote, others teaming with activity on shore and in their harbors.
The lighthouse's location in Hope Town on Elbow Cay gave the boys a perfect view of the mighty, cobalt Atlantic and the Abaco barrier reef pounded by rolling ocean swells. They had only to turn their heads to see the protected Sea of Abaco with its sand banks glowing turquoise in the mid-morning sun.
This was their stomping ground for the next week, and from the looks in their eyes you could see they were already dreaming of the adventures to come—sailing before a 25-knot southerly over shallow sand banks, snorkeling off white sand beaches and swimming in water that, for boys accustomed to the cold waters of Lake Michigan, was as warm as a bath.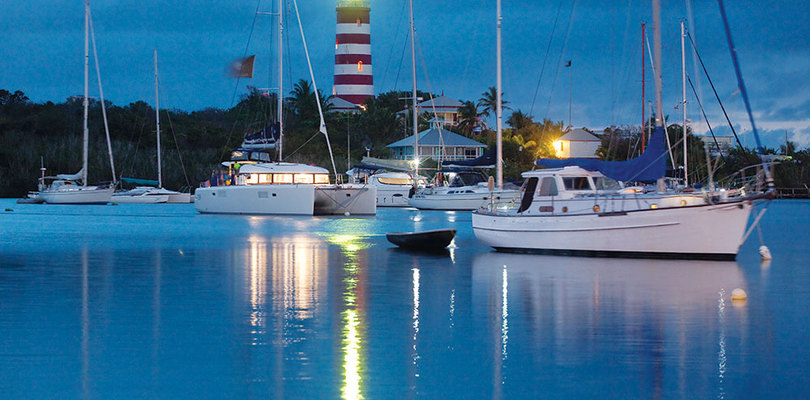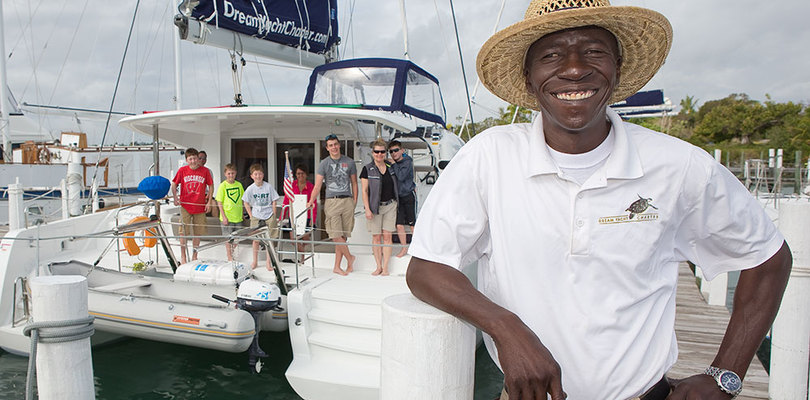 The adventure began in Marsh Harbour on Great Abaco Island, which, with a population of about 6,000 people, is the third largest city in the Bahamas and the largest settlement in the Abacos. With its airport, well-stocked grocery stores and fine restaurants, Marsh Harbor is as metropolitan as it gets in the Abacos, yet the community, with its tidy, well-maintained homes and extraordinarily friendly people is indicative of towns throughout the northern Bahamas.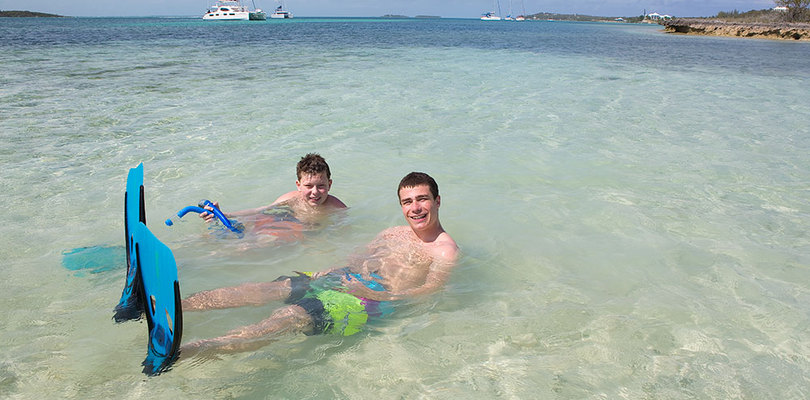 Our time in Marsh Harbour, however, was fleeting. We were on a mission to escape one of the coldest Wisconsin winters in history by retreating to a destination that promised relaxation for the adults and adventure for five boys between the ages of 10 and 16. With six days to accomplish this, there wasn't a second to waste.
But first there was a challenge that became apparent as our duffel bag-laden crew marched down the dock of Marsh Harbour Marina, home to Dream Yacht Charters.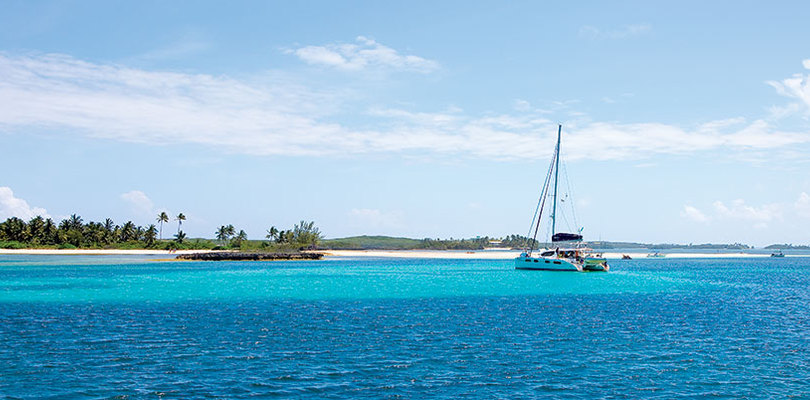 Greta and I and our boys, Will and Jack, were joined by our friends Al and Erica and their sons, Carson, Mavrick and Wyatt. That made nine of us, and as accommodating as Dream Yacht Charters was, an ideal-size boat wasn't available given our hastily planned cruise.
The nearly new, impeccably maintained Lagoon catamaran Turquoise would be our home for the next week, but at only 39 feet, space was a concern. Turns out, we should have never doubted the boat's designers, who provided two large staterooms for the adults and comfortable accommodations for the boys, the two oldest of whom discovered that what the torpedo tube-like bunks in each of the bow sections lacked in space, they more than made up for in privacy.
It's fair to say the Abacos run on island time, and that's one of their charms. But one man who doesn't operate at this laid-back pace is Dream Yacht Charters Abaco base manager Terriance Edgecombe, who in his bright white polo shirt and trademark straw hat is a model of efficiency. His boat briefing took a mere 20 minutes, and when asked a question about a chartplotter, he quickly responded, "Man, you won't need that thing after you get done with my chart briefing."
Edgecombe's local knowledge was valuable, but we had already picked our first port of call—Hope Town on Elbow Cay, a destination that lived up to its not-to-be-missed billing.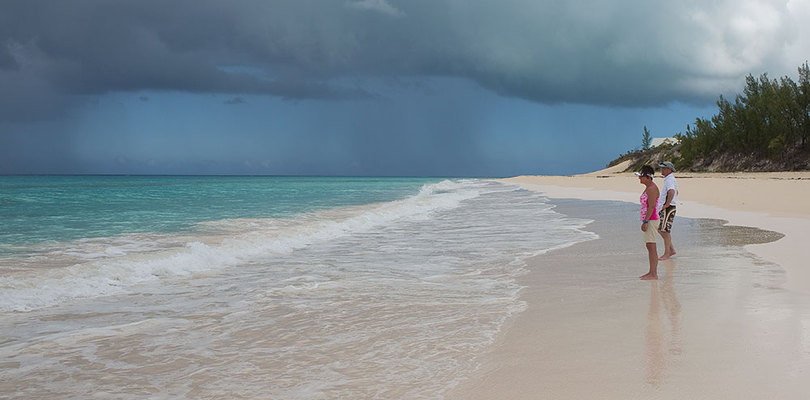 Our boys, who are accustomed to passages of more than 100 miles on our Great Lakes cruises, were thrilled to learn our maiden voyage would be all of six nautical miles. The whole crew, in fact, was looking forward to a leisurely sail, but lesson No. 1 in our Bahamas education came the instant we rounded a pair of cays extending from Marsh Harbour. A 25-knot southeasterly running ahead of a frontal system made it clear as the water breaking over the bows that the trade winds hold no sway over the Abacos in April.
That's what makes the Cruisers Net, a daily VHF broadcast of weather reports and observations combined with news about pig roasts and other happenings on the cays, useful if not entertaining.
It wasn't long before we were in the lee of Elbow Cay and powering into the narrow but well-marked channel of Hope Town, a crowded, perfectly protected harbor bustling with a mix of seasoned cruisers who make the annual trip across the Gulf Stream and charterers.
We had no sooner grabbed a mooring than the boys were in the water. Swimming in the enclosed harbor crowded with boats is not recommended, but there was no denying our crew a quick dip in warm water before going ashore to explore one of the most charming settlements in the Abacos.
Neat, brightly colored homes, shops and restaurants line the harborfront of Hope Town, which despite its small resident population, boasts two grocery stores. (A fresh-made key lime pie from Vernon's Grocery was a culinary highlight of the cruise.) An ice cream shop for the boys was conveniently located across the street from a well-stocked liquor store that offered ice-cold Kalik beers. A convenient bottle opener tied to the counter for those who wanted a beverage for the walk back to the boat.
It's hard to miss the highlight of Hope Town—its towering candy cane-striped lighthouse built by the British Imperial Lighthouse Service in 1863 in response to an increasing number of shipwrecks on Elbow Reef on the Atlantic side of the cay. A century-and-a-half later, the light's kerosene-fueled mantle and massive Fresnel lens still cast a powerful rotating beam over the harbors and waters well beyond it. During the day, however, the lantern room is covered, a safety measure undertaken after sunlight shining through the Fresnel lens was blamed for sparking several house fires, Edgecombe told us during his entertaining briefing.
The long climb up the lighthouse's steep spiral staircase was rewarded with sweeping views of the Abacos from a narrow catwalk around the lantern room. It was from here that we plotted our
next course.
We were in search of the best swimming grounds and most spectacular beaches in the Abacos, so we set a course to Tahiti Beach on the southern tip of Elbow Cay.
Another strong headwind served as a reminder that our catamaran was no passagemaker going to weather, but the 4-foot draft that challenged her upwind was a navigational blessing in the shallow Sea of Abaco. The trip down the coast of Elbow Cay took us over long stretches of 5- and 6-foot soundings, which, after a brief adjustment period for a crew used to boats that draw 10 feet, made for entertaining sailing.
Tahiti beach offers no protection other than a lee in the right conditions, which were ideal for our overnight visit. Depending on the tide, which varied by nearly three feet during the full moon that lit our nights, the splendid beach is truly deserving of its name.
The offshore breeze on the sea side of Elbow Cay provided idea conditions for snorkeling, but the Atlantic surf could be heard in the distance. Between Elbow Cay and Tilloo Cay to the south is Tilloo Cut, one of a handful of navigable breaks in the barrier reef separating the sea from the ocean. Charter companies prohibit their customers from transiting the cuts, which seemed sensible after watching a 50-foot sportfishing boat, whose captain had obviously done this before, surf ocean swells at full throttle through the narrow break in the reef.
Our plan was to continue south to Little Harbor, but with a long upwind slog ahead of us and our time on the Sea of Abaco fleeting, we put the wind to our backs for the first time and clicked off miles quickly toward Great Guana Cay. There we found moorings to choose from in Fisher's Bay, a more remote alternative to neighboring Settlement Harbor protected by rugged rock bluffs.
The well-advertised attraction on Great Guana Cay is Nipper's Beach Bar and Grill, home of a legendary Sunday pig roast. The beer was cold and the food fine, but this tourist attraction's most valuable asset was its staircase leading to a glorious Atlantic Ocean beach that trailed off into the horizon. Even rain squalls didn't deter our crew from spending the afternoon in the water.
We shared Fisher's Bay with just a handful of boats that night and enjoyed a fine dinner of kabobs cooked on the grill. It was one of our only departures from a steady diet of fried conch and grilled fish expertly prepared by the restaurants we visited.
With the Atlantic shore at Great Guana in the running for the best beach award, there was one more stop to make, so we plotted an easterly course for Treasure Cay on Great Abaco Island.
This landfall, which is dominated by the Treasure Cay Marina resort, was a little too civilized for us, although the harbor provides easy access to fuel and water. The boys enjoyed the easy on and off being tied to the dock provided, making most of the resorts amenities and spectacular beach.
The Sea of Abaco beach here was spectacular but deserted on a stormy afternoon, except for a crew of workers who walked before a front-end loaders removing even the smallest detritus from the pristine sand.
The name Treasure Cay was intriguing, conjuring images of a long-lost stash of gold doubloons. That it was named by resort developers was a reality check, but that's not to say our boys didn't find treasure. They discovered the treasure that is the Abacos.