Fulfilling a lifelong ambition, 55-year-old Dave Rearick set sail aboard an Open 40 to join the elite group of people who have sailed solo around the world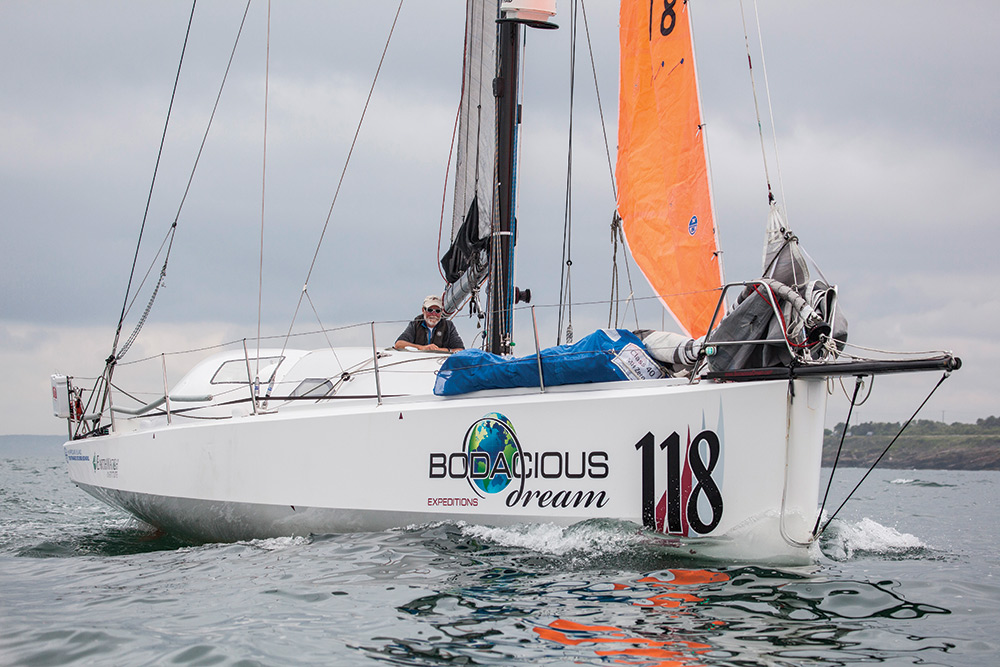 Billy Black
In September 2011, I met Lapo in person at the arrival ramp of the Auckland, New Zealand, airport. Within minutes we were headed to our first meetings with North Sails, followed by meetings at Halls Spars, David Minors Electronics and finally, closing out the day with dinner, a pint and a lesson in rugby at the local Auckland pub. The following day we flew to Wellington where I met the builders at Hakes Marine, the very people who, with their commitment to quality and details, would hold my life in their talented hands. As Lapo and I walked toward the office to meet Paul Hakes, we passed the large open doors of the shop. I'll never forget the moment I first saw the deck of Bodacious Dream hovering over the hull, the first physical evidence that my dream was coming true.
I returned in early December for the launch, and the boat that would carry me around the world was loaded on a Dockwise ship bound for Fort Lauderdale, Florida.
The next year and a half was spent learning the feel and soul of Bodacious Dream—practicing, sailing and racing in various races from the Atlantic Cup up the Eastern Seaboard to the Quebec-St. Malo race across the Atlantic, the Normandy Channel Race and The Mondial World Championships in France before returning solo, back from Portugal, to the U.S. But the real work—preparing for the circumnavigation—was just beginning. Many sailors warn that getting to the starting line is the toughest part of any passage and my experience was no exception. Days of details, work, parts, lists, what if's and how to's filled my mind while at the same time setting in place the necessary things to keep my life at home going forward while I was gone—saying goodbye to friends, putting bills on auto pay, shutting accounts down and mothballing cars. I never did finish that list, but it was time to sail.
Just after noon on October 2, 2013, with a gathering of friends on the dock and an escort from fellow sailor Joe Harris on his Open 40 Gryphon Solo II, I slipped Bodacious Dream's lines at Conanicut Marina in Jamestown, Rhode Island, and set sail, sailing the first mile of what would turn out to be an amazing passage around the world. In the afternoon sun, on a fresh 20-knot shore breeze, I sailed out, easing that beautiful bow towards Bermuda, out beyond the guard and safety of Beavertail and Point Judith, out on the ultimate blue highway— the ocean opening widely in front of me.