Fulfilling a lifelong ambition, 55-year-old Dave Rearick set sail aboard an Open 40 to join the elite group of people who have sailed solo around the world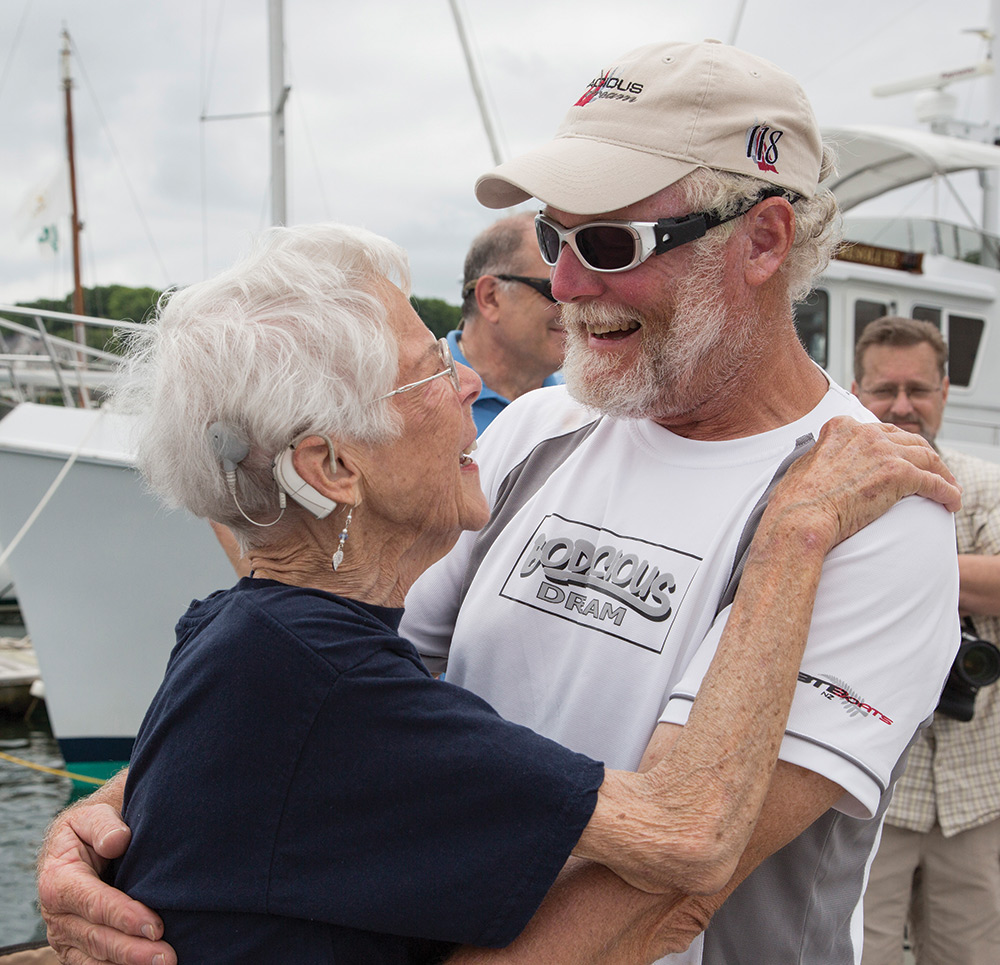 Billy Black
I've heard it often said that we remember the first one and the last one, and all the rest lie somewhere in between. I remember the first night at sea like it was yesterday. With the A3 spinnaker set on an easing wind, the shore of Rhode Island long since fallen below the horizon and the open ocean in front of me, I sat on deck, eating my first freeze dried dinner of lasagna, spiked with Worcestershire sauce and pepper and I tingled inside with the anticipation and realization that I was finally on my way to circle the globe, to see places I'd dreamed about, to accomplish something that had consumed almost every free moment of thought for the past 40 years. For decades, when I was bored in school, waiting on a jobsite, on a plane or in a car, waiting in the doctor's office or sitting at a bar, my mind had wandered to this moment. Sleep was an impossibility that night and I sat on deck and marveled at the night sky, the fresh air and the journey in front of me.
I sailed east out of Bermuda to gain an angle for heading south to traverse the trade winds and clear the bulge of Brazil, then farther south to pick up the westerlies that would take me across the southern Atlantic and through my first set of Southern Ocean storms on my way to Cape Town, South Africa. From Cape Town, I would dive down into the Roaring 40s to meet the westerlies once again, working north and south as the cold fronts would chase me down, I'd outpace a cyclone west of Australia, continue on below Tasmania and across the Tasman sea to the south island of New Zealand and up the coast to the Cook Straights and into Wellington, where Bo was born and first sailed. From there, I continued east to as far as 100 degrees west longitude—less than 1,000 miles from South America, before heading north to the beautiful Galapagos Islands and then onto to the Panama Canal and home.
But the beauty is not in the passing succession of nautical miles but in the amazing flow of time and water, of continuous sunrises and sunsets, the passing of fronts and storms and the clearing weather that follows, of deep fatigue and easy rest, of the tingle of hunger and the pleasure of a hot meal. There were days I wished I'd never had this dream and days I could think of no better place in the world to be. There were days when I was lonely and sad and days I was overwhelmed with joy. These are the markers and memories of a life's journey.
Of these markers, my memory of the most amazing sunset came off the west coast of the South Island of New Zealand. Nearing 50 days at sea from Cape Town, the weather changed and the cold front that had promised to take me north to the Farwell Spit dissipated and left me windless and short on diesel fuel. I searched the horizon and called on the radio to see if there were any vessels or harbors that might be willing to help me with fuel. Of the many, the most convenient offer of help came from the captain and crew of Ocean Odyssey, a fishing boat just a few miles inshore from me. When they were finished with their fishing, they would gladly help. Upon hearing I'd sailed from Cape Town, they generously offered me fresh fish and a hot shower, accepting nothing more than my heartfelt thank you. As they set off for home, I continued north. That night, the sunset covered the entire sky. Broken clouds reflected the amazing colors of the southern hemisphere, punctuating the generosity of these fine New Zealand men. While it would be easy to feel small and insignificant in the shadow of this amazing grandeur, I felt immensely honored to have earned a place in the flow of this world.

Each stopover lent a unique serenity to the passage. Cape Town came on a foggy afternoon, sneaking in between freighters and slowly finding my way to the marina at the Royal Cape Yacht Club and then backing into a slip without notice. As I stepped onto the dock and looked around, seeing no one, I marveled that such a contrast could be such a soft transition as well. Arriving in Wellington, after a rambunctious, 24-hour, 25-knot beat up the Cook Straights, I was met by Lapo and friends at the entrance and we enjoyed sailing the last few miles in the inner harbor before turning toward the marina. In just a few moments, I'd gone from punishing heavy weather to a quiet, hot shower.
But what was possibly the most amazing manifestation of the beauty of this world came one particular night in the deep Southern Ocean. All day and into the night I'd sailed in and out of storms when another lightning storm struck, rinsing the boat with fresh water and leaving a cold, chilling breeze in its wake. As the skies cleared and I stood on deck in the inky darkness, soaking up the night chill, I noticed all around me, hundreds of glowing orbs about the size of softballs. As I reached along at 9 knots, carving a path through the waters, these glowing orbs passed by me unheralded. No explanation or reason, no sound or announcement, just the rush of water in the passing wake and the beauty of bioluminescence on a dark and lonely night in the middle of an ocean so immense my human mind could not comprehend it, yet I was so a part of the whole that this immenseness seemed perfectly proportioned.
So yes, there were storms and cyclones, cold, wet nights and steaming hot days. There were stumbles and falls, bruises and curses, frustrated arguments with myself and Bo and soggy socks and wet boots. There were smelly clothes, over hydrated, freeze-dried meals and soggy crackers. There were conversations with home that made me laugh and others that made me cry. There were sails that wouldn't go up right and others that wouldn't come down and freighters that came way too close and fatigue that hurt so deep into my bones but there was still no time to sleep. There were waves that picked Bo and I up and tossed us into the next trough, depositing everything inside on the floor and other waves that threatened to pound us into submission. But that's what I came for, the hard days and the easy ones, the warm sun after a cold night and the feeling of accomplishment after years of dreaming; that and the chance to share these experiences with those unable to reach these places in life and the world.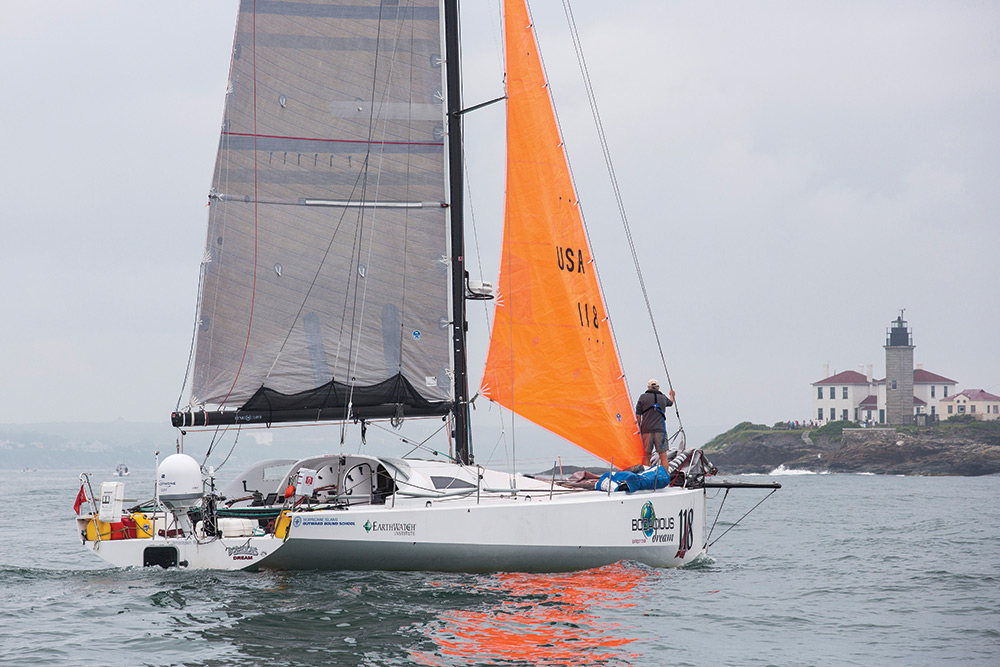 Billy Black
And then, in what seemed like mere moments, it was eight and a half months later. I was a year old and Bodacious Dream was moored to a pier. Friends were hugging, laughing and celebrating the journey completed. I stepped back and contemplated the smiling faces and realized that inside of me, there were parts of me that would never be the same again. And 40 years of ambitious dreaming had now been validated.
Note from the author: Bodacious Dream is about something more than a boat, more than just a sail around the world. It's a vision to do better sharing what we learn from our experiences in life. To support a better world with the knowledge and wisdom we gain from our experiences. To bring people together in the understanding that our lives are amazing, our world is amazing and our future is amazing, and that together, we are stronger sharing our lives as a whole, dealing with our causes and effects and shaping our future. For more on the circumnavigation, go to www.bodaciousdream.com.