It's nothing new that America's Cup shenanigans stack the deck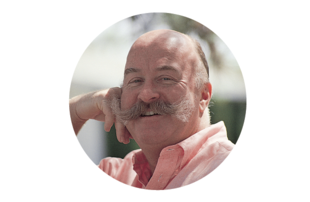 Let's just let Larry keep the America's Cup. Really, if it means so much to him that he's willing to buy a yacht club, rewrite the rules to gain a huge advantage and even create a team willing to cheat, well, just let him have it.
Larry Ellison is a Horatio Alger story of our time: an adopted child who never knew his parents yet rises to become one of the five wealthiest men in the world. Who doesn't admire that? What a great role model he could have become but, no, he chose to become an America's Cup villain.
Unlike many previous winners of the America's Cup, Ellison wasn't content to just let it continue as the oldest sporting trophy in the world. He wanted to turn it into a professional television sports event to rival NASCAR or the Superbowl.
In the process, he raised the cost of competing to astronomical levels that are only manageable by billionaires like him. Sailors without his deep pockets need serious sponsorship dollars to the tune of $100 million or more, but Larry rigged the event to make it almost impossible for them to compete.
As I write this, it has now been more than a year since Larry's Oracle team turned defeat to victory in a comeback that lit the world afire. But all that momentum has dribbled away. At the moment that Larry hoisted the America's Cup over his head and the champagne sprayed, there were potential teams from around the world ready to jump in and get involved.
But these teams needed to capitalize on that excitement and the commercial momentum to get the sponsorship support to field their challenges. And Larry let them dangle in the wind for 220 days.
The basic protocol with which the holder of the Cup (Larry) sets the rules for the next America's Cup didn't appear for six months. Six months while potential sponsors begged for details about how their money would be used, and the challengers could only say, "We don't know."
Perhaps the first question a potential sponsor might ask is, "Where's the next Cup going to be held?" And now, more than a year after Larry's victory, he still hasn't made that decision. Even more absurd, the challengers had to pony up a non-refundable $1 million without knowing where the Cup would be raced!
Just let Larry keep the Cup.
Larry, of course, isn't the first to buy a yacht club. After another member of the Billionaire Boy's Club, Ernesto Bertarelli, won the 32nd America's Cup in Spain, he accepted a challenge from his own fake club with just four members and no clubhouse. It was Larry who sued Bertarelli and won to keep him from controlling the Cup with a pet challenger, which then allowed Larry to bring in his own pet yacht club.
Larry isn't the first to create an unfair playing field in the America's Cup, but he's really worked hard to skew the odds this time. He waited six months to tell the potential challengers that the boats would be smaller this year, so he had a huge head start on design.
He decreed that all the challengers can build only one boat, ostensibly to keep the costs down. But Larry's rules allow him to build two boats. Seriously, Larry?
According to Larry's mouthpiece, Sir Russell Coutts, that's fair because the challengers get to compete in the challenger trials. Oh, but Larry decided he gets to sail in the challenger trials, too. That's never been done in the history of the America's Cup, but it will give him yet another advantage by testing against the competition.
Just let Larry keep the Cup.
All the teams must sail AC45 in an America's Cup World Series starting in 2015 or lose their $1 million performance bond but, no surprise, Larry hasn't revealed where those events will be held. It's his secret. And, oh yes, everyone has to buy the AC45s from Larry's company.
Amazingly enough, five challengers are masochistic enough to put up with Larry's shenanigans, and perhaps they'll pull it together better than the last Cup when there were three challengers but two were woefully off the pace.
There's still no major sponsor for the Cup, and a TV deal hasn't been inked yet (so challengers can't promise sponsors any coverage). Of course, the last Cup had embarrassing TV ratings after all the hoopla, though both viewers said they enjoyed it.
At this time, two locations, Bermuda and San Diego, are being considered for the Cup, and both are less than ideal. Bermuda has higher costs, fewer rooms and the Cup would be during hurricane season. And, of course, it's British, which would set a new precedent for a Cup holder to take the racing to another country. If Bermuda wants to host the America's Cup, they should come and get it.
San Diego has lighter winds, and they plan to sail inside the bay so Larry gets his spectacle, but that would impose weird geographic constraints on the race course as well as shut down cruise ships, Navy vessels and commercial shipping for the races.
So how about just letting Larry keep the America's Cup?
I think the four challengers should walk away from their deposits and put some of the $98 million they save into a new and fair international regatta. They should take a cue from Peter Finch in the movie "Network" and shout out the window, "I'm mad as hell and I'm not going to take this anymore!"
Just let Larry keep the damn Cup.