The Comeback Kid brings the Cup to the masses
Conner brought the America's Cup back from Australia and introduced sailing to the masses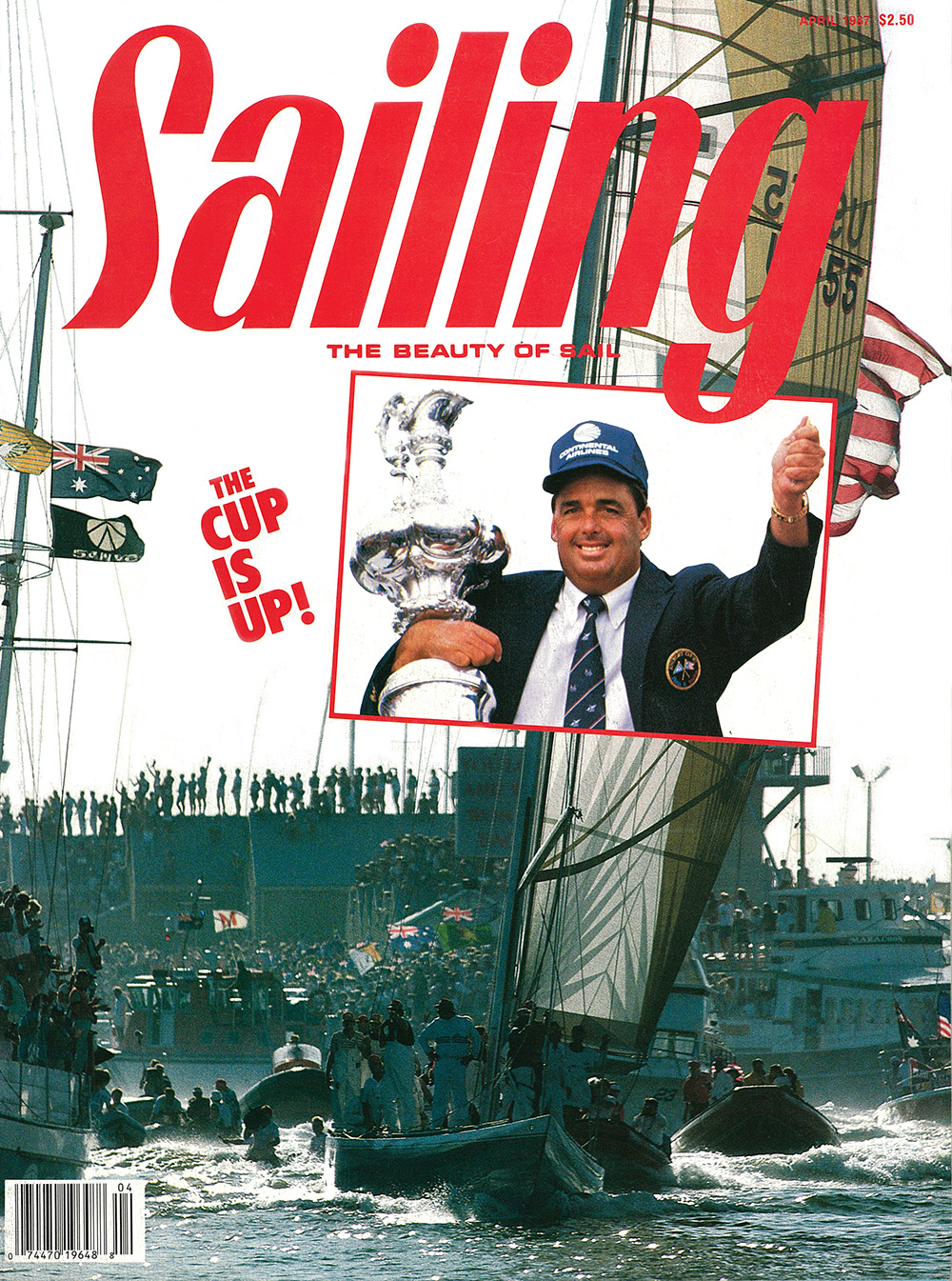 Any sporting event that stretches across more than a century is bound to have a certain watershed event, a historic turning point after which it is forever changed. For those who follow the venerable America's Cup, the oldest international sporting trophy, that defining moment came in 1987.
Four years earlier, American yachtsman Dennis Conner—who had successfully defended the America's Cup in 1974 and 1980—became the first defender to be defeated in Cup history. The New York Yacht Club's 132-year winning streak came to an end, and Alan Bond's wing-keeled challenger Australia II took the trophy home to Australia.
For many Cup followers, the crushing 1983 defeat seemed to illustrate America's mood at the time. President Ronald Reagan's shining city on a hill was only a vision. The 1981-82 recession was still very much on everyone's minds, the country's power and prestige flagged on the world stage, and the outcome of the Cold War was questionable.
Then October 1986 came along. Crocodile Dundee had just come out. It was summer in Australia, and Down Under seemed exotic and enticing. Representing the San Diego Yacht Club, Dennis Conner and his Sail America Foundation syndicate challenged the Australians for the America's Cup. He was determined to win it back. It was the first time the America's Cup was sailed outside the United States. It was the first time it was televised. And, in the end, it proved to be one of sailing's—and America's—great redemption stories.
It also launched the career of 34-year-old Gary Jobson, who already was well known in sailboat racing. An accomplished college sailor, he served as Ted Turner's tactician aboard the successful defender, Courageous, during the 1977 America's Cup. He said the temptation to continue sailing in Cup campaigns in the 1980s definitely was there. But after the young cable channel ESPN got the rights to televise the Cup in 1985, his focus changed.
"TV was going to be a big thing," Jobson said. "I could see it really had legs."
Not only did Jobson cover the event for ESPN, he convinced Conner to use onboard cameras to add additional excitement to the coverage. This was going to be a whole new America's Cup.
It was already a completely different kind of Cup. Four syndicates competed for the right to represent Australia's Royal Perth Yacht Club as defender. A whopping 13 syndicates from six other countries competed off Fremantle between October 1986 and February 1987. Conner, 44, was in the thick of it representing San Diego Yacht Club with Stars & Stripes 87, winner of the 1987 Louis Vuitton Cup.
"Conner marched through the trials," Jobson said. "His plan was brilliant, and he started winning. Great sailing, an all-American crew, the Stars & Stripes name. God, it sounded good."
ESPN broadcast live coverage, and even at midnight Eastern time, people followed the coverage. One of them was John Rousmaniere, an American writer and sailor who is perhaps best known for his books Fastnet, Force 10 and The Annapolis Book of Seamanship.
"I had a wonderful time staying up late and watching," Rousmaniere said. "The America's Cup had always been followed closely due to the national element, and if you look at the newspaper coverage from the old days, wow. But this Cup had an incredible sense of energy, and suddenly, sailing was a sport to follow on television. There were press conferences. Everything looked different on TV. It shook the old Cup out of its slumber."
In a 2007 ESPN interview with Jobson, Conner said the sailors had no idea people would be staying up at night to watch the races, which were two and a half to three hours long. He compared it to the famous "Miracle on Ice" hockey game against the Soviets.
"People were feeling good about themselves and good about America," he said. "We had all Americans in those days… American designers, American crew, American support teams. The broadcasts were good and exciting. There was some drama and people falling in and crashes and masts breaking, and the commentary was good and made for good theater like Nascar Racing, watching the finish of the Daytona 500.
"People enjoyed it, and it wasn't taking up much of their day because of the time schedule, being in the middle of the night here in the United States," he added. "(It was) one of those things that fit and was very special."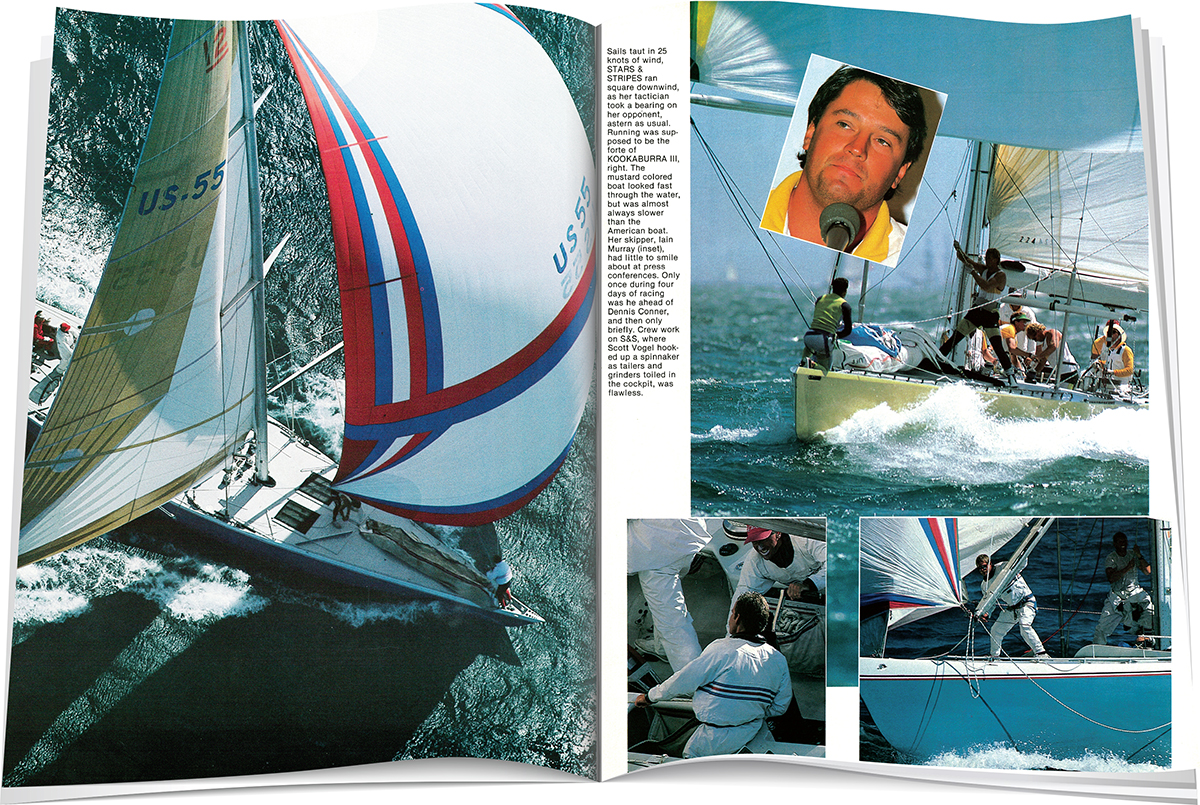 It was very special, indeed. Conner beat Iain Murray's Kookaburra III, 4-0 in a best-of-seven series. Not only was he the first person to unsuccessfully defend the America's Cup—he became the first to win it back again.
"Conner really took the 1983 loss hard, and he was vilified for it," Jobson said. "Then he just went down and won the damn thing."
The people of the U.S.—both sailors and landlubbers alike—were ebullient. The Stars & Stripes team came home to a ticker tape parade down New York City's 5th Avenue (paid for by Donald Trump) and Conner graced the covers of Sports Illustrated alongside the America's Cup trophy and President Ronald Reagan and Time magazine, where he sported a deep tan and a broad grin came from his zinc oxide smeared mouth.
The 1987 America's Cup proved to be a defining moment for just about everyone who touched it. Conner had his redemption story. The Australians, despite losing, had their time in the spotlight.
"This Cup meant a lot for the Australians, to have it, and they ran it well," Rousmaniere said. "Then there was ESPN. You had the 12-Meters racing, you had a lot of wind, and they figured out how to film it. There were helicopters and the onboard cameras. It was exciting, it was close, and we were all rooting for our national teams. They got first-class footage, and a whole new world opened up."
ESPN, just 8 years old at the time, drew tremendous ratings and would go on to cover other sailing events; the public had learned that sailing could be a spectator sport and was fun to watch. And the Kiwis seemingly came out of nowhere to take the sailing world by storm, which they continue to do today.
"In 1984, I was invited to the New Zealand Yacht Squadron's match race championships," Jobson said. "New Zealand finished in eighth, ninth and 10th place, on their own boats and in their own waters! But they were inspired and developed their own program; they saw Australia doing it and decided they could do it too.
"In 1987, they mounted a brilliant campaign," he continued. "Boy, were they good. They were almost there, and they beat longtime teams. Only Conner could beat them. It was his time."
Jobson won an Award for Cable Excellence for his stint as ESPN's on-air analyst. He went on to earn an Emmy for his coverage of the 1988 Olympic Games in South Korea, he covered the 1989-90 Whitbread Round the World Race live in Fort Lauderdale, and he won another Emmy for his coverage of the 2005-06 Volvo Ocean Race (formerly the Whitbread) on PBS.
The television coverage, of course, was much different than that of the last America's Cup, where cameras shoot from every angle and coverage includes a large amount of computer-animated graphics that show the course, wind angle, boat speed and more, all at a glance. The peak viewership from the 2013 Cup in San Francisco was 244,000. Almost 1.9 million American homes tuned in for the final race in Freemantle in 1987.
"It's been sailing TV all these years," Jobson said. "The 1987 America's Cup started that. It was the catalyst.
"I've been following the America's Cup since I was 12 years old," he continued. "I'm 65 now, and I've lived and breathed this stuff. After Olin Stephens' breakthrough boat Tough as Nails in 1967, the Cup cruised along at a steady pace. Then in 1977, you had Ted Turner, who was colorful and bigger than life, and Walter Cronkite started covering it. In 1980, Dennis won, while Ted was busy starting CNN. In 1983, here comes Australia with this secret wing keel. And, worldwide, Conner's 1983 loss was such a big deal."
Between Conner's loss and his celebrated comeback, the famous sailor provided some of the best moments in sailing history, Jobson said.
"When I look back, though, 1983 and 1987 really were the high water marks," he said. "The 1987 America's Cup, in my view, is the strongest story in the sport of sailing. It's one of the great stories of all time."
"It's a story about struggling under pressure," Rousmaniere said. "We can all understand that. It's a human story. It's not about boats at all. It's about people."
Conner, now a four-time America's Cup winner, agreed that the 1987 Cup was one for the ages.
"I think that was the one that I remember the most," he said in the 2007 interview. "Not so much from vindicating myself from the loss. It was more that it was a wonderful victory, and kind of the last of the Corinthian America's Cups where we were really racing for the passion of our yacht club and our country, and we're all Americans. (We) loved each other."