Undeterred by Gulf Coast heat, wind, mosquitoes and jumping fish, a pair of friends tackle the Texas 200 endurance cruise aboard their small boat
The first time I sailed the Texas 200—a grueling 200-mile multiday small-boat endurance cruise along the desolate Gulf Coast and barrier islands of southern Texas—my home-built plywood dinghy was dismasted on the first afternoon. I might have quit right then, but I was miles and miles from my car, alone and stranded on a remote barrier island that didn't seem to get many visitors. After thinking it over and not coming up with any alternatives, I re-rigged the boat with what was left of my spar and kept on sailing. By Day Two I was wrapping myself in my sleeping pad while sailing to avoid a blistering sunburn. The tiller snapped in half on Day Three. On Day Four I sliced my foot open on an oyster-shell reef, but by then it hardly seemed worthwhile to consider quitting. I put some duct tape across my heel to hold the pieces together and decided the bleeding had probably washed the wound at least mostly clean, which might prevent the region's notorious flesh-eating bacteria from eating my foot while I sailed. Later that day I discovered that I couldn't manage any better than a beam reach with my new jury rig, which meant a couple of hours rowing into a stiff headwind to reach camp that night.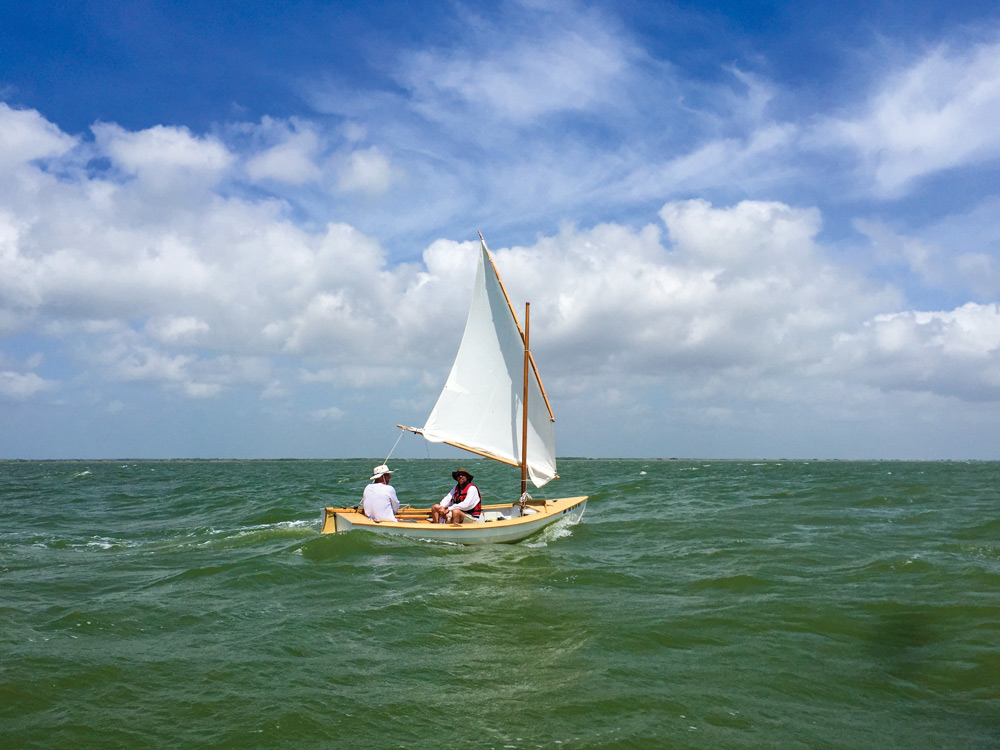 Jennifer Votaw Crow photo
It's possible I didn't properly explain all of this to my friend Pete. Maybe he thought I was exaggerating. Either way, I got an email from him one day saying he'd like to come along if I was planning to do the Texas 200 again.
"Sure," I told him. "That'd be fun."
After borrowing my brother's boat, Phoenix III, a home-built gaffer designed by Ross Lillistone, driving 24 hours to Lubbock to pick up Pete and another 10 hours to the coast, we arrived in Port Isabel, a tourist town near the Mexican border. I spent the next day driving the car and trailer four hours north to leave it at the finish line at Magnolia Beach. I caught a Texas 200 bus back, another four-hour ride, while Pete spent the day back in Port Isabel, lounging around in the air-conditioned motel. I tried not to hold it against him. It helped when I realized I had forgotten one of the thick cushions that made sitting on the cockpit's wooden seat a little more bearable. Pete might be enjoying himself back at the hotel today, I told myself as I drove for hour after hour up the dead-flat coastal plains of south Texas, but tomorrow the remaining cushion is mine. All mine.
Morning came all too early. It was hot and windy, 20 knots out of the southeast—typical Texas 200 conditions. Pete and I walked down to the marina, spent a few minutes stuffing gear into our boat, and engaged the auxiliary power (oars), leaving the mast unstepped. Ten minutes later we rowed past the last of the docks and into the Laguna Madre, the broad shallow bay that lies behind South Padre Island.
As we rowed out of the marina and into the open bay, the full strength of the wind became obvious. I handed Pete the tiller, stepped the mast, and immediately reefed. We bore off on a broad reach, following the long line of buoys that stretched north across the bay, marking the route of the Intracoastal Waterway. There was nothing to do other than keep on the starboard tack for the next 35 miles, where we'd make an upwind turn to reach the night's campsite at the Port Mansfield jetties—a beach-lined cut through South Padre Island that would have us setting up our tents on the very edge of the Gulf of Mexico. I told Pete he was in charge of navigation, handed him my Hook & Line fishing map for the Laguna Madre, and settled in at the tiller—with the one remaining cockpit cushion tucked safely under me.
A few seconds later the sail and boom came whipping over our heads and streamed out over the bow when the sheet suddenly came untied. I tried to act casual as I pushed the tiller to port to bring us around far enough to grab the boom and pull it in, but Pete didn't seem too bothered by the mini catastrophe in any event. I re-tied the sheet onto the boom (being sure to let Pete know that my brother had tied the original knot) and we were off again. Pete was too tactful to be critical. Besides, it's exactly the kind of thing he's come to expect from me after years of shared adventures.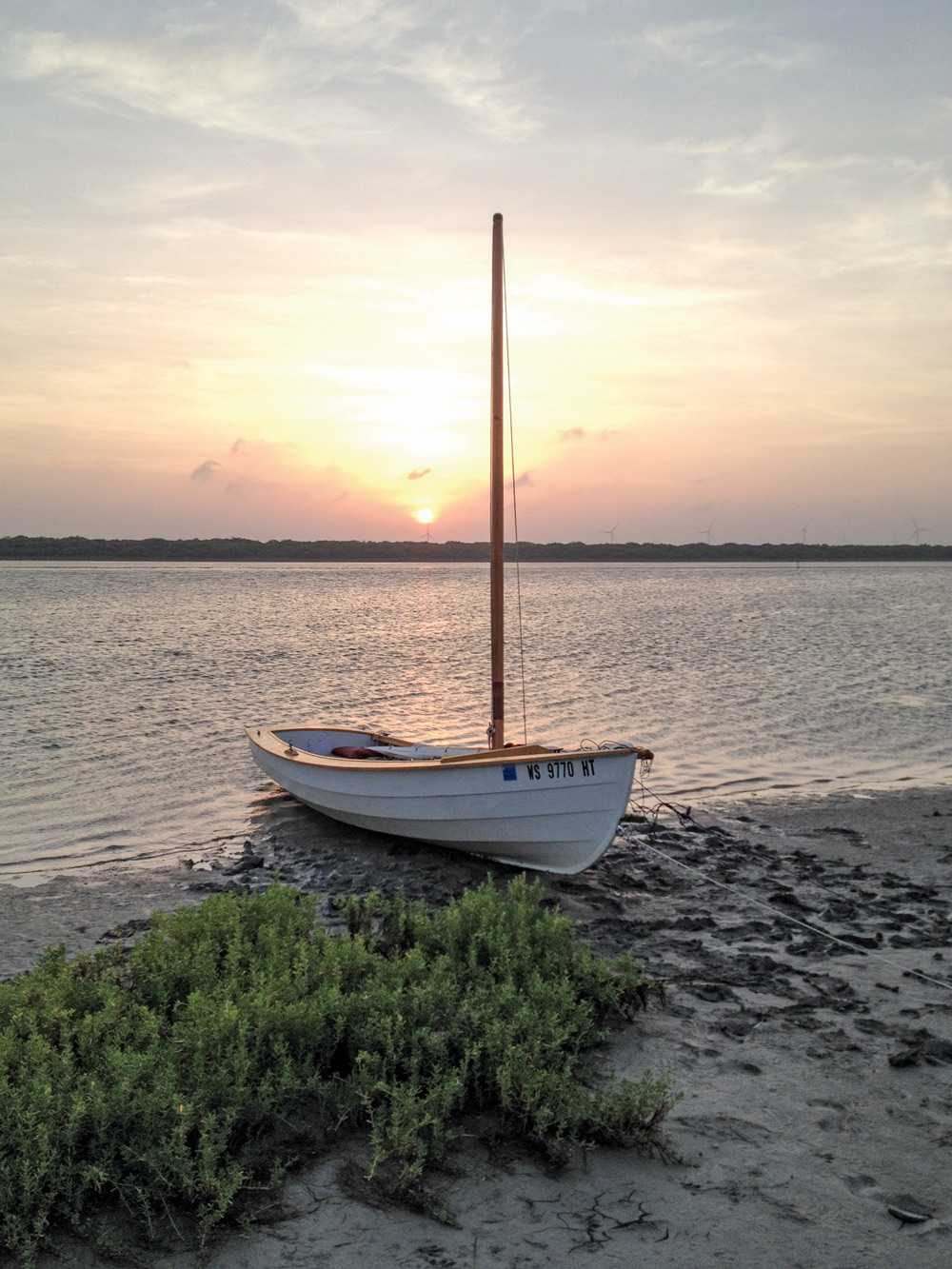 Tom Pamperin photo
We traded tiller time all day, 40 miles on a starboard tack. We spent the hours talking about the Byzantine Empire, jazz, philosophy, teaching, my vague understandings of lugsails and sailing, and other nonsense. I tried to sound as smart as Pete, but mostly failed. No matter. The winds were strong enough that we were surfing half the time, each passing wave lifting the boat forward with a surge of momentum until it felt like we were ready to take flight. Pete seemed right at home.
Too much at home, I realized. He was making a mockery of the "tough conditions" I'd described. I knew his only sailing experience was a few hours every year sailing small Hobie Cats on an inland lake back in Wisconsin. Why was he so darned casual about sailing here in 20 to 25 knots, surfing along on a broad reach to a run, where a slight mistake by the helmsman might cause a broach and capsize? But Pete sailed blithely on, smiling, laughing. Maybe he doesn't realize how closely we're courting disaster, I consoled myself by thinking. Otherwise he'd be more nervous.
Navigation along the ICW was simple at least; each numbered buoy was marked on our fishing map. It was simply a matter of sailing up the line of buoys until we found the number we wanted, then turning east toward camp. Then sometime in the afternoon Pete pointed out that the numbers on the map didn't match the numbers on the buoys. Somewhere up ahead (or was it already behind us?) was our turn-off, and we couldn't rely on the buoys to tell us where it was. Nor could we rely on our GPS as many Texas 200 sailors do, for the simple reason that I don't own a GPS.
"Don't worry," I told Pete. "It'll be easy to spot the turn—there's a line of spoil islands just south of the channel we want. We'll just follow them to camp." I hoped it was true. It looked that way on the map, anyway. But I knew from experience how difficult it could be to spot low-lying islands in any kind of waves. Pete, again, seemed unconcerned. A horrible thought came to me: Pete actually trusts me. He accepts all my rationalizations and dubious reasonings as the accumulated wisdom of my years of small boat sailing. Thinking back to how many times on previous voyages I'd relied on blind luck and a willingness to endure the consequences of my decisions rather than on caution and skill, I suppressed a shudder.
But luck was with us, and the line of spoil islands appeared off our starboard bow. At least, I hoped it was the right bunch of islands. I steered us on a shortcut for the first island, cutting off a couple of miles of the ICW. That kind of move can be risky on the Gulf Coast of Texas, where "deep water" translates to "you might get your knees wet if you step overboard," but I set Pete to watch the map closely and point me toward a line where we'd have a foot or two of water. That way if we ended up going hard aground in the mud and oyster shells of our shortcut, I could blame him.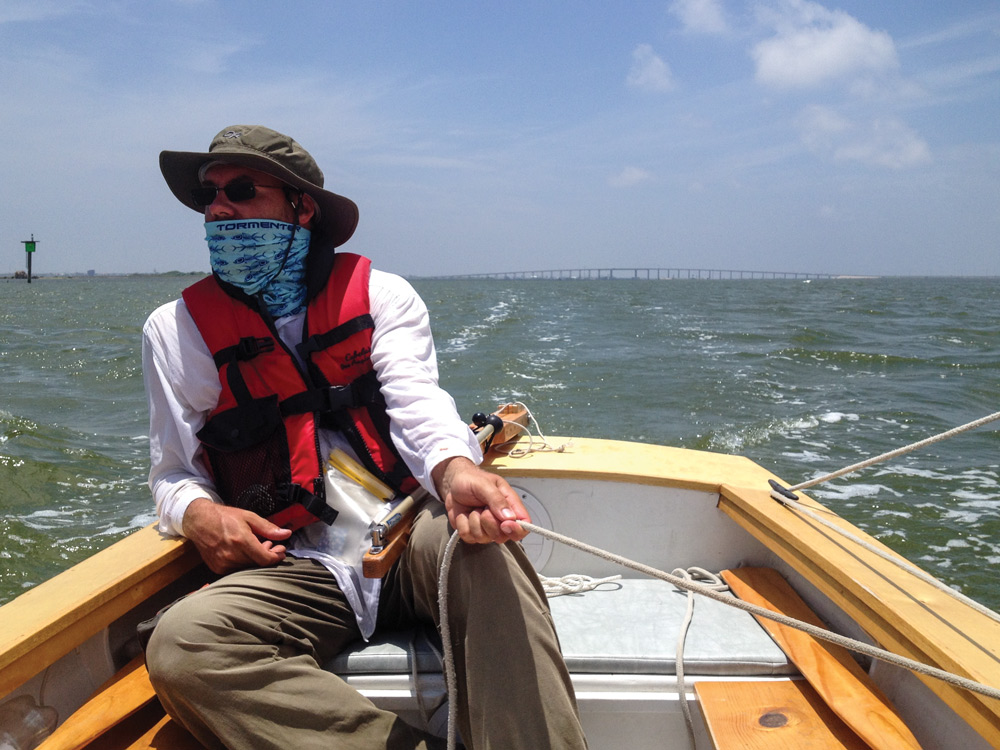 Tom Pamperin photo
Our shortcut worked—we never even dragged the keel in the mud, although there were places where we could lean over the side of the boat and touch the bottom as we sailed along. Soon enough we were beating our way up the channel toward camp, five or six miles directly to windward in a steep chop. After a couple of hours and a brief grounding when I overshot the channel on one tack, we sailed into camp, a wide shallow beach along the southern shore of the cut. There were already plenty of Texas 200 boats there—plastic catamarans and trimarans, battered sloops with fiberglass hulls and sun-bleached sails, boxy plywood boats that had been assembled in a backyard with screws and glue and cheap lumber from big-box stores. We slid my brother's boat up onto the beach and went off to find a place to set up our tents for the night. One day down, five days to go. So far, so good.
Day Two was more of the same: a six-mile run down the channel back to the ICW, then 40 miles broad reaching on the starboard tack. It was hot and windy with no shade. I was beginning to question my shorts and T-shirt strategy. Pete, a little smarter, wore long pants and a long-sleeved loose-woven cotton shirt that offered theoretical sun protection. The sailing was good.
Since there is no official starting line for the Texas 200, camp is the first place to see all the boats. Yesterday we had sailed almost entirely alone. From here we were sailing in company. There were at least a few other Texas 200 boats in sight for most of the day. We spent the long hours passing other boats or being passed, with a friendly wave and a few shouted comments exchanged each time.
Twenty-five miles into our day we reached the northern end of the Laguna Madre. Here a 20-mile-long dredged channel known as the Land Cut allows the ICW to connect to the bays and open waters farther north along the coast. For 20 miles we sailed along in 20 to 25 knot winds and no waves (the Land Cut is too narrow to form any fetch for waves to build), past an endless display of dead-flat scrubby rangeland and long stretches of wind turbines. I've learned that it's impossible for me to be bored while sailing—even here—and I was happy to see that Pete seemed content as well.
In the early evening we arrived at Hap's Cut, a campsite along the Land Cut notorious for thick, noxious gray mud that makes getting ashore difficult. We dragged the boat up onto shore through knee-deep muck and set off to enjoy the only three shade trees on the entire Texas coast (which is why Hap's Cut remains a popular camp despite the mud). Again a long line of boats stretched down the beach, growing longer with each additional arrival. But not as long as it could have been—plenty of boats had already dropped out (we found out later that 57 boats started, but only 28 finished). And we had missed some drama at the first stop: A couple of boats had gone outside of South Padre Island on the first day, sailing the open water and big waves of the Gulf of Mexico instead of taking the protected inside route. Coming in through the pass at camp, one sloop ran into trouble in breaking waves and lost a sailor overboard. Both the boat and the sailor were recovered safely, but the event provided a sobering reminder to us all that it's possible to encounter real trouble out here. Maybe the Texas 200 burgees I had seen some boats flying (a skull and crossbones along with the motto "You May Die") weren't as out of place as I had assumed. Pete and I had briefly considered taking the outside route in our small open boat. I was glad we hadn't.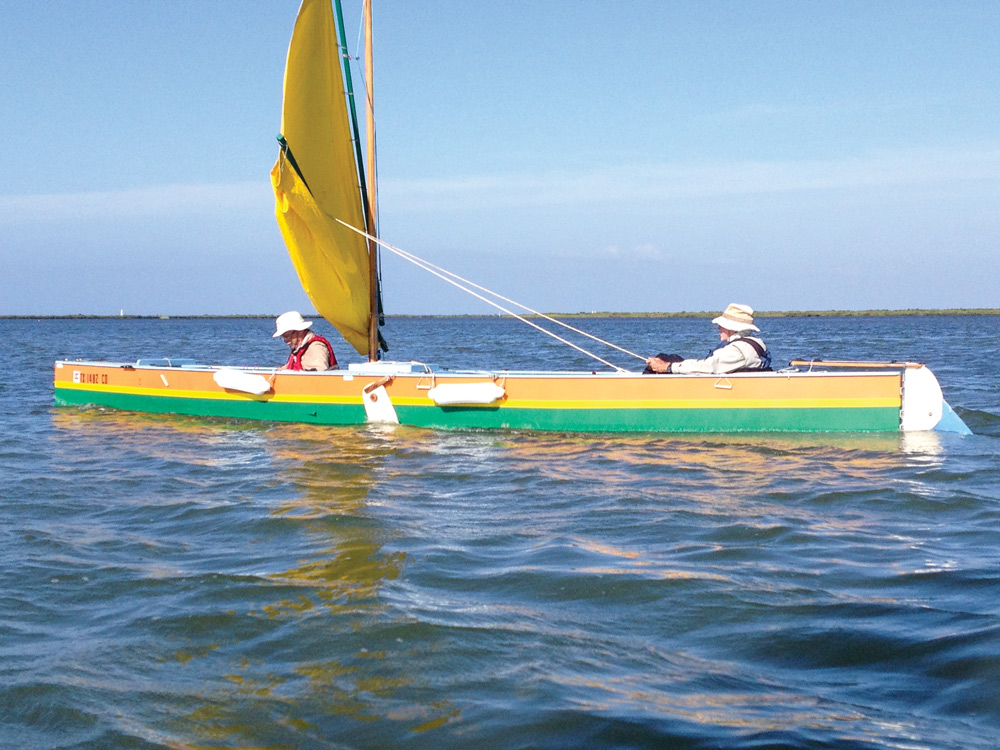 Tom Pamperin photo
The next morning we cooked a quick breakfast and watched a few freight barges motor up the Land Cut. Once the way was clear, we set out with a few friends who were planning to explore off-route along the way, looking for potential campsites for future editions of the Texas 200 (the route and campsites typically change each year). I scribbled down the coordinates of Yarborough Pass on the margins of my fishing map, placed a dot roughly where the place ought to be, and we were off.
A few miles north of camp the Land Cut ended, and our small group of five boats cut east off the ICW to steer a line across a shallow bay. Yarborough Pass, I'd been told, was a "dead" pass that had first been cut through to the Gulf in an attempt to lower the salinity of the interior bays more than sixty years ago. It was "dead" in the sense that despite repeated dredging, the pass kept filling with sand until dredging attempts were abandoned in 1950. There's no pass there now, just unbroken beach. But it might make a perfect campsite.
Halfway across the bay toward Yarborough Pass, dolphins suddenly appeared all around us, leaping into the air and sending bright splashes and glittering arcs of spray toward us. Pete and I were laughing out loud. The Texas 200: You may die or you may see leaping dolphins. Maybe both. After 10 minutes they slipped away, and we beached our boats at Yarborough Pass to check it out. After lunch, we set out back toward the ICW. The first few miles had us on a beam reach in waves big enough to roll the boat, and then it was 25 miles down the ICW on the starboard tack to camp along a remote shadeless stretch of beach. We spent a few hours hanging out and trading stories and food with other Texas 200 sailors, then retreated immediately to our tents after sunset when the nightly mosquito herds arrived.
Day Four brought more luck, with a stop at Snoopy's dockside restaurant in Corpus Christi for lunch with a bunch of other Texas 200 sailors—and with it, the chance to buy some 50 SPF lightweight long-sleeved shirts at the marina store. Pete also got a bandito-style face mask. Our fears of the blistering sun somewhat abated, we sailed on. Again we dodged out of the ICW to explore the back bays and twisting channels of Corpus Christi Bayou, which led us to the night's camp at Quarantine Shores, an untouched stretch of oyster-shell beach on the southern edge of Aransas Bay. We only had to drag the boat 50 yards through the shallows after we ran aground when we tried to shortcut the channel. Again the mosquitoes swept in at sunset and we retreated to our tents.
The following day we sailed through a winding series of narrow cuts and passes along the back channels of Aransas Bay, well off the ICW. Here even a boat with a 6-foot draft needs to navigate carefully; a mistake could land you in thigh-deep mud with no way to sail out. I'd been this way twice before, which helped. By afternoon we were through the tricky stretches and into the open waters of Espiritu Santo Bay. The day ended at Hidden Pass, where we sailed through a cut almost narrow enough to jump from one island to the next—with a running start. At camp that night, everyone with radios and smartphones was talking about tomorrow's weather forecast—very hot, with light winds.
"It might not be the dumbest idea to just keep going through the night," I told Pete. True, there would be some tricky navigation getting through one of three marked cuts into the next bay, but the moon was nearly full. And we had a good breeze now. It would be a pleasure to sail while it was cool for once, even if we did get lost for a while.
And so we hung out with the fleet at camp until sunset—right around the time that mosquitoes would have forced a retreat into tents anyway—and then set out across Espiritu Santo Bay, the last big water of the trip. It was perfect sailing with a nice 15-knot breeze, cool air, and the fierce red eye of the sun hidden safely below the horizon. I was surprised no other boats came along, but I guess they wanted to see how we did before they tried it for themselves. Maybe next year it'll become a popular strategy.
The winds picked up as we went, and then suddenly fish began popping out of the sea all around us. Quite remarkable—they would hurl themselves straight up, 4 or 5 feet into the air. One of them even jumped over the foredeck.
Then one of them jumped into the boat. And another. Using a boat cushion, I scooped them down toward Pete, who had his hands full already with the tiller and sheet.
"Fish in the boat!" I shouted as another one threw itself aboard. "Fish in the boat!" He threw them overboard one by one and mocked me for my timidity. I kept wielding my cushion and pushing them his way. The rain of fish kept on for half an hour. They were mullet, sleek silvery fish half the length of my forearm, and were no doubt being pursued by bigger, hungrier fish. I sympathized with them, but still, I wasn't letting them stay aboard.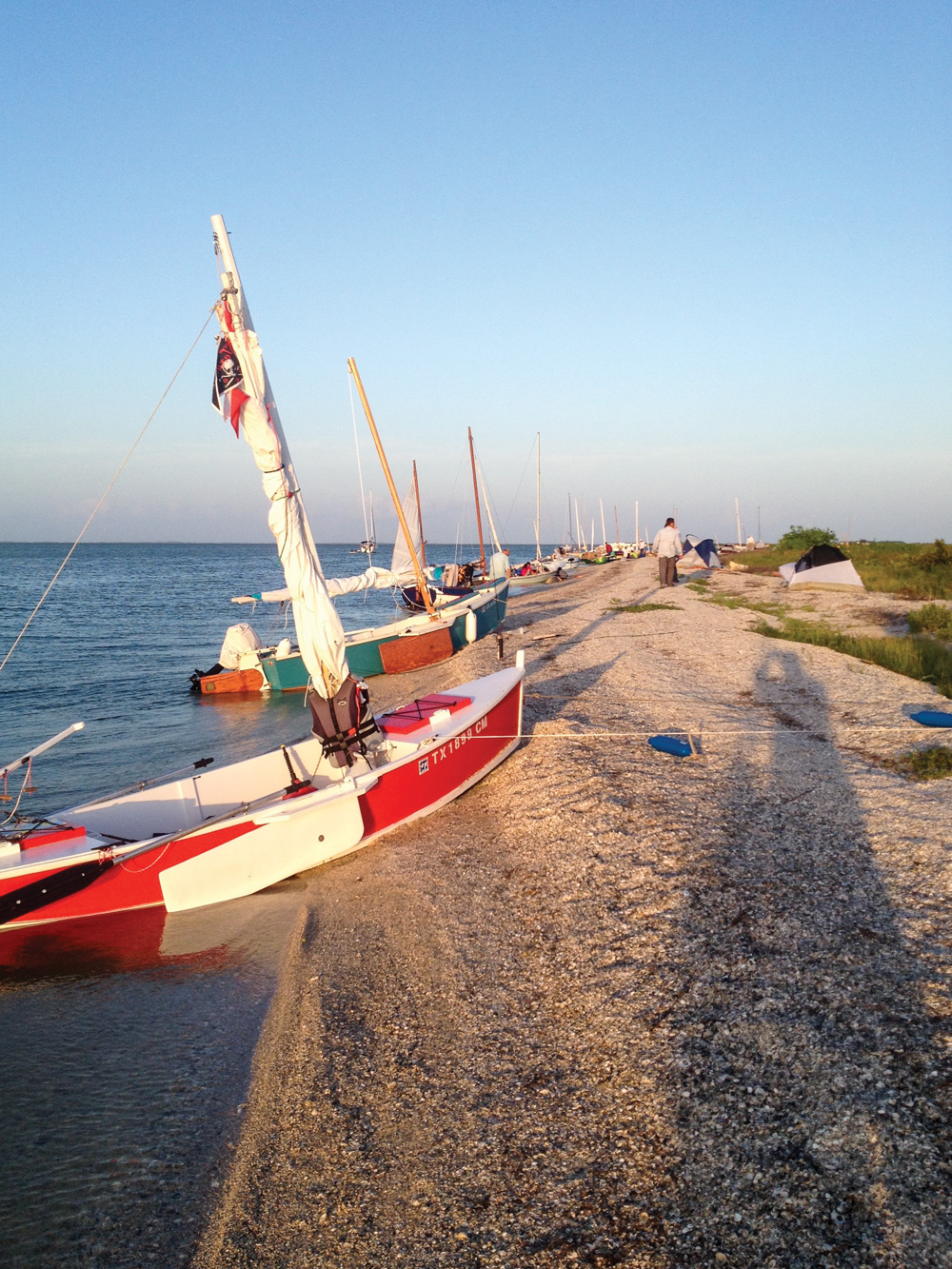 Tom Pamperin photo
By the time we reached the far shore of the bay on our moonlit sail, we weren't sure of our exact location, but we had steered a compass course designed to take us far enough south of our goal that we would know to turn north when we hit the shore. It worked, kind of. Bumping along northward through the shallows, using the centerboard as a depthsounder, we followed the far shore of the bay until a vague cluster of lights showed up ahead. Somewhere near there would be our cut. We passed a marker buoy from the ICW, but weren't able to locate the channel itself in the darkness. And then suddenly we had land on both sides of the boat, a development that was difficult to reconcile with the chart, using a tiny red headlamp as the waves tossed the boat this way and that. But eventually, despite the first faint stirrings of seasickness, I was able to get a pretty good guess at where we were.
Unfortunately that guess proved wrong in the next moment as we discovered a buoyed channel cutting directly across our path. It was the last of the three channels we had been looking for, and we had found our way successfully through the darkness.
The rest of the night was a quiet sail northward on a broad reach as the winds gradually dropped away, until around 4 a.m. when we coasted up onto the beach under oars and arrived at Magnolia Beach, the official finish line. If the Texas 200 had been a race (it isn't), we would have just won. Then again, given how much we had enjoyed our nighttime sail, we did win. Everyone else would be bobbing and baking in hot sun and no wind for hours. Pete and I pulled the boat ashore, set up our tents, and enjoyed a few hours of sleep in the cool air of the morning. As I dropped off to sleep I was already making plans to come back.
---
How to sail the Texas 200
Despite its status as an organized event, marked by membership dues, an official route and campsites, a shuttle bus to drop cars and trailers at the finish line, and a mandatory skipper's meeting, the Texas 200 is unique in that it demands almost complete self-sufficiency from its participants. There are no chase boats, no official rescuers, and nobody monitoring your progress. If you get into trouble, you will be on your own. Conditions are challenging (2016 saw a drop-out rate of more than 50%), with high winds (20 to 25 knots every day is typical), open water with big fetches, tricky navigation, long days (40 to 50 miles between campsites), and blazing sun. Prospective participants ought to be realistic about their experience and ability level before tackling this event. If you do have to drop out, it is likely that you will be miles and miles away from your car. That said, it is a great way to push yourself to attempt some cruising in challenging conditions, and you'll meet some wonderful people.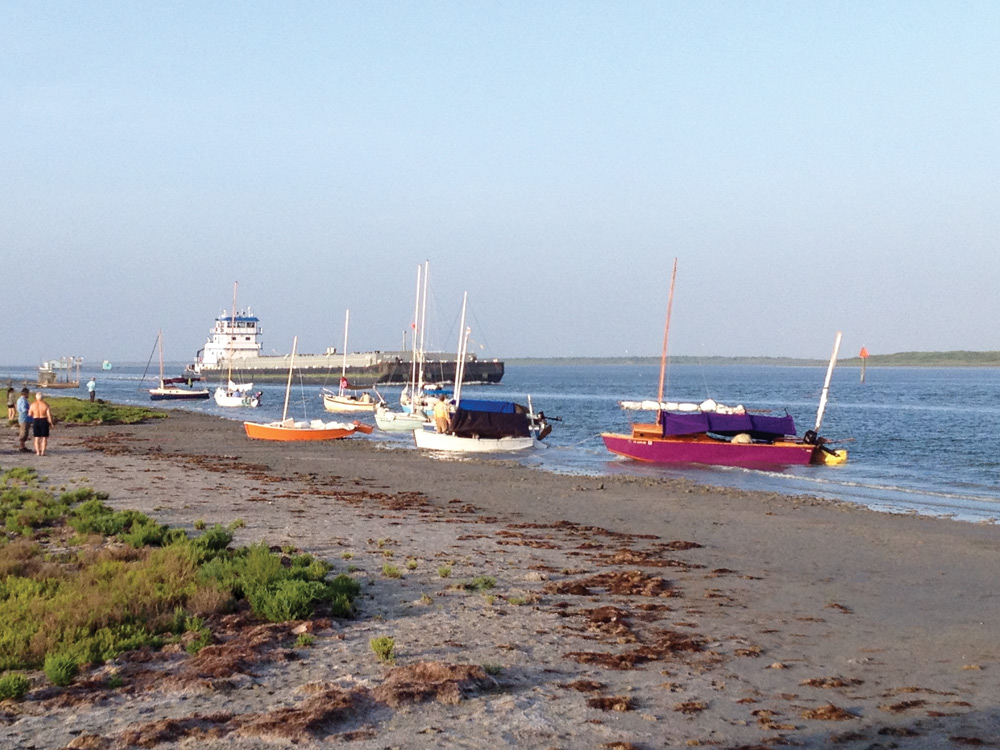 Tom Pamperin photo
Official information about dates, routes, campsites, and membership can be found on the web at www.texas200.com. The Texas 200 Facebook page is also a great source of information, photos, and discussion among Texas 200 sailors, from the most experienced to complete novices.
Given the origin of the Texas 200 (it was founded by Chuck Leinweber, who started the popular online Duckworks Boat Builders Supply store), it is no surprise that amateur-built wooden boats are prevalent each year. Deep draft and full-keeled boats will find the course more challenging than shallow-draft centerboarders, and will often need to anchor offshore at camp. Nevertheless, a wide range of boats, from production sloops to home-built wooden skiffs, compete in the event every year. One final caveat: Winds are strong on the Texas coast in June. It is essential that Texas 200 participants be able to easily reduce sail area with their rig when appropriate. Reef early, reef often. --T.P.