Novice to race ready in 7 days
A dinghy neophyte goes from capsizing queen to regatta worthy in a week thanks to an intensive and fun warm-water training program
"Capsizing: One thing you don't have to worry about here is getting your rig stuck in the mud," sailing instructor Colin Gowland commented wryly at our first morning briefing. Having never previously set foot in a Laser, the significance of that statement as being one of the very first on Gowland's agenda didn't immediately set in. In fact, I may have even laughed out loud.
"Capsizing, ha, sounds manageable," I thought dismissively, not for a minute anticipating the multiple bruises and cuts I'd be sporting just hours later.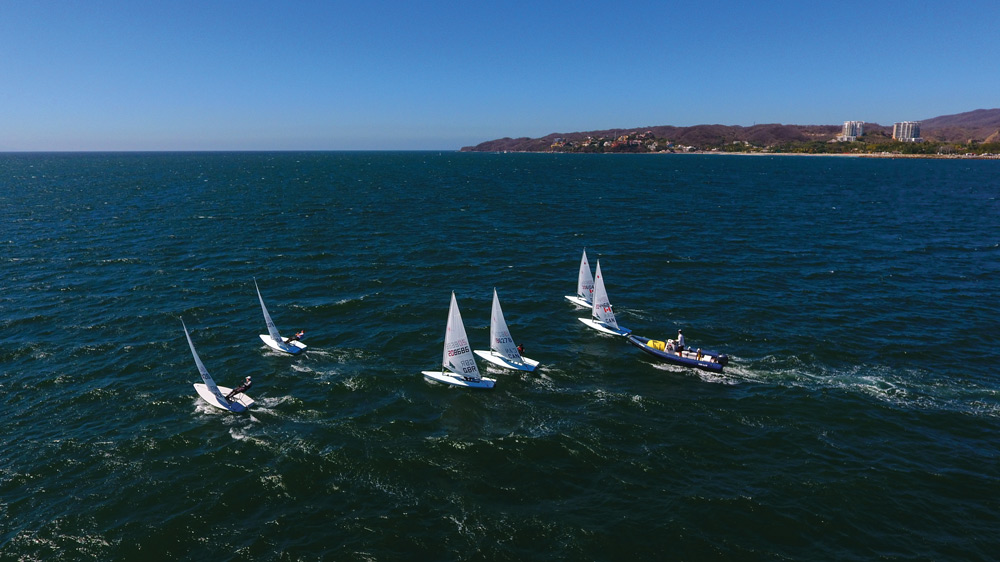 International Sailing Academy photo
As a keelboat sailor and avid kite boarder, learning to sail a Laser had long been on my list of things to do, and the International Sailing Academy in La Cruz, Mexico, had been on my radar for some time. Not being fond of cold water, I'd never been able to muster the enthusiasm to get into dinghy sailing at home on San Francisco Bay. So, when a friend recently trained at ISA and promptly set off with new skills to race Laser events in Miami this winter, I was inspired by her recommendation to sign up. I fully disclosed my Laser sailing ability—zero—to the friendly and patient team at ISA and they agreed to take me on.
ISA is a Laser training center located in the rustic yet lively marina town of La Cruz, about 20 miles north of Puerto Vallarta, Mexico. It offers world-class Laser coaching for all levels in perfect conditions, warm water and consistent breeze. ISA's clientele ranges from sailors with little experience to those who own a Laser and want to move from recreational sailing into racing. As well, it's popular with master sailors looking to up their game, and caters to those on the Olympic path.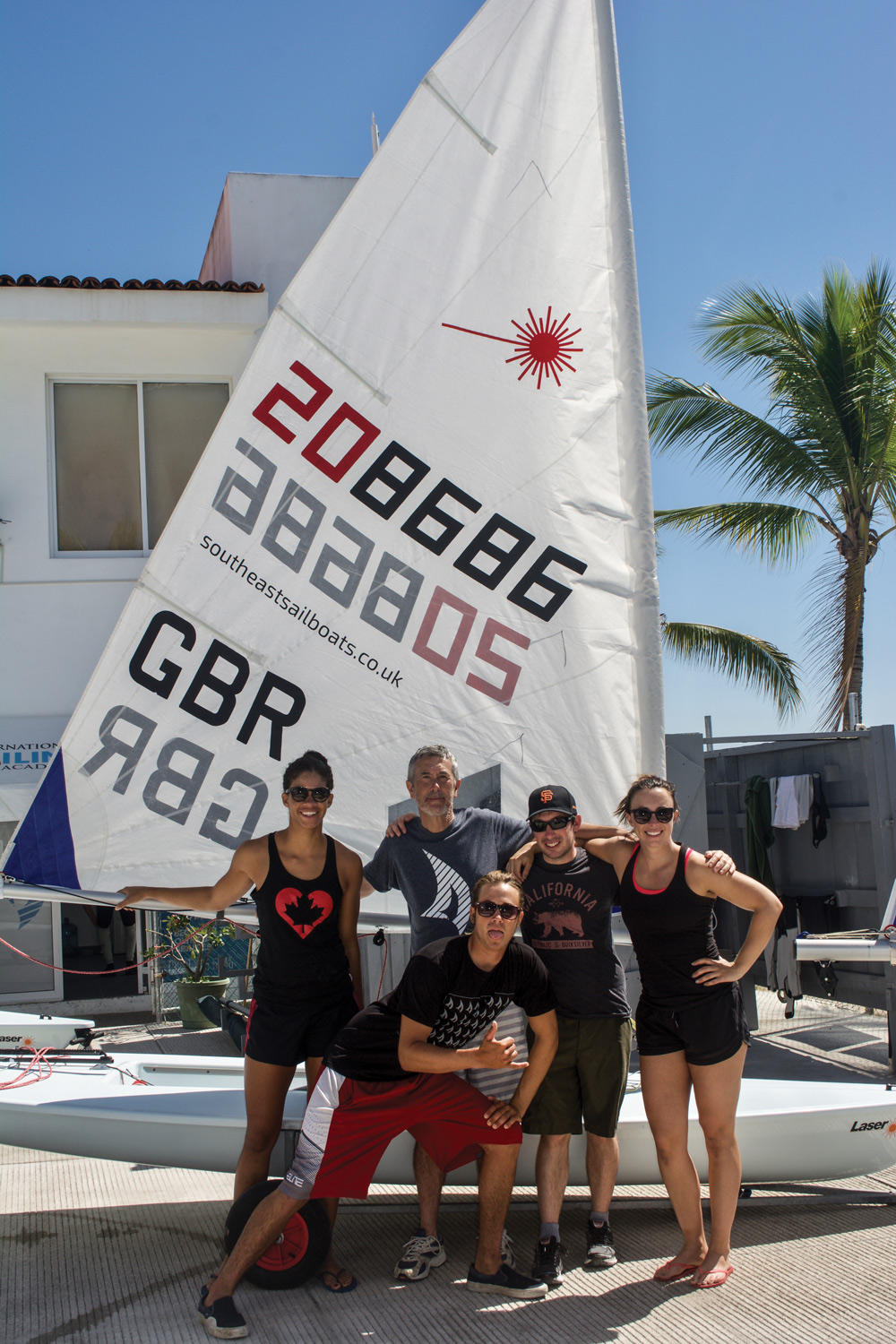 Kelsey Kim photo
I was in good company during my time at ISA as three Olympic sailors were training, along with a master sailor from England and several other experienced Laser sailors. Catching the briefing sessions for these elite sailors left me with a deep appreciation for the commitment and passion it takes to sail the infamous dinghy at the top level. Canadian Brenda Bowskill placed 16th at the Rio Olympics. When she was 17, she lived at ISA for an entire winter, sailing full-time with ISA head coach Vaughn Harrison.
"I had so much to learn and needed to be in a place where I could do that, "explained the 24-year-old from Whitby, Ontario. "ISA is all-inclusive—accommodations, boats, meals—and the conditions are ideal so I can absolutely just focus on sailing."
Bowskill will make annual pilgrimages to La Cruz during her Tokyo 2020 campaign as she continues to train with Vaughn. "He's very scientific with his coaching and the physics behind what makes the boat go which is a totally new aspect for me and something to build on my previous coaching."
Like Brenda, 22-year-old Marek Zaleski, from Norwalk,Connecticut, was also training for Tokyo 2020, his first Olympic campaign. He was making the most of a busy week at ISA with other elite sailors onsite giving him the benefit of training with others at a similar level.
"It can otherwise be a lonely journey," said Zaleski, "I'd be training in a drysuit and seeing lots of ice when I'm sailing at this time of year at home, which makes it hard to motivate myself to sail regularly. Every day here is perfect —that really benefits my training focus. The breeze comes in at least by 1:30 p.m., like clockwork."
Sailing days typically start after breakfast at ISA's boathouse in the La Cruz marina. Sailors are responsible for rigging the boats, after which a briefing takes place with training goals set for the day. The elite group was coached by Vaughn while Colin trained myself and two others, both whom had a reasonable amount of dinghy sailing experience.
Our Day One briefing focused on boat setup and mechanics, and established sailing goals for the day. Once on the water, a warm 8 to 10 knots of wind greeted us which was ideal for my first day out. Nonetheless, getting out of the marina for that first session was instantly challenging. The minute I stepped foot on the boat I completely lost balance, capsizing twice in the marina. I sucked it up, clambered back on board and hoped that capsizing would not become habitual.
I immediately loved that I had total control over the boat. But that came with a price as I struggled to become one with the tiller, which I found initially awkward to maneuver while at the same time balance my weight and adjust the mainsheet and controls. Dinghy enthusiasts: Do you remember those moments?
Gowland gave us drills to work on and in turn followed each of us in the coach boat, from where he was easily able to call instruction and shoot video. From time to time he'd pull up alongside me and we'd switch boats so he could demonstrate a technique while I followed him in the coach boat. I found this to be a brilliant way to learn quickly.
After more than two hours on the water, I felt very comfortable heading upwind, although tacking and jibing were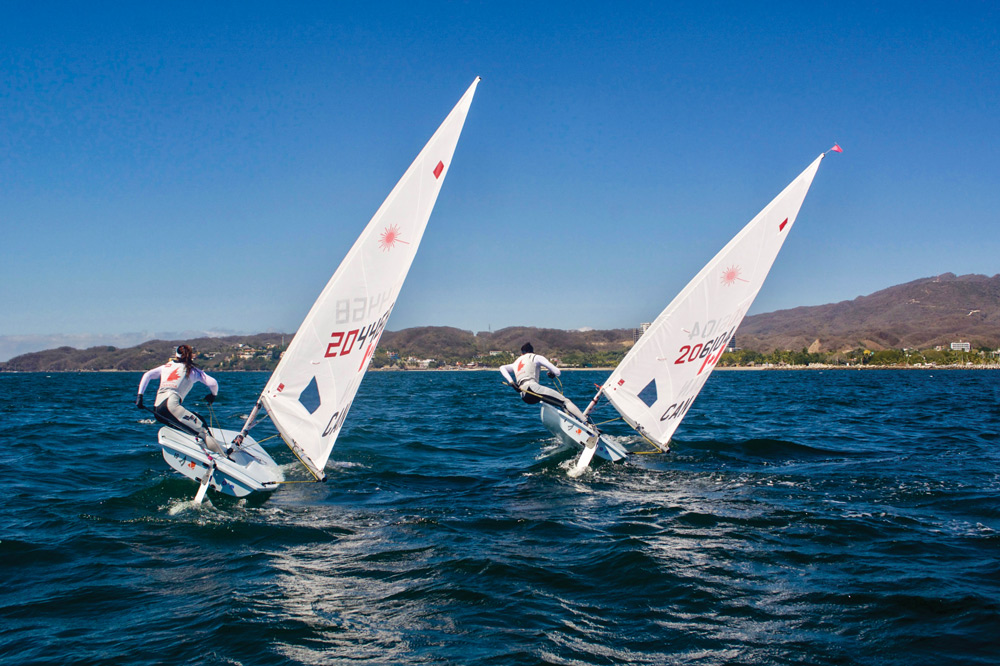 Kelsey Kim photo
still far from my skill set. I lost count of the capsizes and ended the session with a massive gash on my shin from whacking it on the sharp edge of the daggerboard. If nothing else, I mastered the art of the perfect capsize recovery with the least amount of effort.
What struck me at the end of that first day was the physicality of sailing this small boat. I am obsessive about working out and consider myself in good shape but was blown away by what it took to keep the boat sailing relatively flat. It was quite the ab workout, and there were times I simply didn't think I could pull myself back into the boat after a capsize.
The first stop on Day Two was the local marine store, Todo Vela Mexico, to upgrade my hiking shorts to a longer version with knee pads and coverage for above-mentioned gash. Surprisingly, the store was far better equipped than my local marine store back home. Early reports of big breeze had me feeling nervous as it translated to a lot of time in the water and the subsequent struggle to right the boat. However, a pleasant 12 to 14 knots ensued, consistent under a cloudless sky. Perfect. I felt more comfortable with the tiller but tacking was still messy as I learned to re-organize the mainsheet on the new side.
As the week progressed, so did my confidence and I was psyched to be on the water each day. The breeze ranged across the week so I was able to improve skills in varied conditions. My main challenges were working efficiently to adjust controls, steering for balance, and given my light weight, preventing too much heel. I loved hiking out but had to focus on doing so pretty constantly. I'm hopeful that these techniques will come easier with time on the water.
As a new dinghy sailor, I was inspired to be around well-seasoned sailors like Max Hunt, a master Laser sailor from Whitstabel, England. Max grew up sailing small boats and has specifically sailed Lasers on and off for more than 40 years. He also owns Southeast Sailboats, making high-performance control line systems for the Laser. Max races some 12 master events throughout Europe annually and was training at ISA for his sixth consecutive year, relishing an escape from the British winter to turbo-charge his racing season. That his training should take place in a beautiful and warm while also challenging environment is no accident, Hunt joked.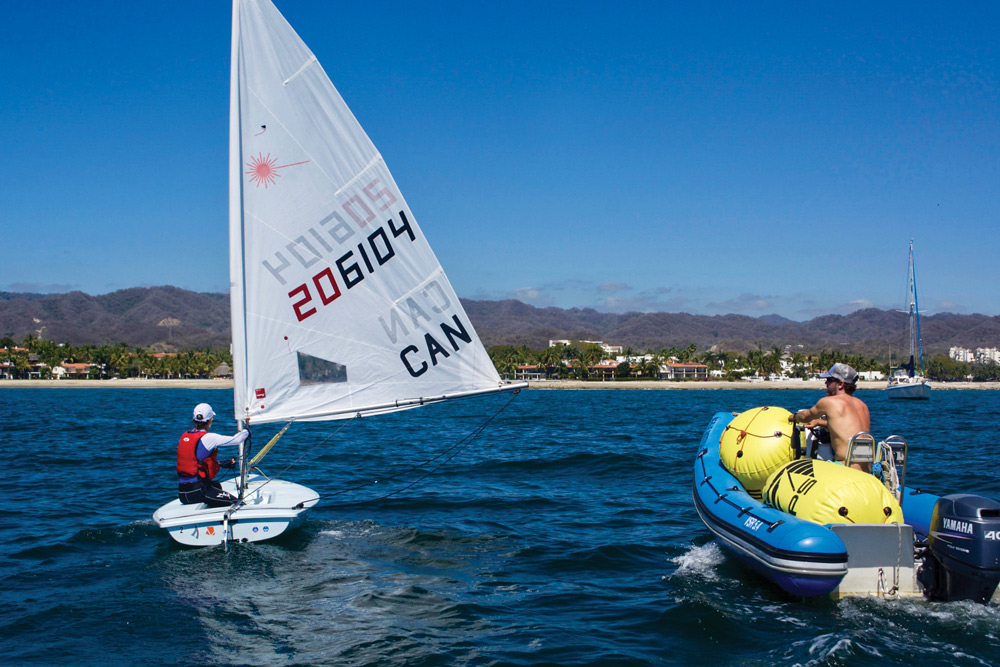 Kelsey Kim photo
"There just aren't many places like this where the conditions are ultra-reliable and the coaching so good, even though I knew I'd be up against some tough sailors this time," Hunt said.
He's always been impressed by the level of coaching at ISA and his skills inevitably improve with every visit. "This year the key points for me were downwind strategy, taking into account wind or wave skews, and starting," he said. "I'm now more comfortable to rack up early, defend my spot on the line, and double tacking or backing out if necessary."
My own goal was to be "race ready" by the end of my initiation week so Gowland set up a couple of marks on the last day for me to race—against me! Conditions were initially perfect in the 10-knot range as I tacked upwind. The tacks weren't pretty but I got to the windward mark, reached around and wobbled into a downwind position as the wind strengthened to 15 to 20. I tried a couple of jibes (unsuccessfully) in the bigger breeze and decided to finish in a happy place so I simply set my focus on surfing the waves downwind. Big fun. I was really thrilled with my progress and can honestly say I wish I hadn't waited so long to get into dinghy sailing. Next up: purchase a used Laser and a wetsuit. I guess I'm going to have to brave the chilly San Francisco Bay!