New boats, new locations and a robust hurricane recovery are keeping charter companies busy
There's never been a better time to charter, with new bases popping up in both new locations and old favorites. Charter boats, whether monohulls or big cats, are getting more comfortable and easier to handle. And in the aftermath of the hurricane season, the Caribbean is making good progress on the road to recovery.
Recovery progress
The BVI took a direct hit from both hurricanes Irma and Maria, wiping out bases and the boats. But good news, six months later most of the bases are open, and new boats are arriving every day. The island plant life has returned and the water remains warm and inviting.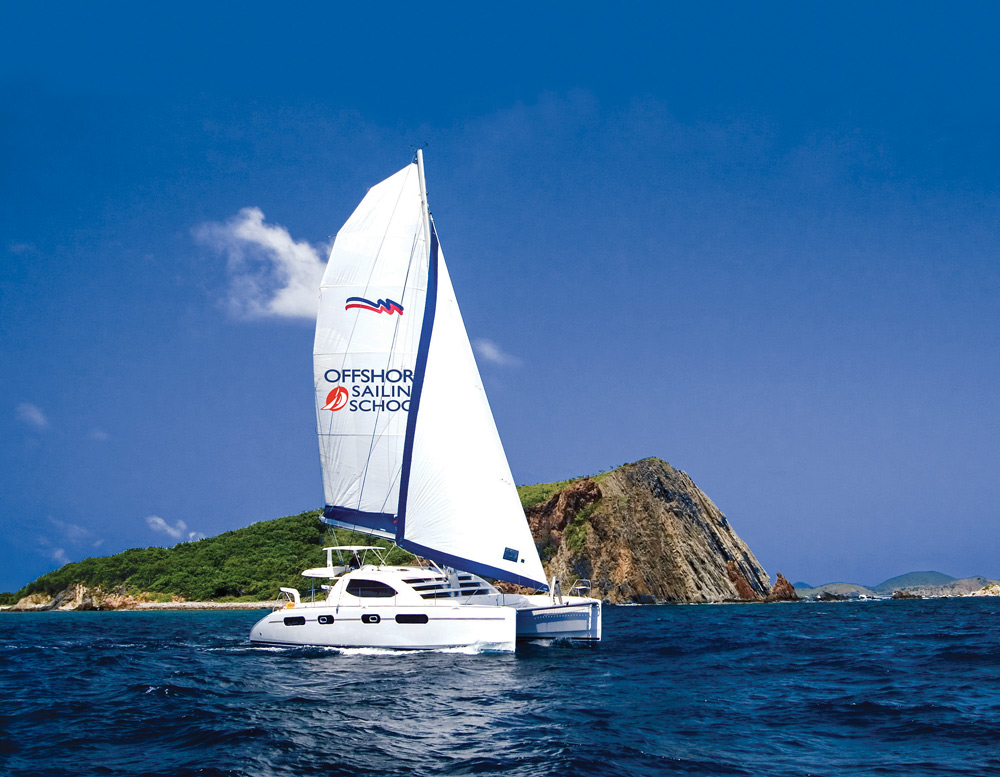 "All of the debris and wrecks have been removed, and our marina at Road Reef on Tortola is up and running," said Barney Crook, managing director of TMM Yacht Charters. "We have new power posts installed, the building has a new roof and doors and is just waiting for a few windows. We have ice, water and electricity."
TMM currently has 12 boats chartering, including five Lagoon 450s, two Lagoon 42s, a Helia 44, a Lagoon 380, a Beneteau 41 and a Jeanneau 41DS. By the end of spring the company plans on taking delivery of a new Fountaine Pajot 37 Power Cat. Many of the catamarans damaged but not destroyed are being repaired in the USA and are expected back to the BVI later this month.
"We also have many new boats in the pipeline that will be coming from June onward," Crook said. "Reservations are strong and we are looking forward to being back to full strength by October."
Dream Yacht Charter bases in St. Martin and the BVI were impacted after Irma, with 60% of the 70 boats being a total loss.
"We had a quick recovery after Irma and in mid-November, we were one of the first charter companies to reopen in the BVI and St. Martin. We were able to re-opened Puerto Rico in mid-October," said
Emily Turner, Dream Yacht Charter's marketing consultant. "Our size, financial stability and fleet diversity meant we were able to get the fleet back to pre-hurricane losses quickly. We've added 100 boats to the fleet this year and have opened four new bases in 2018, including Exumas, Pula, Naples and
Montenegro." It was hard work getting operational after the hurricanes.
With nearly 1,000 boats worldwide, Dream Yacht relocated customers that had scheduled September and October charters in the BVI and St. Martin to other destinations, including Grenada, Antigua, Seychelles, Martinique, the Mediterranean, Bahamas and Mexico. The company purchased 20 new boats for St. Martin and BVI, which were delivered at the end of 2017 and it bought Regis Guillemot's fleet in
Martinique, adding 30 more catamarans.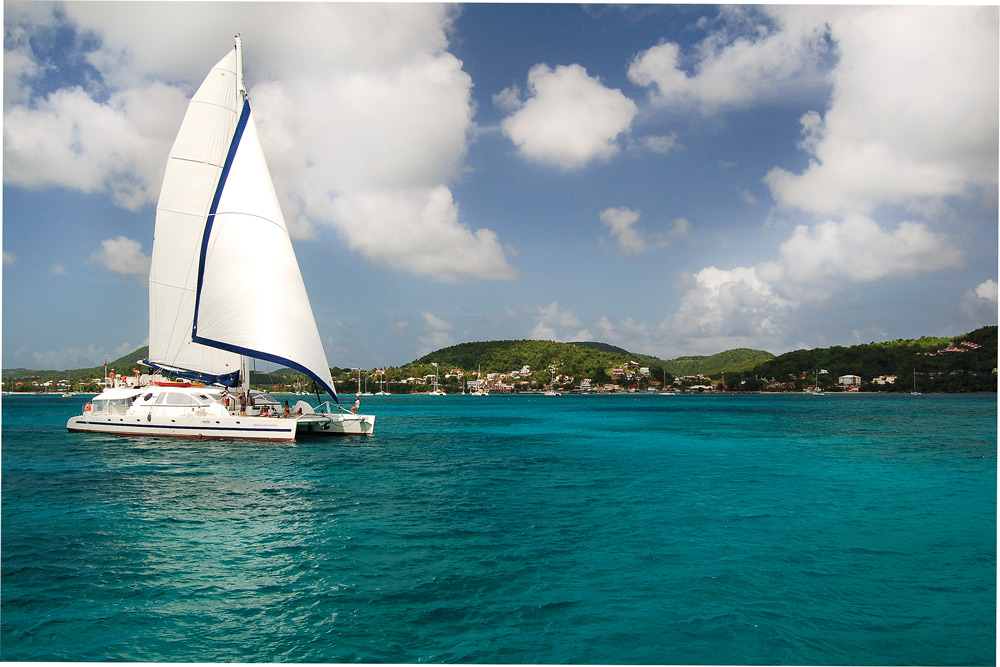 "We are glad customers are booking for winter 2018 in the BVI and St. Martin so that the islands will have these much needed charterers returning to spend money in local businesses. Sailors returning to the islands are saying how much they have enjoyed their charters. One customer who sailed in St. Martin in December said 'It was an excellent trip. We always felt safe and had fun,'" Turner said. "We have to hand it to Yann Leboyer, our Tortola base manager. After Irma, he took the remaining BVI fleet to Puerto Rico to avoid Hurricane Maria. Unfortunately, Maria's path went straight over him. He is the only base manager we've had who has looked after our fleets in two category 5 hurricanes and we think he deserves a medal."
The Moorings and Sunsail celebrated the opening of the BVI bases with a party complete with Painkiller cocktails in October. The charter companies reported they have more than 100 boats available for charter and another 130 boats scheduled to arrive in the first half of 2018. The Moorings bases in the BVI, St. Martin and Puerto Rico are fully operational and available for charters.
Offshore Sailing School is back in business in the British Virgin Islands and resumed teaching US Sailing certification courses aboard Moorings monohulls and catamarans in January. Students eagerly awaited the return to the BVI, and those students whose courses were disrupted due to recent hurricanes, either rescheduled to a later date in the BVI or moved their course to one of Offshore Sailing School's four resort-based locations on the west coast of Florida, where Offshore Sailing's fleet was virtually unharmed by Hurricane Irma.
Two new Colgate 26 sailboats were delivered to the BVI so Offshore Sailing School's most popular course, Fast Track to Cruising, which is either liveaboard or stay-ashore has resumed. Students in this weeklong combination course spend two days learning to sail aboard a Colgate 26, then immediately learn aboard 40- to -50-foot monohulls or catamarans for the week, earning three US Sailing certifications enabling them to skipper a boat up to 50 feet.
Offshore Sailing School packages its courses with a resort stay. Scrub Island Resort, Spa & Marina, was expected to reopen in mid-March after post-hurricane refurbishment, when courses will resume at the school's second location in the BVI.
To encourage and reward students' return to the BVI to learn how to sail and bareboat charter, Offshore Sailing School is offering 10% savings for all courses at two locations through its "BVI Pioneer" promotion for all courses in the BVI at two locations in 2018.
Calypso Sailing with Florida bases in Key Largo and Key West escaped relatively unscathed with its steamboat The African Queen escaping with only a tear in its awning, much to the relief of her fans across the country worried about her welfare during Hurricane Irma. The day-charter business was affected for the first few months as hotels continued to rebuild themselves. Since the beginning of January the company is back to normal offering daily cruises in the Key Largo area.
New boats
The Moorings recently launched the Moorings 5000 catamaran, which features four cabins and four heads and is ideal for eight to 10 guests with the convertible saloon. The first 5000 will arrive in the British Virgin Islands this summer and is available to book now for charters beginning in August. The 5000 will also be available in a five-cabin, all-inclusive crewed yacht model, with four cabins available for guests. The first Crewed 5000 is scheduled for delivery in October 2018.
West Coast Multihulls has expanded its San Diego and Southern California fleet with the additions of two large catamarans, a Fountaine Pajot Ipanema 58 for crew charters and a Bali 4.3 for bareboat.
The catamaran division of Calypso
Sailing that began in 2014 has continued to grow, adding several new charter boats to its fleet, which includes 58-, 44- and 40-foot Leopard catamarans. In addition, the company also has a 45 Lagoon sport and 50 Fountaine Pajot Saba available for charter in the Florida Keys, the Dry Tortugas and the Marquesas.
"Our focus at Calypso Sailing is to offer great training to enable sailors to master our vessels," said Calypso Sailings' Suzanne
Holmquist. "We are keen to share our knowledge so that our charter guests may continue to sail with us for many years to come."
Southwest Florida Yachts has expanded its sail charter fleet with the addition of the Beneteau 38 Escapade.
"If you're ready for an escape to the islands, we have just the boat for you, your friends and family," said Barb Hansen, co-owner of Southwest Florida Yachts and Florida
Sailing and Cruising School. "Escapade is spacious, comfortable and fun to sail. With two sleeping cabins, two heads and a pull-out settee, she offers great accommodations for two, four or six sailors."
Weekly charter rates for Escapade are $3,509 during the winter and $2,808 in
the summer.
Narragansett Sailing Charters has expanded its catamaran fleet in the last few years. Now up to five cats from 40 to 45 feet, two more cats and eight monohulls from 30 to 45 feet will be added in 2019. Based in Narragansett Bay, the base is only a day's sail from the islands around Martha's
Vineyard. Plus, Narragansett Bay itself has many quaint New England harbors to anchor in or you can visit the bustle of Newport.
"With a full ASA school onsite, getting instruction and gaining certification is also easy," said Narragansett Sailing Charters' Rob Lawnsby. "We also have our own marine technicians that maintain our boats, and they are ABYC certified to insure proper procedures.
"You will get a mechanically sound vessel that is squeaky clean," he said. "Summer temperatures are comfortable in New England, and the sailing breezes are steady. Plus the seafood cannot be beat"
New bases
Based in San Diego, California, West Coast Multihulls announced that it is expanding charter and sailing school operations south to the Sea of Cortez beginning February 2018. A recently signed deal with the new management at Marina Puerto Escondido makes way for a small fleet of luxury cruising catamarans at this unique charter base just south of Loreto, on Mexico's famed Baja peninsula. This one-of-a-kind sailing area features 10 islands and dozens of unique anchorages to explore, along with nearby Loreto, Mexico's authentic "City of Magic."

WCM will begin with a small office and two catamarans this spring, with the fleet building from there as demand requires, including many ownership opportunities for US- and Mexico-based sailors. Students and charterers can book classes and vacation sailing time in and out of Loreto.
"This is a natural expansion opportunity for WCM, and we're very excited," says WCM President Kurt Jerman. "I've been sailing this area with clients and friends for years, and are looking for a way to realize the amazing potential. With new management at Marina Puerto Escondido, and easy flights in and out of Loreto, the door is now open for US sailors to discover the sailing paradise that is the Sea of Cortez."
The Moorings announced that sailing charters are now available from its destination in Mallorca, Spain, which was originally opened exclusively as a power
charter destination.
Special features and discounts
A quick and easy way to fly to the Bahamas is by chartered plane. The Moorings has established a partnership with Tropic Ocean Airways that offers flexible VIP seaplane flights departing from south Florida to the company's destinations in the Abacos and Exumas, Bahamas.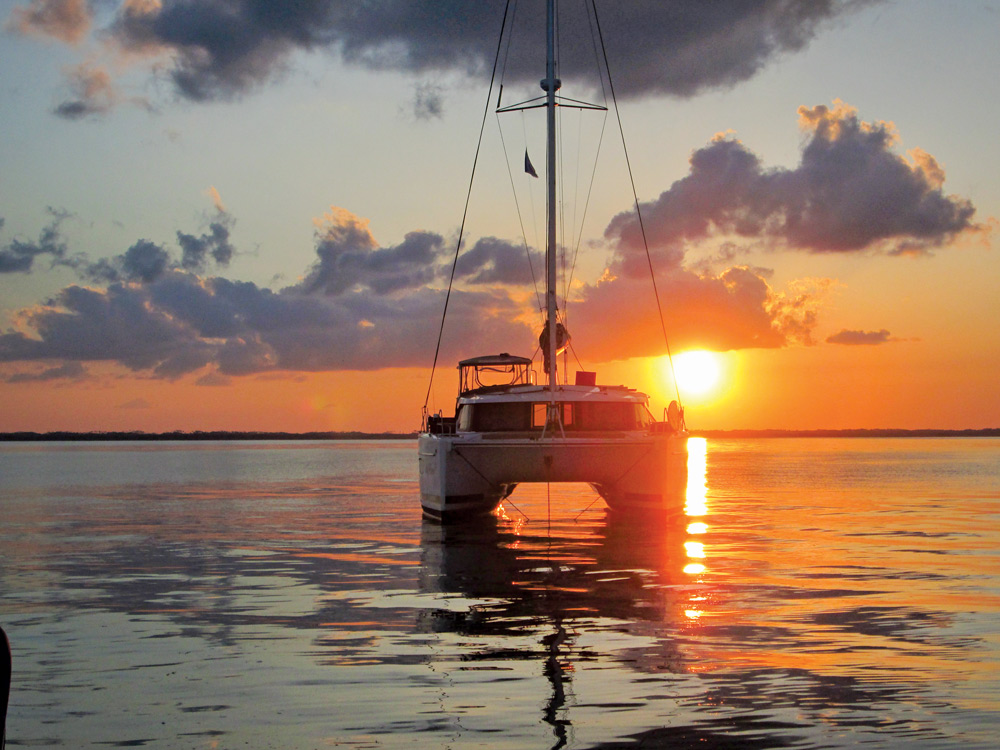 Southwest Florida Yachts has 2018 discounts for sail and power charters and sail and power classes through Florida Sailing & Cruising School. Power and sail charters of three-days or more will enjoy a 5% discount in May, 10% discount during June and 15% reduction in July, August and September. Sail and power classes of at least three days will be discounted by 5% from May 1 through September 30.
Located in Abaco, Bahamas, Cruise Abaco offers a unique way to cruise the seas. The "Captained by Day, Bareboat by Cruise Abaco's boats are outfitted with solar panels, have well equipped galleys, and each is individually decorated to make you feel like you're at home on a private yacht. The boats also carry RIB inflatables with well maintained outboards motors, as well as cellphones for local knowledge, operational info, and emergency use whenever you may need to reach the base. Cruise Abaco also offers bareboat charters, all inclusive charters, day trips, and ASA sailing classes.
---
For more information, contact:
Calypso Sailing, www.calypsosailing.com, 305-896-8004;
Cruise Abaco, www.cruiseabaco.com, 321-473-4223;
Dream Yacht Charters, www.dreamyachtcharter.com, 855-650-8902;
Narragansett Sailing Charters, www.narragansettcharters.com, 401-250-5496;
Offshore Sailing School, www.offshoresailing.com, 888-454-7015;
Southwest Florida Yachts, www.swfyachts.com, 800-262-7939
Sunsail, www.sunsail.com; 866-514-9778;
TMM Yacht Charters, www.sailtmm.com, 800-633-0155;
The Moorings, www.moorings.com, 800-334-2434;
West Coast Multihulls, www.charter-catamaran.com, 619-517-5630.
---