The healing power of sailing
Warrior Sailing military veterans came to Charleston Race Week not only to race but to help heal from the aftereffects of war
In April, Sperry Charleston Race Week drew its second largest ever fleet, with more than 250 entries from across the U.S. and overseas. In the void created by the defunct Key West Race Week, Charleston has become the season-opener for competitors ranging from top-tier professionals to first-time participants eager to experience the challenge and flavor of a race week. Woven in among the nearly 1,800 racers were 21 Warrior Sailing racers made up of U.S. military veterans.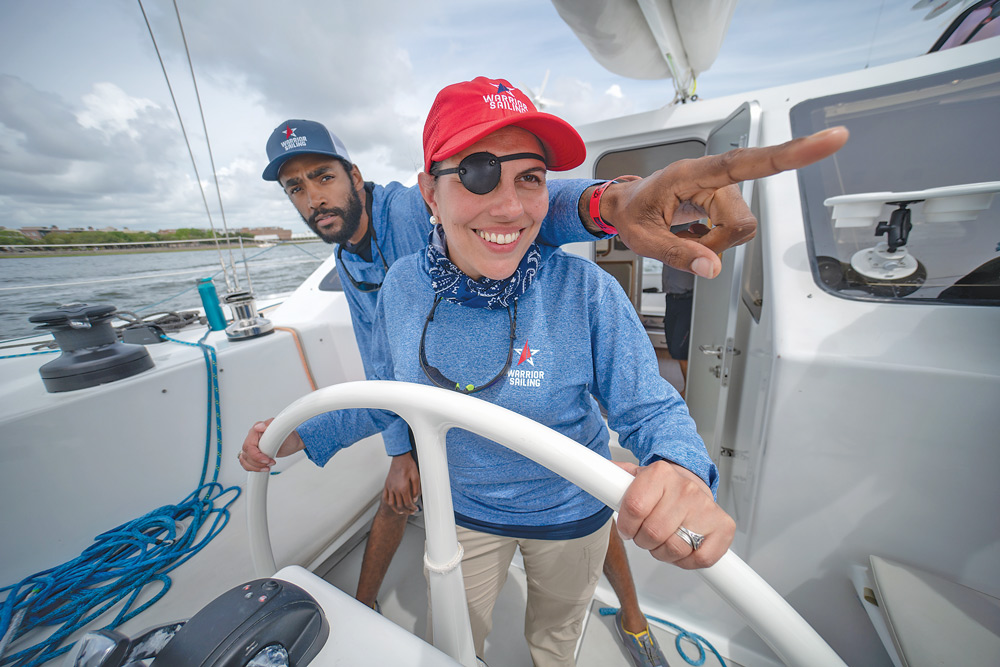 Sam Greenfield/Warrior Sailing photo
Now in its fifth year, Warrior Sailing is a national nonprofit that introduces wounded, ill or injured veterans to sailing and sailboat racing as a way of providing physical, mental and emotional therapy. For these vets, being on the water offers an outlet for coping with the long-term effects of PTSD, brain injury, amputation, paralysis or nerve damage. Race week is one of three regattas that the organization uses as additional training beyond its regular programming of basic training camp, certification camp and racing camp.
"Sailing, and particularly sailboat racing, is simply a fun way for veterans to enjoy their natural inclination for teamwork and competitive drive," said Ben Poucher, a co-founder and director of Warrior Sailing. "It has the potential to change their lives for the better. This is the fifth consecutive year that warrior sailors have competed in Charleston Race Week and it's a perfect pairing."
Poucher's statement about the transformative potential of the program was echoed by warrior sailors during the regatta's three days of competition. AnaMaria Cardinalli, a former Navy intelligence officer who had traveled from her home in Santa Fe, New Mexico, was thrilled to crew on board two different multihulls sailing in the Pursuit Spinnaker Class, Teddy Turner's Gunboat 57 and Frank Middleton's Atlantic 57. Cardinalli said she wanted to learn to sail for years, and a year ago she signed up for a Warrior Sailing in San Diego. Competing in Charleston was her fourth time sailing within the program.
"Getting involved in this program has done way more than teach me how to sail," Cardinalli said. Standing in the front cockpit, trimming the 2,200-square-foot asymmetrical kite on board Middleton's Atlantic 57 catamaran Nogal, Cardinalli was positively bubbly. "When you get out of the military, you don't realize right away how much you miss being part of a team. The military effectively becomes your family, and for me, Warrior Sailing has filled that void of team and family," she said. "I see some of the same people at the different camps, and we stay in touch in the interim. It's just so supportive."
U.S. Navy veteran Gabe George, who lives in Jacksonville, Florida, said a big part of his life is participating in adaptive sports, particularly archery, but sailing in this program has become a favorite activity. As he stood at the helm of Nogal, guiding it out to the racecourse, he couldn't help but smile. Later, he steered downwind while racing under mainsail and the boat's big spinnaker.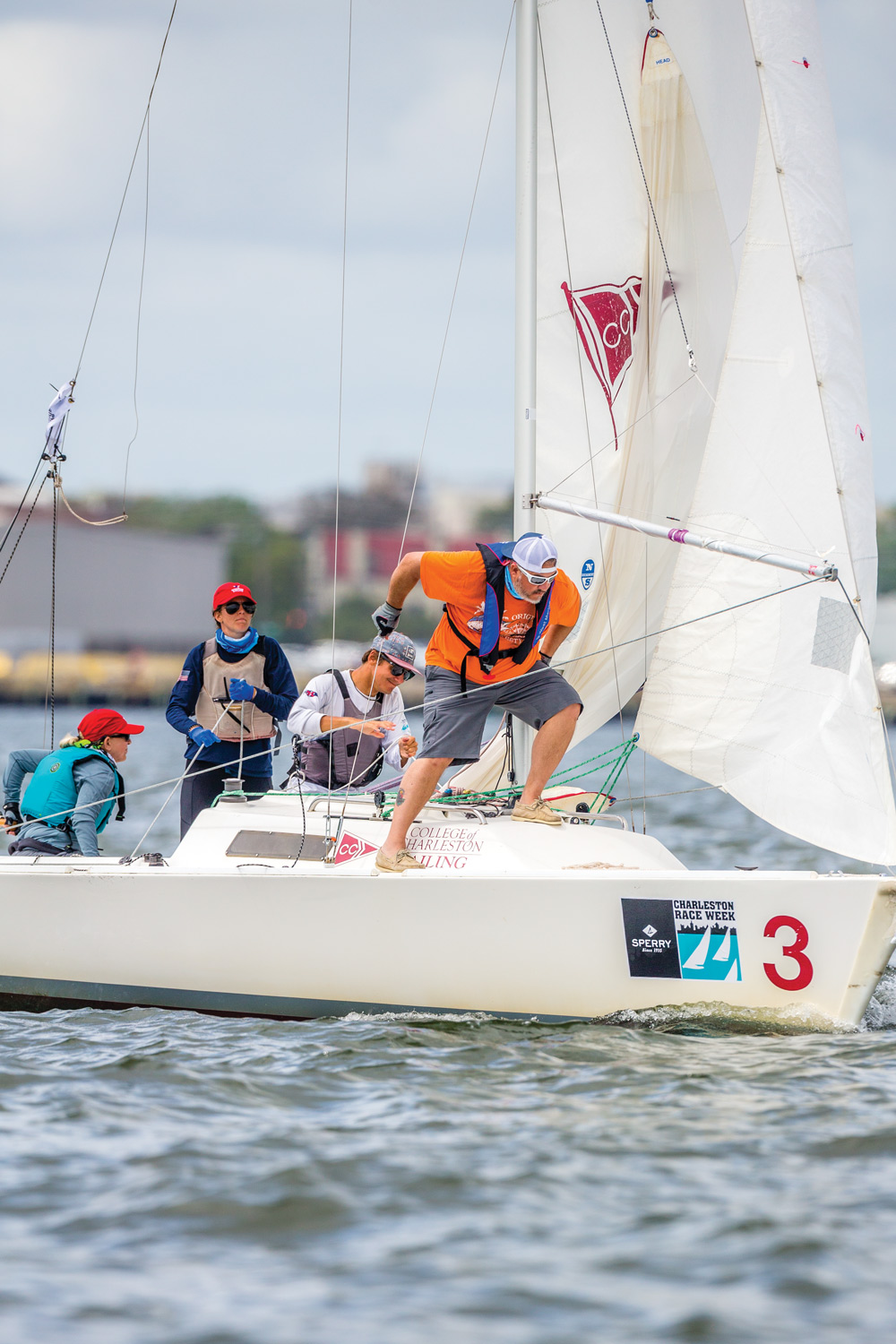 J.H. Peterson photo
"Wow, I don't have words for this," George said. "It's amazing. I'm selling the house and getting a boat. I mean, I've been on 500-foot Navy ships, but this is so different. It's so cool! Just steering us off the dock was wild, and now I'm driving a 57-foot boat downwind in a race! I do a lot of cool, fun things, but this is definitely right up there."
George admitted that before he discovered Warrior Sailing, he wasn't very active.
"I was something of a shut-in," he said. "I wasn't really doing much, just staying at home, not speaking with anyone and I guess I was kind of depressed, but then I got a chance to attend the National Veterans Summer Sports Clinic in San Diego and met Ben (Poucher) and Cory (Kapes, Warrior Sailing's program manager) and they convinced me to do basic training camp in Annapolis. Doing that really turned things around for me."
In Charleston, Warrior Sailing put sailors on board nine different boats, ranging from a Mini TransAt 6.5 meter to a Class 40, to George Collins' Tripp 62 Chessie Racing. The largest contingent of veterans competed in the J/22 class where the organization had four different teams entered. Poucher and company had arranged for the crews on these boats to include an onboard coach, two veterans and one racer from the College of Charleston's varsity sailing team.
Navy veteran Ruben Munoz and Army veteran Troy Rasmussen raced in that class, teaming up with local racer Sammy Hodges as a coach and college sailor Carson Shields as crew. Munoz trimmed the jib most of the weekend while Rasmussen managed the main. They were both elated at the awards ceremony on Sunday because their team won first place overall in the class.
"This is my first time competing here at Charleston, and it was really cool out there," said Munoz after the awards. "We had a great coach in Sammy and great help from Carson. We all worked really well together as a team, and of course, we learned a lot."
The conditions during the event turned out to be ideal for the hands-on training that Warrior Sailing promises its participants. Day 1 saw a maximum of 18 knots of wind and lumpy seas offshore while the wind moderated on the second day. On Day 3, the winds increased early inshore, but were mostly moderate offshore. Then, in the early afternoon, an approaching frontal system intensified the winds, swinging them around to the south southwest. That's when the wind gods began bellowing in earnest. Sportboats like the Melges 24s and the J/70s, as well as the smaller ORC entries, including the Melges 32s and the C&C 30, along with the eight-boat fleet of M32 catamarans, found themselves rocketing across the water downwind as puffs surged into the high 20s.
"That was phenomenal," said Army veteran Chad Rogers on board Nogal. Based near Knoxville, Tennessee, he'd spent more than an hour trimming the big kite that final day. Immediately after finishing, he got to witness a series of dramatic wipeouts by several sportboats as the big multihull crossed the harbor, motoring back to the dock.
"I've only been in this program since October, and already I've gotten to do all this," Rogers said. "I've also met so many different people here, this event has obliterated my expectations. In all, it's amazing. I'm definitely going to find a way to come back next year."
Only two Warrior Sailing boats finished in the money at Charleston Race Week. Nonetheless, 20-plus people from the program—racers, coaches and support staff —mobbed the beachfront awards stage and posed for pictures when Munoz and Rasmussen's team collected their first-place trophy. Judging by the look on everyone's faces, it was clear that every warrior in attendance would be taking home something far more valuable than pickle dish hardware. Each had garnered unparalleled on-the-water experience and most of them had made enduring
connections, the two things that the program's leaders use to gauge success.
"For us, this is a transformational event," he said. "Our ultimate goal is to move the warrior sailors out of our program and into the sailing community," Poucher said. "I told them at our opening dinner on Wednesday, 'have fun, meet some people and get connected in the sport.' It's pretty clear, those boxes have been checked."