Patience and perseverance pays off for a young couple's quest for the perfect boat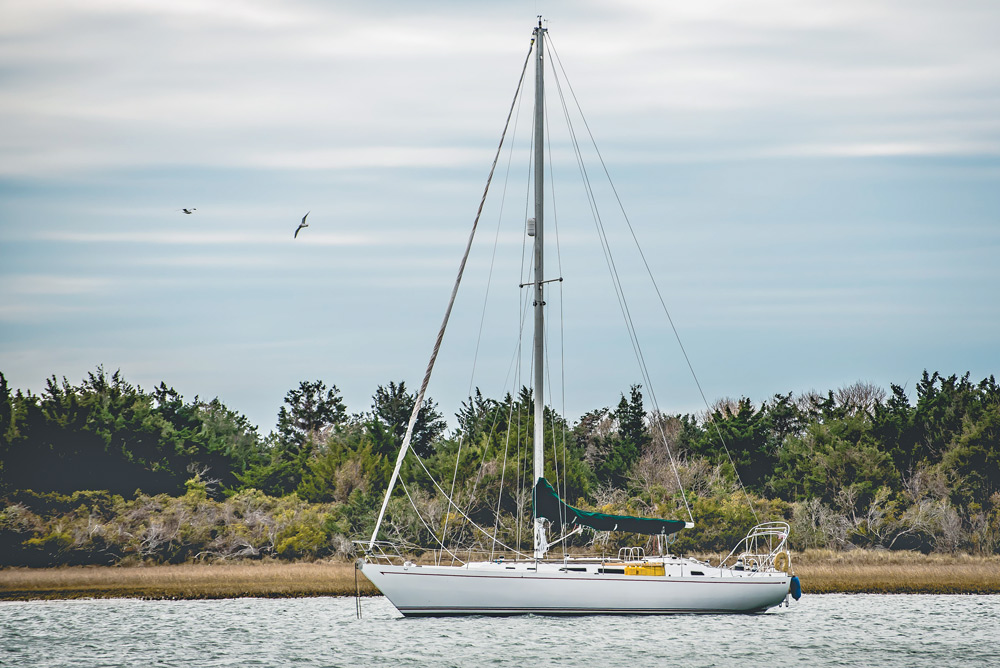 Vivian Vuong photo
We pulled up to the boatyard where they handed us a ladder, gave us a vague location in the rows of old, tired boats and told us to beware of yard dogs. We marveled at tons of forgotten fiberglass as we trekked through this vast boat graveyard in the oppressive Florida heat, as far as one can get from a cool ocean breeze. We recognized the Contessa from her seakindly underbody, knifelike entry, deep fin keel and strong skeg hung rudder. We propped the ladder on her side and climbed up to disappointment. She was far and away the worst kept boat we'd seen. Even making the assumption that the hull and deck were in decent shape the entire interior, rotting cabin sole, moldy cabinets and rust eaten engine would all need to be removed and replaced. This once amazing offshore sailboat was sadly just a hull of her former self. Even if we paid $1,000 for the boat, the refit would take years and countless hours of labor, a task we simply couldn't undertake at this point in our lives. We drove back down the dirt road from the yard and back to Lauderdale determined to renew our search and find a boat that had received some love and care in the past five years.
We soon found a Hallberg-Rassy Mistral 33 in St. Petersburg and based on the reputation of these world-renowned Swedish boats scheduled a viewing. A slick little boat with a sturdy fiberglass hull shaped much like the Contessa, and boxy yet low-profile wooden cabintop, she had sweet lines, a beautiful butterfly hatch, and was covered in elegant teak. The Mistral 33 had been expertly maintained, was clean, practically turn-key, and had been recently sailed to the states from Scotland, obviously capable of crossing oceans. We also found a Dutch-built Contest 35. In comparison to the Hallberg-Rassy, the Contest was a cruise ship, despite being only 2 feet longer, her higher freeboard and wider beam provided a drastically increased interior volume. The broker admitted the Contest had obviously been in a hard collision with a channel marker, and she would require some serious fiberglass repair we didn't wish to undertake. The next day we made an offer on the Hallberg-Rassy, but after some haggling, we decided the owner wanted too much for such a small boat.
That chapter of our search came to a close and boat buying was put on hold. We signed on as crew on a string of back-to-back sailboat deliveries in the Caribbean and the Pacific that lasted the next three months, but knew we still wanted a boat to call home. While we sailed other people's boats, we came across a listing for an Albin Nimbus 42, a Kaufman and Ladd designed cutter that appeared to be more or less a smaller version Kretschmer's Kaufman 47 Quetzal. Between Pacific passages I exchanged emails with the owner arranging to see it when we returned to Florida. Before we could go look at her, a couple of superyacht jobs fell into our laps and we decided to pad our bank accounts before buying our own costly floating abode.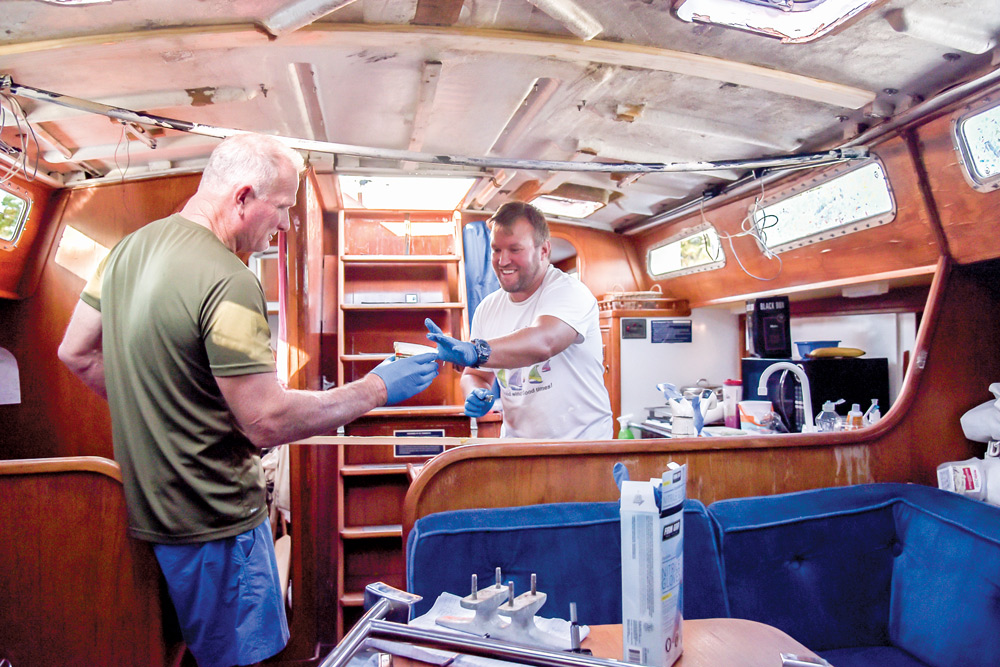 Vivan Vuong photo
We spent several months on too big of boats being overworked by over-rich yacht owners. As my contract ended, I returned to sailboat deliveries linking up with the French crew of a Swan 57 for an Atlantic crossing from Maine to England. On arrival in Lymington, I realized that this was the home of Jeremy Rogers' Boat Yard, birthplace of the Contessa 32. Checking the local listings there was a used Contessa 32 for sale right there. The only problem was it was far more expensive than any other Contessa in England. A closer look revealed that this particular boat was in fact Gigi, the very boat Kretschmer had sailed around Cape Horn in the early 1980s. I had to see her.
I walked over to the yard and lucked out, her French owner was there getting her ready for the winter. Francois is a super friendly, curious and adventurous sailor, and despite the language barrier, we had a great chat as he showed me around Gigi. He left me aboard as he went to lunch and I sat in the cockpit recalling Kretschmer's book "Cape Horn to Starboard" and imagined sailing this little boat around the great cape once again. In the following days, I had a wonderful chat with Kit Rogers about the Contessa 32's accolades, he showed me around the yard and his Contessa 32, the famous Ascent. Gigi had recently been refitted by the Rogers' yard after they found her completely trashed in Texas. The refit restored her to brand-new condition and the asking price reflected her extraordinary rebirth.
I was quite taken with the Contessa, particularly Gigi's history, and despite being underfunded, I made an offer. I offered what I could afford, slightly over half the asking price and nearly double what several other Contessa 32s were going for around England. Francois graciously refused my offer as it didn't come close to what he had paid for and put into her. I understood, but couldn't offer anymore for a small boat that I would have to sail from England.
I stayed in England for a time earning my yachtmaster certificate in the Solent and made another delivery from France to the Canaries before returning to Florida. While I was away Vivian met and befriended Tadji Kretschmer, John's wife, and I had the good fortune of meeting them and sharing my experience with Gigi upon my return. We spent the holidays with the Kretschmers and became fast friends. Vivian, exhausted from her job, needed a break from the superyacht industry so our boat hunt commenced again with renewed vigor. Days were spent pouring over Kretschmer's lists in his "Used Boat Notebook and "Sailing a Serious Ocean" books. From these helpful lists and what was affordable nearby, our search narrowed.