Experts in cold-molded boatbuilding, Van Dam Custom Yachts launches its latest creation, the 44-foot Italmas on Michigan's Lake Charlevoix
On a perfect summer day, the 44-foot Italmas sailed across Northern Michigan's Lake Charlevoix with a bone in her teeth. At first glance, she might be mistaken for a classic from another century with a perky spring in her sheer and gleaming varnish on her cabinhouse. Yet she had only recently slipped down the ways of Van Dan Custom Yachts, a company that has been building cold-molded wooden boats for more than 40 years in nearby Boyne City.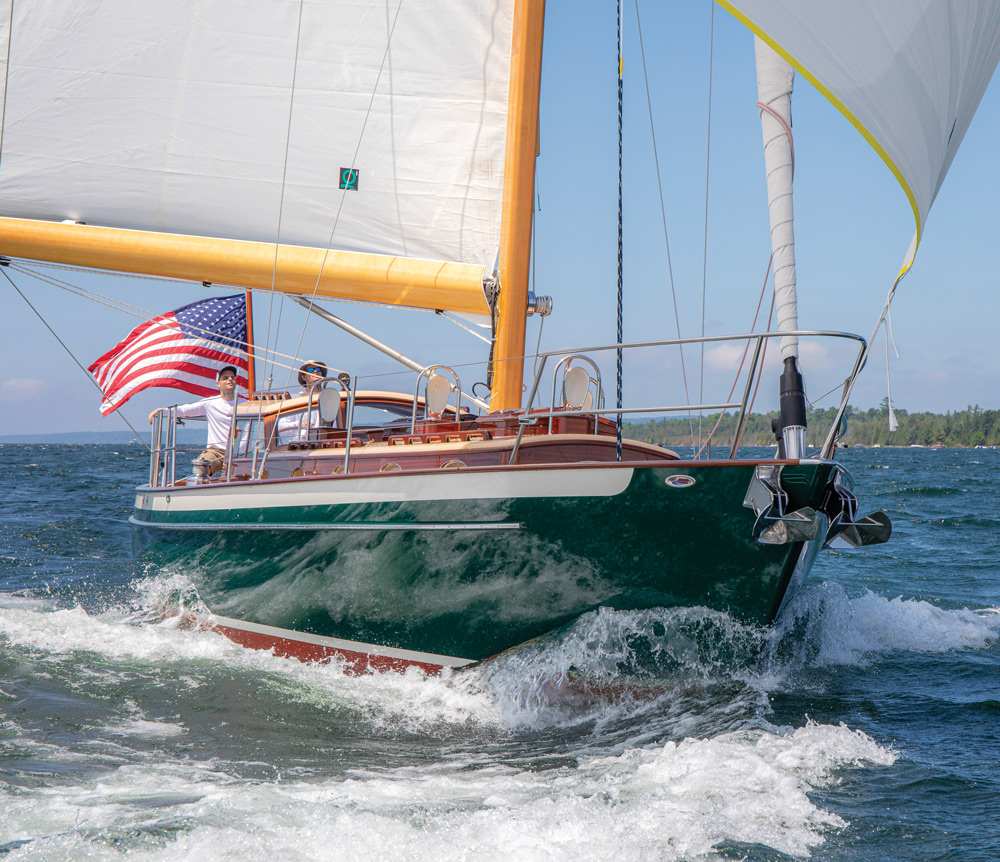 Billy Back photo
This family owned and operated business got its start in Harbor Springs when husband and wife, Steve and Jean Van Dam, returned to Jean's hometown to settle down and raise a family. Their first boat was the 24-foot sloop Feather built in 1975, and in 1977 the couple founded the company with its boatbuilding shop located in a barn.
Quickly making a name for the company was the 30-foot double-ended cutter Silvan. In the 1980s, Van Dam built such boats as the Nelson-Merek MORC racer Moody Blue and Henry A. Scheel designs that included the daysailer Bestyet and the 55-foot Patrician. In the 1990s, the company moved to its current location in Boyne City, located at the far end of Lake Charlevoix, an arm of nearby Lake Michigan.
Van Dam's foray into cold-molded wooden powerboats began with classic runabouts and launches, but also included the exotic speedboat Alpha Z designed by Michael Peters. This 33-foot ultralight wooden boat can hit speeds of 100 miles per hour.
By 2010, the company had expanded, setting up a full service boatyard and boat storage facility and had expanded its boatbuilding facility to construct such interesting designs as Tattler II, a take off on a classic oyster fishing sandbagger and the full-keel classic ketch Morgana.
The company has built more than 60 boats, launching only one or two a year, and Italmas is the most recent sailboat in that line up, having taken 18 months to build. Designed by Stephens Waring Yacht Design, Italmas's good performance was on full display during the recent test sail. Using the cold-molded technique keeps the wooden hull light, and this 44-footer with a waterline length of 34 feet 3 inches only displaces 28,000 pounds. The hull is two layers of western red cedar diagonal veneers sandwiched by two layers of Sipo and painted with Awlgrip. Her bulb keel draws 7 feet, and with 1,084 square feet of sail area, she had plenty of power to ghost along on the second day of sailing when the wind failed to materialize.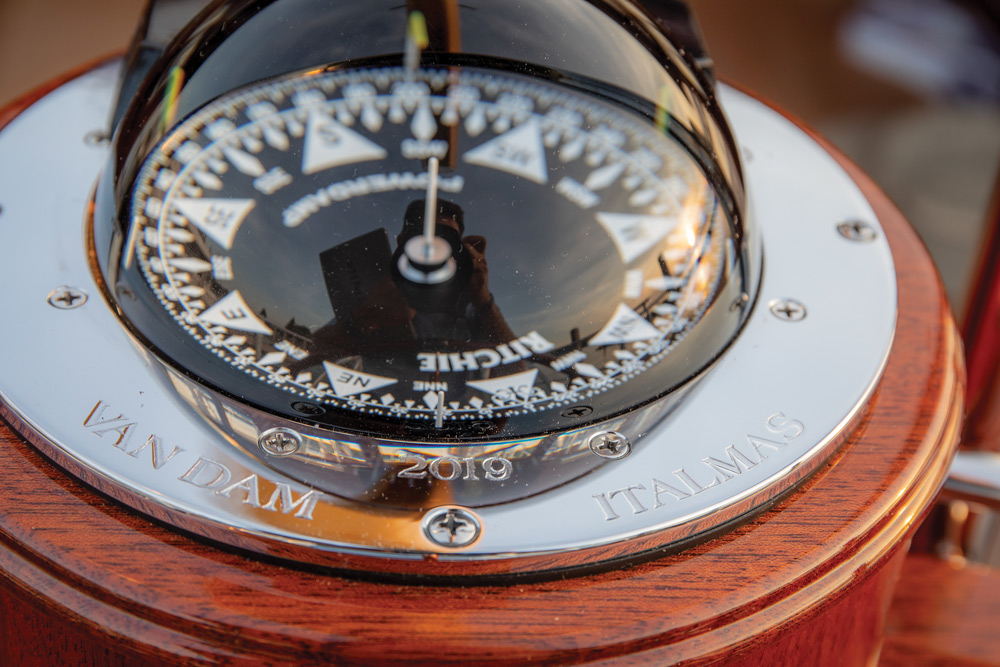 Billy Back photo
While Steve and Jean Van Dam still work at the company, day-to-day operations have been turned over to their son Ben. After earning a degree in naval architecture and marine engineering from the University of Michigan, he joined the company in 2008, working as project manager until he became president in 2016.
"I don't want to build the most boats. I just want to build the best boats," he said.
It's undeniable that building boats is an ego-driven business, dealing as it does with exclusive craftsmen and a wealthy, often high-profile clientele. Ben Van Dam readily admits that there's plenty of ego floating around the shop, but it's all channeled into collectively producing boats that transcend anything that might have come before. In 45 years, the company has established a global reputation with a just a handful of exquisitely crafted wooden vessels.
"We're interested in the challenge, not the accolades," Ben said.
Collaboration between builder and owner is key to bringing Van Dam boats to life. Still, getting the client's dreams on paper can take a lot of coaching. Sales director Jeremy Pearson impresses upon each client that no idea is too great a stretch or, conversely, too small to be worth mentioning.
"If you want it in your boat, let's get it on the table," Pearson said.
This encouragement has unearthed all kinds of ideas and design cues, from cocktail napkins scribbled with sketches, to photos of a boat that has haunted them since childhood. By the time the build is underway, it's not uncommon for a client to refer to himself as the boat's designer. Far from resenting this, the company embraces it.
"The client is the ultimate vision holder—we're interpreting thoughts that are in his head. It's part of the fun, part of the challenge, to teach clients that they can let their guard down," Ben said.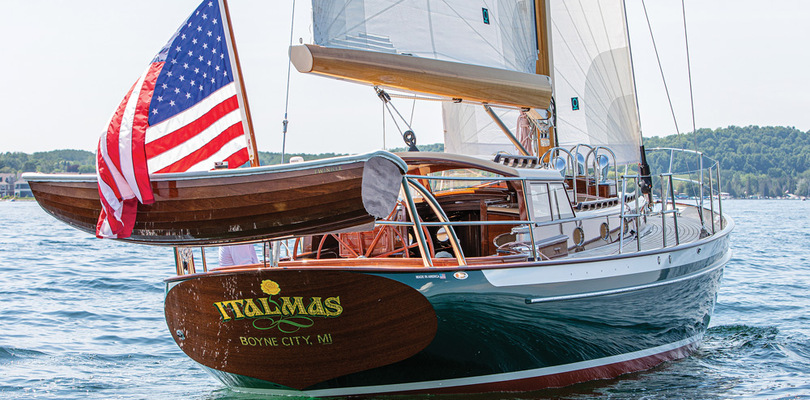 Billy Back photo