Paradise Bound, Sanctuary Found
At first this liveboard couple feared the isolation of a pandemic lockdown, and then they embraced a new way of life and found the cruising lifestyle they dreamed of
Early on in our confinement I spent several days building a sailing raft and a few bench seats out of flotsam and jetsam I found washed ashore on the windward side of the atoll. I built a pole spear for lobstering and spear fishing, and a beach oven of sorts to bake in since our butane was running dangerously low. I made a wooden seat for the bow of Agape and a coconut bikini as a gift for my wife's birthday. I had an incredible amount of fun working on these non-boat related projects because it allowed me to daydream, create and use my imagination. Finally, I was having the Robinson Crusoe experience that I had always dreamed cruising would be.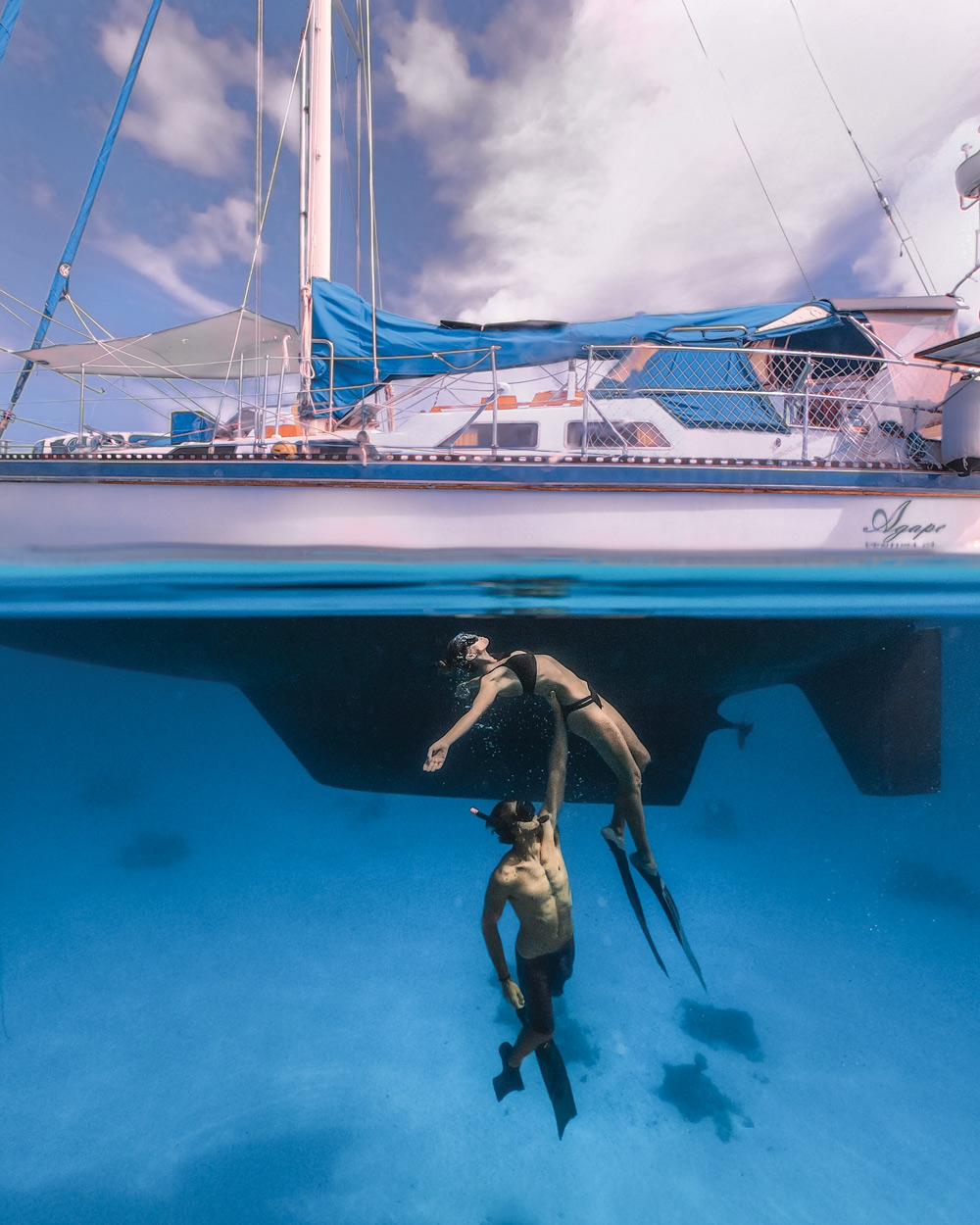 Rachel Moore photo
Instead of going to the grocery store to pick up our protein, we'd hop in the sea to seek out dinner. As family and friends told us their harrowing stories of braving the aisles of their local supermarkets, we'd take to the depths followed by half a dozen curious sharks. Landing a fish after nearly losing it to the jaws of a hungry shark was always an incredible adrenaline rush, and ensured we'd never take another meal for granted. Instead of opening a can of coconut milk for a curry, we'd husk, shred and strain the milk from a coconut ourselves. These tasks obviously require more time, but when time becomes seemingly infinite, the mundane tasks of life become more enjoyable. Doing everything from scratch also gave us a sense of accomplishment. Plating a dinner of homemade coconut rice, bread and fresh fish that we had caught and prepared ourselves was immensely fulfilling, and it tasted so much better.
The weeks turned into months. Time flew by as our little tribe grew accustomed to doing life together as a small community. We hunted, cooked, cleaned and created together. There were communal laundry days and beach bonfires under the full moon. After six weeks of having the atoll to ourselves, we found out that our little island sanctuary was also a tropical farm. Locals from a neighboring island came to harvest the coconut meat, called copra. At first we were a little hesitant to meet them as we had no way of knowing their health or potential exposure to the virus, but after some time, curiosity won out and we made first contact, and what a blessing it was.
Brothers Yo and Nico are some of the hardest working and resourceful people we have ever met. These men are descendants of the Paumotu, roughly translated to motu or island people, and make up part of the shrinking population of Polynesians that live in the Tuamotu Archipelago. The Paumotu have a rich history of living off the natural abundance of the islands, and these men were eager to share their knowledge and resources with us. They'd bring us fish, coconut crabs and lobster, checking to make sure that we were not going hungry. I think when they looked at our lean figures, they thought we did not know how to fish or fend for ourselves.
For the duration of our confinement we built a relationship with Yo, Nico and eventually their friends who came to work the other side of the atoll. Sharing meals, fishing and even working together, became some of my favorite memories from our time in quarantine.
These men were a powerful reminder of just how fulfilling a simple life can be. While on the island they live in what we would generously call a shack, all while breaking their backs day after day. Sleeping in their hammocks under the stars at night and living mostly off the land, they do not have what most would consider creature comforts, but it only takes a short conversation with them to see how joyful, proud and content they are.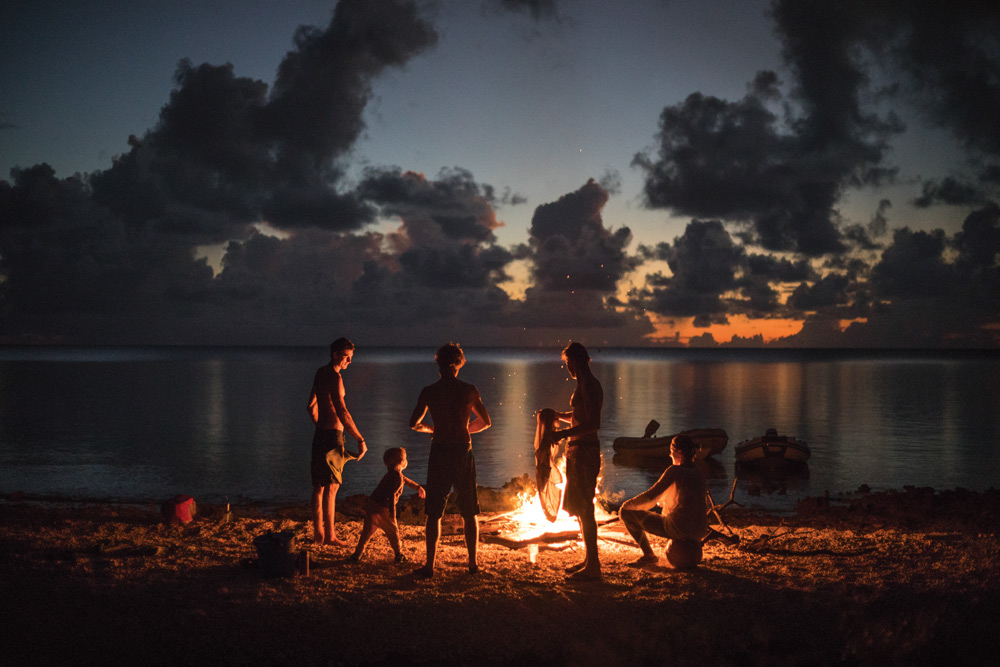 Slowly the feeling of being trapped, the worries over whether we had enough, and the anxiety of what the future held slipped away. I no longer fell into the "what ifs" that I had so often previously found myself absorbed with. With a change in perspective, some help and a little ingenuity, everything seemed to work itself out. When we ran low on butane, we cooked with the beach oven. When we needed protein, we speared a few extra fish. When the watermaker broke, we collected rainwater. I spent my days enjoying the paradise we had found ourselves confined to, and not worrying about things that I had no control over.
In a life where we usually have so much at our fingertips, where instant gratification and two- day shipping reign supreme, slowing down is hard. This forced simplification and reduction of freedoms, comforts, and dare I say necessities, has shown us just how little we need to be content. By focusing on what we did have, what we could do, and what we were grateful for, we changed our perspective.
It feels strange to say that our confinement was one of the best things that has ever happened to me, but it's true. This forced isolation was actually the gateway into the cruising life I had always dreamed of. We learned so much during this time; not only about ourselves and our relationship, but about how truly amazing life is when you take the time to slow down.