A charter cruise through the Sea of Cortez in Baja California is filled with wildlife above and below the water. Photography by Mark Albertazzi and Eddie Frank
Climbing back on the boat, we find hundreds of bees have taken up residence in the cabin heads searching for water. We open all the hatches as Eddie builds up speed, guaranteeing us the bees will clear out in short order.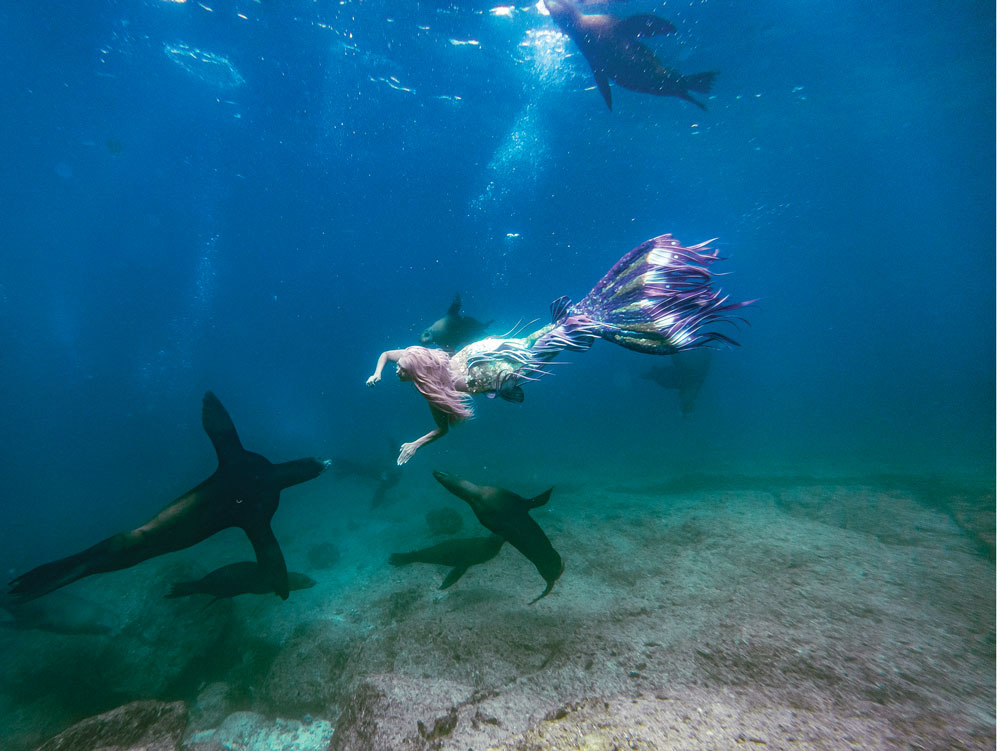 With two more must-see stops, we head toward a rocky outcropping about 50 yards long and occupied by a small colony of sea lions. Hannah rushes to put on her mermaid outfit. A professional freelance mermaid, this is one of Hannah's half dozen suits, each one hand sewn and six-months in the making. She jumps in the water, followed by a moment of pure awe. The light dances off luminescent scales. Colorful pectoral and tail fins flow magically in the water. A group of curious sea lions circle our mermaid as we jump in the water, cameras in hand.
In "The Log of the Sea of Cortez" Steinbeck wrote, "There is some quality in man which makes him people the ocean with monsters, and one wonders whether they are there or not. In one sense they are, for we continue to see them." I don't think I could have ever imagined a more beautiful and graceful sea monster than the one I'm seeing now.
Our final stop is El Pardito, a small fishing village frozen in time. As a Hawaiian, it was important to me that we adhere to a strict island protocol I felt culturally bound to. We ask for permission to land, and formal introductions are made. Roberto, the island patriarch, greets us with open arms, telling me how much he loves "Hawaii Five-0," and that we're free to roam about and take pictures. Small buildings and thatched covered buildings, used for living space and the curing of fish cling to the tiny island hillside. Eddie jumps in to help teenage boys unloading large jugs of freshwater. Macrina buys a bag of clams for tonight's dinner. Shelly happily gathers sea glass and a few large shells from a pile of discards. A large whale shark mural graces the side of one building, and a shrine to the sea watches over our visit. Genetic bubbles of emotion from my island ancestry begin to well inside. As I walk to the summit of the hill a sense of familiarity and connection lifts my spirit in a way I can't explain.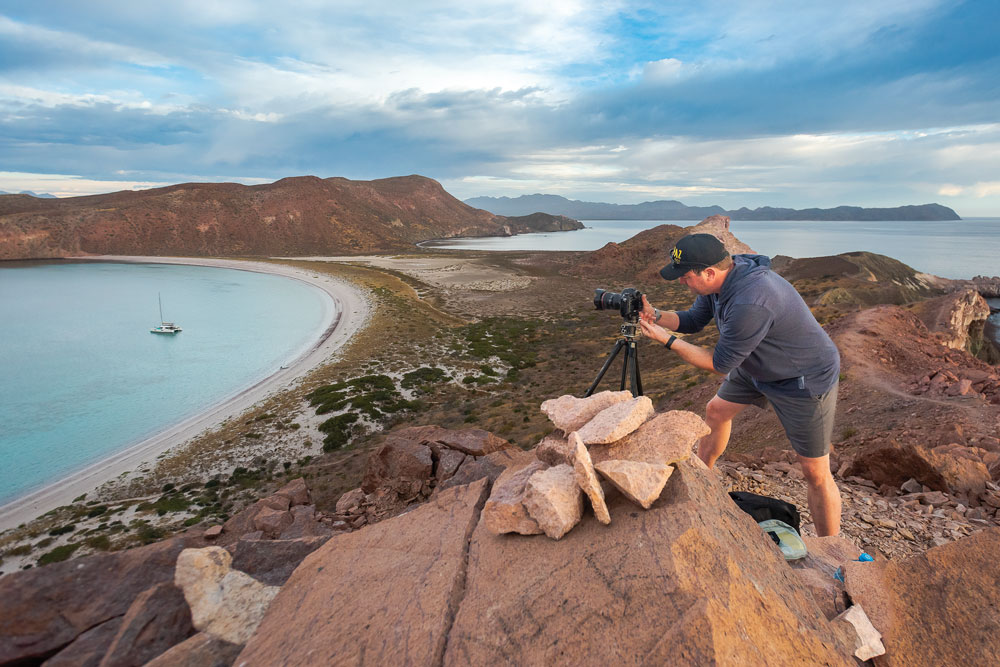 Looking around, I take a deep breath, and for a moment Steinbeck's sentiments float in my mind, "It would be good to live in a perpetual state of leave-taking, never to go nor to stay, but to remain suspended in that golden emotion of love and longing." I've held onto Steinbeck's two books for decades, and now I can truly say, my dream of exploring the Sea of Cortez has finally come true. It's a magical place inhabited by warm and welcoming people, with a depth of natural experiences, real and imagined, that few destinations can match.
---
Getting There
We booked our flights aboard Mexican carrier, Volaris Airlines. Daily flights to the seaside cities of La Paz and Loretto are available from Tijuana International Airport, and several U.S. cities. The Cross Border Xpress is a convenient and easy to use pedestrian bridge that connects San Diego directly into the Tijuana International Airport. You'll be required to show a valid passport, boarding pass, and FMM Form. More information and necessary forms can be found here: www.crossborderxpress.com. There's long-term parking, and the crossing is served by Taxi, Ride Share, and Rental Car services. Details about Southern California and Sea of Cortez charters through West Coast Multihull are available at www.westcoastmultihulls.com