We go inside a recertification to show what happens and help you decide if a new or used raft is best for you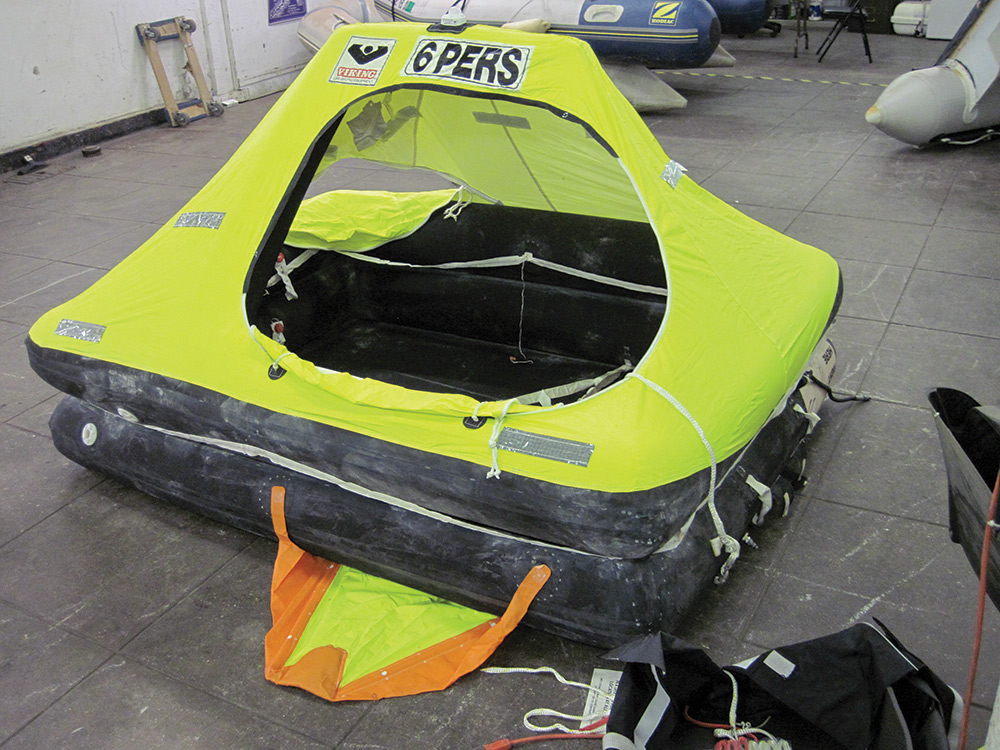 David Liscio photo
The decision of whether to carry a life raft and what kind of life raft that should be can be a challenge for sailors. New six-person, non-commercial life rafts cost at least $1,700. Used life rafts can be a relative bargain, but all rafts need periodic maintenance. The decision on what is right for a boat can hinge on factors as varied as budget to the kind of sailing you do.
SAILING visited Landrigan Corp. in Boston, Massachusetts, which sells and services life rafts and other marine survival equipment, to watch a life raft be inspected and repacked to get a feel for what goes into the process and help weigh the pros and cons of new vs. used.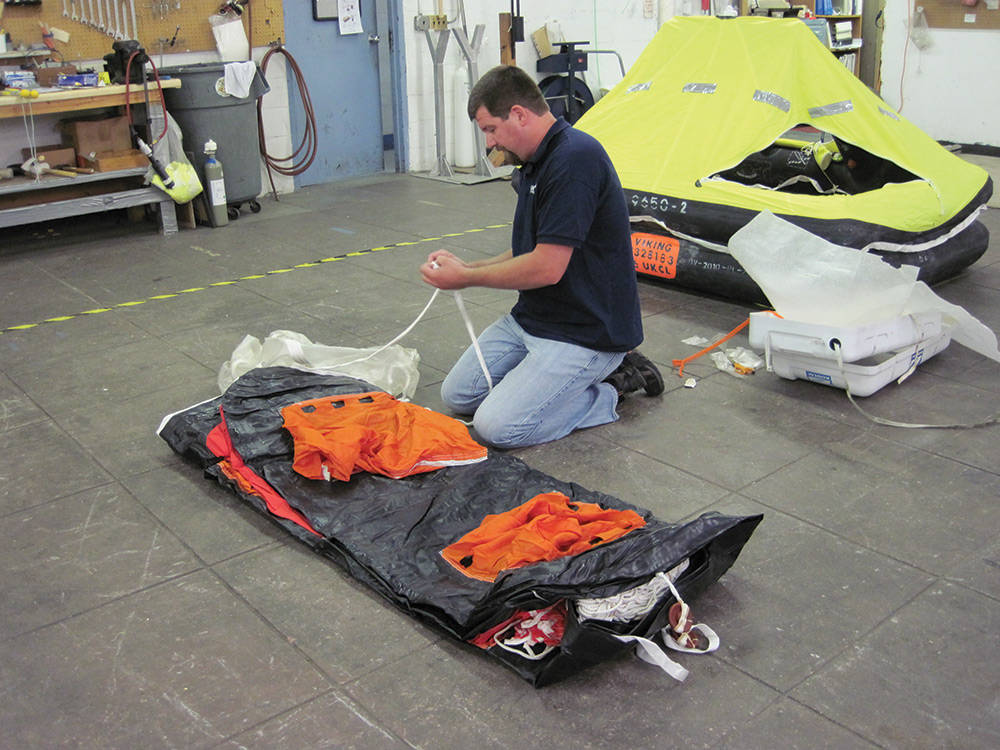 David Liscio photo
Inspecting a life raft
The test model was a used, six-person Zodiac recreational life raft manufactured in France in 1998. The raft had been included as part of a yacht purchase and was of questionable value because of its age. The recertification sticker on the hardshell case expired in 2008.
When the life raft was first opened, all looked OK. The vacuum-sealed bag, which can leak if not properly heat-sealed, was intact. However, the 10-meter painter, folded neatly inside the case, was detached from the firing head that activates the air cylinder.
Then the life raft was unfolded and examined for wear and rips. Also inspected were the boarding ramp, drogue and external lifelines, where sailors hang on until they can enter the raft.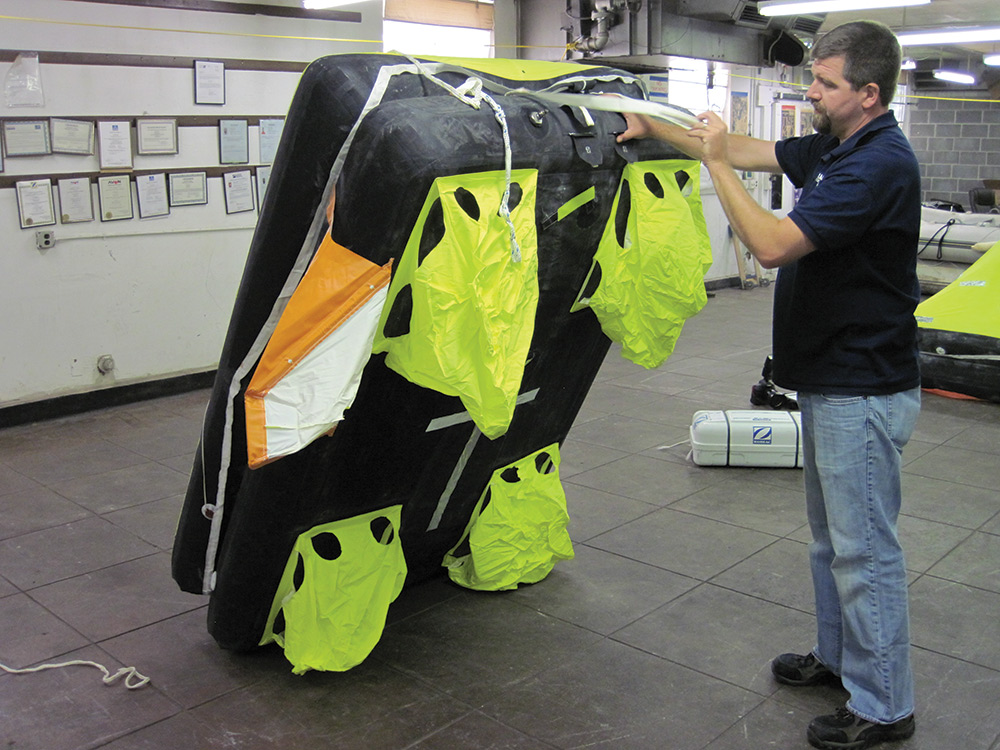 David Liscio photo
The metal compressed air cylinder was inspected for corrosion, oxidation and wear. The cylinder, about the size of a small fire extinguisher, was sent out for hydrostatic testing and its separate five-year recertification from the Department of Transportation just like a scuba tank. The inspection room at Landrigan Corp. is environmentally controlled for temperature and moisture, doors and windows closed, so there's no need for concern about barometric pressure changes that might impact the inspection or testing results.
The raft was stretched for a half hour, then filled with air and pressure tested for another hour. No leaks were detected. Although this six-man Zodiac required raising the canopy manually, many newer life rafts have inflatable arches that support the canopy and provide mounting space for an exterior strobe light and interior dome light. Lights on rafts are tested and the batteries are replaced.
An important inspection item is the hook blade used to cut the raft free from a boat. A nylon supply bag inside the Zodiac held what's considered the bare minimum contents for an entry-level recreational life raft: two SOLAS aerial parachute flares, three handheld flares, a signaling flashlight with extra batteries, a signal mirror, compressed sponges, a plastic bailer, three puncture repair plugs, a rubber patch kit, a small air pump, whistle, seasickness pills, seasickness bags, collapsible paddles and survival instructions.
Although additional items can be added when repacking a life raft, it is not recommended to include personal items because space is at a premium.
"People want to add family photographs and even nips of whisky," said Christopher Quill, a Landrigan service technician. "We don't recommend it, but we do allow an extra pair of prescription eyeglasses and medication."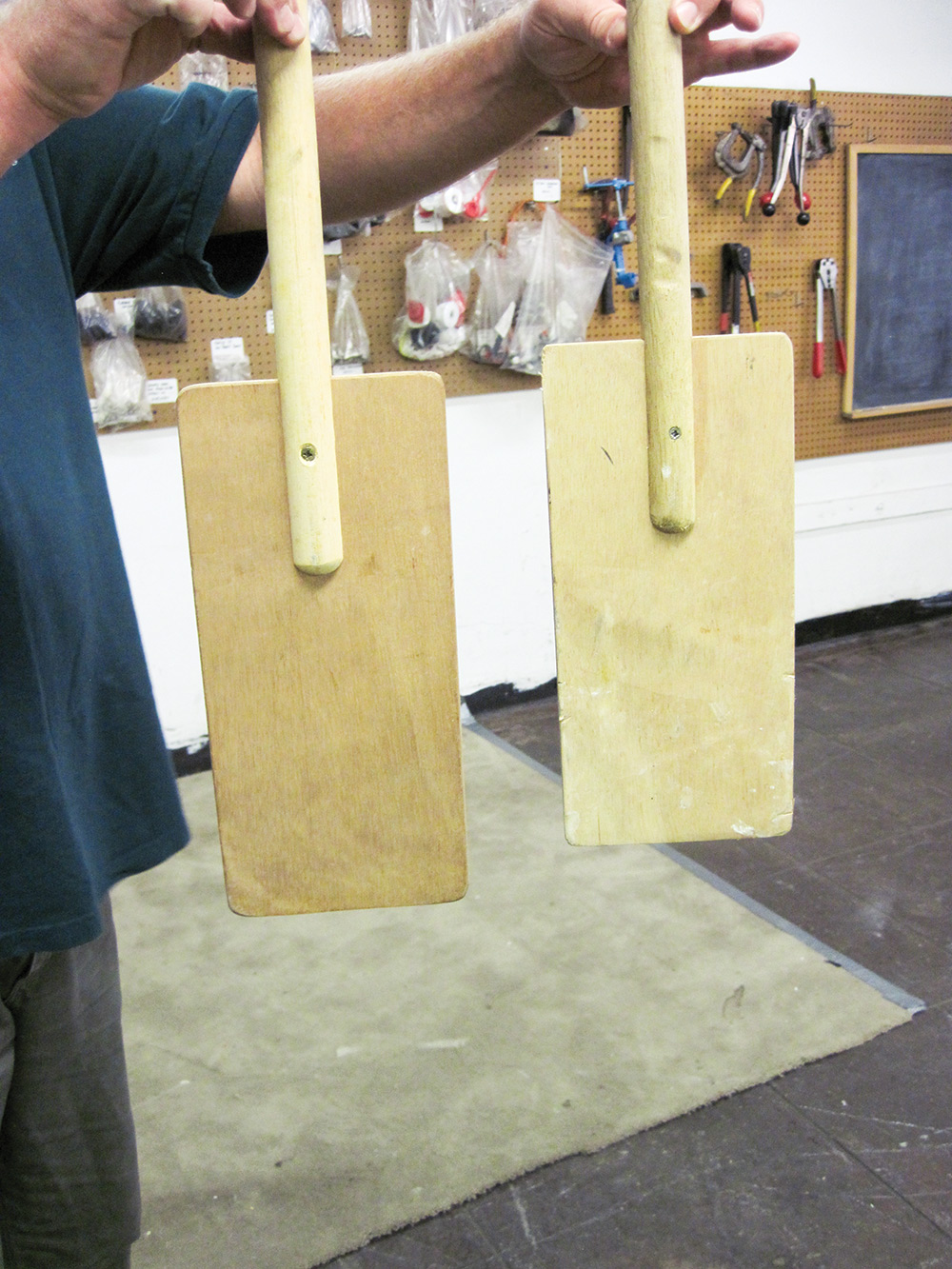 David Liscio photo
Whether to include water and food in the supply bag is a personal preference, at least when it comes to entry-level rafts for recreational boats where rescue is likely to occur along higher traffic routes. Many sailors maintain a separate ditch bag that contains fresh water, dried foods and a personal locator beacon. Any EPIRB presumably would be brought into the life raft.
Unbreakable water pouches are recommended over canned water, and military-style ready-to-eat meals are the easiest food to pack.
"We always get asked what is required to put in the raft. But must and should are different things," Quill said. "Do I need matches? Not unless you're going to start a fire. Do I need a compass? You really can't paddle any distance efficiently. By law, noncommercial life rafts don't require anything, but that doesn't mean you should put nothing inside. There was a time when we'd find candy inside the raft, but not any more."
Most life rafts are equipped with a mini, donut-shaped throw ring with polyester line—called a rescue quoit—for use should someone fall out. Keep in mind that paddling with water ballast bags filled and drogue anchor deployed will be difficult. In most cases, collapsible aluminum paddles have replaced wooden ones.
Repacking a life raft
With the supply bag restocked, the life raft was folded and a new air cylinder was attached to the firing head. The entire package was then trussed with bursting bands (sometimes called bursting strips) that hold the life raft in a compressed state while technicians loosely wrapped it in silvery vacuum sheet material. The bursting bands were nipped with scissors to weaken them, so they will break when the life raft inflates.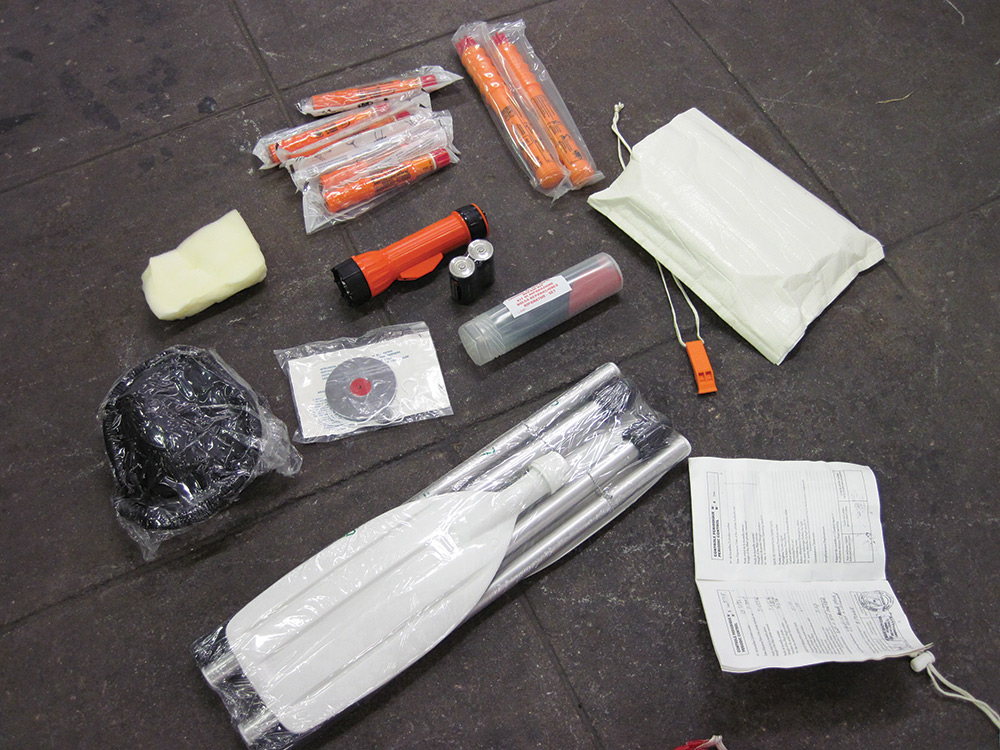 David Liscio photo
The vacuum sheeting was heat-sealed along its edges with a high-temperature clamping device. A hose was attached to suck most of the air out of the bag. The whole thing was then wrapped in foam and returned to its case. The rope carry handles on the case had been replaced earlier during the inspection, as was the painter. The case was closed and secured with two plastic bands. New emergency instructions were glued to the exterior of the case, along with an inspection sticker showing the next expiration date in 2020.
As a general rule, the cost of maintenance increases with the amount of time elapsed between inspections. Repacking a life raft after three years costs less than after six because the latter date requires a new hydrostatic cylinder test and replacement of more expired supplies, especially batteries and bulbs that can add hundreds of dollars.
Quill said regular inspections save money. As he put it, "It's the same with your car. If the engine or the brakes haven't been looked after, the next time you go to the garage it will cost you a lot more."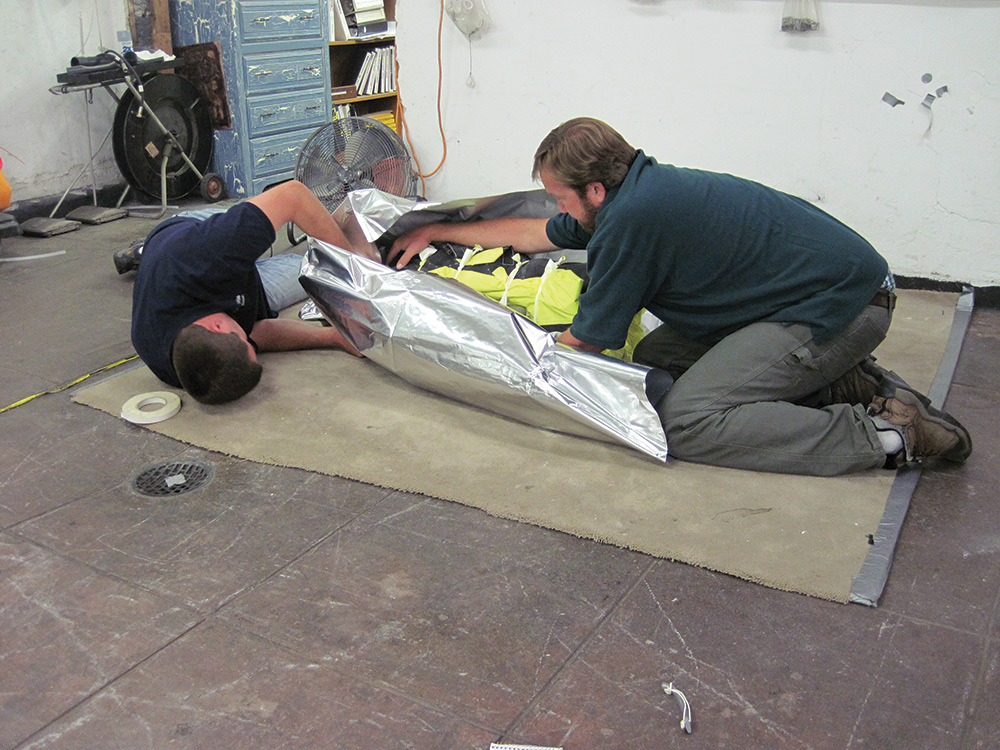 David Liscio photo
Buy new or repack?
Making the decision to upgrade to a new life raft or have the expired one repacked depends on several factors.
"Mostly it depends on where you intend to sail," said Patrick Quill, Landigan's service manager. "If you're going far offshore, you need a well-built and well-stocked raft for those conditions. If you only sail along the shore, you may be all right with an entry-level coastal raft that's designed only to keep you out of the water, not for long-term survival."
The Quills warned that buyers should be wary of life rafts purchased on Craigslist, at a garage sale or rafts included in the purchase of a used boat.
"It might have seemed like a steal, but once the raft is inflated, it may be another story," said Christopher Quill. "If the material is damaged or badly aged, it might not be worth repairing. You have to look not just at the expiration date but the manufacturing date. If the raft is too old, you might not be able to get parts any longer. Most rafts are deteriorating after 15 years."
The cost of a new recreational, six-person life raft with a basic survival package can run between $1,700 and $3,700, and occasionally higher, depending on the manufacturer. For example, a new Viking six-person coastal life raft is priced at $1,750 in a valise or $1,850 in a fiberglass shell. A Winslow Ultra Light raft, which falls between a raft meant for coastal sailing and one for true offshore use costs $3,725 for a six-person model.
Zodiac and Avon offer similar coastal products. However, Florida-based Survitec has been buying the patents of the major life raft manufacturing companies in an apparent attempt to dominate the market and now controls the commercial life rafts made by Zodiac and Avon.
On the other hand, repacking and recertifying a coastal six-person life raft can cost between $600 and $900, including labor, parts and replacement of expired supply bag items such as flares and batteries.
If the Craigslist price is $350, and the repacking costs $600, then the sailor's total investment of $950 would be about $900 less than buying a new, entry-level model. Presuming the raft is 8 to 10 years old, repacking may be the most economical solution.
Before buying a used life raft or deciding to use one sold with a boat, it's important to know the dates of manufacture and expiration and the life raft model. An Inflatable Buoyant Apparatus life raft comes without a canopy, affording no protection against waves or the sun. Some entry-level rafts also lack an inflatable floor to keep occupants insulated against the cold, while others have inflatable arches and are self-righting.
And it goes without saying that repacking a raft is not a DIY project. Life raft repacking is federally regulated.
Remember to plan well ahead when sending a life raft in for repacking. The process can take a week to three weeks depending on how busy the facility is and life rafts can only be shipped by ground freight because they contain hazardous materials.