The Golden Globe Race is taking solo sailors nonstop around the world using the same technology that was available when Robin Knox-Johnston sailed the first one in 1968
Skippers
Abhilash Tomy
Age: 39 Country: India Boat: Suhaili replica masthead ketch Thuriya
Experience: He has sailed 52,000 miles, including a solo non-stop circumnavigation from Mumbai and back, and the Cape Town to Rio and Spanish Copa del Rey races. "This event recreates in the closest way possible, the magic of the original race. This spartan philosophy is in keeping with my own view that a lot can be achieved with very little."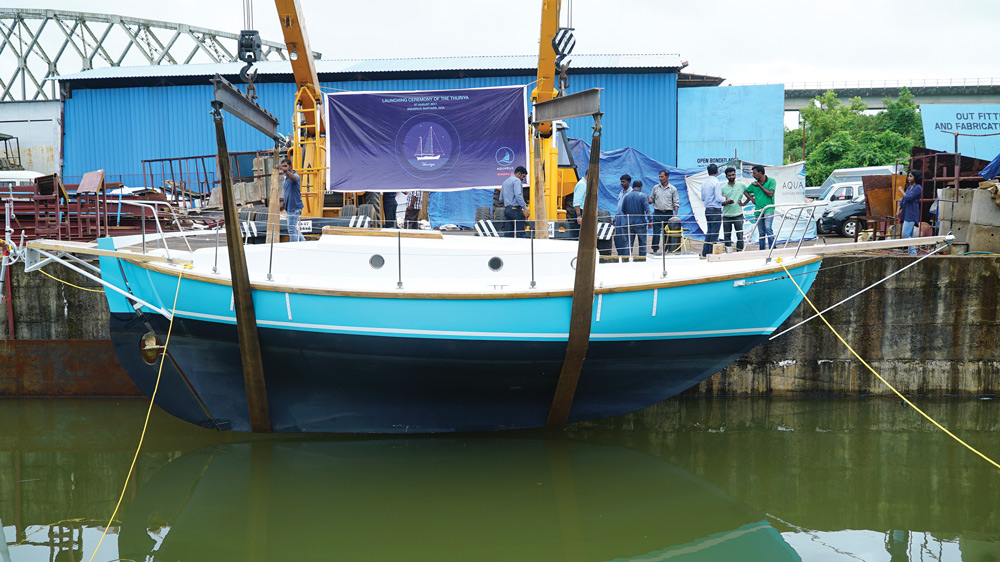 Abhilash Tomy/PPL/GGR photo
Antoine Cousot
Age: 46 Country: France Boat: Biscay 36 Métier Intérim
Experience: A professional sailor based in Noirmoutier, France, he is a yacht delivery skipper with more than 15 ocean crossings. "It is a unique opportunity to take this relationship with the sea even further. It is a challenge to accomplish what few sailors have done before; it is a quest with cosmic dimensions."
Are Wiig
Age: 58 Country: Norway Boat: Olle Enderlin 32 Olleanna
Experience: A professional seaman and yacht surveyor who has more than five decades of sailing experience, he finished second in class in the 1988 OSTAR. In 2000 he bought the 56-foot multihull Umupro Jardin, and won several shorthanded and fully crewed races in Norway. "The Golden Globe is a dream come true."
Ertan Beskardes
Age: 56 Country: United Kingdom Boat: Rustler 36 Lazy Otter
Experience: He is a Turkish born British national who began sailing on the Bosphorus at the age of 12. He built a boat in his back yard and has been sailing regularly in nearby Christchurch harbor since 1998, most recently on his Jeanneau Odyssey 33.
Francesco Cappelletti
Age: 39 Country: Italy Boat: Endurance 35 007
Experience: A professional Ocean Yacht Master and charter skipper, he has delivered yachts throughout the Europe and the Atlantic. He sailed the west coast of Italy in a 20-foot boat without electronics or autopilot. "I used to sail without an autopilot or electrical instruments, and with only a Tilley storm-lamp as my light source. Sailing round the world alone in this basic way is a must-do lifetime goal."
Gregor McGuckin
Age: 31 Country: Ireland Boat: Biscay 36 Mary Luck
Experience: He has logged more 45,000 miles as a delivery skipper and hopes to become the first Irishman to complete a nonstop, unassisted solo circumnavigation. He has partnered with Ireland's Marine Institute to create an education program about his race. "When I started sailing, the main attraction was the freedom it gave me to explore. A circumnavigation was always a dream along with ocean racing, so when this came up as an affordable way of achieving both it was a no-brainer."
Igor Zaretskiy
Age: 66 Country: Russia Boat: Endurance 35 Esmeralda
Experience: He is one of Russia's most experienced sailors, having twice won the Russian quarter-ton championship, competed Caribbean, Fastnet, Newport-Bermuda and Middle Sea races. In 2010 he won the Jester Challenge singlehanded transatlantic race. "Sailing around the world has been a dream since childhood."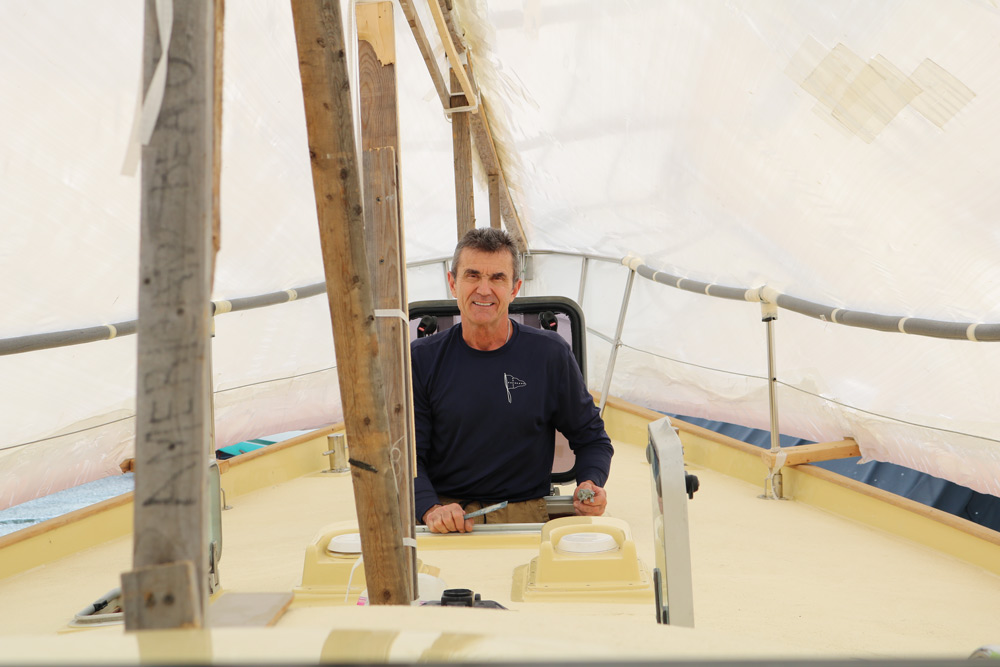 Robert Farrelly/GGR/PPL photo
Istvan Kopar
Age: 65 Country: USA Boat: Tradewind 35 Puffin
Experience: He is a Hungarian-born American, a professional sailor and U.S. Coast Guard-licensed captain who has logged more than 60,000 solo nautical miles, including a solo one-stop circumnavigation without GPS. He won the Hong Kong Challenge, and was a top finisher in the America 500-Columbus Transatlantic Race. "This race is custom made for me. My first hero and role model was Joshua Slocum. He had no land support, no modern navigation and communication devices, or even a mechanical wind vane. He was the real deal."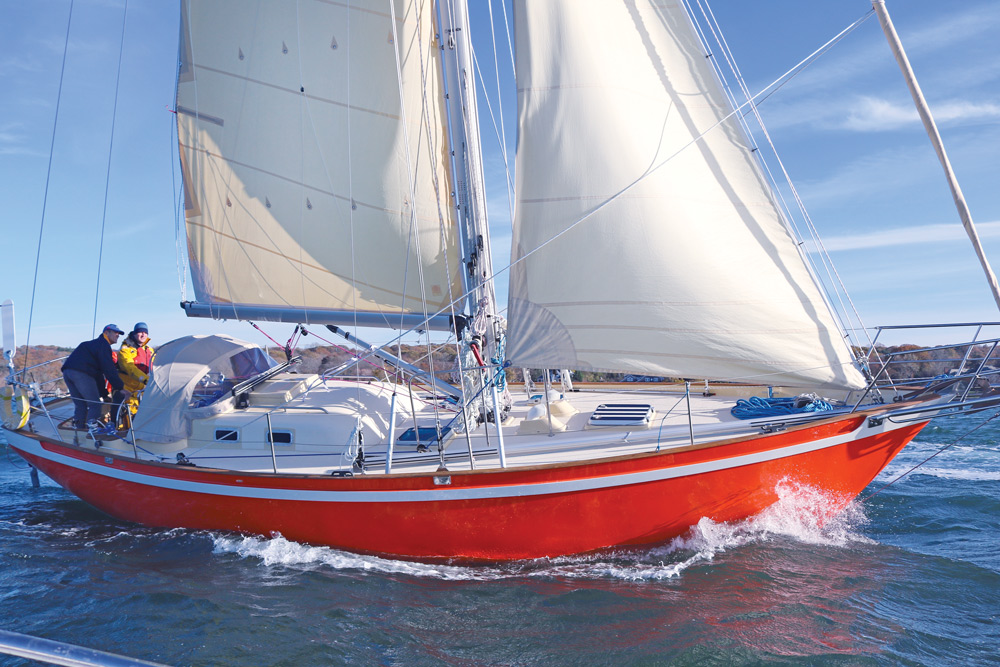 Robert Farrelly/GGR/PPL photo
Jean-Luc van den Heede
Age: 72 Country: France Boat: Rustler 36 Matmut
Experience: Considered the father of French solo sailing, he is a five-time circumnavigator holding the record for the fastest solo west-about nonstop circumnavigation, and has been a podium finisher in four previous solo around-the-world races. "The slow speeds of these classic old boats with their long keels, the absence of weather information, the loss of all electronics and reliance on a sextant to plot positions, will make this test even more difficult than the Vendée Globe."
Kevin Farebrother
Age: 50 Country: Australia Boat: Tradewind 35 Sagarmatha
Experience: He has climbed Mount Everest three times and read Robin Knox-Johnston's book A World of My Own. "That story was far more scary than anything I've experienced climbing Everest."
Loïc Lepage
Age: 62 Country: France Boat: Nicholson 32 Laaland
Experience: He has more than 20,000 miles of solo sailing, including three trans-Biscay and four transatlantic crossings. "When I was 16, I devoured books written by Bernard Moitessier and Robin Knox-Johnston and the dream of completing a solo round-the-world race myself has remained a passion of mine."
Mark John Sinclair
Age: 59 Country: Australia Boat: Lello 34 Coconut
Experience: A lifelong sailor, he sails his S&S 41 and has made two solo crossings of the Tasman Sea.
Mark Slats
Age: 41 Country: Netherlands Boat: Rustler 36 Maverick
Experience: Solo circumnavigated aboard the 46-foot Cornelia in 2004. "Why the GGR? Because I live for this stuff."
Nabil Amra
Age: 42 Country: Palestine Boat: Biscay 36 Liberty II
Experience: An American-born Palestinian, he sailed a catamaran with a friend across the Caribbean and through the Panama Canal. "The Golden Globe Race came along at just the right time to turn an incessant daydream into reality."
Philippe Péché
Age: 57 Country: France Boat: Rustler 36 PRB
Experience: He is one of France's leading sailors, having sailed more than 300,000 miles on everything from monohulls to giant multihulls, twice wining the Jules Verne Trophy with Bruno Peyron. "It is an amazing challenge and adventure that comes at just the right time for me."
Robin Davie
Age: 66 Country: United Kingdom Boat: Rustler 36 C'est La Vie
Experience: He's raced in three solo around-the-world races. "Having done three solo circumnavigations with stops, this race reignited the passion, and presented a rare opportunity to finally complete my original dream of sailing around the world solo without stops."
Susie Goodall
Age: 28 Country: United Kingdom Boat: Rustler 36 DHL Starlight
Experience: She is an offshore and ocean sailing instructor and has skippered a 60-foot sail training/expedition yacht in Scandinavia. "When I was young, all holidays were spent sailing and my weekends were taken up racing Lasers, before I started teaching sailing on the Isle of Wight. I've spent a few years working in the superyacht industry before taking up sail training."
Tapio Lehtinen
Age: 68 Country: Finland Boat: Gaia 36 Asteria
Experience: He's raced everything from Lasers and 29ers to keel boats and ocean racers, including his classic 6-Meter May Be IV. "I enjoy being at sea. I take pride in preparing well and sailing in a seamanlike way. I'm competitive, but realize that in order to do well in this race, I first have to finish."
Uku Randmaa
Age: 55 Country: Estonian Boat: Rustler 36 One and All
Experience: He sailed his Hanse 430 solo to Iceland and back prior to sailing solo around the world with stops between 2011 and 2012. "This is a dream event, an around-the-world race for real gladiators. For me, the best is to take part; the worst is not to finish."