The latest midsized cruiser from Jeanneau packs in great performance, cruising comforts and the latest innovations that make sailing easier
Tradition has it that a cruising boat should be heavy and slow to keep sailors safe and comfortable. But with advances in technology and design, boatbuilders have discovered that lightweight equals lighter loads, and modern equipment allows for easy shorthanded sailing that makes sailing safer. Speed isn't just for racers. A recent test sail of the Sun Odyssey 380 proves that Jeanneau has this cruising boat formula down to a science.
The details
Designed by naval architect Marc Lombard, the Sun Odyssey 380 is part of Jeanneau's line of comfortable cruisers, and these days that translates into using technology to make sailing easier. Lombard's pedigree is loaded with winning short-handing offshore racers, and what makes a race boat go fast also makes a cruising boat sail better.
"Hull, appendages, sailplans, design and ergonomics, layouts, weight estimates—everything has been designed, down to the smallest details, to make her the best sailboat in her size category," Lombard said.
In profile, the slightly reversed bow with a knuckle above the waterline and the hard chine that runs aft from amidships reduces wetted surface for better performance. The moderate freeboard and low-slung cabinhouse gives the boat a sleek overall look.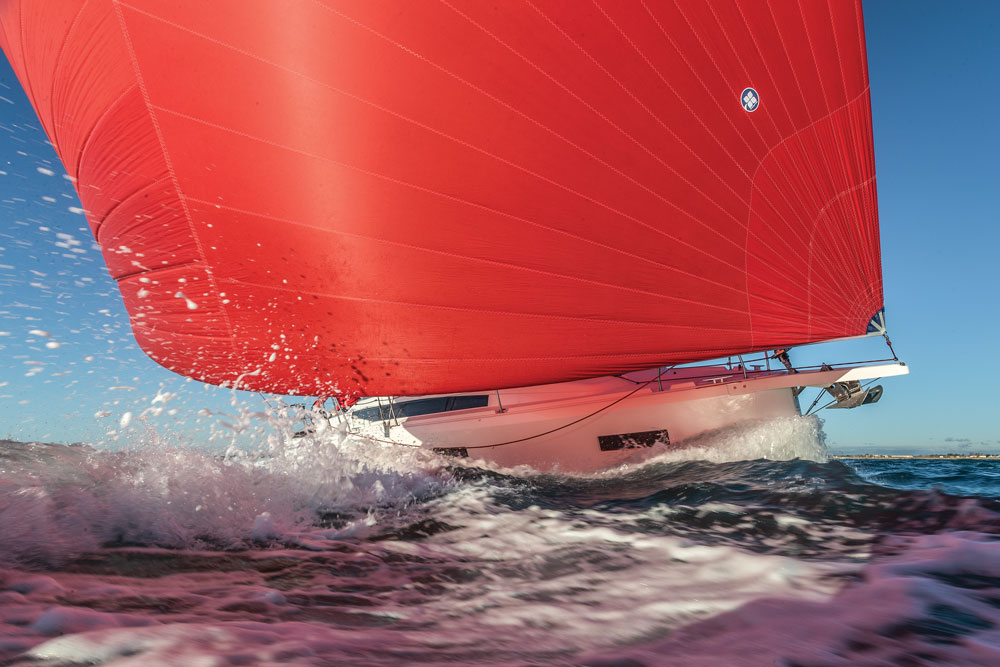 The 380 is built in Vendée, France, and we tested hull No. 2 fresh off the ship. The 380 has twin rudders, twin helms and the test boat was fitted with the optional 5-foot 3-inch shoal keel for the thin waters of the Chesapeake Bay. For really shallow water sailing the optional swing keel has a draft of 4 feet raised and 8 feet, 10 inches down for good upwind performance. The company also offers "beaching legs" for this version that allows you to beach the boat at low tide. The standard keel draws 6 feet 6 inches.
The boat came ready to sail with a 110% roller-furling genoa and the standard 387-square-foot main with lazy jacks. Instead of jib tracks and fairleads, the jib sheets are led through friction rings on either side of the mast and controlled by inhaul and outhaul lines. In a case where what's good for the racer is even better for the cruiser, this setup allows you to position the clew where you want it and easily fine tune sail shape. Jeanneau excels at options, and the boat can be set up with a roller-furling main and self-tacking jib to keep the sailing even simpler.